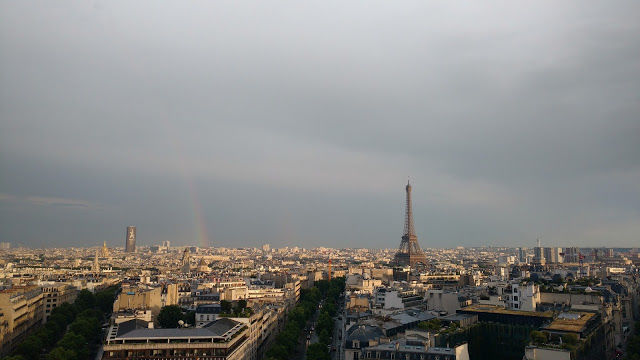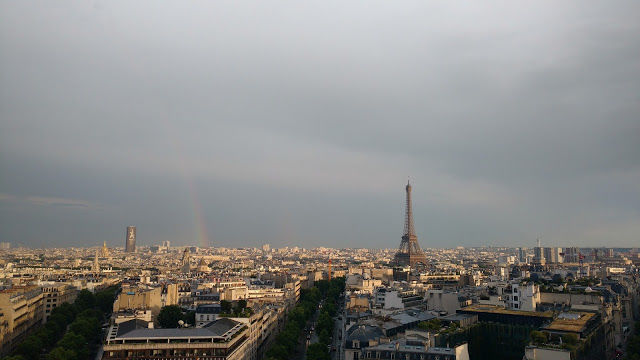 I am writing this so that more people benefit from the extensive research I did before visiting Paris and from my experiences there. These little things I am listing below will help you save time and money and experience the real, "offbeat" Paris. Disclaimer: I and my wife were travelling with our 8 month old daughter, so if you are looking for party tips, you are on the wrong page.
Tip # Zero: Start every conversion with a Parisian with Bonjour Monsieur/Madame, even if that's all the French you can manage. Do a social experiment. On one day, start all your conversations with Goodmorning. The next day, start all of them with Bonjour. Trust me, you will be blown by the difference it elicits in their friendliness towards you. The French are very proud of their culture and language and of course rightly so. They detest the assumption that they should be speaking English as much as they appreciate a foreigner making an effort to speak their tongue.
Tip # 1: Stay at an Airbnb – Give the hotels a miss and stay with some locals by renting out a part of their apartment. It will definitely be way cheaper but that's not even the biggest reason to be doing it. It will give you a glimpse into Parisian life that a hotel just can't. We stayed with a young live-in couple. Staying in their home and having conversations with them taught us so much about the Parisian way of life. There will be Airbnbs for every budget, just make sure you go for one which has received good reviews from former guests. Oh, and also look out for a room on a lower floor or a building with an elevator. Don't assume that buildings which are 6 floors high will have elevators. Its surprisingly rare.
Tip # 2: Buy your dinner from the supermarket – Especially if you are staying in an Airbnb and have access to the kitchen. A ready to cook pizza at a supermarket will cost 3-4 Euros, whereas the same Pizza served at an average restaurant would set you back by upwards of 12-15 Euros. All you have to do is grill it in the microwave! Same applies to wines and beers. Buying your stuff from the supermarket will cost you about a third of what a standard restaurant will charge. And trust me, you can still experience local cuisine; even the supermarket will spoil you for choices.
Tip # 3: Splurge on Lunch – Go for the two/three course formula menus at lunch. Lunch service at the same restaurant will be significantly cheaper than dinner. Also, in French restaurants it is mandatory so serve a bottle of tap water with food if the patron asks for it. And the tap water is absolutely safe. So just say "un carafe d'eau" and save loads on buying mineral water.
Tip # 4: DON'T get the Paris Pass – The must see attractions covered in the pass –Louvre, Musee d'Orsay, Notre Dame tower, Arc de Triomphe can be covered separately for 46 Euros whereas a two day Paris Pass will cost you E135 (prices as on August 2017). Though the Paris pass also covers your transport, it's still not worth the money. A carnet of 10 tickets costs 19 Euros. The tickets are valid for one metro/bus ride reach, irrespective of the distance. The only thing that the Paris pass offers is convenience – you can buy it and forget about having to buy a ticket at pretty much any attraction or form of transport. But the convenience comes at a substantial cost.
A better bet might the museum pass if museums are your thing. The 4 day pass costs E62 is and is well worth it if you use it to see the four must sees I listed above and a few more museums in addition. It also covers entry to the Palace of Versailles which is a very popular day trip from Paris. A big advantage of having the pass is the queue cutter feature. You get direct entry to the attractions without having to wait in the tedious queue. This is a godsend if you are visiting in the peak season.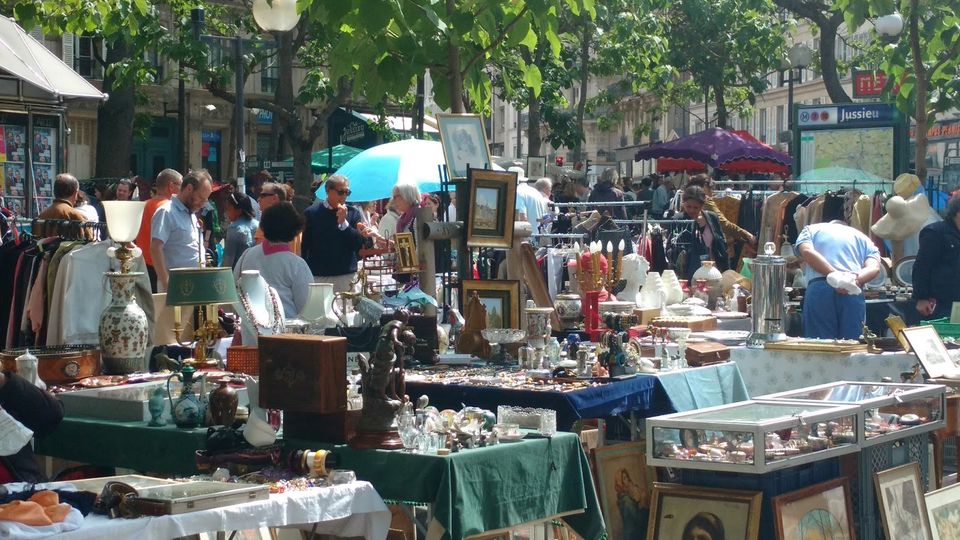 Tip # 5: Visit a Flea market – We made an impromptu trip to one of them. We just spotted one when we were on a bus headed somewhere else. Me and my wife just gave each other a look and got down at the next step and walked back to this amazing place. You can actually read up and plan a visit to one that is most conveniently located for you. Each of these flea markets is only open on one or two particular days in a week so do work your itinerary around that. You can get brand name designer wear at throwaway prices, old books and LPs, family heirlooms and a lot of bizarre nicknacks.
Tip # 6: Visit a local produce market – We visited Marche Bastille. I promise you will have a lovely time watching locals shopping for their daily needs from colourful carts selling everything from locally grown vegetables to cold cuts, fish, cheeses and what not. A variety of lipsmacking Turkish and Lebanese snacks were also on offer. The profusion of colours may tempt you to bring out your camera, but do ask for permission before clicking the stalls. The stalls are mostly run by immigrants and I guess not all of them have their papers in order.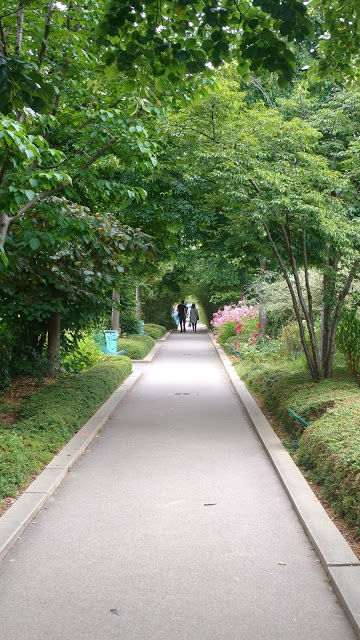 Tip # 7: Take a walk down Promenade Plantee – The Promenade Plantee is a park built on top of a disused railway line. It begins just near the Bastille Opera house and continues for almost 5kms. The landscape of the park changes as you walk along as do the buildings underneath. It offers a very different perspective on the city and you see things from an angle you wouldn't get to otherwise.
Tip # 7: Take a walk down Promenade Plantee – The Promenade Plantee is a park built on top of a disused railway line. It begins just near the Bastille Opera house and continues for almost 5kms. The landscape of the park changes as you walk along as do the buildings underneath. It offers a very different perspective on the city and you see things from an angle you wouldn't get to otherwise.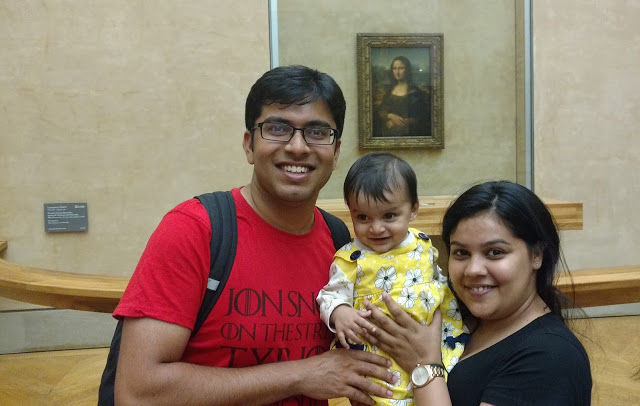 Tip # 8 : Plan your Louvre visit very well – Let's start with when to visit. If you are spending a Wednesday or a Friday evening in Paris, save one of those for your Louvre trip. The museum is open till 10pm on these nights, as against 6pm on other evening. Staying back till the end on one of the late opening nights is your best bet at enjoying the Louvre with least company. We got to spend a lot of time admiring Mona from up close without being shoved away when we visited on a Wednesday evening in May.
Don't enter through the pyramid entrance and spend your time cursing the queue. Enter through the entrance called the Le Carrousel de Louvre. It's an entrance to a shopping strip, accessible from Rue Rivoli, that leads up to the Louvre. EXIT the Louvre from the famed pyramid entrance to watch it and click it when it's lit up in full glory in the evening.
Tip # 9 : Skip climbing the Eiffel Tower – I know this is going to get me dirty looks and rolling eyeballs. But let me explain. If you want to climb the Eiffel Tower for the views, go to Montparnesse tower instead. There are no queues. There is an elevator that takes you to the top. It costs less. But the biggest reason is that the views are better. The view FROM the Eiffel Tower doesn't have the Eiffel Tower in it. This does J. The best way to enjoy the Eiffel Tower is to get to a vantage point at sunset when there is a dazzling display of lights for 5 minutes and then the tower stays lit. We had the most romantic moment taking in the lights from the Pont de l'Alma (incidentally also the spot where Princess Diana crashed to her death).
Tip # 10: Be very careful of theft – Unfortunately, this bit is not just research but experience. In tourist attractions, it is very common for touristy looking young fellows to smile and request you to click a picture of them. If you leave your valuables unattended even for seconds, it's enough for their accomplice to swoop in and run away with your valuables. Don't get me wrong. I am not suggesting that you act like a jerk and don't offer to click photos for someone. But do remain very careful when you are doing that. We fell for this trick on our last day in Paris at Montmarte, in front of Sacre Cour and got our DSLR stolen. This was despite knowing that Montmarte is notorious for pickpockets. Another common trick is for someone to pretend to drop and scatter their change and when the saint in you leans down to help this distressed person, you'll be relieved of much more than your change.
Paris is a fantastic city where every building is a landmark and every street corner is lined with terrific cafés and boulangeries. It is a city everyone dreams of visiting and everyone with the means must experience at least once. I hope this post makes it a tad easier for you on your dream trip.