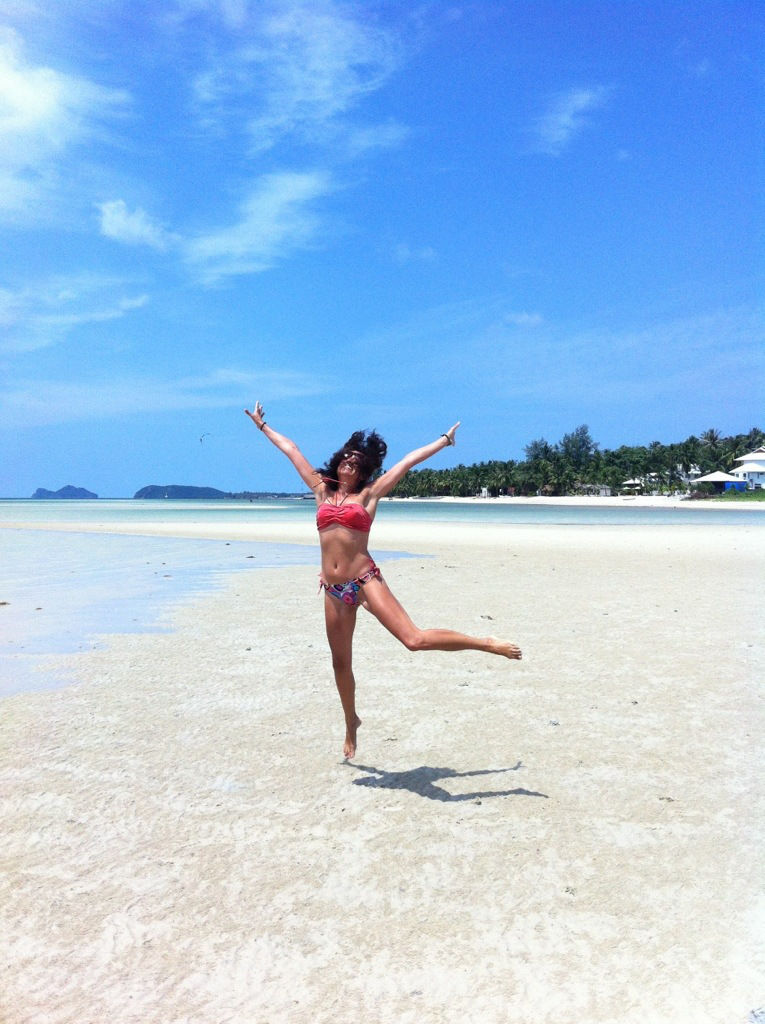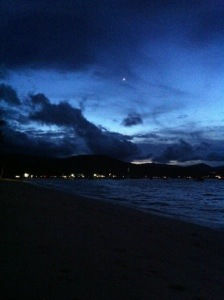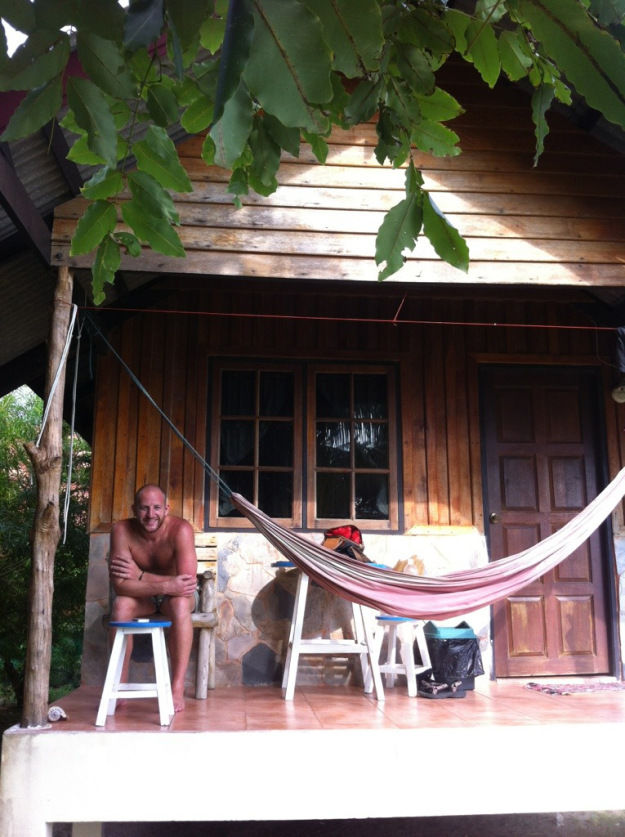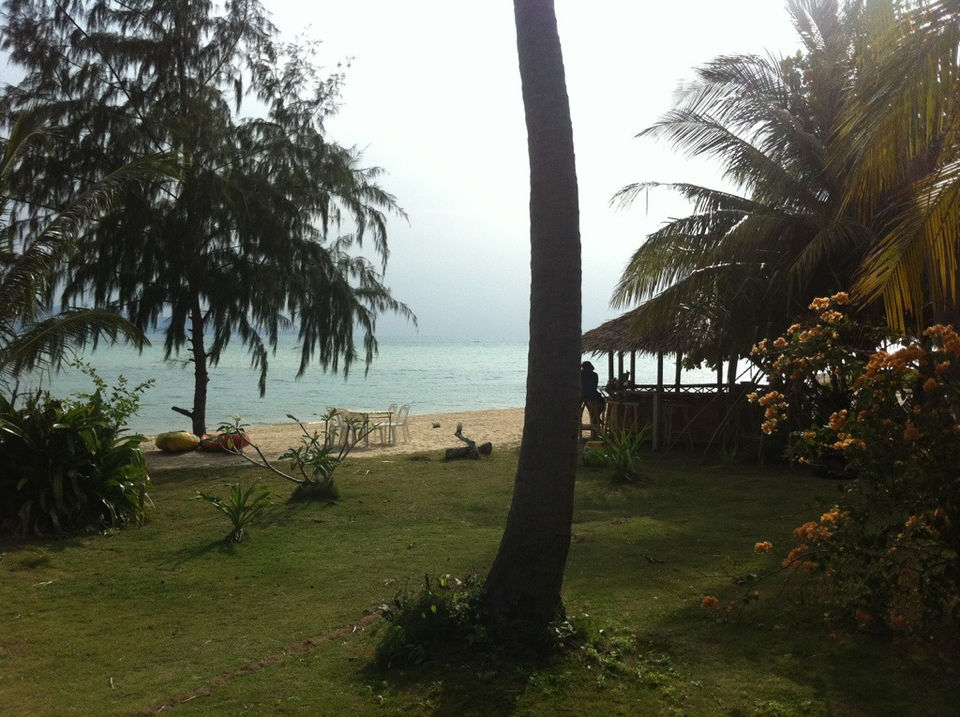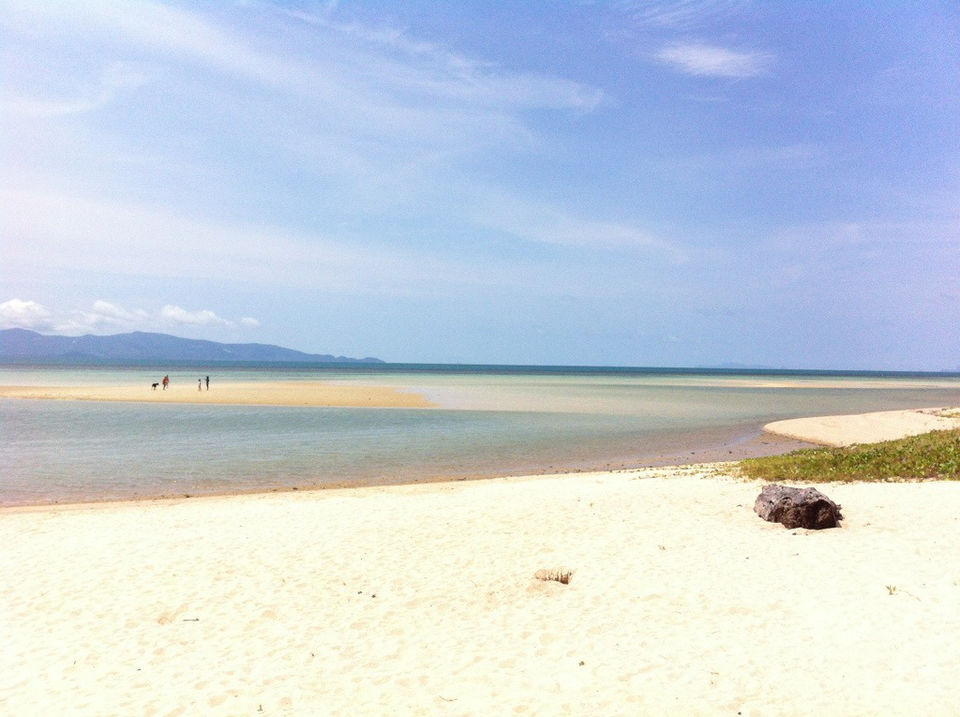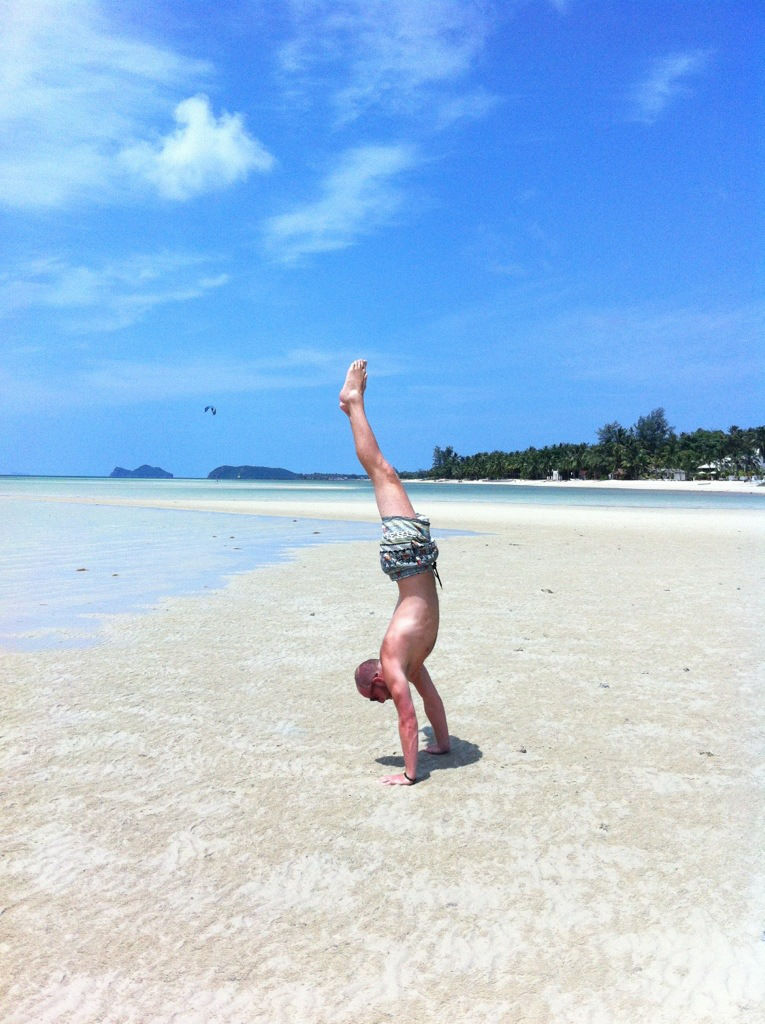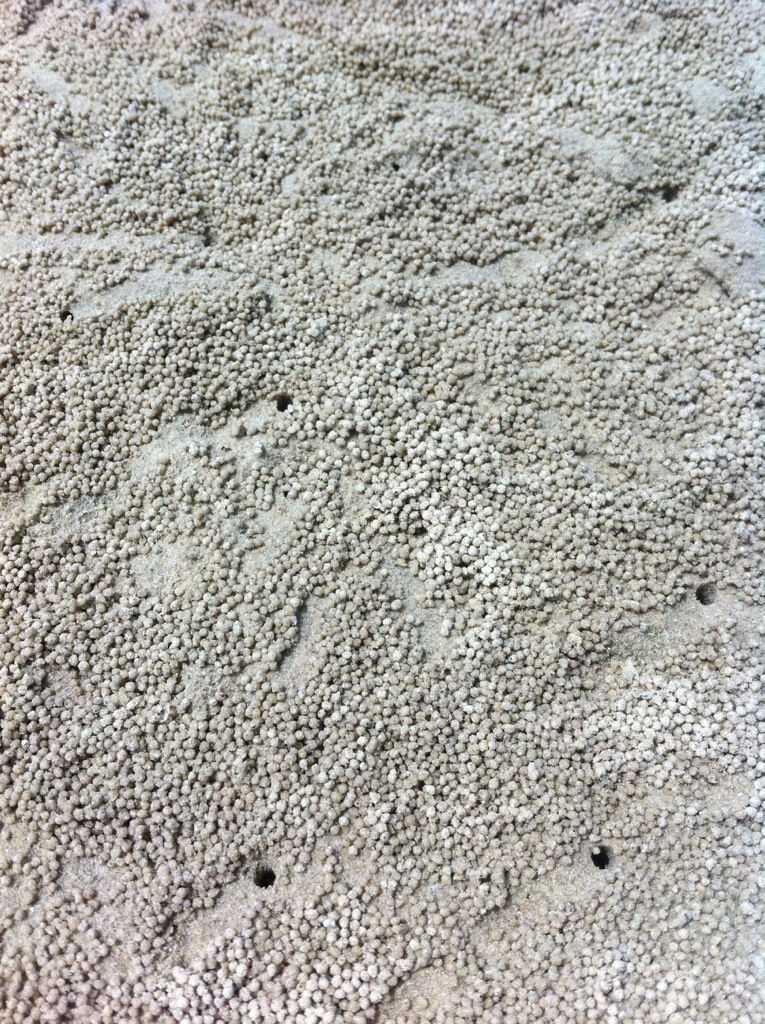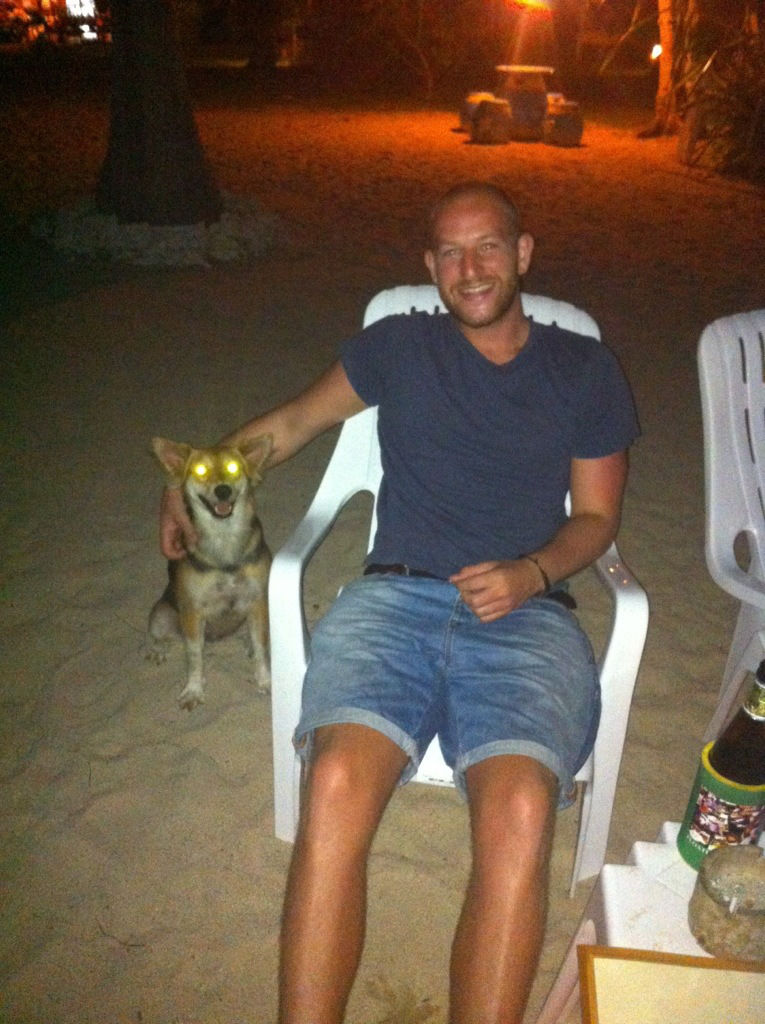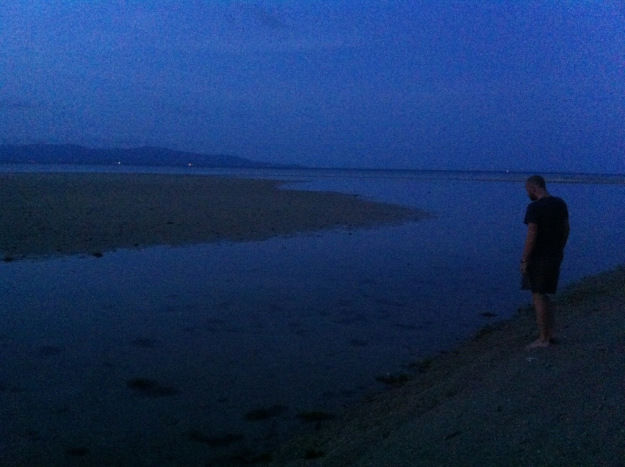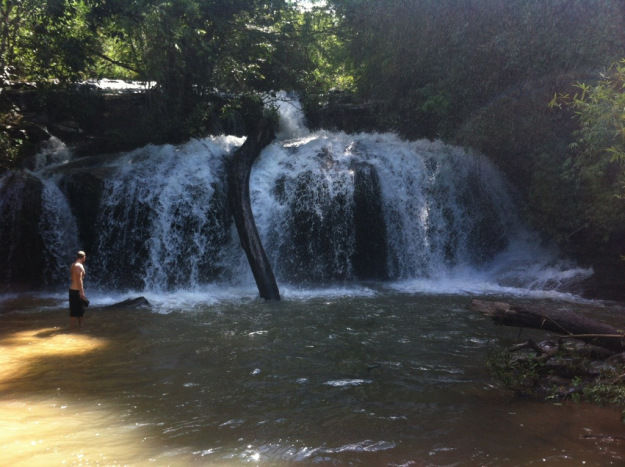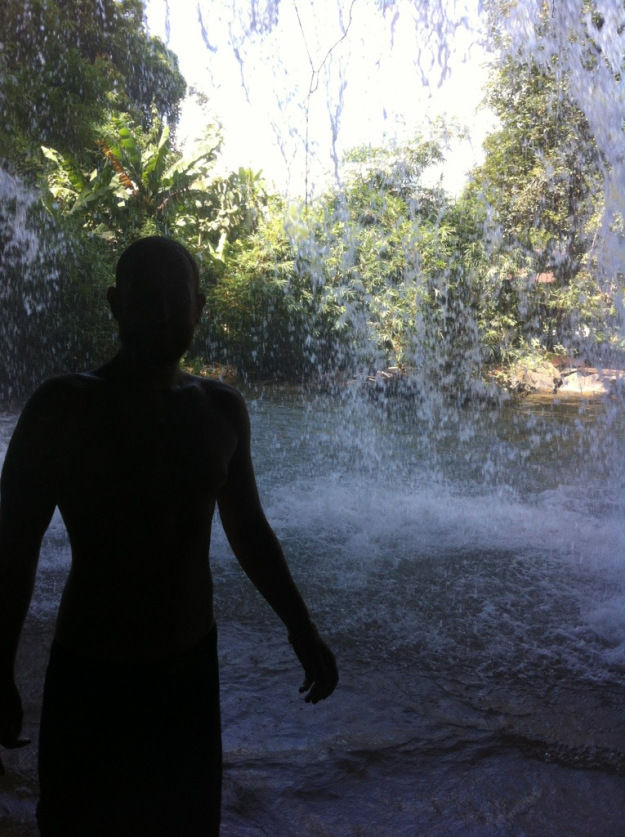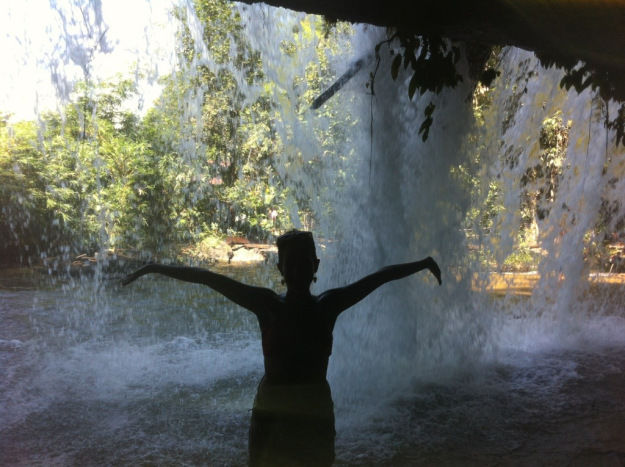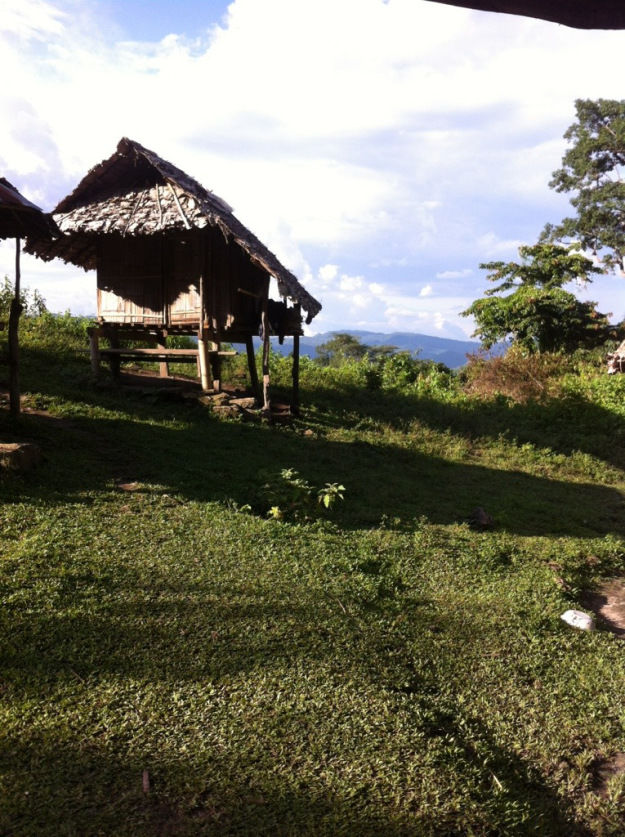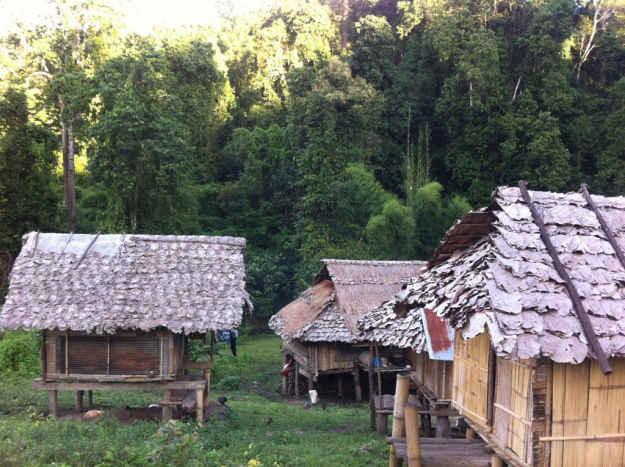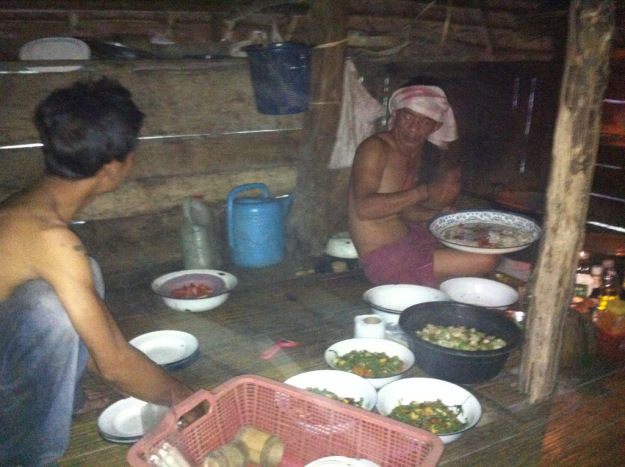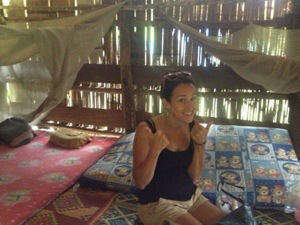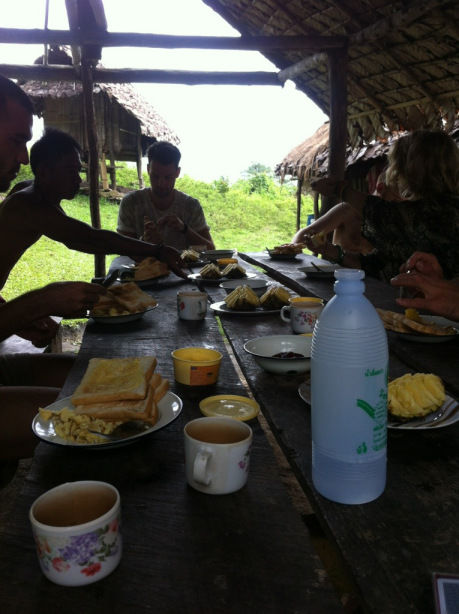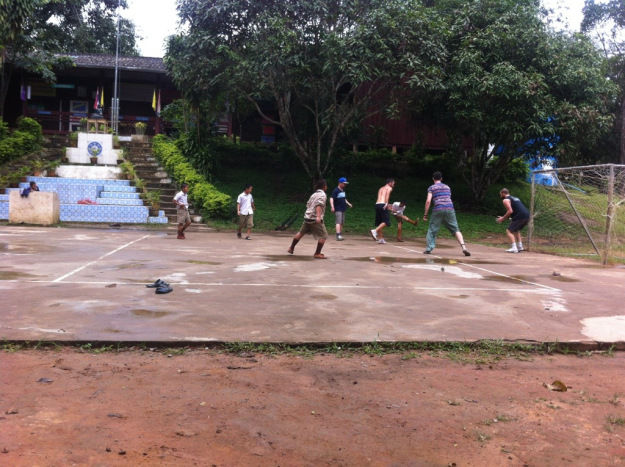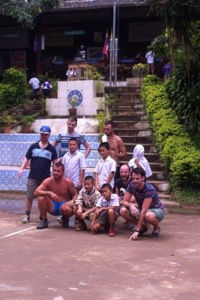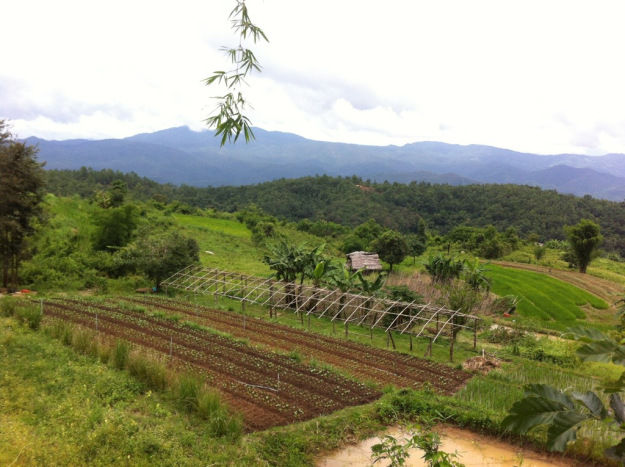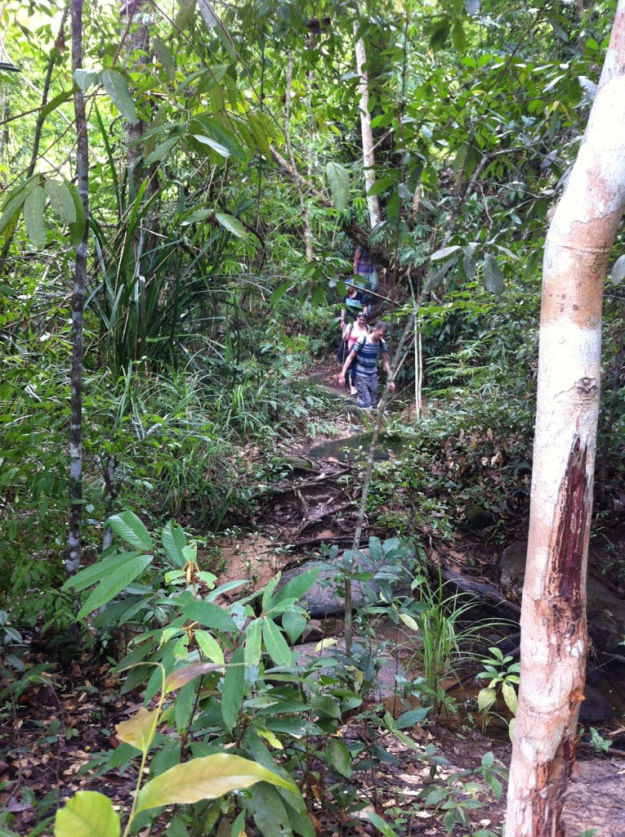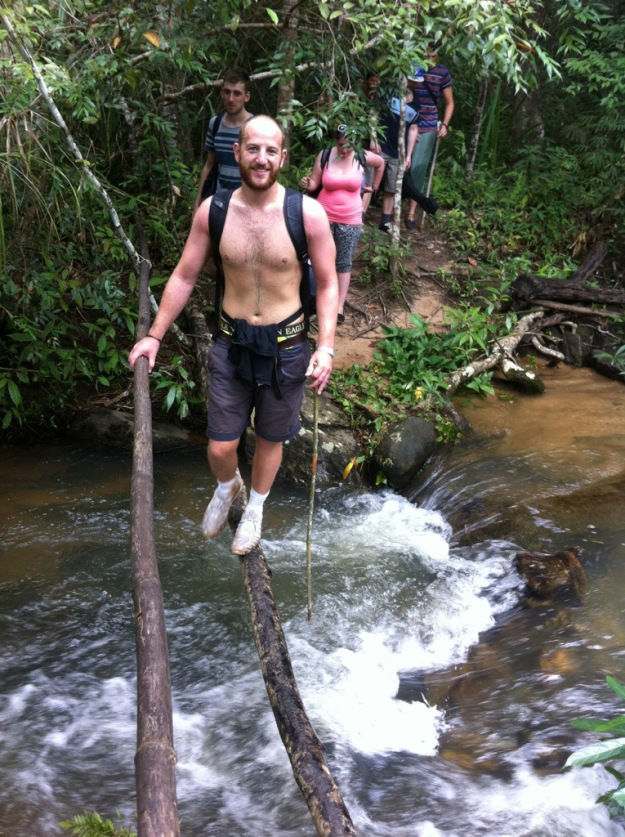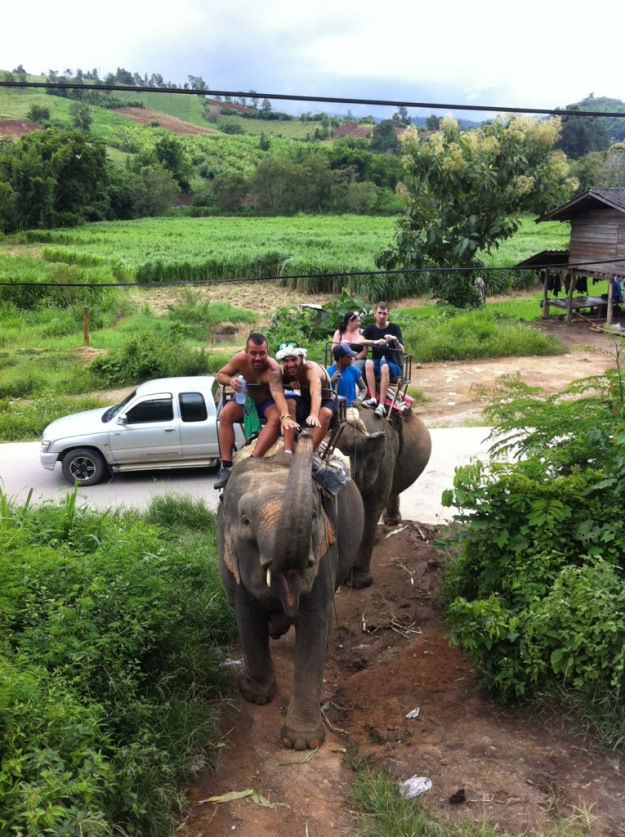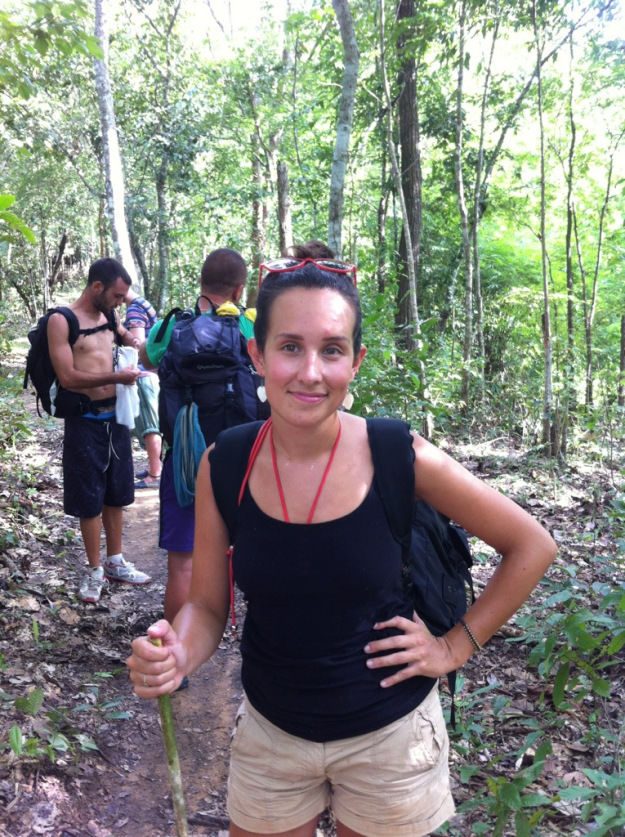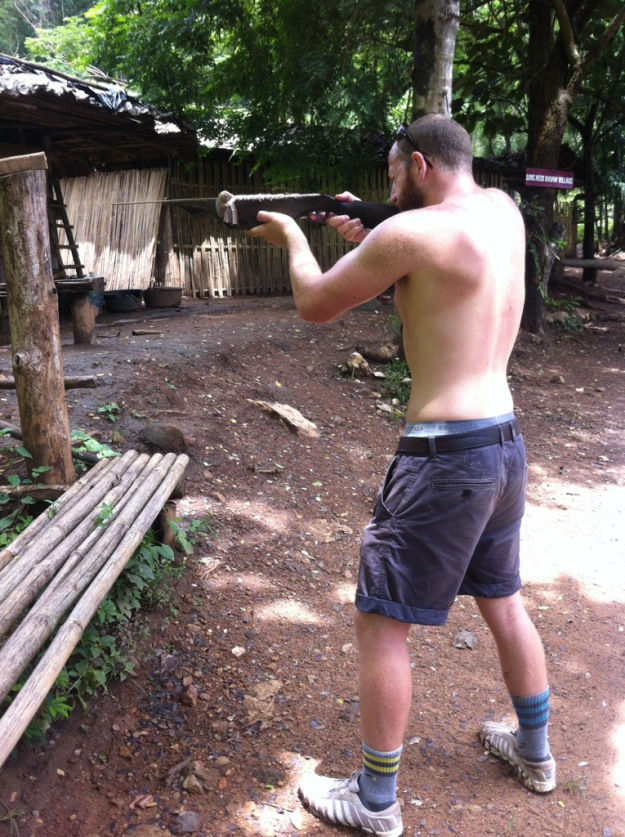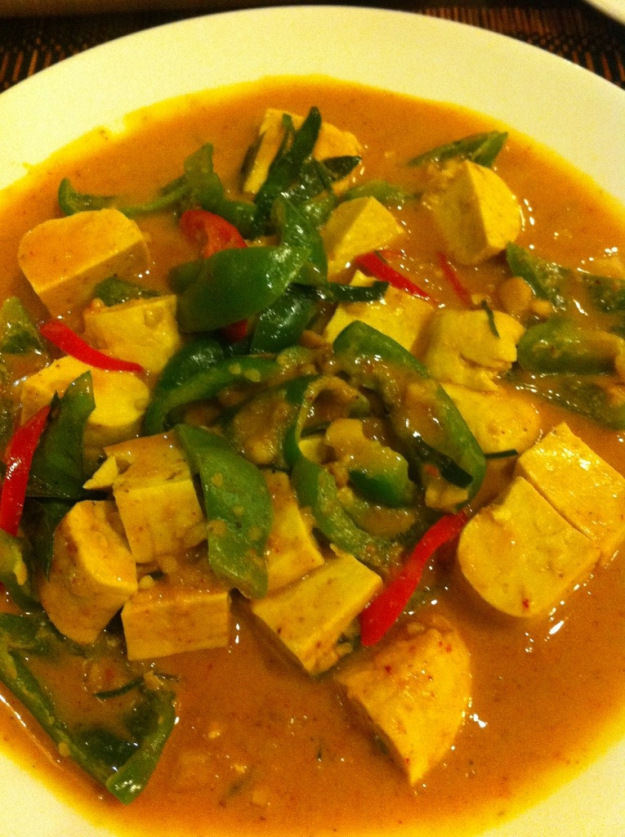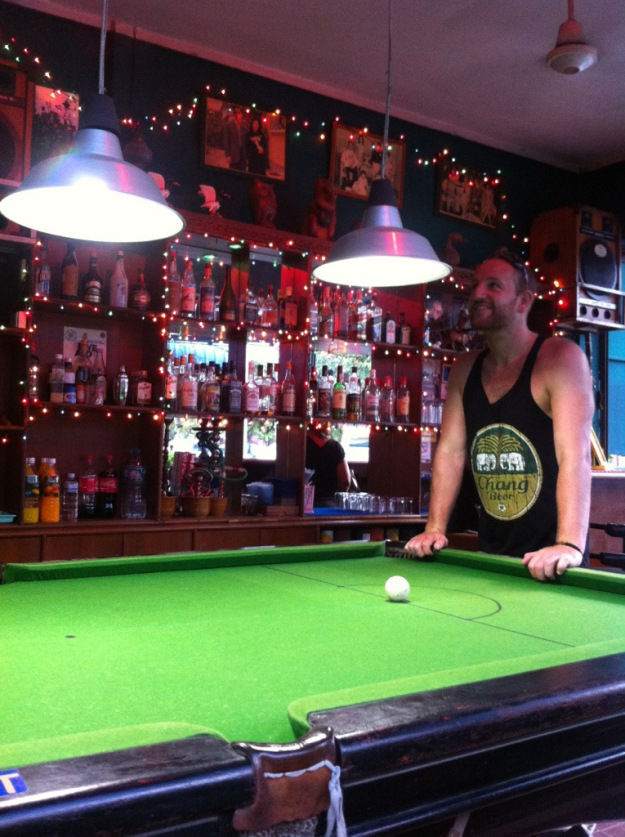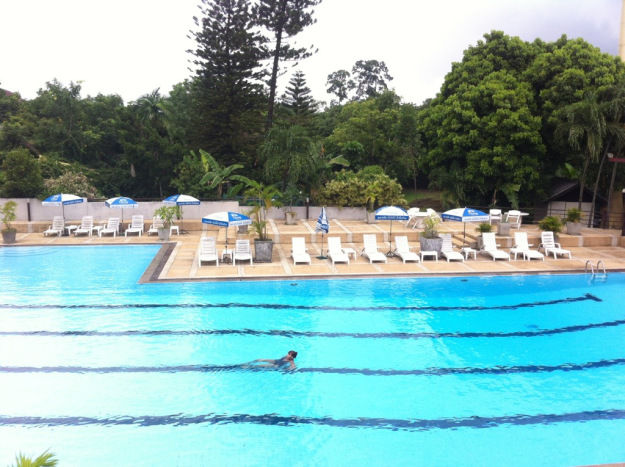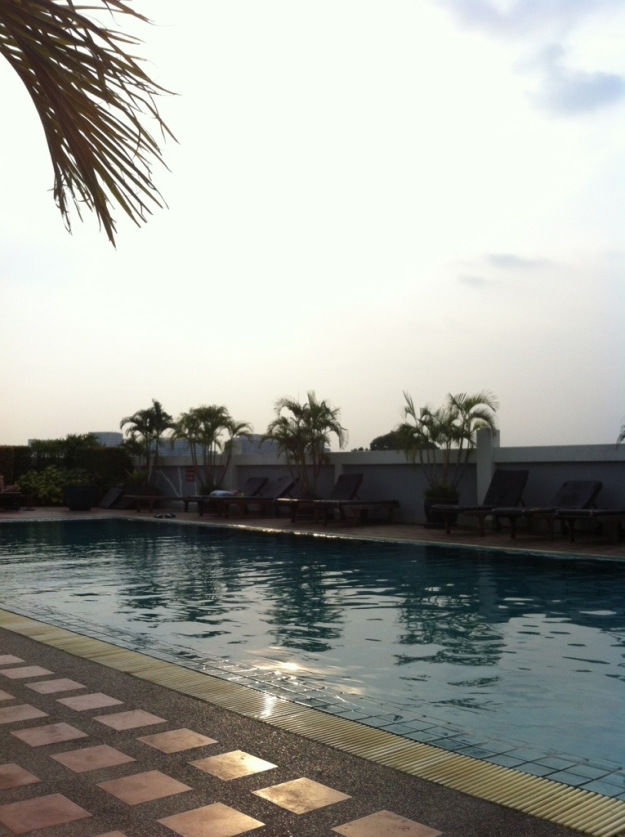 Koh Lanta
We have a confession to make…
Even though we were supposed to spend our one full day in Koh Lanta renting a moped and checking out the national park, the lure of the perfect beach and sparkling swimming pool at Lanta Miami Resort were just too much for us to resist.
Instead, we spent yesterday lounging by the pool, walking up and down Long Beach spotting crabs, and just generally chilling out. I even treated myself to an hour-long massage in a hut overlooking the crashing waves, which was as ridiculously awesome as it sounds.
Pete was too engrossed in the Peter James novel I've loaned him, and I didn't hear a peep from him all day! 
In the evening, we situated ourselves at the gorgeous beachside restaurant (it's actually on the sand) and enjoyed some seriously good Thai curry whilst witnessing the most beautiful sunset I've ever seen.
As it got dark, the bar shack which sits next to the restaurant on the shore started spinning some chilled out tunes by Aerosmith, Led Zeppelin and Bob Marley. It was magic. Oh, and for £3 each, you could buy 'happy cigarettes' at the bar! Seriously!
The final treat that Koh Lanta had up its sleeve for us was a gorgeous lightening storm in the distance, at around 11pm. Drinking a beer on the warm beach whilst watching lightening fork the horizon was just incredible. I even had one of the local cats on my lap at the time, watching it with me. Just epic. We've already sworn to ourselves that we will be back in Koh Lanta next year, and not just for a couple of nights!
Today, we are back in party-mad Phi Phi for one night before we head back up through Bangkok and on to the north. Not looking forward to the 12-hour overnight bus tomorrow, but after the total de-stress that was Lanta, I'm sure we can handle it!
Sukhothai: The Historical Park
Sukhothai Historical Park is named as one of Lonely Planet's top destinations in SE Asia, and for the last 2 nights we've been based in a little guesthouse called Vitoon, just opposite – score! While the guest house itself wasn't up to much (hardest bed we have ever slept on), the location was just perfect as it meant we could roll out of bed and up to the park gates.
The park is divided in to 5 zones, and we were positioned right in front of the central zone – which is lucky as this one seems to have the better temples. It costs 100 baht to enter each zone, so for budgetary reasons we decided to stick to just the one! After renting a couple of bicycles for 30 baht each, we headed off for a day exploring the 3sq km of parkland and temples accessible to us.
As you can see from the pictures, it was a scorcher of a day; Pete's backpack is actually caked in salt marks because he sweats that much! There was plenty of shade to hide in when it got a bit too much though, and also being on the bikes was way less of a struggle than attempting it by foot.
The temples themselves were just beautiful - and most of them had moats or ponds around them, creating some beautiful reflections and a real sense of space which we hadn't really experienced before (apart from when we were at the beach) as everything is so built up and enclosed in the cities down south.
In the evening, we headed out for some food and Pete tried the local dish of Sukothai noodles which came as a kind of meaty broth topped with peanuts. I went for a classic Papaya salad, and we also shared some vegetable noodle rolls. All of it was really good – in fact, it was one of our favourite meals so far – and it cost less than a fiver.
Right now, we are preparing for the final hurrah on our jaunt around the north: Trekking in Chiang Mai. We have a 3-day trip planned with two nights of camping, which I think Pete is looking forward to, but I am dreading it! For this reason, don't expect any updates for a few days as there's no Wi-Fi in the jungle!
Ayutthaya: You Need A Bike!
The kind and friendly lady in our guesthouse said that you could walk around Ayutthaya in a day, if you had the time.
The kind and friendly lady gave us a map, and circled each of the best sights for us, before sending us on our way.
The kind and friendly lady clearly did not take into account that she was dealing with two Welsh people who have been known to sweat their own body weight in under an hour! Note to the British: you cannot comfortably walk around Ayutthaya in the midday sun – it is huge and relentlessly hot, with no shade whatsoever!
After attempting this walk and managing to get only 3/4 of the way to the first temple before the sweat was pouring off us in rivers, we decided to hitch a ride in a Tuk Tuk. For anyone else visiting Ayutthaya, I would recommend hiring a bicycle – unfortunately for us, we had walked too far from the hire shops by the point of this realization!
Below you can see some of our pictures from the ruins of Wat Phra Mahathat and Wat Chai Watthanaram, both destroyed in the ravaging of Ayuttaya by the Burmese in 1767.
After passing a number of other temples in our Tuk Tuk (there are seemingly hundreds in Ayuttaya), we decided to head over to the floating market which was on the way back to our guest house. Although you can tell it is a hammy version of the real thing (i.e. not a genuine market for locals to buy produce, but the tourist experience of such a thing), at least we got the opportunity to see how the Thai tourists like to enjoy themselves! Pete had a Pad Thai from one of the floating sellers which we ate in the food hut:
There was also an elephant camp there, although I had not done my research on how ethically run this particular outfit was, so we did not take a ride or pay any money to interact with the elephants here. It was still incredible to see the huge beasts being fed right next to me, and I stroked one of the female's faces – her skin was so thick! She was standing there without any chains, and seemed content eating cucumbers from everyone – I only hope that these amazing creatures are still treated as nicely when the tourists aren't watching.
Back at our guest house, we enjoyed a chilled one in the hammocks of our communal tree house. Oh, and we made a friend called Baht, he's huge!