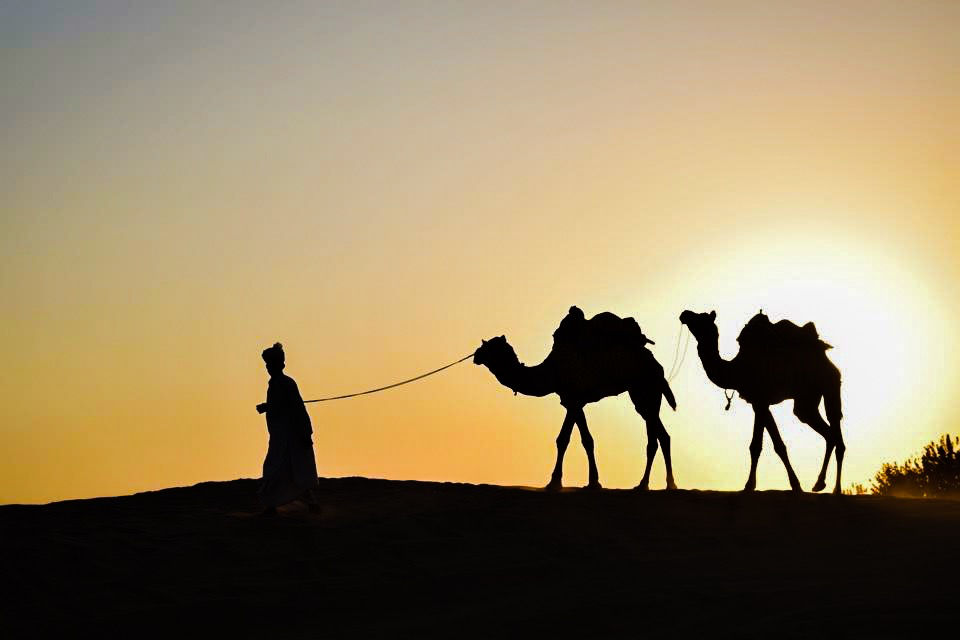 #TripotoTakeMeToSandakphu
Well, before you misunderstand the slightly deceiving title, let me make it clear as to what I refer here as, The Moon, is nothing but our beautiful Rann of Kutch.
One of the most beautiful trips I have ever been on, Bangalore-Jaipur-Jaisalmer-Bhuj-Kutch-Ahmedabad-Bangalore. An 8 day trip covering the two of the most beautiful places in India or I would actually say , The World.
To keep it as short as possible, I wouldn't want to get into the details of what we did each day or the places we visited everyday. I would like to highlight the three best days of our journey!
Day 1:
This is the Bhangargh fort day.
So much told about the most Haunted places in the world, Bhangargh fort was top in the list of my "Must visit places in Rajasthan".
What was most intriguing , was the serenity and beauty of the fort inspite of all the haunted stories ,evil spirits and ghosts. I have never imagined Dracula's castle to be stunningly breathtaking. The wreck was an amazing visual with the setting sun, birds chirping, peacocks dancing. As we explored the ruins of Bhangargh we wanted to experience something supernatural (not that I am very courageous). But all I could do was smile. Smile at the beauty or more importantly the feeling I experienced. The fort is haunted, I am obviously scared of ghosts, but it is so calm and so beautiful and I am not afraid of being afraid.
Loved the evening at Bhangargh. And right after sunset were cops throwing us out of the fort.
What happens after that ?
We get back to our hotel and I am unable to sleep because I am now scared????. Nights are scary, not the fort.
Day 4
So skip day 2 and 3 where we roamed around Jaipur, forward to day 4, the second most favourite day of my trip to Rajasthan.
Thar Desert
Unlike what you think a desert would look like , Thar is quiet different and yet the same. We do not find a stretch of sand dunes laying ahead of us for kilometers. We find sand dunes in certain places. And most activities happen there. So as we boarded a taxi to travel from Jaisalmer to San sand dunes, honestly we weren't particularly excited.
We checked into "The wind desert camp". (An absolutely amazing place to stay, which I am not elaborating on as of now). We stayed in the tents till about evening and then went to the sand dunes.
We were up for a bumpy and funny camel ride. And the camel driver "took us for a ride". This was the game changer.Experiencing a sunset in the desert, on a camel back, giggling my tummy out, while we hear the guide telling us the stories of the desert, indeed an experience for life. Loved every second I spent there. The jeep safari was also one thrilling experience.
At first I said, Thar is way different from the other deserts. What sets it apart is the culture. Women clad in ghagra choli, carrying water pots on their head,with little untameable kids by their side. A group of village heads seated on in their Dhothi discussing life and current affairs seated on a Charpoy . Camels are also accessorised with traditional Rajasthani bells and other animal jewellery (is what I would call it).
The place we stayed in , the food we had , the cultural programs , desert safari, sunrise and sunset in the desert, everything was brilliant and amazing. We signed off from Thar at such a happy note and prepared for what was coming next. The Rann of Kutch.
Day 7:
Let's skip the travelling from Jaisalmer to Bhuj in train and from Bhuj to Nakhthrana in an auto for about two hours and let's reach The Rann of Kutch directly.
We reach Kutch after a long travel from Nakathrana(as that was the only good resort I found on the internet and eventually realised it was madness). The Kutch Utsav was almost towards its end and the stalls were closing already. Slightly disappointed yet again(Our mind funny, it's funny how quick you are to be happy or sad if your imagination of the place matches or does not match the reality, an interesting topic altogether) we start walking towards the "White desert". Ofcourse I wanted to dance like Shahid in "Saree ke fall sa".. as we crossed the entrance gate to the white desert after which we have to walk another 1km to experience the ultimate surrealism, we hold our breaths as what it looks like to us was as if we were on the Moon. Kilometres of vast and empty salt land stretched in all directions. Unable to spot and end to this terrain, just as I imagined and probably even better , I start enjoying the feel of the place. I run around the place like a little child happy to have found a playground all for himself. The only thing probably different from the moon was the "Gravity". Extremely beautiful and exciting. Unlike all the other terrains I have been on , this was special. It felt like never before. It felt like I was on a different planet. It felt great. We spent a lot of time there before returning to the car.
We were told that The Rann of Kutch should be visited during three different times of the day to experience ultimate bliss , first at sunrise, second at sunset and third at midnight , esp during the full moon where the Rann of Kutch looks blue. Sadly for me I missed that , but what i saw in broad day light was nothing short of an amazing feel.
Most people who love to travel , or atleast me , would not want to visit a place which was visited earlier, especially with so much more to do in the bucket list. But Rann and Thar, I would go back there anytime , any day.