Leh is a potpourri of a vast desert habitat, enclosed by yellow colored rocky mountains, travelers and backpackers from across globe, a unique mix of Tibetan and Muslim culture, and Stupas and Monasteries dotted landscape. The city is strewn with markets, tour operators, and Bullet renting workshops. I bet you'll not have a single dull moment roaming around the narrow alleys or pick up some local artifacts, or maybe laze in a cafe sipping coffee or beer.
Its been almost 4 years to the day we decided to attempt Stok Kangri. Aug 2017 I flew out from Bengaluru to Srinagar. To be honest, till date I don't know why tried to attempt this trek as my first Himalayan trek. Nevertheless, I went.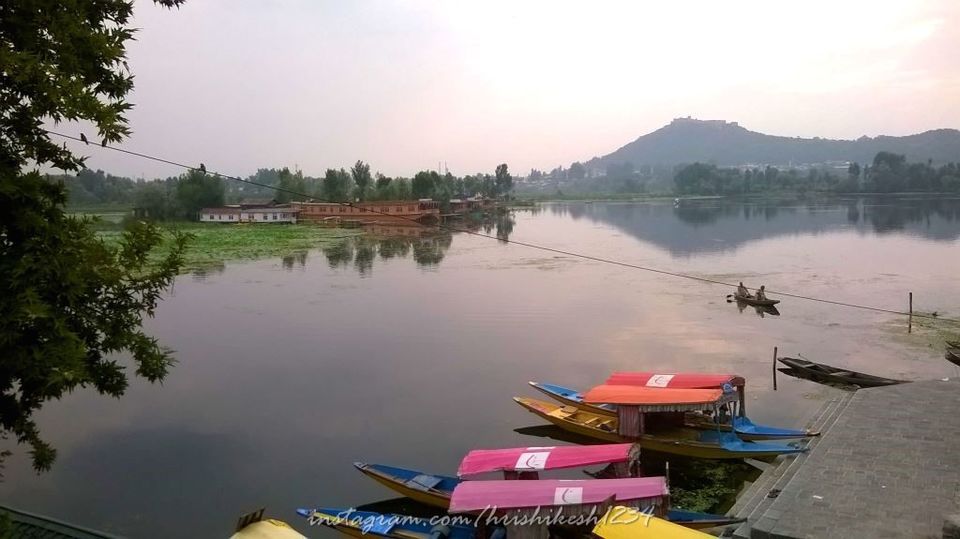 Day 1: Flight from Bengaluru to Srinagar
We were 4; me, Anoop, Hemanth, and Harish. Our itinerary was completely charted out by the other 3, I just tagged along. We reached Srinagar at around 2 pm and met Anoop there, who flew in from Mumbai. We decided to hire a taxi to Leh via Sonamarg on NH 1D. What you'll see below is our journey through pictures as this road trip was one of the most captivating and scenic journey I've ever undertaken.
Kashmir is rightly termed as the paradise on earth. I've been there twice and have always been mesmerized by the landscape, wondered by the humbleness of the locals, and awed by their simplicity. Kashmir for me has been a safe experience; even when I set foot there when the valley was burning for my KGL trek. Our media has somewhat portrayed Kashmir in the wrong limelight, and that has created a kind of mistrust to all endearing travelers.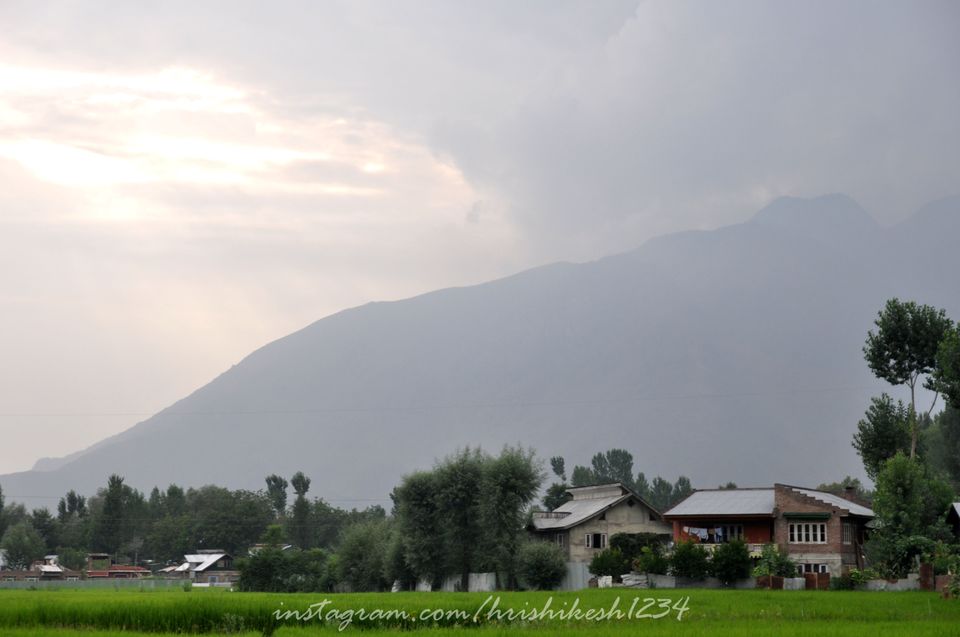 We took a cab from the airport to the city taxi stand where you can get the cabs to Leh. Now here's the trick; back in 2014 we were quoted Rs. 16,000 as the cab fare from Srinagar to Leh. But what you should do is try to catch a cab which is registered in Leh. We found so and negotiated for a fare of Rs. 12,000. Cool, eh?
Now the initial plan what our driver Murtaza told us was we will depart from Srinagar at around 3:30 pm to Kargil. We would reach Kargil by around 10-11 pm. And then continue to Leh next day at our own comfort. But that's when Anoop felt it was too much and we would miss out on all the scenic spots on the way. This was the best decision that happened, because after this the driver changed the plan and advised that we drive up till Sonamarg instead (to reach by around 5-5:30 pm), rest for the night and then next day morning start our journey at 8 am to Leh. Had it been plan 1 we would have had to miss all the surreal landscape.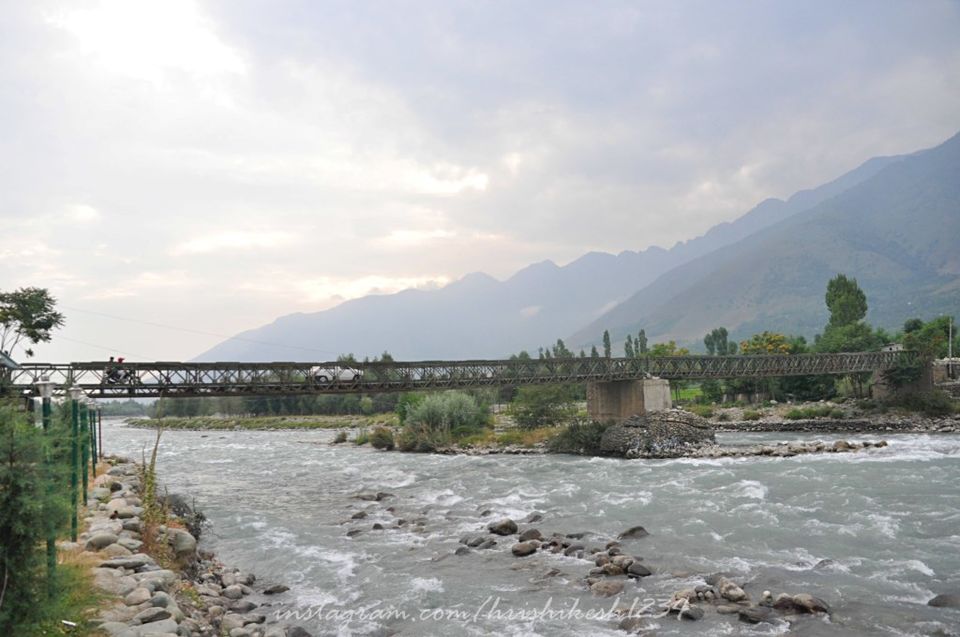 And so our journey has begun. 4 people in an Innova, coupled with some retro Bollywood songs was good enough for this journey. With the songs of Raja Hindustani in the background we were cruising through some prettiest villages you'll see on road. Wooden houses with their manicured crop made for a soothing journey.
We halted at a small restaurant for lunch, just next to the Sindh river. I was having a fabulous time. The serenity around was something I needed. We were on the move in 30 mins, and it was getting dark as well. We reached our pitstop for the day at Sonamarg at around 6 pm. While there are numerous options to stay at Sonamarg, I would personally advise the J&K Govt. guest house. It is not only clean and comfortable but extremely cheap. If I can recall well we paid Rs. 200 per bed for a dorm that had 10 beds.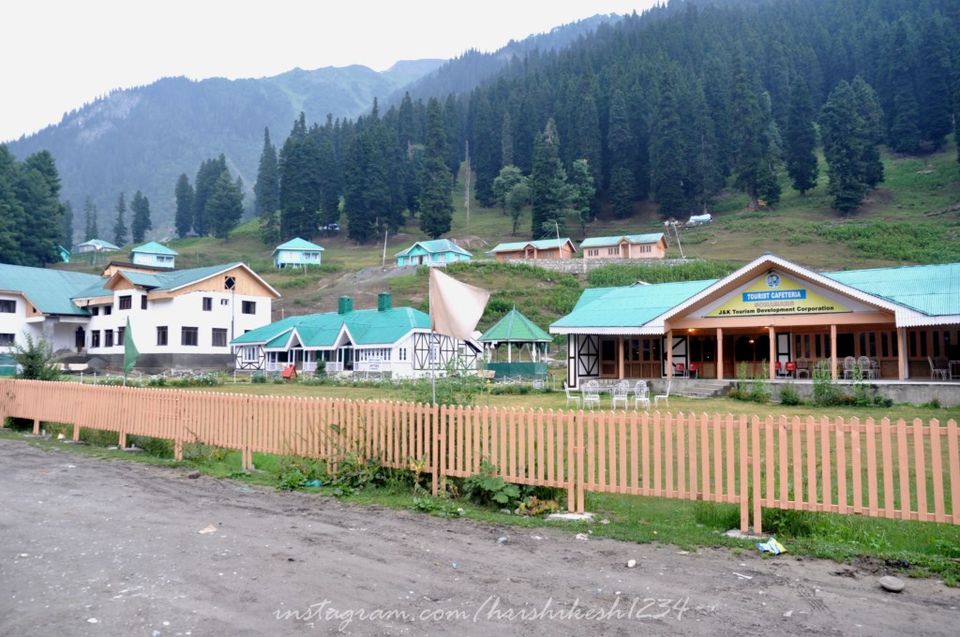 Day 2: The Most Scenic Journey in the Country: Sonamarg to Leh via Drass, Kargil, and Lamayaru
Today's gonna be a day of epic proportions. We move to Leh via some memorable locations; Zozila pass, Drass, Kargil, Lamayuru all await before we reach Leh. We started off at sharp 8 am, & just before crossing Zozila pass there was a truck that had overturned on the road, causing a traffic jam. It took almost 40 mins for the army to clear the highway.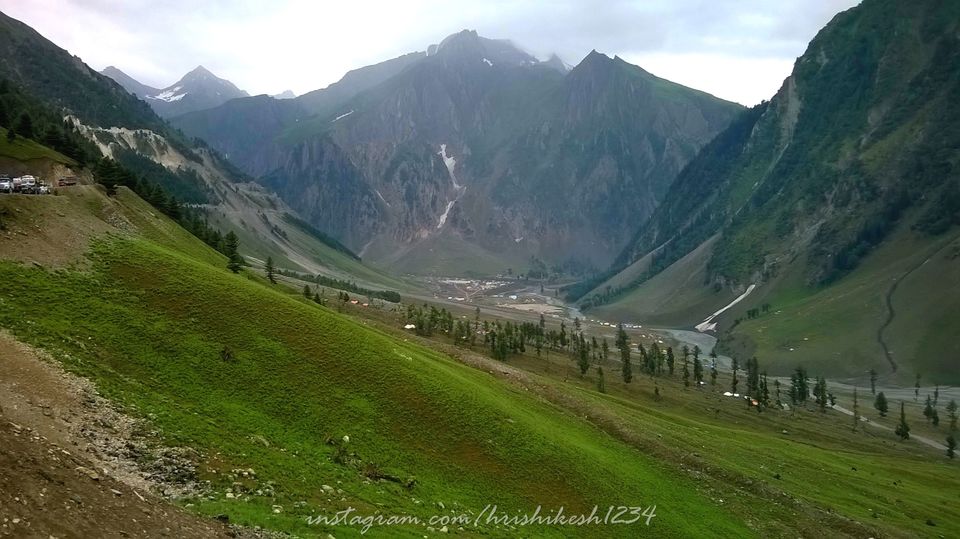 Once the route was cleared we moved on towards the Zozila pass. Now the road up to the pass is treacherous to say the least. The road is wide enough for 2 vehicles to pass each other. And comes with a 1000 ft drop on the other side. You have to be extremely cautious, but more importantly skilled to drive on these roads.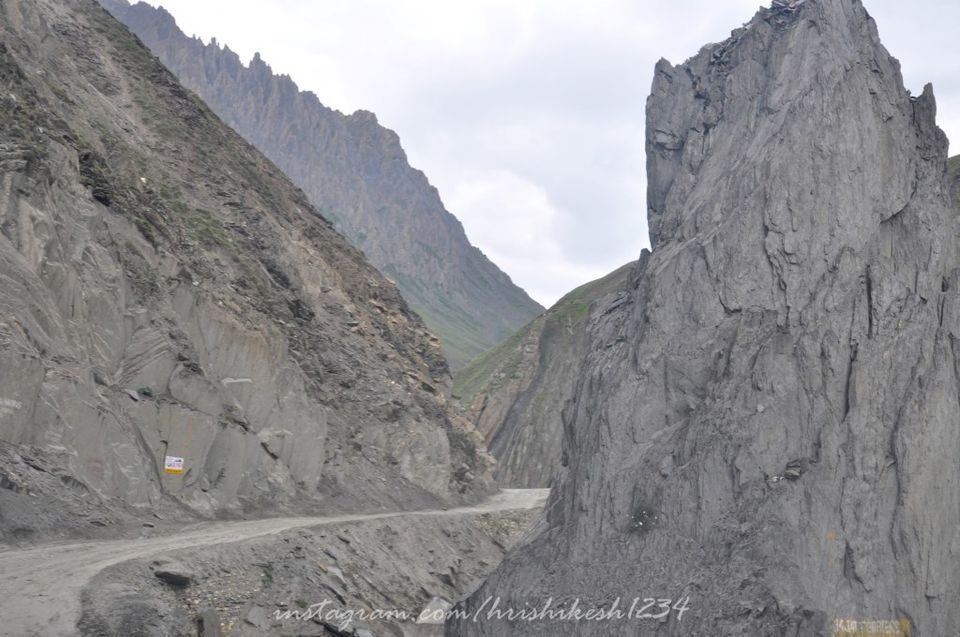 Don't be surprised at all seeing huge movements of military forces and camps all across. As the situation is hostile with our neighbors there are numerous army camps scattered, especially as you draw closer to Kargil.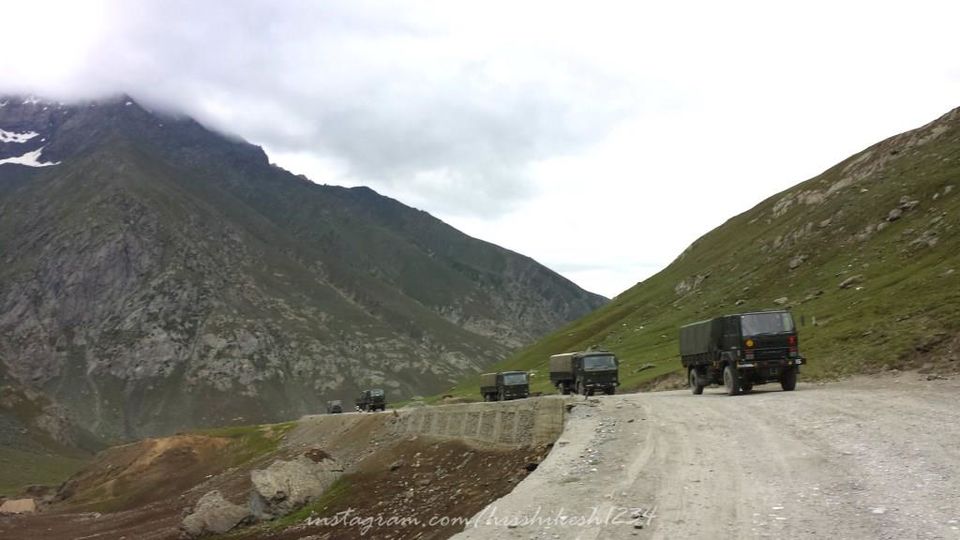 Just before we reached Zozila pass our driver stopped at a place called Draupadi kund. Not sure the significance but the place had a pond.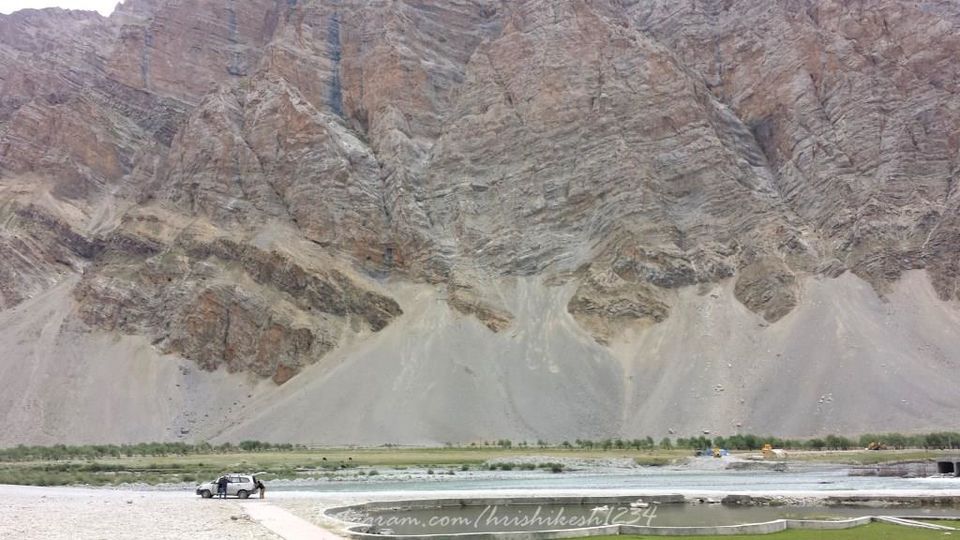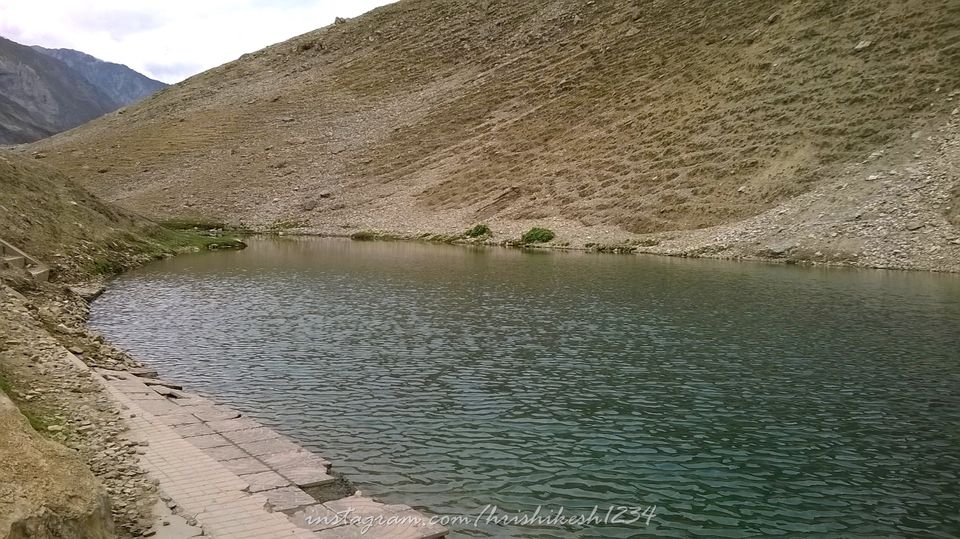 At almost 11,600 ft. we reached Zojila pass no later. Mind you these roads and passes remains out of reach in winter as huge pile of snow covers the entire landscape. The BRO steps during the start of the summers to clear the road and make it accessible to the public as well as for the army.
The Kargil war of 1999 has left a deep impact in the valley. And you can sense with not only by the heavy movement of army but also the memorials build around as you inch closer to Drass.
After crossing the Zojila pass the landscape slowly starts changing. From lush green meadows with streams coming out of glaciers to more barren mountains and meadows with traces of green.
As we inch closer to Kargil War Memorial our driver, who has now doubled up as a guide too, pointed us to the peaks that acted a crucial part in the Kargil war. These were the hills which were captured by Pakistani troops within the Indian territory, and the Indian army had to launch an offensive to flush them out. Hills like Tiger hill, Point 5060 and Point 5100, and Tololing. He also showed us the walls that were put up to save the vital NH 1D from being bombed and getting damaged. This route was critical to continue the movement of the army and ammo.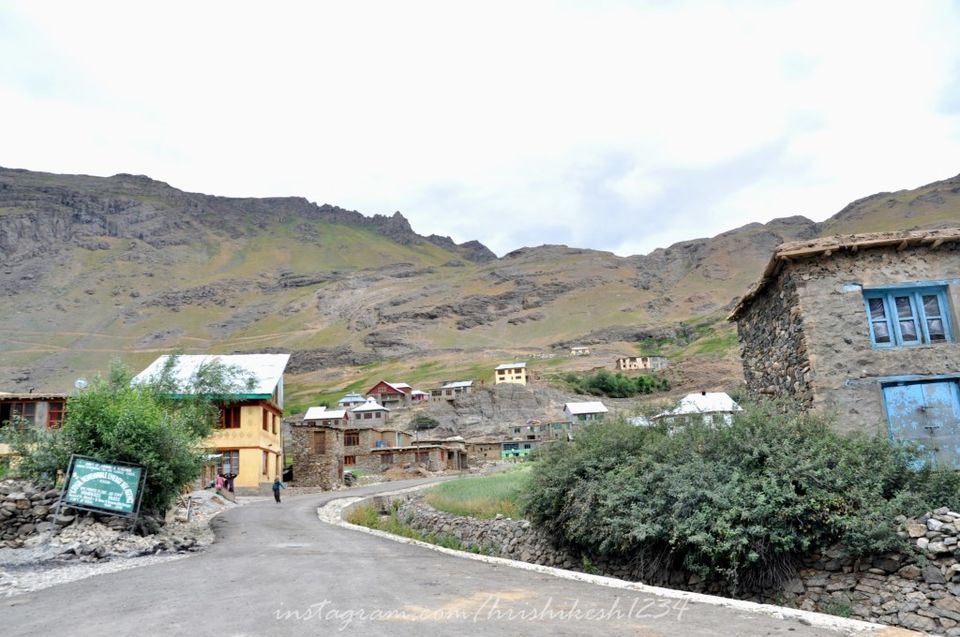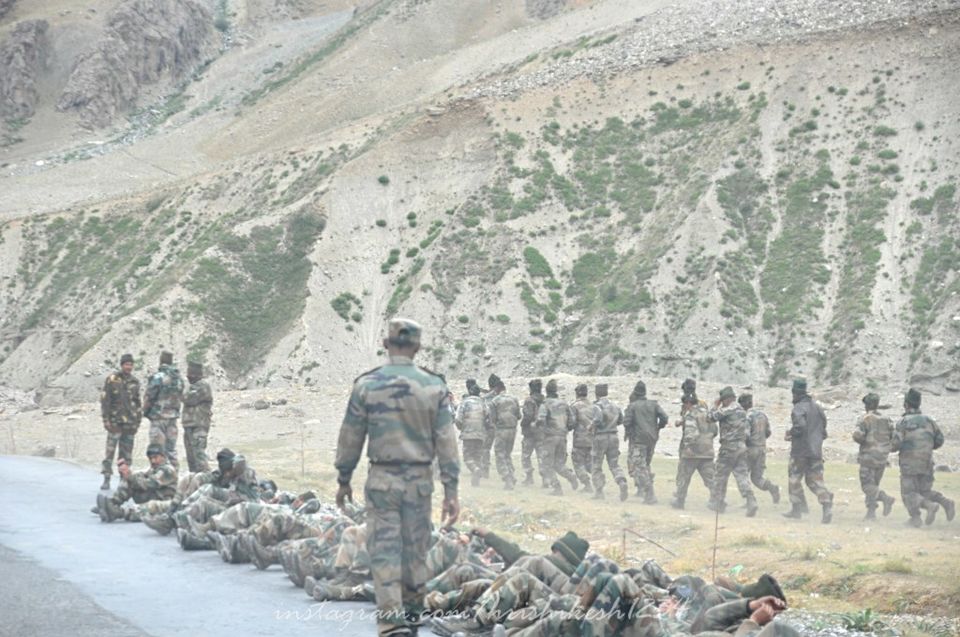 Emotions were slowly taking over me listen to the stories of Kargil war. Murtaza bhai mentioned that the locals were equally in the war, with many locals would provide water and food to the warring soldiers. Sleeping at night was no less than a risky affair, with shelling and firing happening through out the night.
I just wondered the Kargil War happened in such proximity to where I am right now. In fact the roads that I'm on was witness to countless duels between both factions. It was hard to imagine that the peaceful surrounding that I was going through was a battleground not long ago, with loud bofors guns, helicopters, fighter jets, and innumerable guns blazing aloud.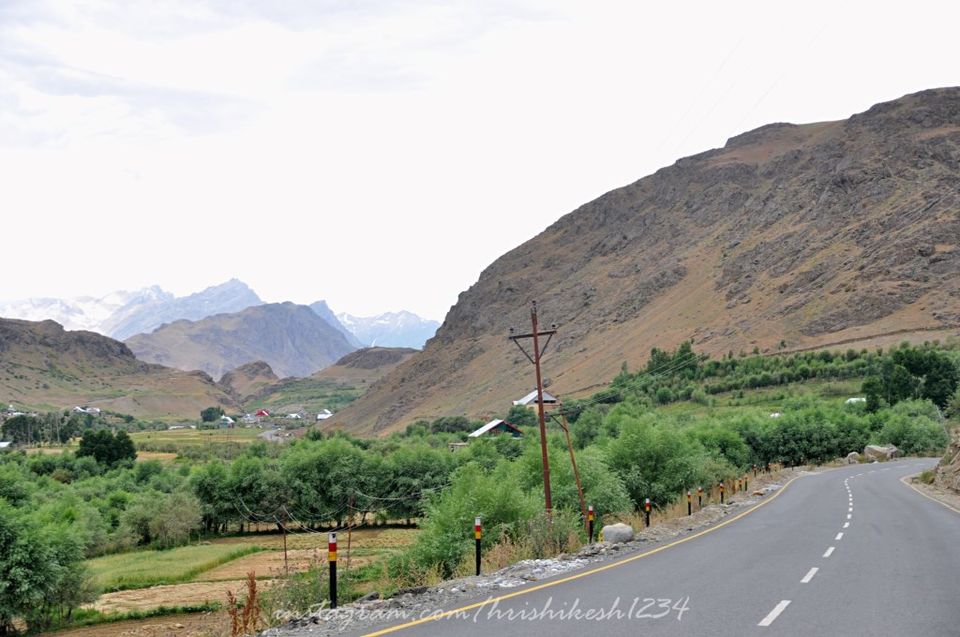 With all these conundrum of thoughts we reached the Kargil War Memorial at Drass. With the Mt. Tololing forming as the formidable peak in the backdrop the Kargil War Memorial was dedicated to all the martyrs that laid down their life in the Kargil War. There was a huge flag in the center which is hoisted by the PM every year on Kargil Vijay Divas, tombstones with the names of all the martyrs inscribed on it, and a museum to show all the weapons, recovered documents, and other remnants of the war.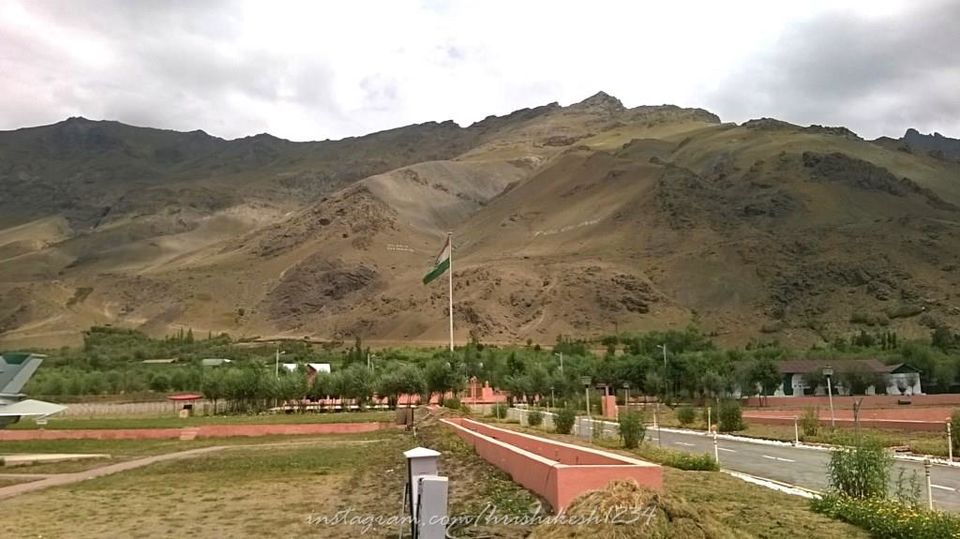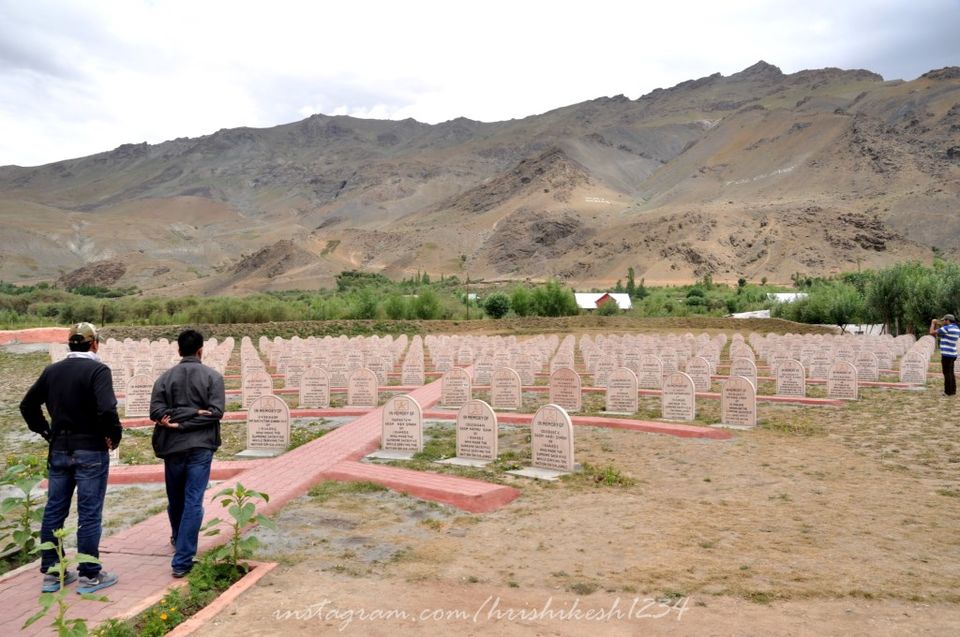 Once inside we were narrated how the war unfolded and the challenges that were overcome by our army in defeating the enemies. Having said that Indian Army also suffered heavy casualties, as most of them died while trying to scale the hills falling easy prey to Pakistani firing.
All of us were filled with emotions, contemplating how the war was fought in such a harsh terrain. Reminds of all the hardships our defense personnel have to bear so that we may sleep peacefully at home. As one signboard read rightly, "When you go home tell them of us and say, for your tomorrow we gave our today"...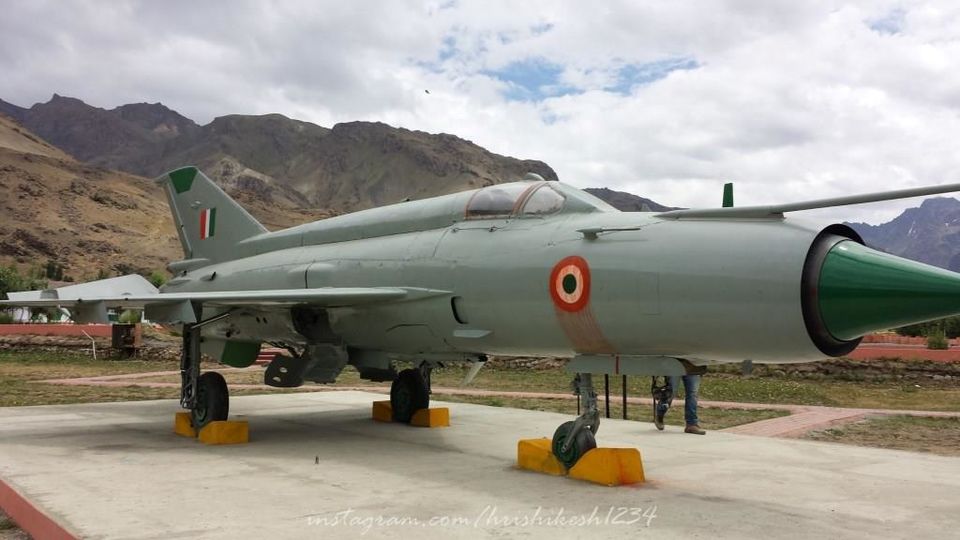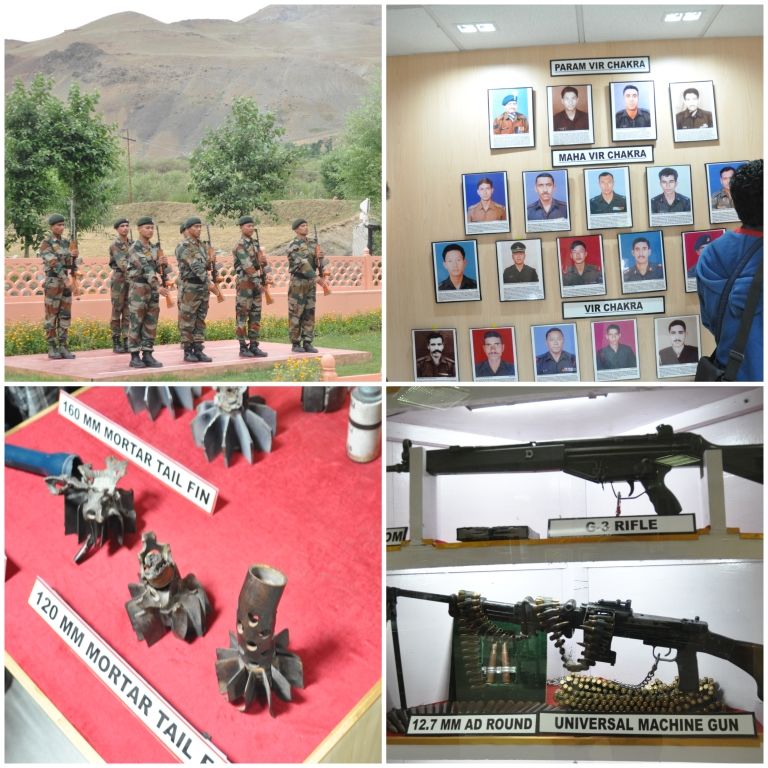 Drass also has a record to its name; its the 2nd coldest inhabited place on the planet. Thinking about it only gets you the chill. The climate must be absolutely bone rattling cold during winters. But nonetheless, its a beautiful little town on NH 1D.
From Drass we head down to Kargil through some rugged mountains. The landscape has completely changed now, and barren mountains have taken over now.
We had entered Kargil district now, and is the biggest town between Srinagar and Leh. Apricot farms dot the roadside, and if you're lucky then the farm owner will be generous enough to provide some to taste.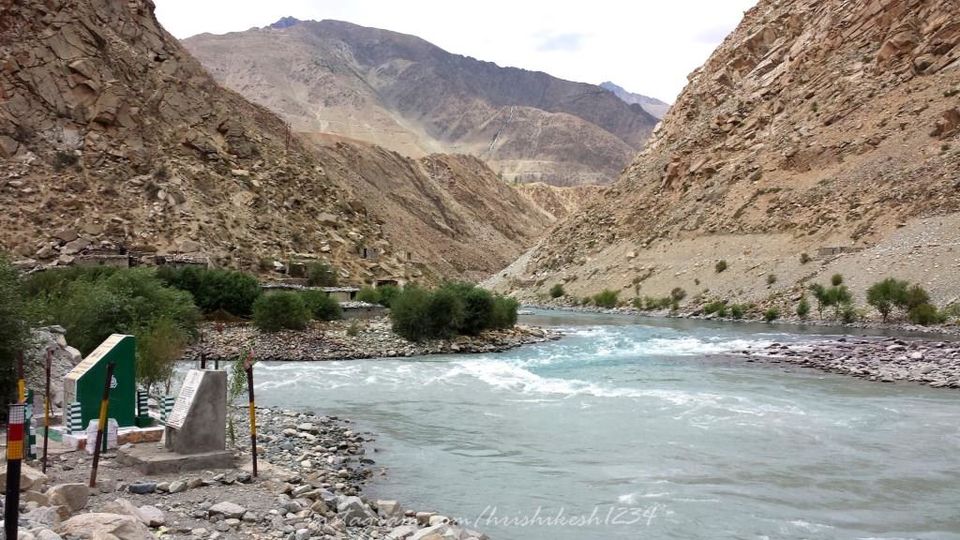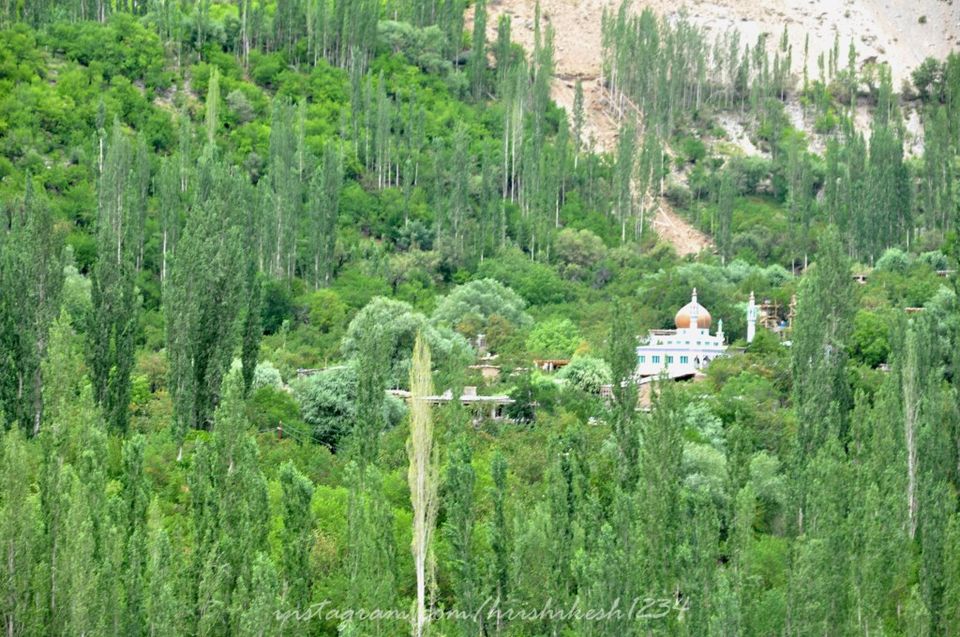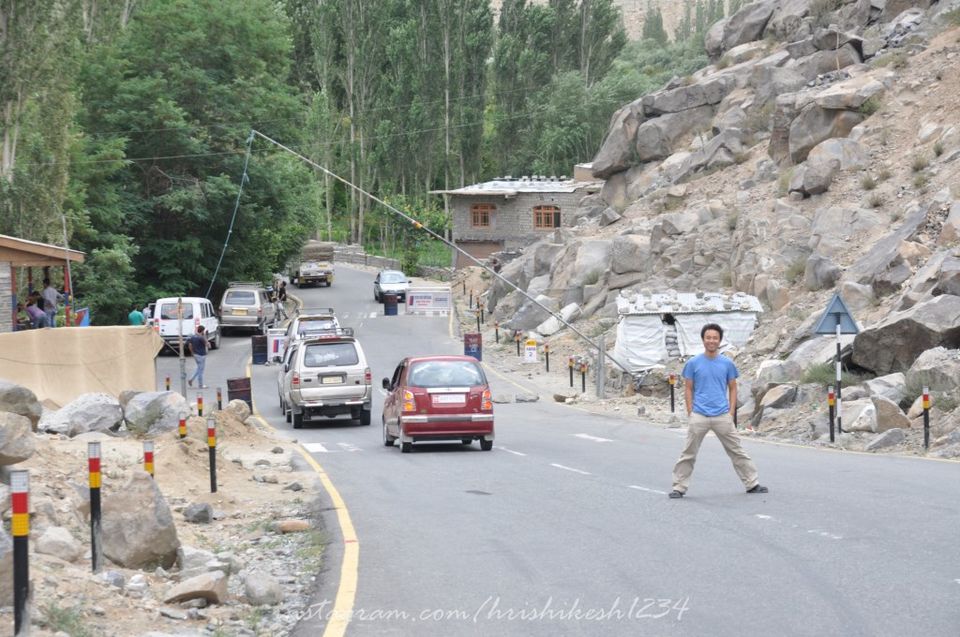 We stopped in Kargil for lunch. We have entered a barren desert now, typical to this area till Leh. Fascinating it was.
Breathlessness at this point is quite common due to thinning of air, and people often feel dizziness. Plenty of water should be consumed to avoid such effects.
Lamayuru is a good 106 kms from Kargil, and Leh is further 205 kms from Kargil.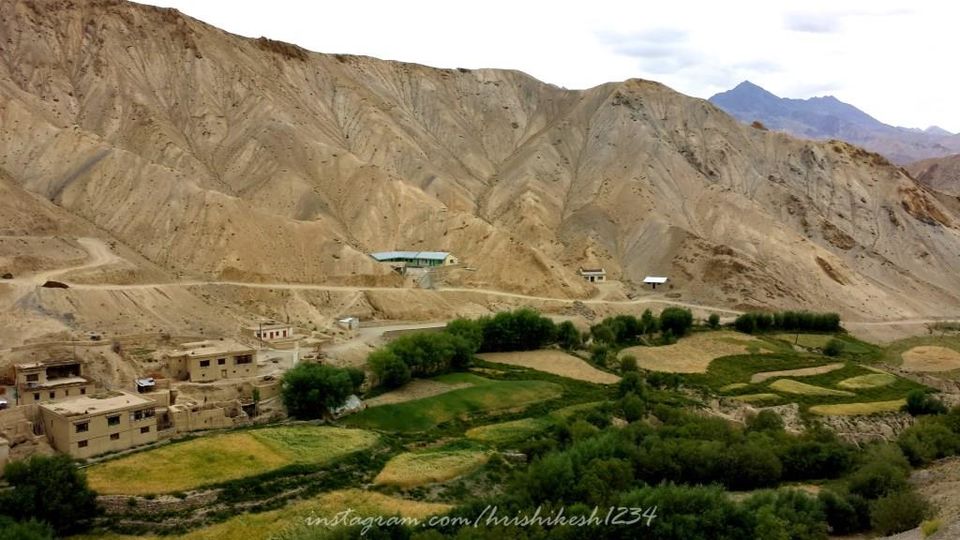 If the stretch from Srinagar till Kargil was all about the green landscapes with glaciers hanging from mountains then the part from Kargil to Leh is all about some barren, artistic mountain hills, painting a stunning picture wherever you see. This part of the section is all about the beauty of the rough terrain.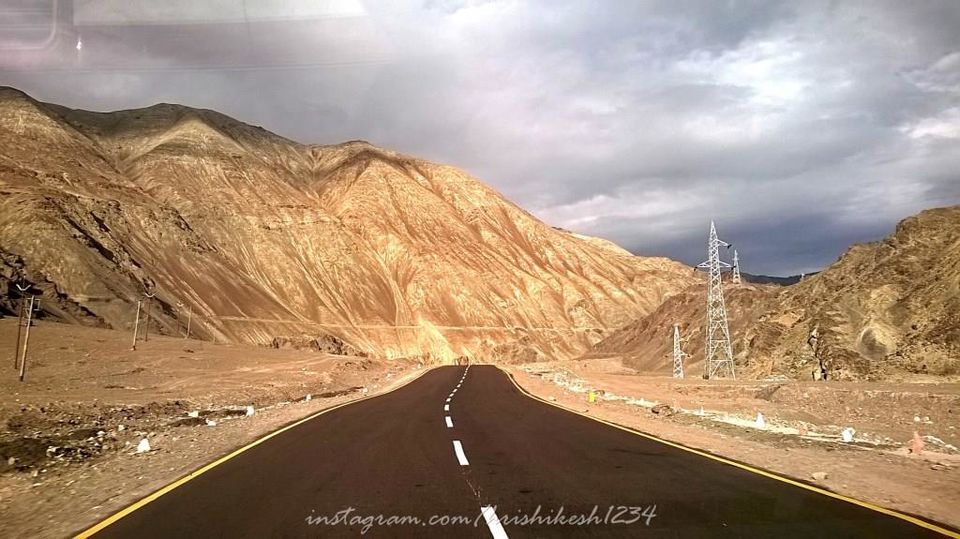 Driving in the lap of such valleys is a surreal feeling. Sadly, it was not us. The highest point between Srinagar-Leh is a place called Fotu-La. This place is like in the middle of nowhere, and is extremely windy. We are at an impressive 13,500 ft. right now. That's a lot of altitude, let me tell you that.
After crossing Fotu-la we reached moonland, Lamayuru, known for its moon shaped landscape. Though we didn't stop here but the geological formations around sure made for a interesting view from our windows.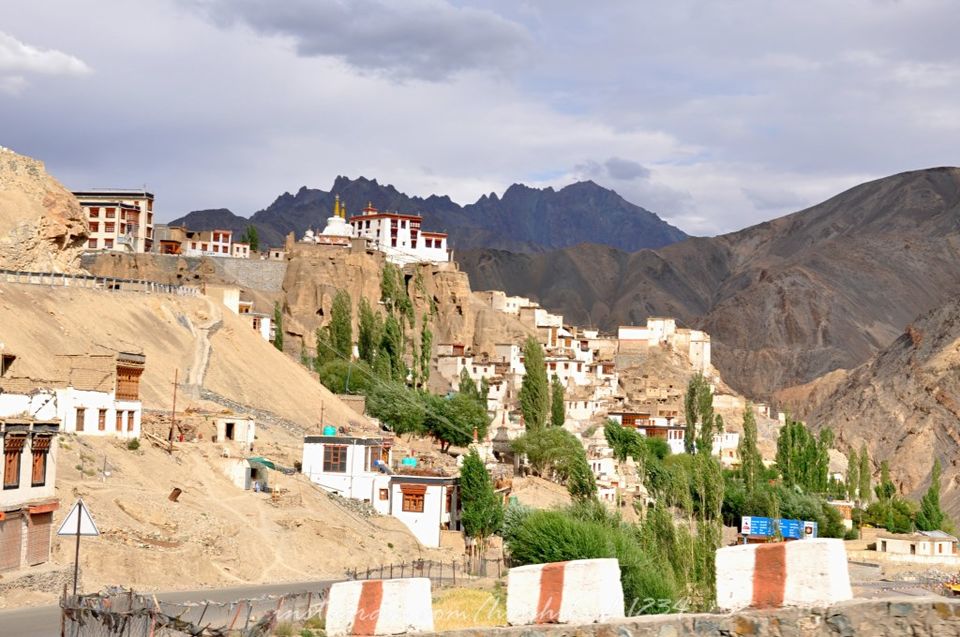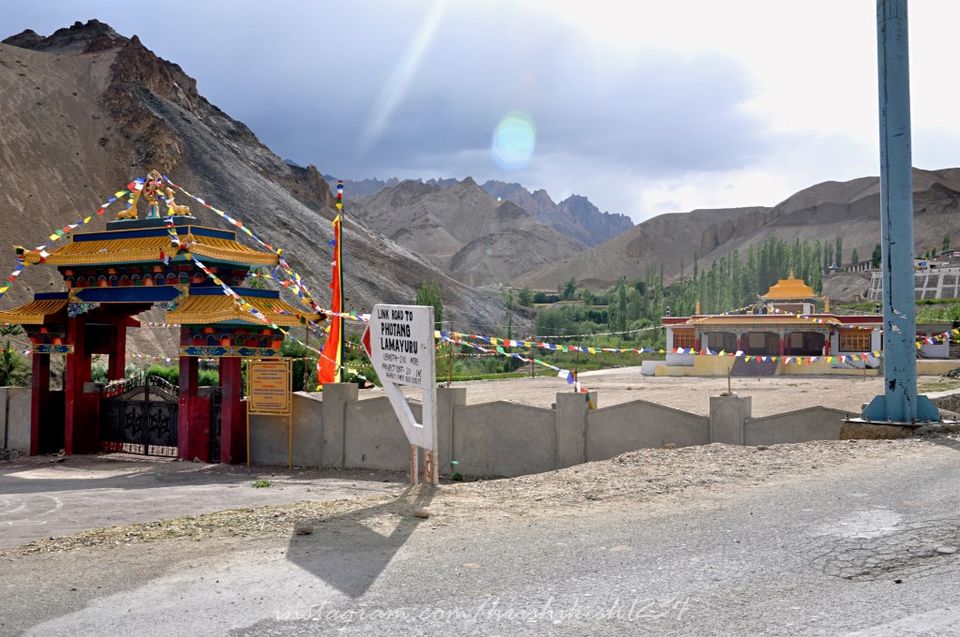 Leh was now a further 110 kms from Lamayuru. We have been travelling for the last 8 hours now. But you have to give it to BRO, for maintaining the roads in such immaculate condition. Like I've mentioned above driving on such roads here is a dream for many.
The villages have disappeared now, and what lies all around is barren desert and mountains. Our driver suggests that Leh is not far now, and we could see it as tiny dots. Before Leh we reached yet another popular spot, the Magnetic Hill.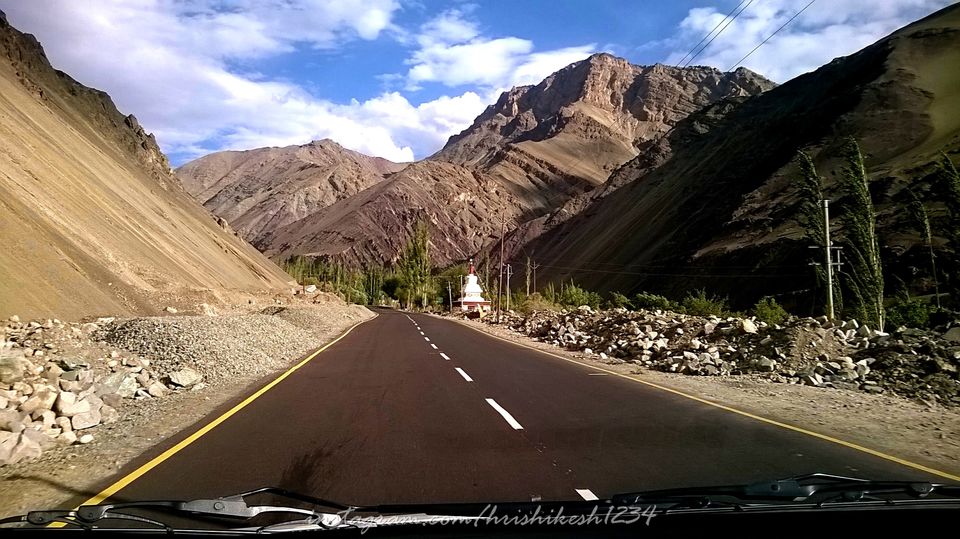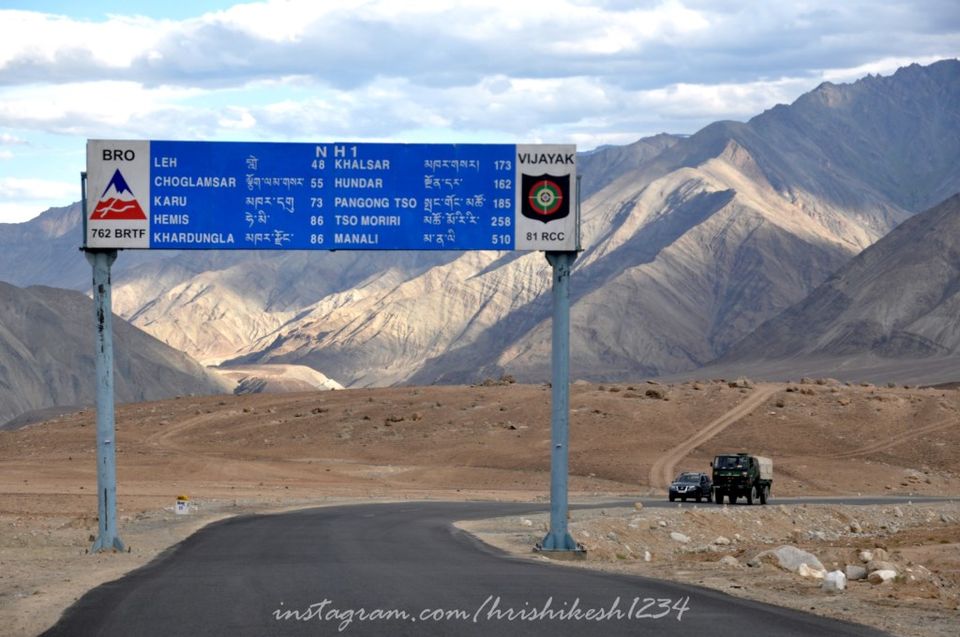 For the unknown Magnetic Hill is a stretch of road on the highway to Leh people believe has magnetic properties. The vehicles tend to continue to be in motion even though the stretch is uphill. Apparently the magnetic force beneath pulls the vehicles up. Needless to say there were a lot of vehicles and riders who tried their luck to see the phenomenon. Honestly speaking I didn't see any "magic" happening.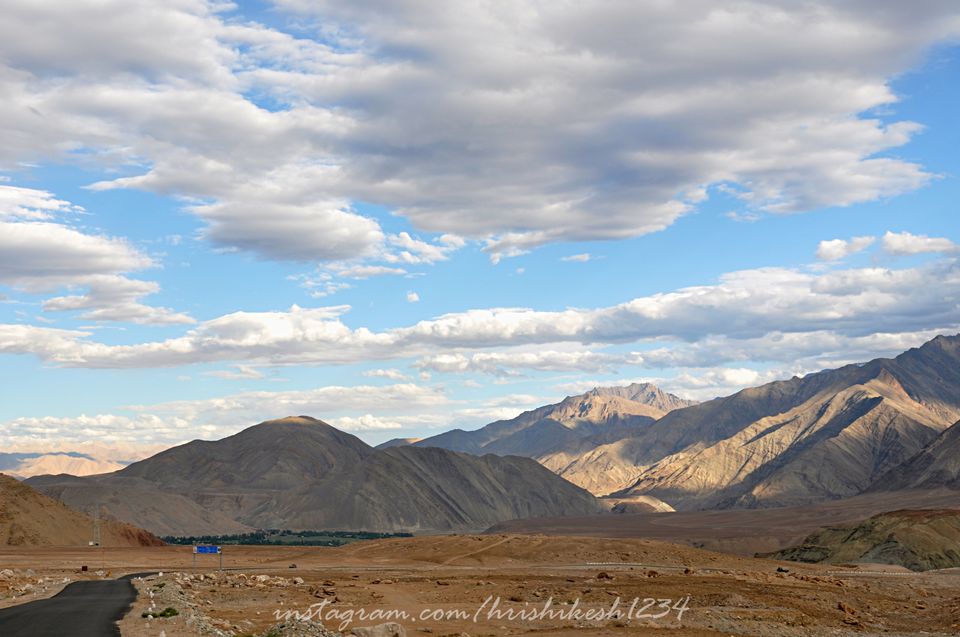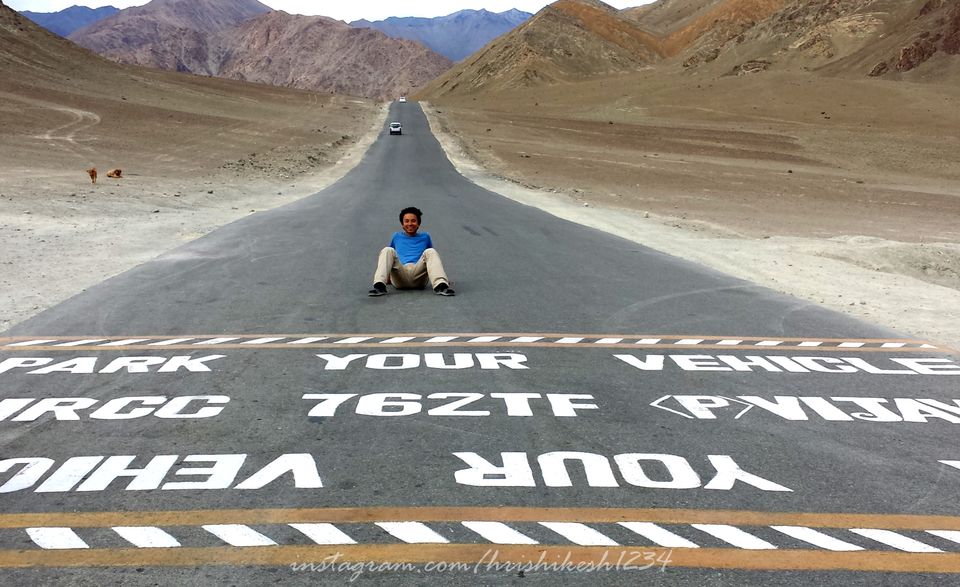 Once Magnetic Hill is crossed reaching Leh is just a matter of time. It was evening by the time we entered Leh. Unfortunately our prepaid phones won't work. I wouldn't say I was tired, in fact I was jumping with excitement. I was so fascinated to see such stark different landscapes to what I'm used to otherwise.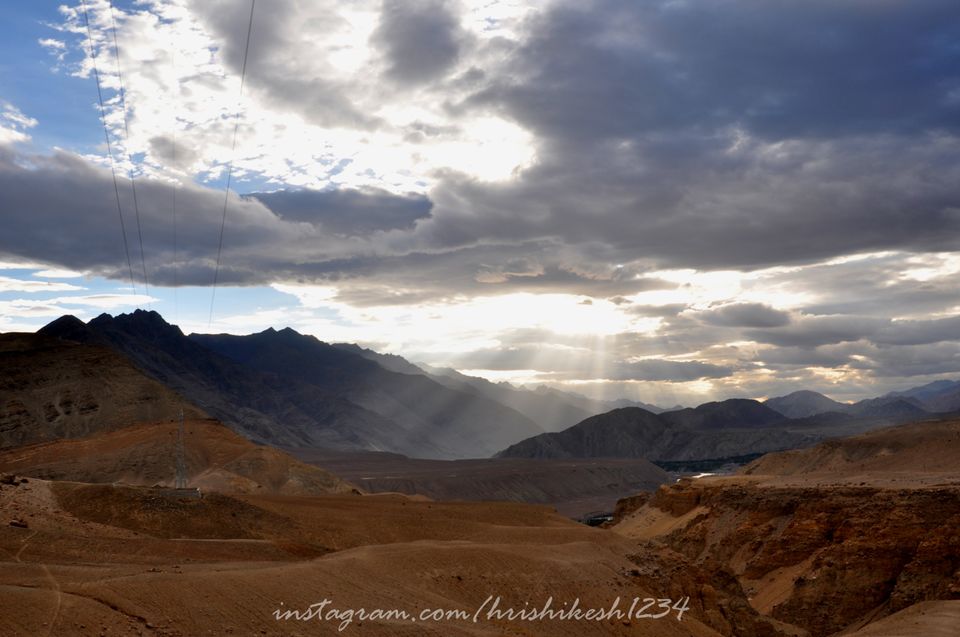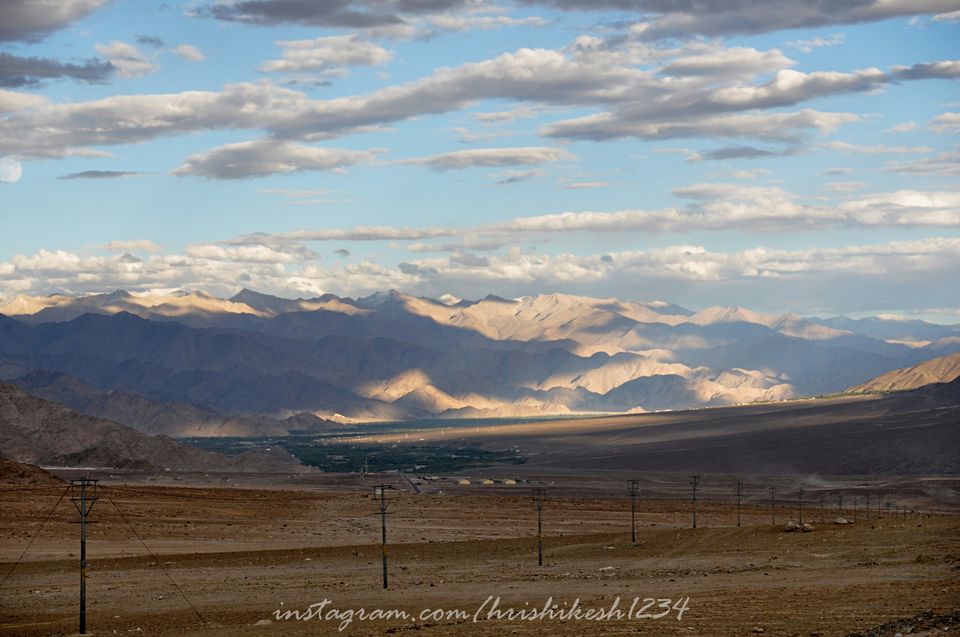 Our cab dropped us right in front of our homestay, which was pre-arranged. I was fascinated for things that are planned for us, for the journey itself was so dreamy. This brought an end to our road trip from Srinagar to Leh.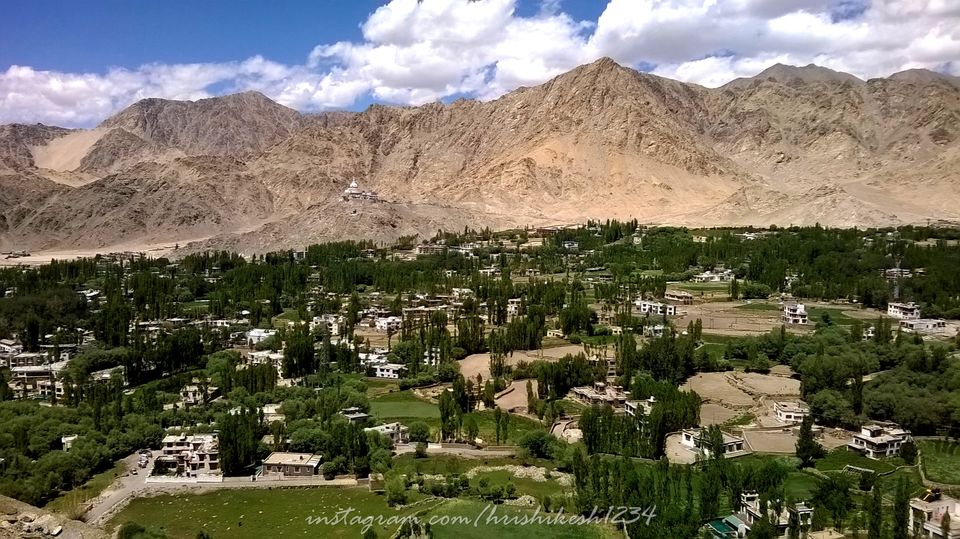 Things to do and carry:
1. Ensure to carry one valid ID proof, with address on it
2. Prepaid networks don't work in Kashmir and Leh. You can carry a BSNL postpaid
3. Carry warm layers. It can get cold. Very cold.
4. Carry lip balm, moisturizers, sun-glass, and a cap. The environment is very dry, and harsh on the skin
5. Drink sufficient water as you'll gain plenty of altitude. Dizziness, vomiting, and headache is pretty common
6. Carry diamox if you want to acclimatize faster. Also, avomine if you have motion sickness
7. Carry a good camera
8. And don't forget to say "Julley", which means Hello, Thank you, and Bye! This will help you make friends, get you food, directions; its basically your survival word.
Frequent Searches Leading To This Page:-
Best Time to Visit Leh, Places to Visit in Leh, Best Tour Packages for Leh, Top Leh Tour Packages for Family, Top Leh tour packages with price, Budget Trip Packages for Group to Leh, Things to do in Leh, Leh Holiday Tour Packages, Leh Ladakh Road Trip Packages