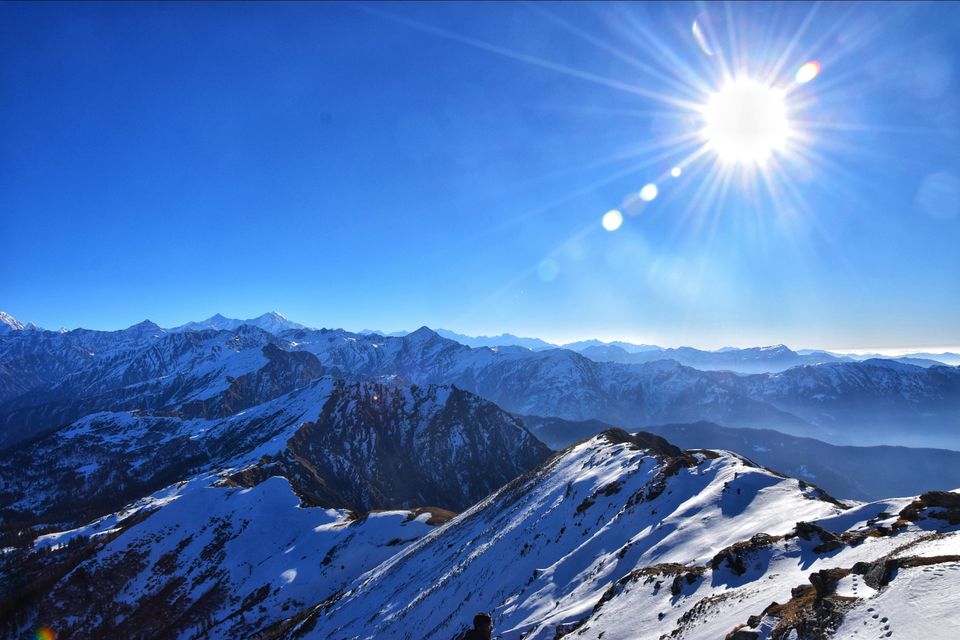 Introduction
In the early part of the 2017, one fine afternoon as I was scrolling through my Facebook newsfeed and I came across a video of the mighty Chadar Trek. I was blown away by the beauty of the landscape in that video. The idea of climbing a Himalayan Giant seemed interesting to me. And thereby I started my research. I googled everything there was about Chadar Trek and was soon led down by knowing it was only for experienced hikers. However, I started looking for introductory treks that one might take on and I shortlisted Sandakphu and Kedarkantha. Both were winter treks but Sandakphu does not receive any snow anymore and therefore I chose Kedarkantha, slightly more challenging than Sandakphu, however an equally beautiful trek. With a year in hand, I began jogging on a along with other basic physical training.
Arrival
And finally on the 3rd of January 2018 I started my journey from Kolkata for the Kedarkantha Summit. On the 4th I reached Dehradun and was introduced to the rest of my trek mates. And we all drove together for the next 8 hrs through the mountains to reach our start point of the trek, a small village called Goechwain gao near Naitwar.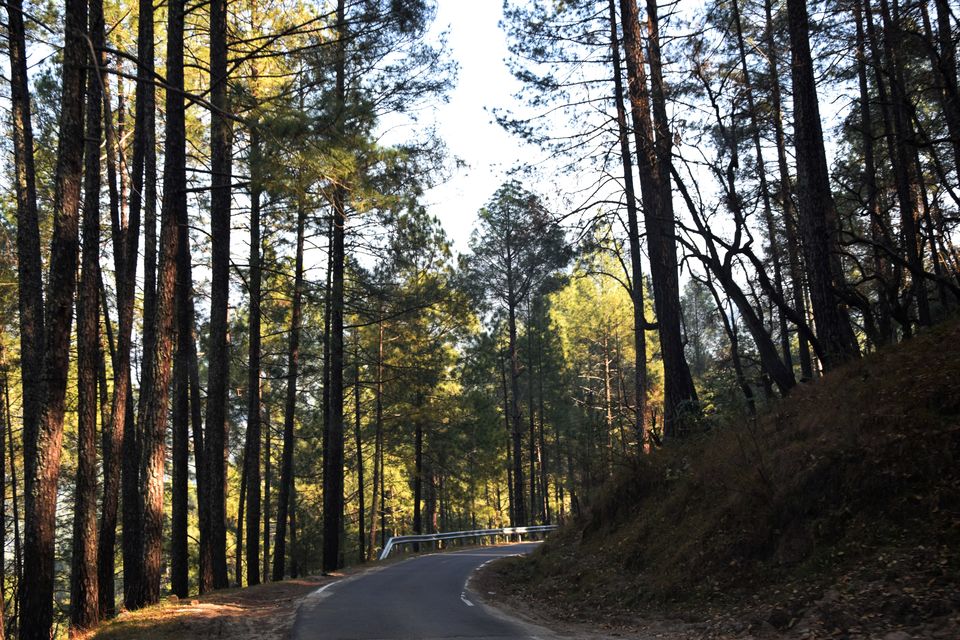 There we met our Trek Instructor Ashwin, a 24yrs old Engineering pass out, trained in Basic and Advanced Moutaineering Skills and Techniques. He briefed us about our trek and then told us about the fundamental "Do's and Dont's" on a High Altitude Treks like the one we were supposed to start the following morning. We spend the rest of the evening with a jolly good dinner and chatting about the trek.
Day 1
We woke up at around an hour before sunrise and started getting ready for our first day in the mountain. At 7am, we all took our rucksack to the front yard where we had our health checkup and breakfast and learned about our day's briefing. And we started our trek from Goechwan Gao(5600 ft) towards Jalaouta Camp Site(8900ft). It was a 7.1 kms trail with gradual ascend. At the beginning of our trail was our Leading Guide, Subhash and at the end of our trail was our sweeping guide Jayram. The rule was, no one should overtake Subhash and no one should fall behind Jayram.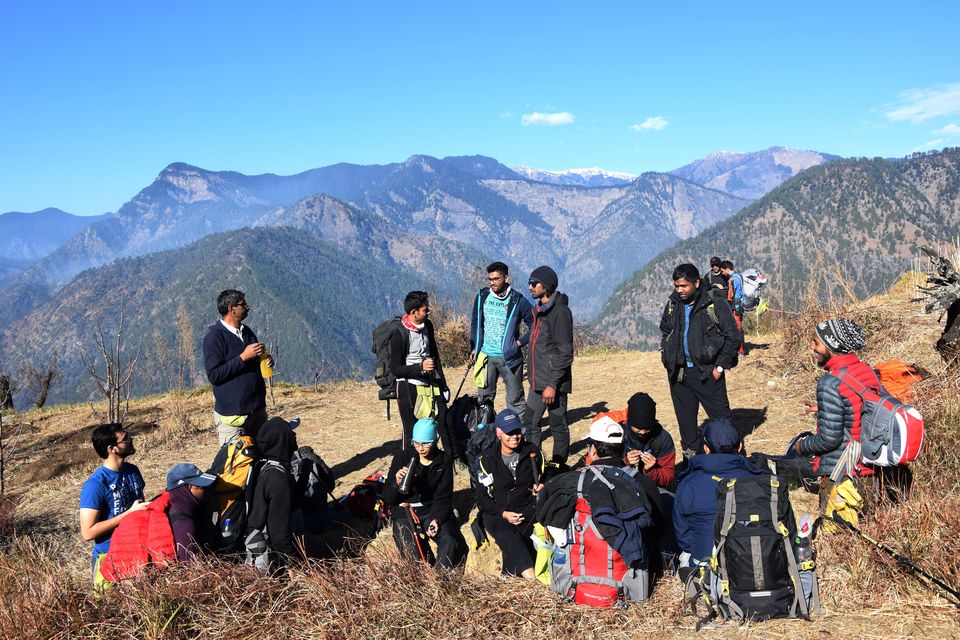 We started our journey with a group picture and started our climb. To be honest, I was very confident at the beginning but I soon realized running on plain land is no-way comparable to walking on steep. We passed through some small villages. In one such village was our water point. Some of us played cricket with some local children.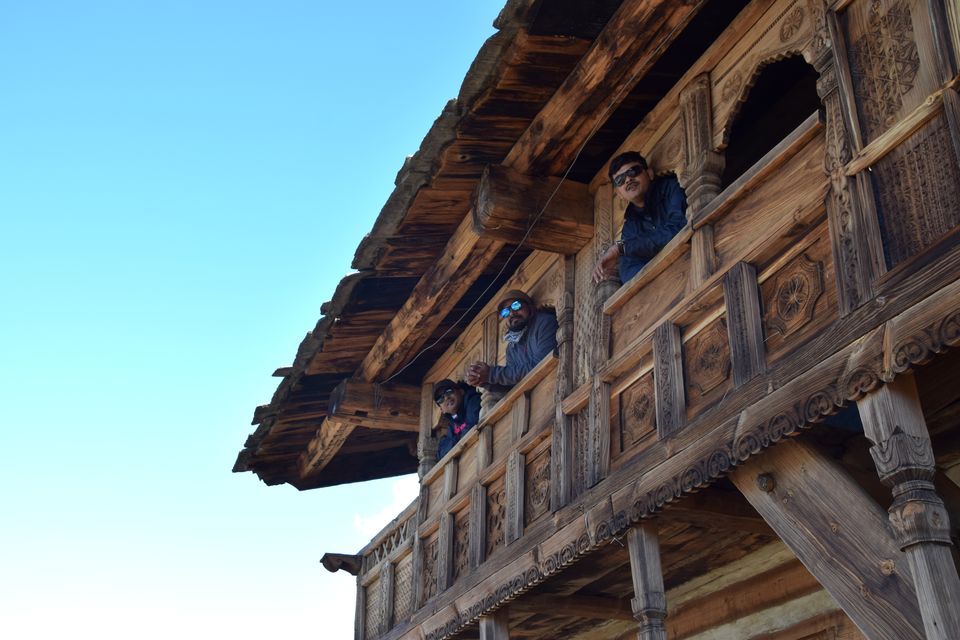 After a 15 mins water break, we left the establishment and entered the Govind National Park & Sanctuary after only about an hour of climbing. Our leading Guide, Subhash introduced us to the 3 main types of Himalayan Oak and how to identify them. He went on telling us about different trees and how we are benefited by them. I tried to keep up with Subhash as I started to enjoy his amusing stories. As we kept moving through the forest many of us started getting tired and people started to fall behind. Eventually, our team was moving in three separate groups, the beginning part leading with Subhash, The middle part with Ashwin overlooking them and the end part with Jayram motivating everyone to keep pushing forward. We came across a "Dhaba" on our way. However, calling it a Dhaba would be a bit of a stretch as the only two things they serve there are tea and noodles.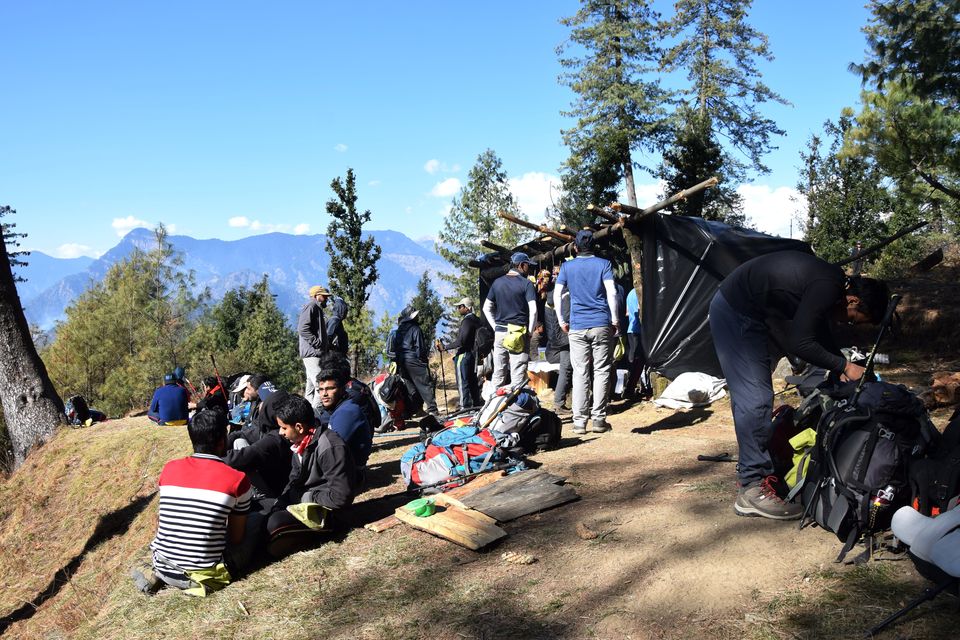 We all had tea there, rested for a while then kept moving forward. And finally At around 1.30 we reached our first Camp Site Jalaouta. After we all reached the camp we did a little stretching exercise to relax our muscles. Had Rajma chawal for lunch. I explored around a little bit and was surprised to find a little patch of snow behind a small elevation. In the meanwhile, our Trek Instructor Ashwin was preparing to make a campfire. I saw him collecting twigs, and I helped him do so.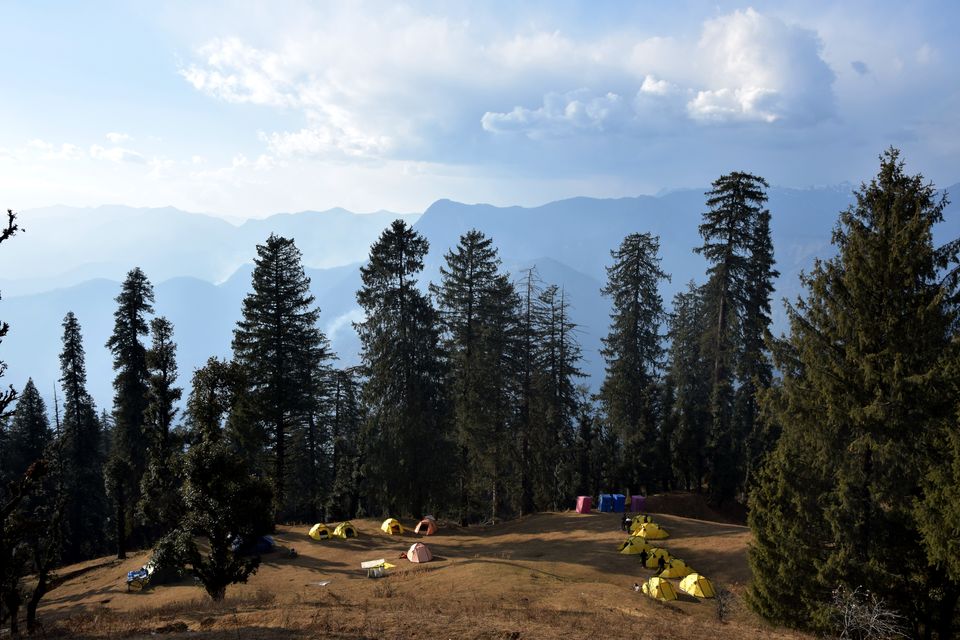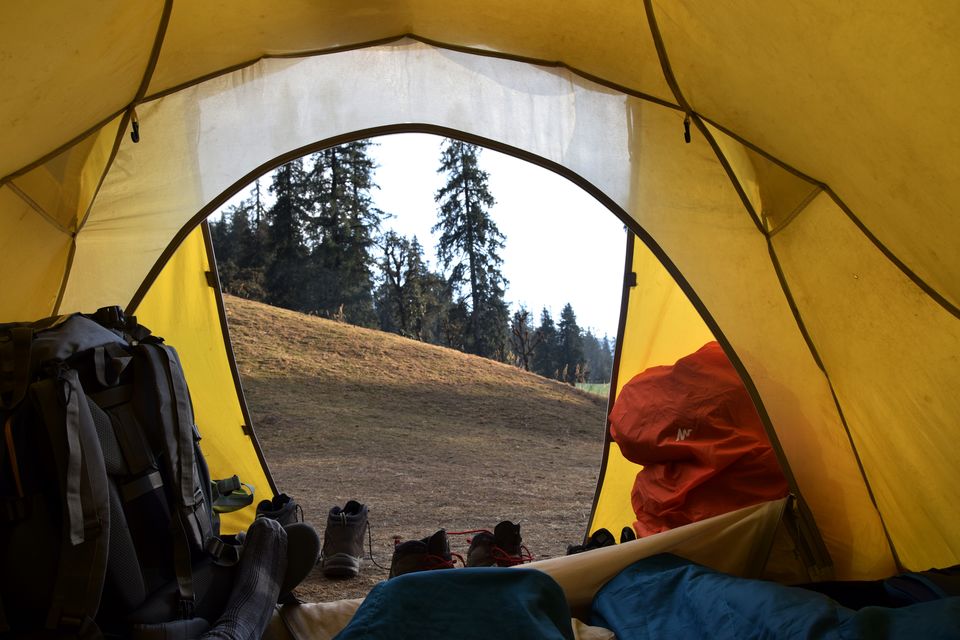 At around 4.30 we started the campfire. Everyone sat around it closely to keep themselves warm. Some of us sang retro Hindi songs. It was soon time for dinner then we all went for bed.
Day 2
Our second day started with a lot of enthusiasm. They served us Idli and Sambhar for breakfast. Like the day before, we gathered up in the open space in front of our little yellow tents where we were told about our day's itinerary. Today we started our hike through the pine forest with a friend commonly called by everyone as 'Ghost' from our Jalaouta Camp. Only 15 mins into our trek and we were surprised by a vast clearing covered with snow. From there on, there were patches of snow on and off and the terrain also started to get a little difficult. The slope started feeling steeper and one could feel that air was starting to get thin.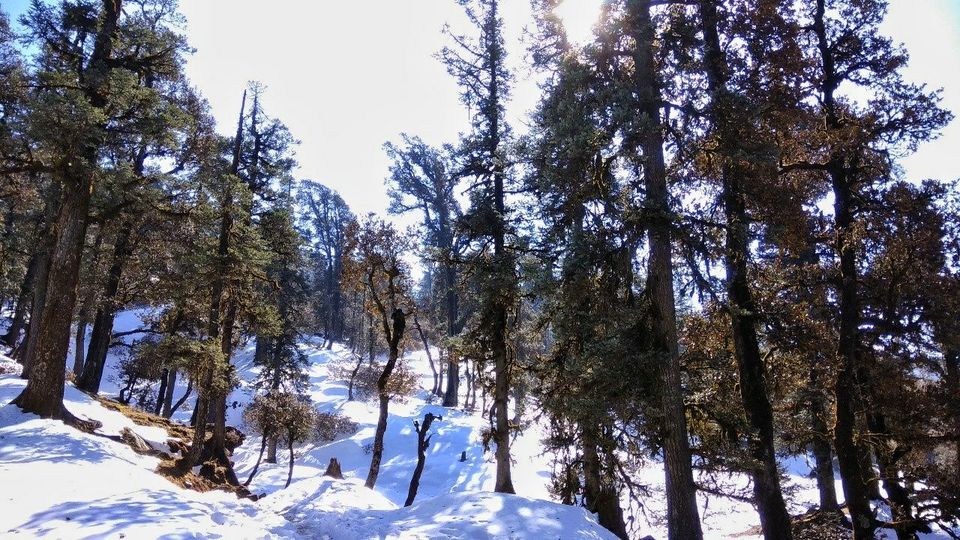 Ashwin introduced us to the different types of snow and ice and how to cope with them. One can see multiple clearings and meadows as one treks from Jalouta. On one such clearing, called Siunn ka Thatch(9,293 ft), we decided to take a water break and clicked some photos with the range of ice peaks in the background. After crossing a couple of streams, we entered a meadow from where we could clearly see the Kedarkantha Summit and thereby reached our second camp that is Pukhrola Base Camp (10800 ft).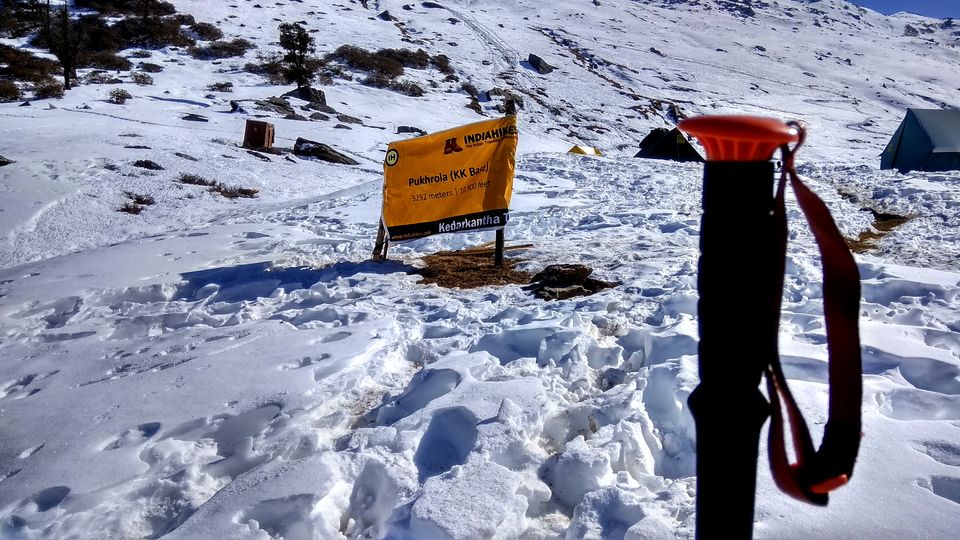 We were served rhododendron juice as we reached the Base Camp. Soon after arriving we completed our stretching exercises and started looking around our campsite. Unlike our previous base camp, this campsite had no tree cover so the wind were harsh on the tents.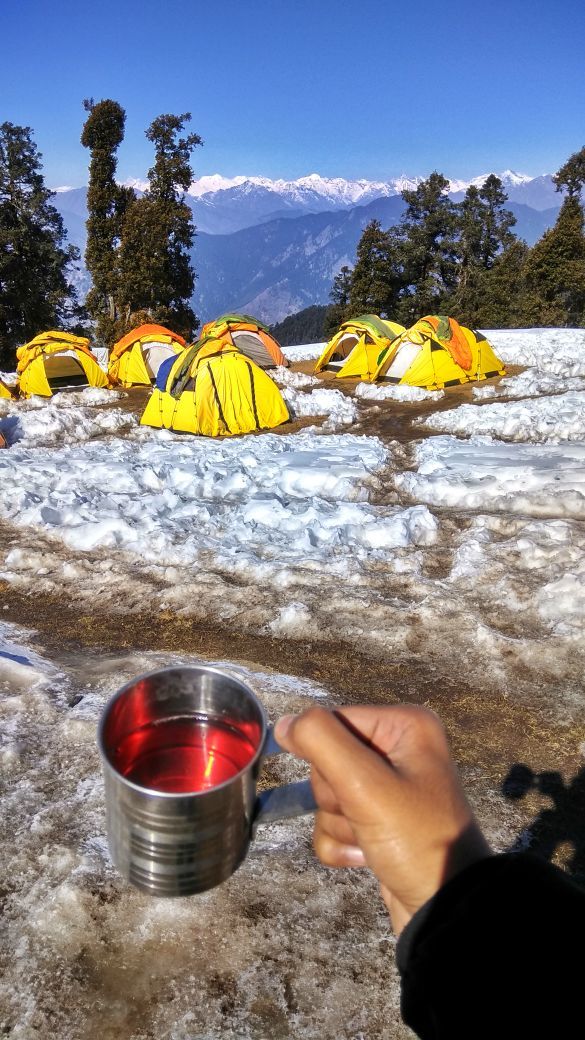 Soon, it was time for lunch. While we were having our deliciously prepared meal, our friend Ghost started barking at something at a distance and ran towards it frantically. None of us paid much attention to this but our Trek Instructor pointed us out that he was chasing away a Himalayan Fox. Then we noticed a small black figure, roughly about the size of a cat, running on the white snow and disappearing behind a rock. After lunch we spent a lot of time basking in the sun. Some of us laid down under the sun and had a good nap. Moments later, we all enjoyed a picturesque sunset and went inside the meal tent and it was getting really windy outside. We slept early that night as we were supposed to start for the summit before sunrise.
The Summit Day
The summit day started way early. Ashwin shouted a wake up call at around 4 and we started preparing for the final climb. It was too cold the previous and night, and I couldn't sleep well as my bones were aching from the cold. Our Leading guide Subhash informed us that temperature dropped to a negative 12 at night. We wanted to reach the summit before sunrise so we started at 5am and raced with the sun to the top. We started with our headlamps on, cutting through the darkness. It was only a 2 km climb but it took us nearly 1.5 hrs due to the steepness. The terrain was challenging by itself and the cold added to the difficulty.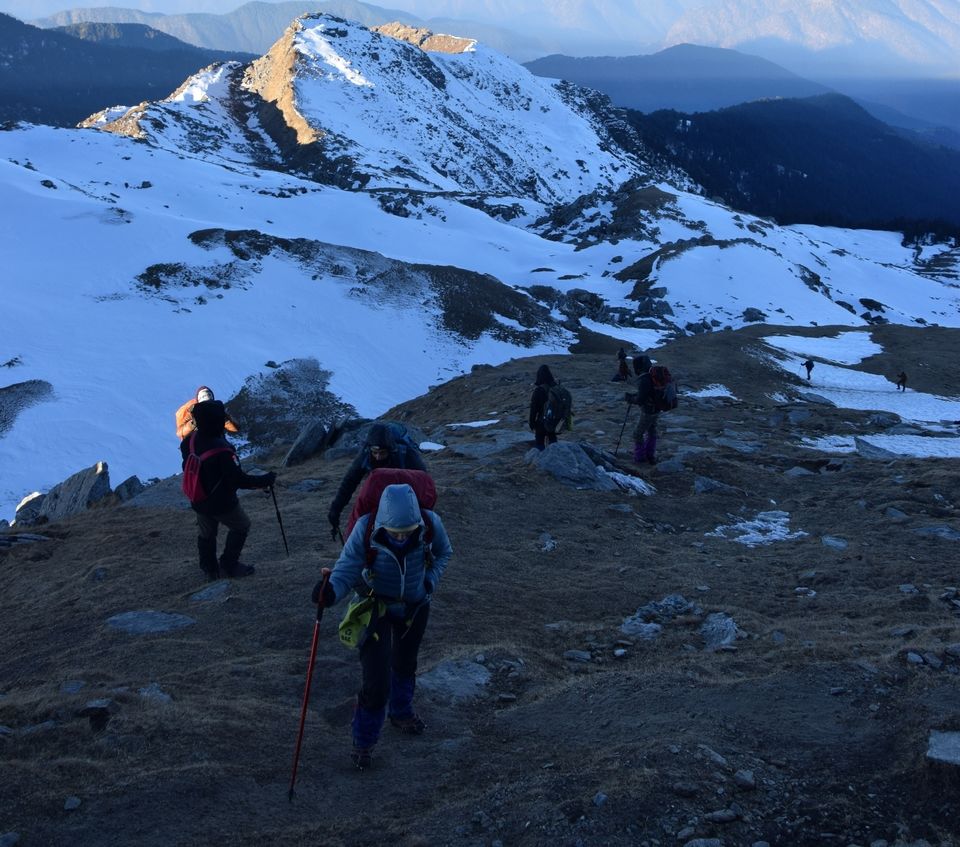 The last mile of a high altitude summit climb is the most difficult. Your vision is hazy, fingers are numb, can't feel your toes, struggling to catch your breath, feeling tired and wanting to give up but you have to keep pushing forward.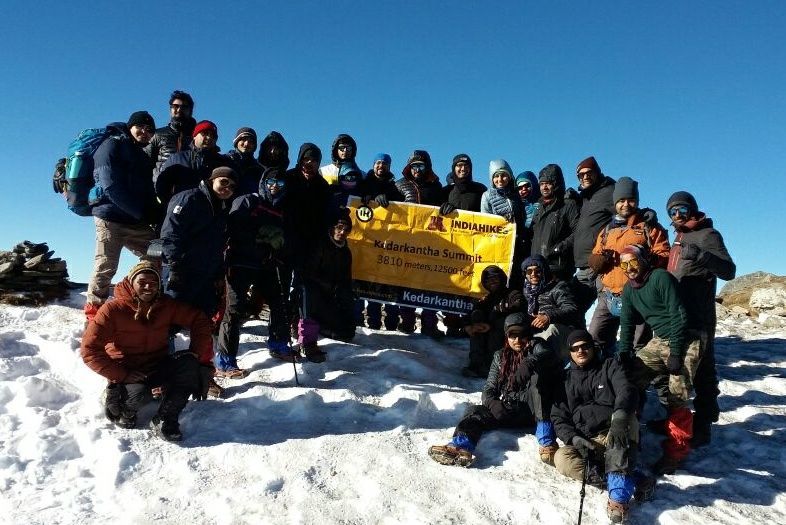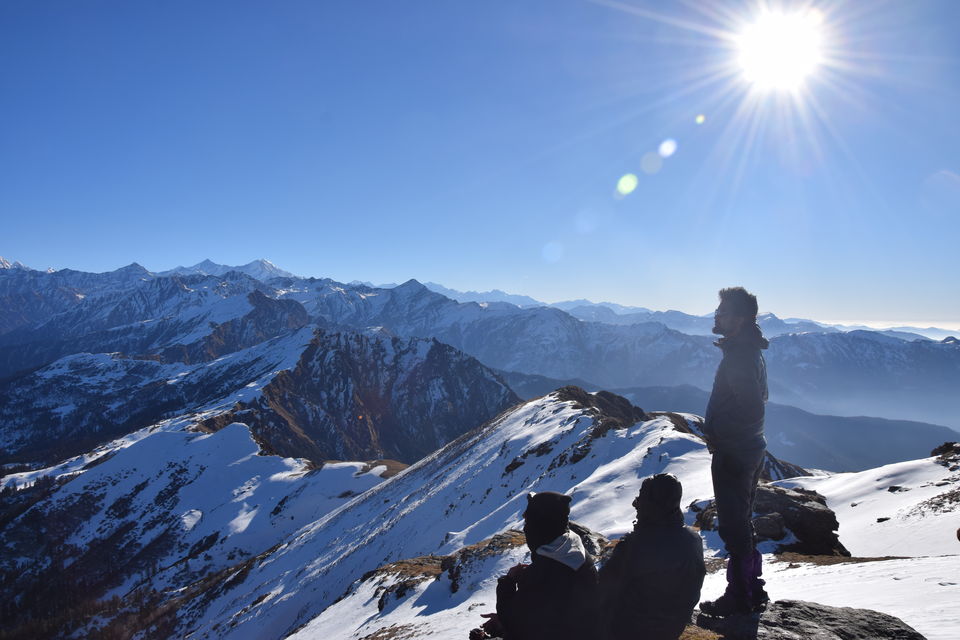 Once we reached the summit, we were greeted by the fresh sun's ray falling on the other side of the Kedarkantha Mountain. Our guide told us about all the peaks surrounding us and the story behind the name of 'Kedarkantha' Summit. After spending about half an hour on the summit, we started our descend. While our way down, the snow was two and a half feet thick so we all slid down on the snow. It was a lot of fun. Everyone enjoyed it. After about two hours of continuous descend, we got our first sight of Munaila Campsite (10200 feet).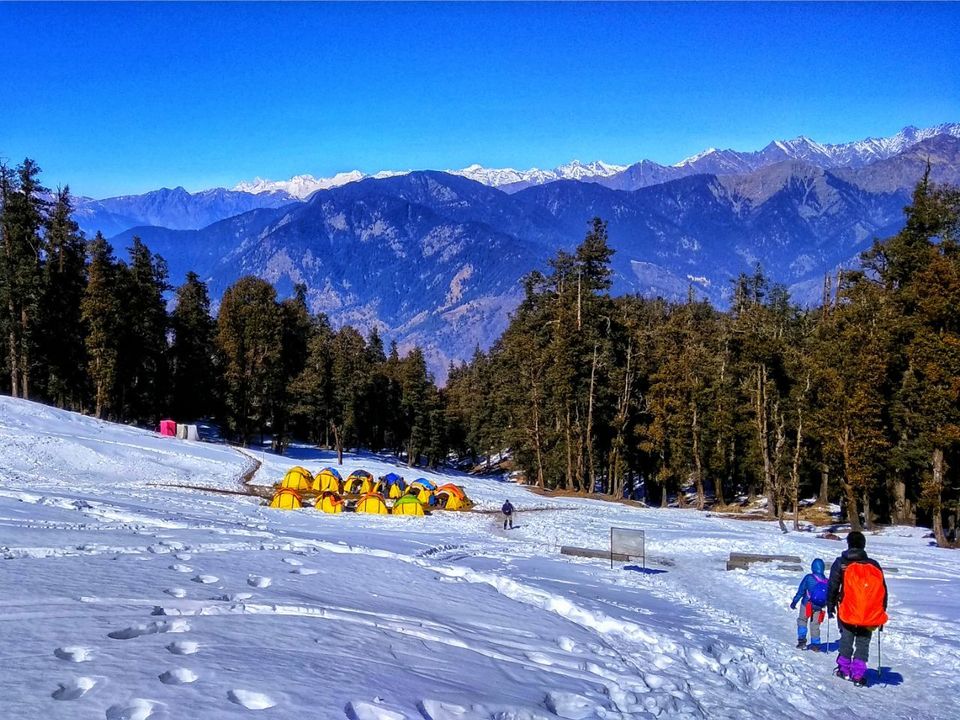 As soon as we reached, we were informed that hot lunch was waiting for us . While having lunch that day, everyone spoke of the summit and we discussed about what treks we might do next. That day after sun down, our sweeping trek leader Jayram lit a fire and sat us all down around it to tell us ghost stories. The stories seemed to amuse a group of college students that went with us.
Day 4
This was our last day of descend. We were leaving Munaila Camp and heading for Sankri which was a rough 3 hrs down-hike. However, we took a detour and went to Juda ka Talab that was an extra 2.5 kms but totally worth it.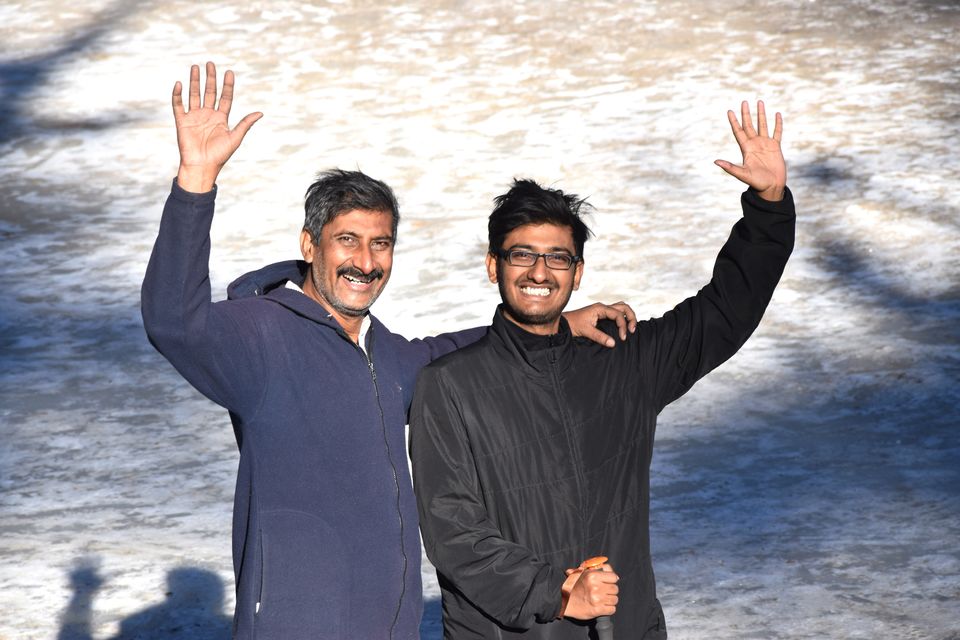 On our way down, we met many fellow hikers on their way to the summit. They asked us about the weather up at the summit. We warned them about the snow and advised them to try the snow slide. Although this was the last day of the trek, it gave good competition to the other days. We trekked mostly through forest cover, with clearings surrounded by maple trees along the way. We got some really beautiful views of Har-ki-Dun and Swargarohini from these clearings.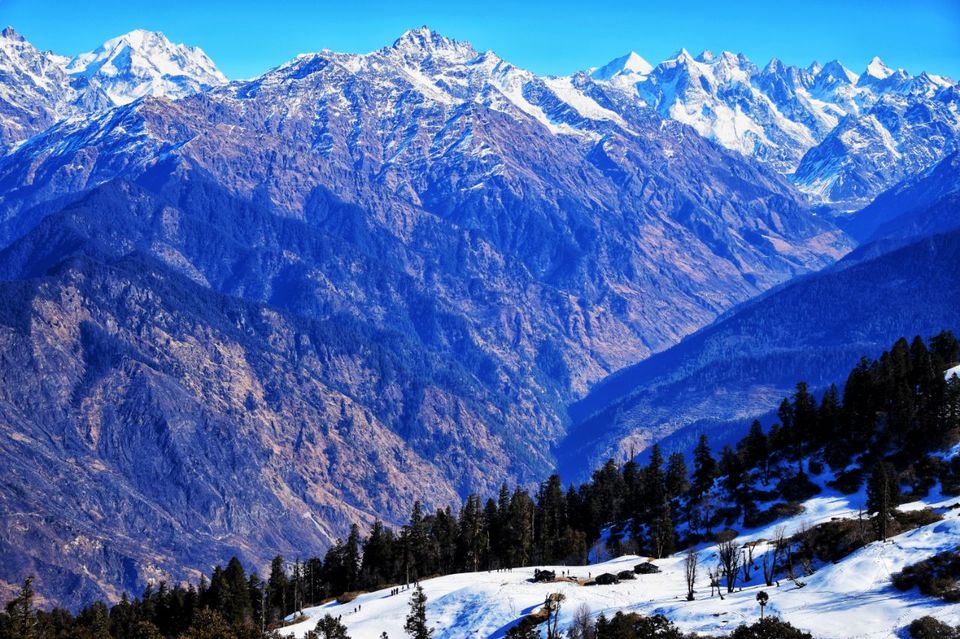 At around 2pm, we reached Sankri where we were stayed at Gypsy Child. We were staying in dormitories along with everyone else. Everyone was relieved to reach Sankri and it was warmer and we got beds to sleep on. After a heavy lunch, we took a stroll in the market and had some wild berry juice. It was really refreshing. However relieved everyone was to reach Sankri, there was a tone of sadness in the air as we were leaving the mountains the following day.
Day 5
We started from Sankri in a Bolero for the long 8 hrs drive to Dehradun. We checked out from Gupsy Child at around 9. Our Trek Instructor accompanied us till Purola. On our way back, we exchanged photos and phone numbers with other trekkers. At around dusk, we reached Dehradun Railway Station.