Maruhabba! Summer's here and so is our yearning to go explore a new place and bask in the gorgeous sun and sands. A self-confessed lover of the coral islands, I think of Maldives as not merely a retreat, rather, an astonishing, unrivaled underwater world with the power of making your holiday a once-in-a-lifetime experience. In this realm with over a 100 resorts, the question prevails – where to head?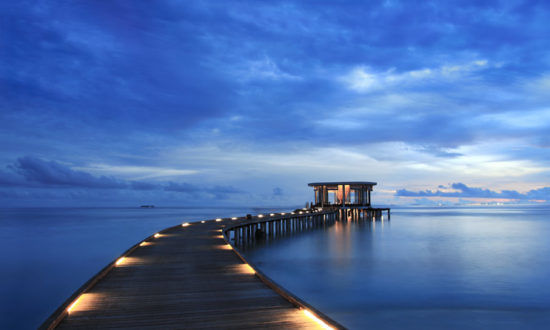 Whether you are a honeymooner, a family vacationer or a humble traveler looking for a back-to-nature experience, here are the top 10 best resorts of Maldives for you. Read on to discover this paradise that harbors a plethora of private pools, personal butlers, in-room massages, underwater marine life, and much more!
Mirihi, a small paradise lying in the azure, warm waters of the Indian Ocean, is the perfect combination of traditional and modern elements. Located on the South Ari Atoll, you can fly in here on a seaplane from Male in just 30 minutes. Mirihi is one of the smallest islands of Maldives, and the limited number of rooms (36) and villas here makes it a catch. A four-star retreat, its private island setting has garnered amazing positive reviews. It is great from angles of service, affordability and quality. Deep sea fishing, Manta snorkeling, sunset cruises, island hopping and much more can be achieved on this small, yet breathtaking island. This is your best bet if you are traveling under a tight budget but hope to make it perfect nonetheless.
Quick Tip - Opt for a water villa, an overwater suite or a beach villa here. There are live offers valid till August for solo travelers.

Sitting in the middle of the vastness of the Indian Ocean, Baros luxury resort welcomes you with open arms, outstretched like a blue lagoon. Encircled by white sand beaches, Baros is a 25 minutes speedboat ride away from the Male airport. Choose to reside in one of the secluded Water Villas or the elegant Beach Villas hidden in the lush woods of the island. The villas boast of palm thatched roofs, sandstone walls and wooden decks with private lagoons to dip in and sunbathe while treating your ears to the rustling waves. Get a view full of clear blue skies, coral reefs, white sand, and plentiful vegetation and enjoy customized underwater excursions. With over 75 villas and 3 restaurants and its proximity to the airport, Baros is your tasteful, perfect, tropical getaway.
Quick Tip - Save some pennies and get more for less with their special packages for wellness, renewal of marriage vow, honeymoon and diving expeditions.
Here's your perfect romantic getaway! Veligandu is an adults – only tropical island resort famous for its splendid long trails of sand, Veligandu translates to 'sandbank' in Maldivian. Turquoise lagoons glistening with crystal clear and warm waters, adorned with sandy beaches and bejeweled with palm trees, this island is a treat to the eyes and your soul. A part of the North Ari Atoll, the Veligandu resort is hardly a 20 minutes seaplane jaunt away from the Velana Airport. Your options for a room here range over Beach, Water, and Jacuzzi villas, all offering 5 star amenities. Engage in thrilling water sports and activities or opt for a scarlet romantic or spa evening. There are excellent dive spots nearby as well; you'll be spoilt for choice here engaging in the fine dining experience available on a beach.
Quick Tip - Book an east facing Water Villa for the best views here.
This little wonder of Maldives is quite aptly named "Nature's play area". Niyama offers you not just one but two islands – Play and Chill – one for family retreat and the other for couples retreat. We couldn't have assigned them better names! The two island experience assures of doubling your pleasure while your stay here. Reach here in a seaplane from Male in 20 minutes. Frolic in the white sands, run into the infinite horizon blazing with treetops and revel in fresh, fun and quirky activities. Lounge in one of the exquisite water studios and pavilions here overlooking the oceanscape, head to the LIME Spa to dwell in a cocoon of relaxation and make the most of the flavor exploding, culinary marvels of the island.
Quick Tip - Book a trip now to avail 30% discount for a 7-day stay.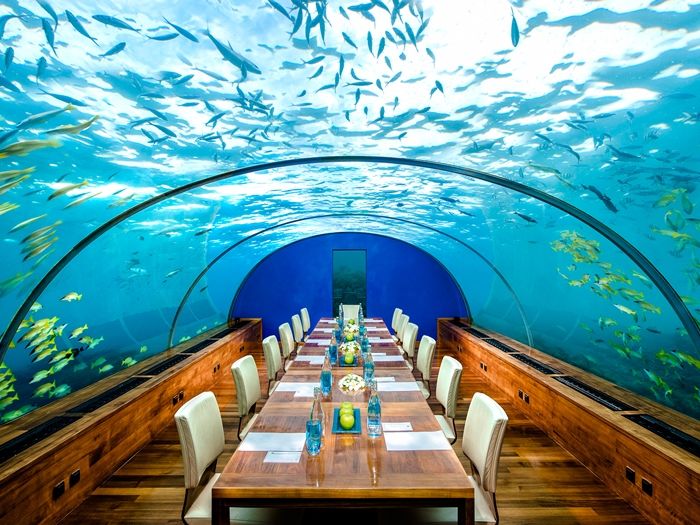 Believe us when we say this is the place to dine 16 feet below the waves! Conrad Maldives brings to you a 180 degree view of the majestic marine life through arched glass walls while you dive into the culinary excellence. Conrad boasts of awards and accolades, Indian Ocean's Leading Hotel for 2015 and 2016, and presents you with aquatic gardens, swimming manta rays, dining halls, lush tropical environment, topaz sunsets and compelling cocktails. Relax and rejuvenate in the Water and Beach villas that feature mesmerizing decors. Rangali Island is a 30 minutes seaplane ride away from Male and offers unforgettable wedding ceremonies, ocean adventures, coral reefs and lagoons, premium accommodation and state of the art amenities.
Quick Tip - Look at the 3D floor plans available on their website prior to booking to lock in great views and amenities.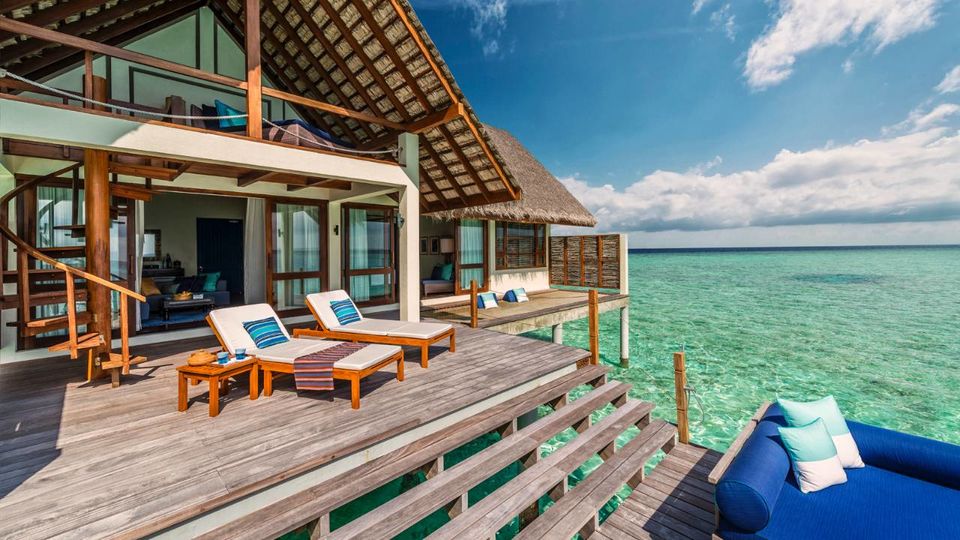 Four Seasons gets you the best deals in the pristine tropics of Maldives by offering two superb resorts and four private cruises. What's even better is the private island resort, a hideaway at Landaa Giraavaru – on Baa Atoll, which promises an unforgettable experience. Accommodations offered here include sunset villas, beach villas, family beach villa, suites and estates, complete with contemporary Maldivian design, private gardens and pools, sand floor dining areas, spacious sundecks, outdoor showers and much more. Be a Manta Ray scientist for a day on this island and get to observe sea creatures in their natural habitat. Savor the spectacular and lip – smacking flavors seated on the beach or poolside with blue lagoons extending as far as the horizon.
Quick Tip - Baa Atoll is a UNESCO Biosphere Reserve and you can do your bit to preserve the local culture here by being a responsible tourist and taking part in their "Bodu Beru" Challenge.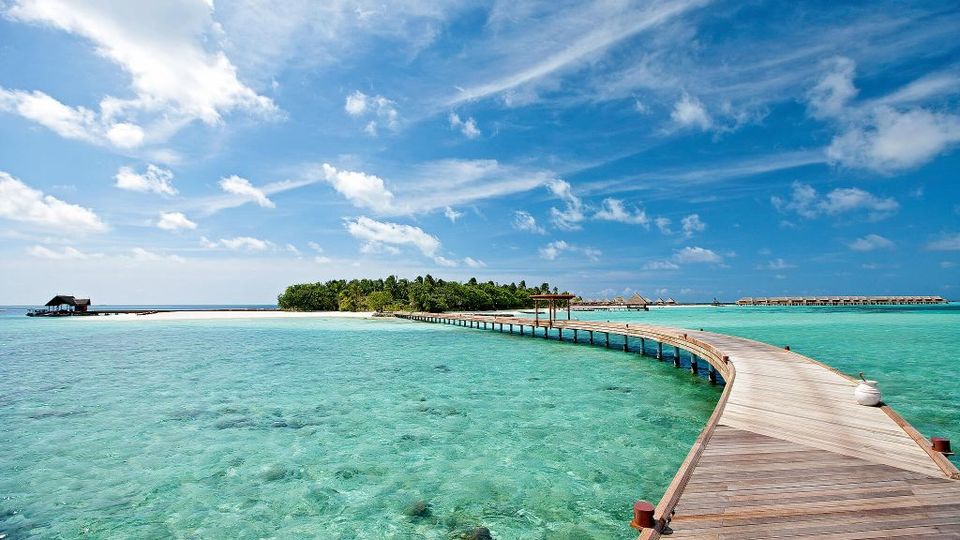 This 5 star luxury resort in the lap of the Indian Ocean boasts of 110 villas and suites, 86 of which are located underwater in the lagoon surrounding the Moofushi island. Dwell in villas on dazzling white beaches or in stilts afloat the turquoise waters on this secluded island that offers you the ideal combination of simplicity and luxury. Perched on the South Ari Atoll, the Constance Resort lets you explore one of the best diving sites in the world and engage in the marine spa treatments available here. Feast on fresh seafood and gulp down some of the finest wines in the world atop this island while gazing at the setting sun.
Quick Tip - Their exclusive offers are valid for a minimum stay of 5 days. Talk to the online concierge here for more details.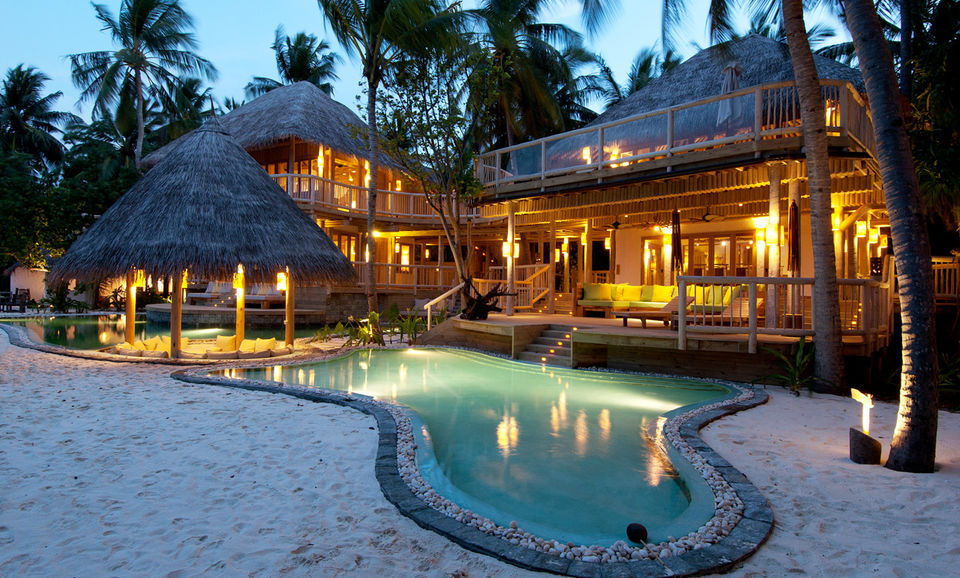 Witness paradise right before your eyes and reside in the bounty of nature here at The Residence. Nestled on Falhumaafushi, this island in the Gaafu Alifu Atoll renders you speechless and rejuvenated amidst its secluded and unparalleled beauty. The shimmering seashore is adorned with some airy Beach, Beach pool and Water pool villas for your sublime relaxation. Bask in the soothing greenery glistening with sunny ocean views, fine dine and treat your palates to the best food, and rejoice in this haven suitable for couples and families alike. Make the best out of the early bird offers available here and make your dreams of dining on the beachfront or over the water a reality this year!
Quick Tip - Reach here by a domestic flight from Male followed by a scenic speed boat ride and divulge in deep sea diving at the PADI-5 star dive centre here.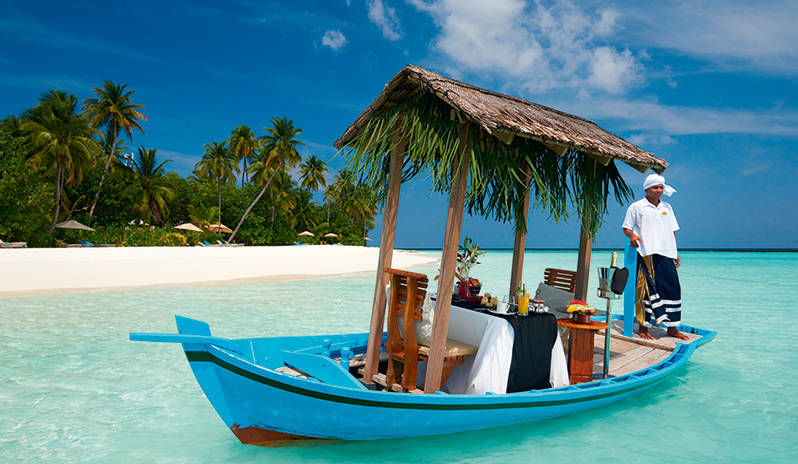 Another one from Constance here, the one in Halaveli is set in the North Ari Atoll, and since you step on to this jewel, time stands still. The contrasting crystal blue waters and the green lush foliage create a one-of-its-kind backdrop for the resort. Overwater, underwater and beachside villas appointed with natural building material blend in the pristine surroundings seamlessly. Dive into the exceptional flora and fauna of these blue waters, excite your taste buds with wine, and pamper yourself at the SPA. This island is shaped like a dhoni boat, promising breathtaking views; diving is voted as the best activity atop this luxury island. Your experience here will be one to cherish forever!
Quick Tip - The groups and incentives team here will ensure that your beach wedding is an exclusive event and the wedding coordinators will help make it a memorable day.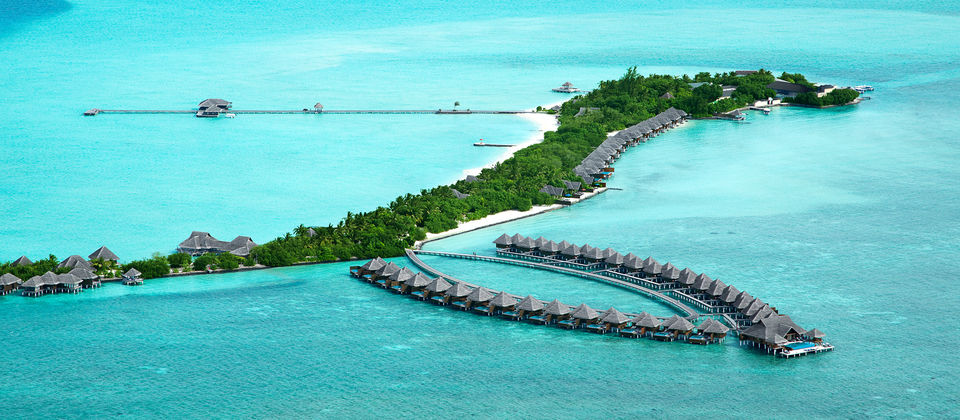 Rush over to this haven of tranquility on the exotic Emboodhu Finolhu Island, right in the middle of the world's largest blue lagoon. A 15 minute speedboat ride away from Male International Airport, this island was once called the 'Three Coconut Island' and is blessed with nature's seamless beauty, adorned with pale white sand and electric blue water. This extraordinary luxury island is the perfect concoction of natural splendor and contemporary design. The best part about this one is that it is surrounded by water on all sides, engulfed by the lagoon literally! The various villas are amazingly impressive and they all have spacious private pools, Jacuzzi baths and sundecks. The Jiva Grande Spa here is one of the finest in Maldives and hosts a free yoga session every morning. Stylish bars, walk in pavilions and wine cellars stocked with the best of vintage, and private ocean pavilions are a few of the best reasons to go here.
Quick Tip - Scuba diving, parasailing and snorkeling are absolute-musts here to earn some much needed adrenaline rush.
Hope to see you soon in Maldives! Goodbye or as they say in Maldives – Dhanee! Do let me know of your experiences in the comments! :)