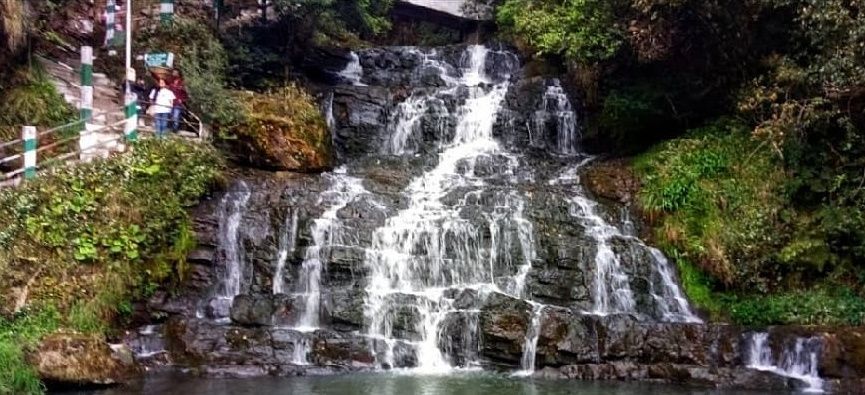 Chasing the Meghalaya waterfalls started with the Elephant falls in Shillong. Located on the outskirts of the city, these waterfalls were one of the few that I was pretty sure I wanted to see. This three-stepped waterfall is considered to be one of the must-do things in Shillong.
With a name like Elephant falls, one would expect the shape of the waterfall to resemble the animal. Interestingly, that is not the case.
The original name of this waterfall is Ka Kshaid Lai Pateng Khohsiew - which essentially, means "3 steps waterfall". However, the British found it quite complicated and decided to call it Elephant falls after they discovered a rocky ledge From that resembled an Elephant. That ledge no longer exists as it fell down during an earthquake in the 1800s. However, the name has stuck on!
The three steps of the Elephant falls are at right angles to each other making it difficult to see it all from a single vantage point. Emerging from a thick net of green is the first step of the Shillong waterfalls. The sight of the waterfalls spread wide across the hills is so captivating that I almost forgot that this was just the first level. It was only when I followed the flowing water that I remembered to explore the rest.
The cascade becomes narrow and faster as it falls over the 2nd step. The steps to explore this waterfalls lead you along the 3rd step, allowing you to walk alongside the gushing stream. It is a heady feeling to get those water sprays on your face. And to top that, it was raining as we made this descend to the bottom of the Elephant falls.
Just avoid the peak monsoon months between June to September as the place gets really slippery and hard to navigate. It is also, prone to landslides. The rest of the year is perfect to experience this three stepped Meghalaya waterfalls. Head to place during the day to get capture the best of the place.
📍 Elephant Falls, Meghalaya / December 2019
Photos shot on Nikon D3300 (Lens 18-55mm)