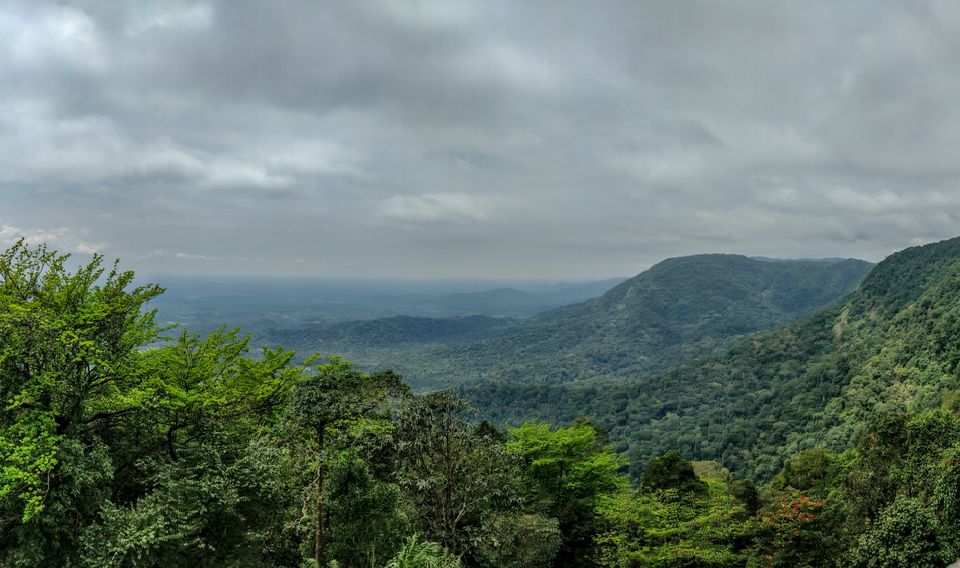 Don't you dare take your bike for such a long distance," my dad yelled at me, as soon as I informed him that I was going on a bike ride to Chikmagalur. He wasn't wrong, because no father would let his son roam around on a bike in a faraway place, especially the mountain terrain. Well, not at first at least, but then as usual, I ended up convincing him and was all set for my ride the next day. I couldn't get enough sleep due to all the excitement. Somehow, I managed to sleep for some four hours, dreaming about the journey that awaits me.
I woke up around half past four in the morning and got ready within half an hour. I didn't want to be late because there is nothing worse than riding on a hot sunny day with all the biking gear you wear and so I loaded my saddle bags onto the bike and started my beloved beast, the Bullet! Hearing her roar on the empty street, I was all pumped up. I could feel the adrenaline rush through my veins as I throttled away telling myself that it's going to be an epic ride. It was 5:15 a.m. and I had started my journey to the glorious Western Ghats!
It was 6:30 in the morning, and I stopped for a coffee break. The streets were pretty cold and empty. I had covered around 60 km and was already on the highway. The sun was slowly coming up and with its first rays falling on the vast six-lane highway; it was looking like a highway to heaven. The beauty of Bangalore is that, no matter what the season is, it's always cold in the morning, hot in the afternoon and cold again in the evening and so after a small coffee break, I continued the ride and reached the famous Belluru cross and stopped for a quick breakfast. After having some lip-smacking Vadas and Masaladosa near Belluru cross, I went to a nearby petrol bunk to fill up my bike. After having my stomach and bike both fueled up, I continued my ride towards the land of coffee, Chikmagalur.
The sun was up, shining brightly in the sky. Yet, it wasn't hot. That's a sign that you are closer to a Ghat section. Then, I turned right and I could see the mountains not so far away. That was the beginning of Western Ghats from the East. Western Ghats is the longest range of mountains in Southern India running through Kerala, Tamil Nadu, Karnataka, Goa and Maharashtra. It is the pride of South India and one of the most beautiful places on Earth. As I rode through these mountain roads, the cold breeze rushed across my face and yet I couldn't get enough of fresh air.
It was almost 10 a.m. and the weather was too good to not take a break. I saw a viewpoint nearby which was crowded with tourists. I didn't feel like stopping there, so I continued. As I went further, I saw a small muddy road towards my left which had some bike Tyre marks and so I decided to check out that deviation. Within just 2 minutes, I reached a dead end, but to my surprise, it was a secluded viewpoint. There was so much to see and not a single tourist to disturb you. It was just perfect! It was indeed a fortunate stroke of serendipity. I sat down for a while, gazing at the nature, enjoying the magnificent view of the huge mountains and greenery all around. After clicking a few photographs, I turned around and started riding back to Chikmagalur.
After stopping at almost every curve to enjoy the view and capture them, I finally reached my destination by around 12:30 in the afternoon. I had booked a guesthouse at this beautiful place on the top of the mountains. This was the only house there. It was surrounded by open fields of grass and trees. There was nothing but greenery everywhere. I could see the whole of Kudremukha ranges from my room. The view was mesmerizing. Just the sight of those majestic mountains covered in a Green blanket of trees was enough for me to recover from all the backache due to that long ride I had. I filled my mind completely with this amazing picture and went back to my room to get some rest before lunch.
After having a delicious meal, I again slept for a while. It was around 3 p.m. and after having the famous Chikmagalur Coffee, I went out to explore the beautiful Western Ghats and visit "that place" which was the main purpose of my ride. My plan was to go to Mullayanagiri hills, one of the tallest peaks in South India. There was lush greenery throughout the way. It was a matter of pride to ride on this mountain terrain. I could feel the wind in my hair.
The higher I went, lesser became the visibility due to the fog. Still that didn't stop me from going to the top. I could see many bikers on the way who were struggling to ride in that zero visibility condition just like me. To add to our woes, there was no road after a certain distance. I had to go off-roading, yet that was thrilling!
After some off-roading, I finally reached the top of the mountain. What a view! This was what I wanted to fill my eyes with. This was what my heart was craving for. I had reached my final destination. It was all worth it. I could almost see the whole of Western Ghats from here. I was above the clouds or shall I say "I was on cloud nine." I was speechless, just standing there, enjoying every bit of that moment. With a view like that, we tend to forget all the stress and pain in our life, at least for a while. No matter how much time you spend enjoying the exquisite view, you will never be content. I just wanted to spend my entire life there, free from all the hustles of daily life. This was the getaway I badly needed.
When I got into my senses, I realized that it was getting dark. After clicking a few more photos, I headed back to my room, still hung over with that beautiful scenery. It was getting colder by the minute. My hands started becoming numb. And then, of course, it started to rain. It's a good thing that I was back on the good roads when it started to rain, or else it would have been impossible to do off-roading in that slush. Sometimes, nature's tempest can be beautiful in its own way. Riding in that rain was a different experience altogether. I somehow made it back to the room before dinnertime.
Next day morning, I left for Bangalore. Clearing my mind from everything, filling it with all the beautiful memories I captured in Chikmagalur, I was heading back to my monotonous life, wondering when I will get another chance to come back to this heaven. It was one hell of a ride and I will miss this place for sure.
"Travel to explore Nature, but don't exploit it."