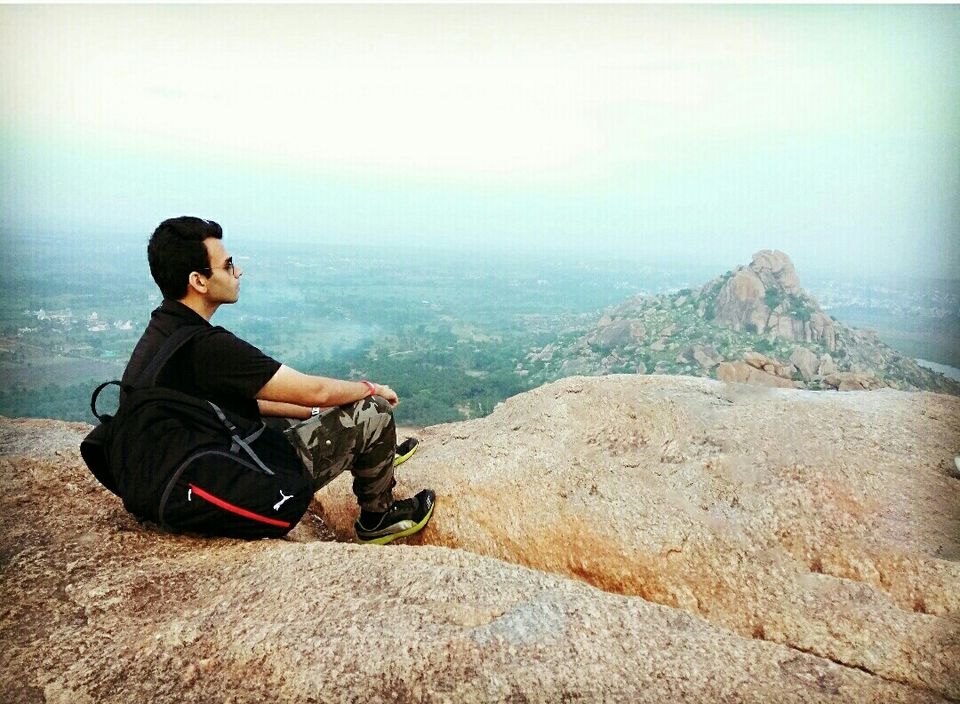 They say inspiration can strike anywhere. Indeed. Here I am, at an altitude of 39000 feet, on my way from Bangalore to New Delhi, reflecting back on the second semester of my MBA at Symbiosis Institute of Business Management, Bengaluru. As I watch the buildings turn into those resembling the ones in a miniature toy game, I can't resist the urge to type down my thoughts. The aircraft provides me just enough space to accommodate my laptop. Frankly, a 90 buck chair-car train ticket provided me more leg space (no kidding!) on my journey from Bangalore to Kadur in the quest of bringing in the New Year with friends in Chikmagalur! I better not mention the airline, else I may stand the risk of getting sued! :P
From contributing to one college event one after another, managing constant academic pressure to the sheer disappointment of things not going quite my way in the student leadership council selection process, the second semester at SIBM Bengaluru proved to be the most emotionally and mentally testing time of my life. Yet, these 5 months were easily the best of my life, that too by quite a distance. What will always make them stand out in my memories are the two short but sweet solo trips I undertook, which helped me develop as a person and proved to be a soul liberating experience.
Given the passionate Tennis fan that I am, ever since I was a teenager, watching the only ATP World Tour event in South Asia had somewhere been at the back of my mind. When I came to know that Chennai is a mere 6 hours away from Bangalore via road, I decided that the time was nigh. I, along with one my friends who is also passionate about Tennis, booked the tickets for the final of the Chennai Open.
However, my friend had to back out at the last moment due to some urgent work. This is when I decided that no matter what, I can't let go of this opportunity, I'll head to Chennai alone. However, I soon developed cold feet and started getting the jitters, since I had never traveled alone. To make things worse, our college scheduled two class tests the following day of the final, which made me think how will I prepare? What if the bus breaks down somewhere? Will I be able to return on time? One of my good friends who is an avid solo traveler convinced me to take this trip and asked me to overcome my fears and take the risk. I finally decided to step out of my comfort zone and trust me, things couldn't have turned out to be better.
I boarded the bus to Chennai from Bangalore at 7 a.m. on the morning of 8 January 2017, Sunday. I happened to find some interesting company inside the bus and time simply passed during my conversation with her. For me, this trip was already worth it since over the years, I've found it difficult to strike a conversation with strangers. That had already changed.
I reached the Koyambedu bus terminus in Chennai around 1 p.m. The final was scheduled for a 4.30 p.m. start, so I had time to kill. I decided to head to Marina Beach. I boarded a local bus that charged me a mere 15 bucks. However, in the bus, I got engrossed in listening to music and seeing the glimpses of Chennai for the very first time, thereby forgetting to buy the ticket. When I realized that I was close to my destination, I finally remembered to buy the ticket. The bus conductor came howling at me, and made a gesture that he would beat me up. I, being a Delhiite, wasn't going to keep quiet. I started arguing as well and all hell broke loose. A person who understood both Tamil and Hindi mediated things between us. This is when I realized how wrong things could have gone and why you should never get into a tussle while travelling alone.
North Indians have a special affection for the ocean/sea, since we've been devoid of it all of our lives. Having just scaled the highest peak in Karnataka exactly a week before, it felt amazing to realize that now I had visited the contrasting terrains of the ocean and the mountains within a week's span of time, something I could have never imagined I would do.
After wandering at the beach for some time, I browsed Google Maps and found that the MA Chidambaram Stadium — the iconic Cricket venue, was really close to the beach. I thought that if I've come so far, I'll definitely have a look at the stadium. One auto ride later, I was at main gate of the stadium. To my utter disappointment, the security staff refused me entry. I decided to have a walk around the circumference of the stadium in the hope of getting in somehow. Hopes started dwindling during the walk as all the gates were closed. Soon, I reached the entrance of the Madras Cricket club, and to my surprise, there was no security guard there. Hence, I managed to sneak in. The breath-taking view of the stadium amazed me and I felt really absolutely overjoyed!! I had delicious lunch in the 'Mid-Wicket Lounge', a restro bar inside the Madras Cricket Club and paid a visit to the club's Cricket museum thereafter.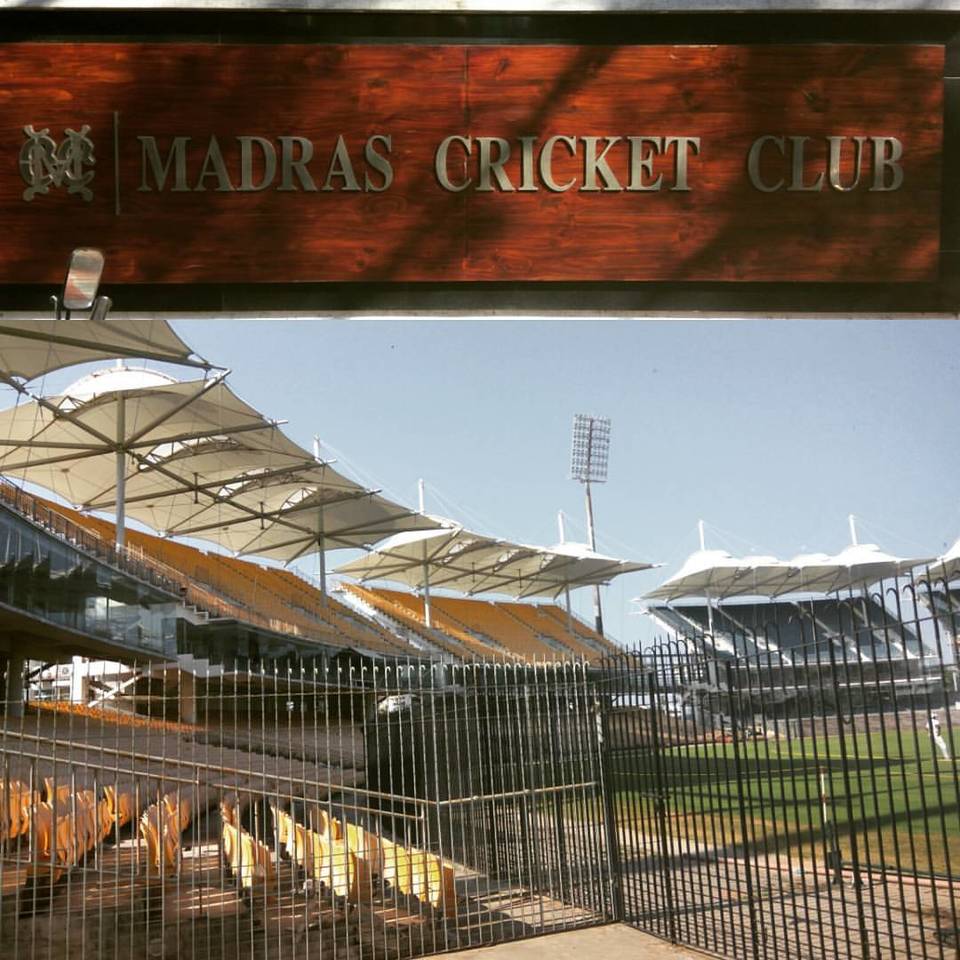 Now was the time to head to the Sports Authority of Tamil Nadu (SDAT) Tennis Stadium. Watching the final (both singles and doubles) of the Chennai Open was an amazing experience. I bonded with fellow Tennis fans inside the stadium.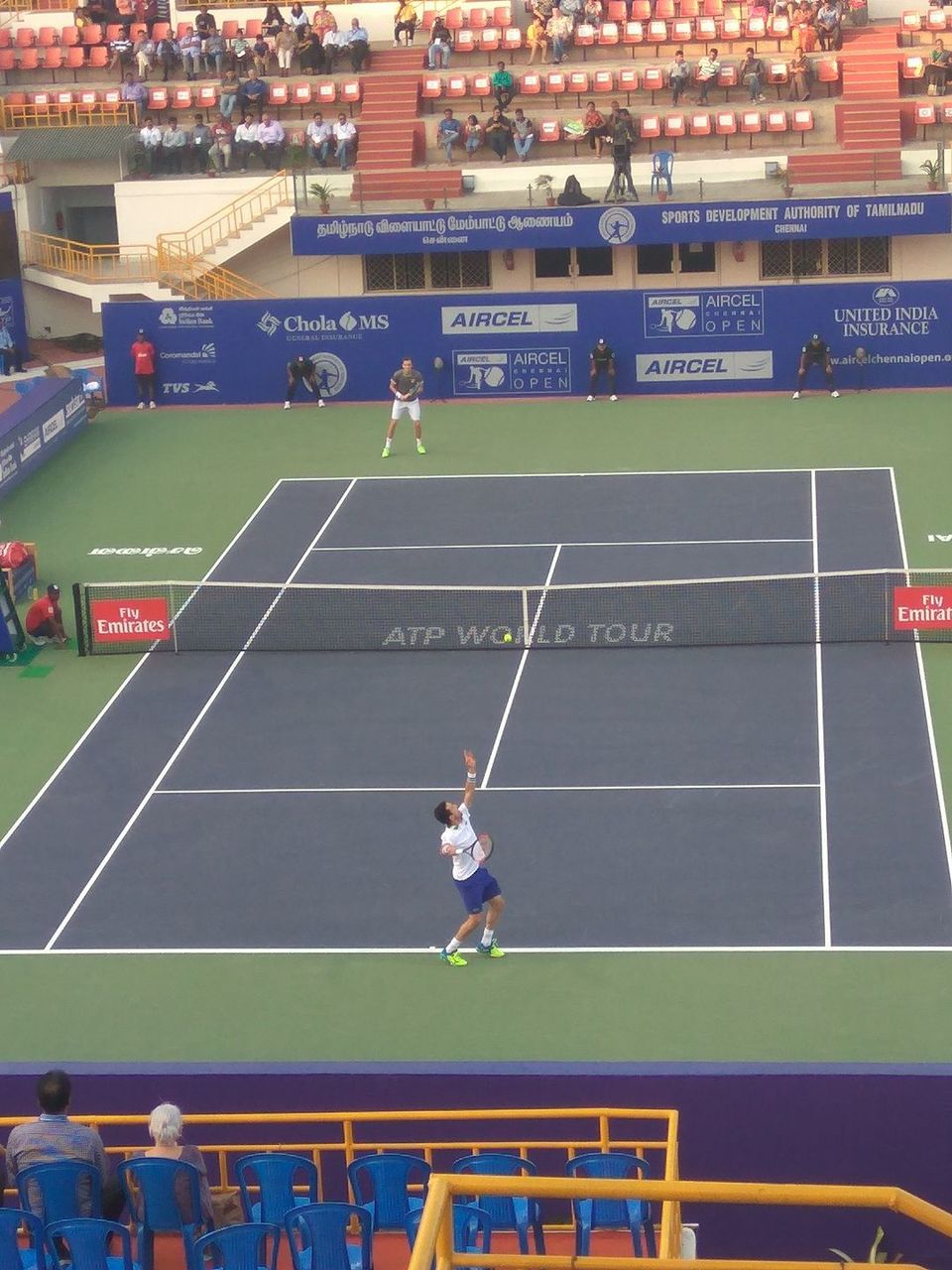 I quickly rushed to Koyambedu post the match to catch my bus to Bangalore, and reached my hostel at 4.30 a.m. on 9 January, Monday, well in time to prepare for the tests and attend the lectures. I couldn't believe that I had pulled it off!
I gained a tremendous amount of confidence and felt empowered after the accidental solo trip. So much so that I decided to take another in the month of February after completing my four day duty for my college's GE/PI selection process for the next batch. I had one day to spare before heading to IFMR Sri City via Chennai for a competition. I decided to utilize this one day by heading to Pondicherry followed by Chennai and Sri City thereafter. I boarded the bus to Pondicherry on the night of 8 February and reached in the morning. The auto rickshaw charged me 100 bucks for a short distance till the hotel that I had booked, which made me realize that if I stay at the behest of these autowallahs, I'm gonna get looted!
I freshened up and started exploring Pondicherry at 9 a.m. Thanks to Google Maps, I walked around 7–8 kms, exploring the Rock Beach, French War Memorial, Puducherry Museum, Mahatma Gandhi Statue and Sri Aurobindo Ashram, French Houses along with having some delicious French breakfast while doing so. All this while, I had my headphones on, listening to a custom travel playlist I had curated, featuring songs like 'The Journey Song' from Piku, 'Aao Meelon Chalein' from 'Jab We Met', 'Dil Chahta Hai', 'Lovin' Each Day As If It's The Last' and so on.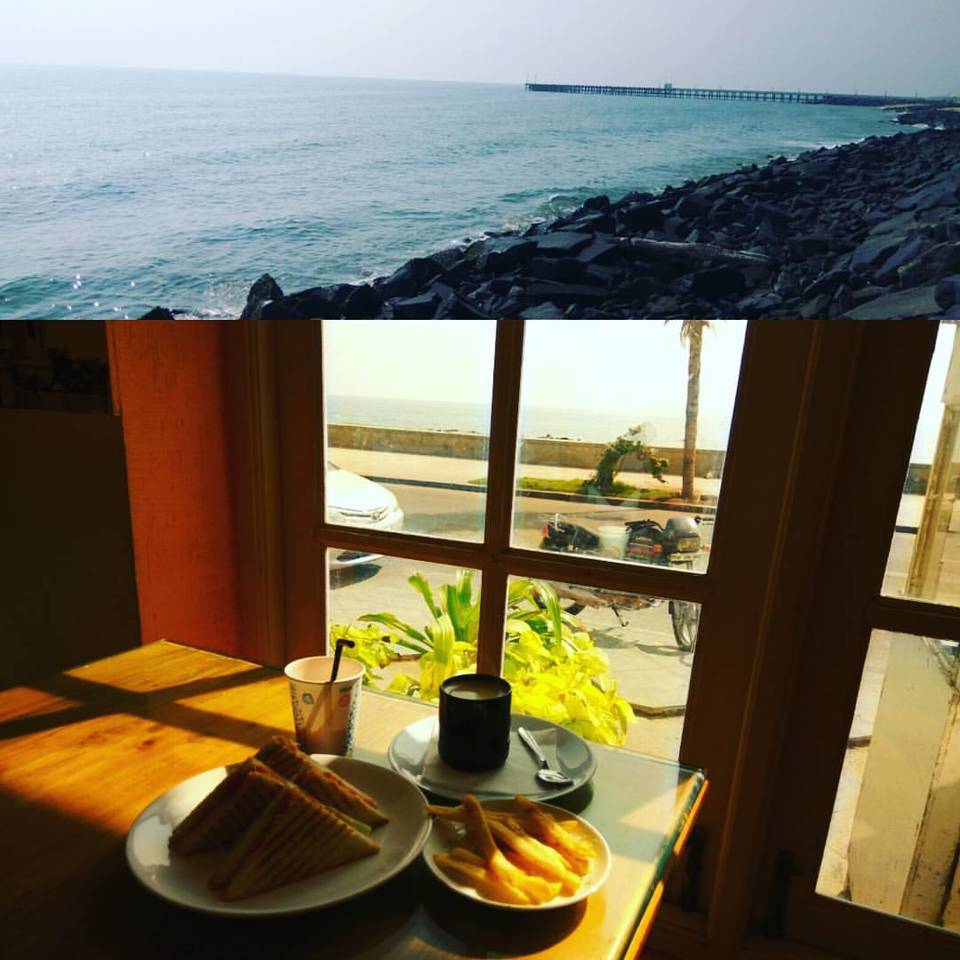 Now was the time to head to Paradise Beach which was some 8 kms away. After asking several locals, I finally reached the bus stop and boarded the local bus to Paradise Beach and it charged me a mere 10 bucks. Instances like these make you realize just how resourceful you can be when you have nobody else with you. As you discover tricks to successfully navigate through uncharted territory and learn how to have a great time without the company of others, your confidence soars sky high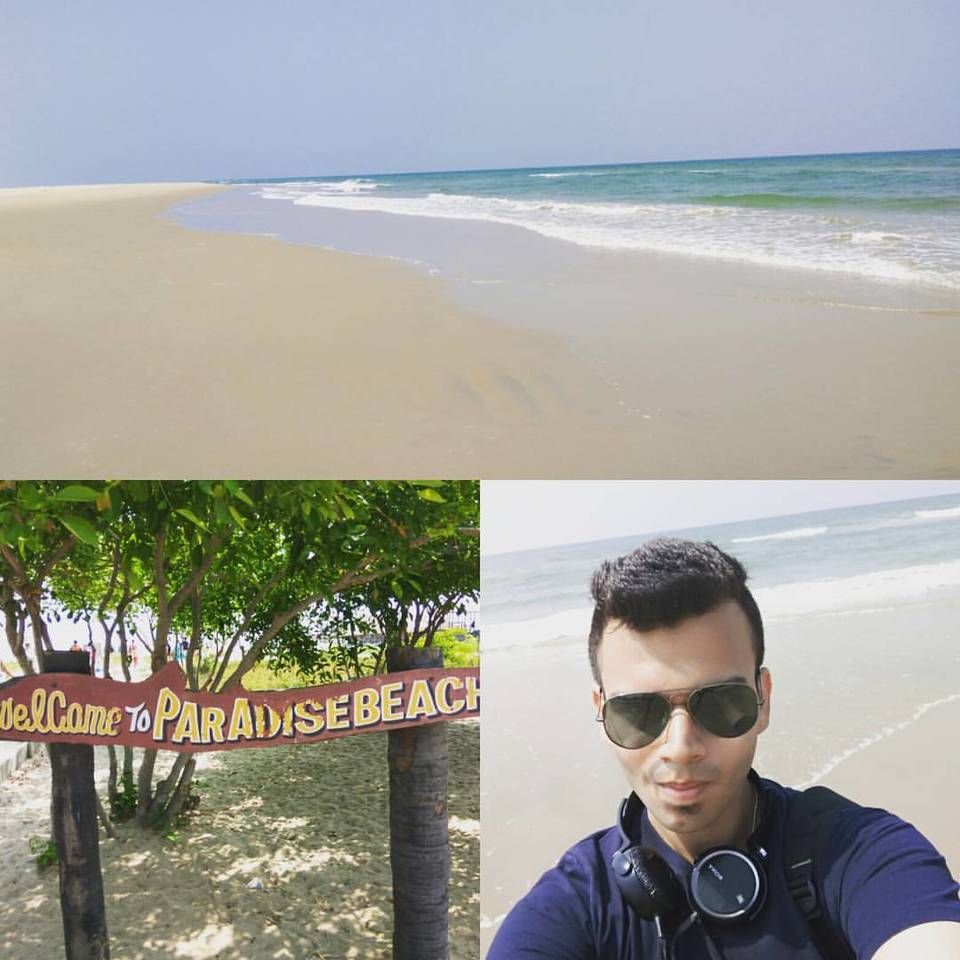 After a boat ride through the backwaters, I reached the Paradise Beach and was left in awe by its beauty. I spent a good 2 hours there, sitting on a beach chair and enjoying the roaring sound of the sea and the cool breeze. Post this, I returned to the Rock Beach, again via a 10 buck bus ride. I headed to a French Café, where I interacted with a few middle aged foreigners, who were there in Pondicherry for spiritual purposes. During a solo trip, since you aren't be focused on talking to anyone you know, you'll be more likely to strike up conversations with strangers. Meeting people from different cultures opens our minds, expands our thinking, and can inspire us a lot. Highly recommended for introverts!
This was proceeded by a long walk back to my hotel. After checking out, I departed to the bus stand from where I had to catch the bus to Chennai. The bus was running late, with no response from the phone number of the travel service, and thus, the frightening wait ensued. My friends who were to take part in the competition the next day at IFMR Sri City, had already reached there and were waiting for me. And here I was, 173 kms away, with no clue of the whereabouts of the bus I had booked. After an hour long frustrating wait, the bus finally arrived and I heaved a sigh of relief. The drive from Pondicherry to Chennai proved to be a beautiful one, surrounded by the sea on both sides on certain occasions.
I reached Chennai at 1.30 in the night and headed to Sri City, Andhra Pradesh the next morning with my friends for the competition. We ended up winning the 2 day competition, beating the likes of IIM Trichy, WeSchool Mumbai, LIBA Chennai etc. and I couldn't have asked for a better ending to the trip.
To conclude, going solo is strongly recommended every once in a while. Discovering how self-sufficient you can be gives you the boost of inspiration and motivation needed to do amazing things in other areas of your life. It will make you thrive outside your comfort zone and you'll come back as a better individual. I conquered most of my fears during the course of the aforementioned short but sweet solo trips and can't wait for the next such trip, hopefully, a longer one. :)