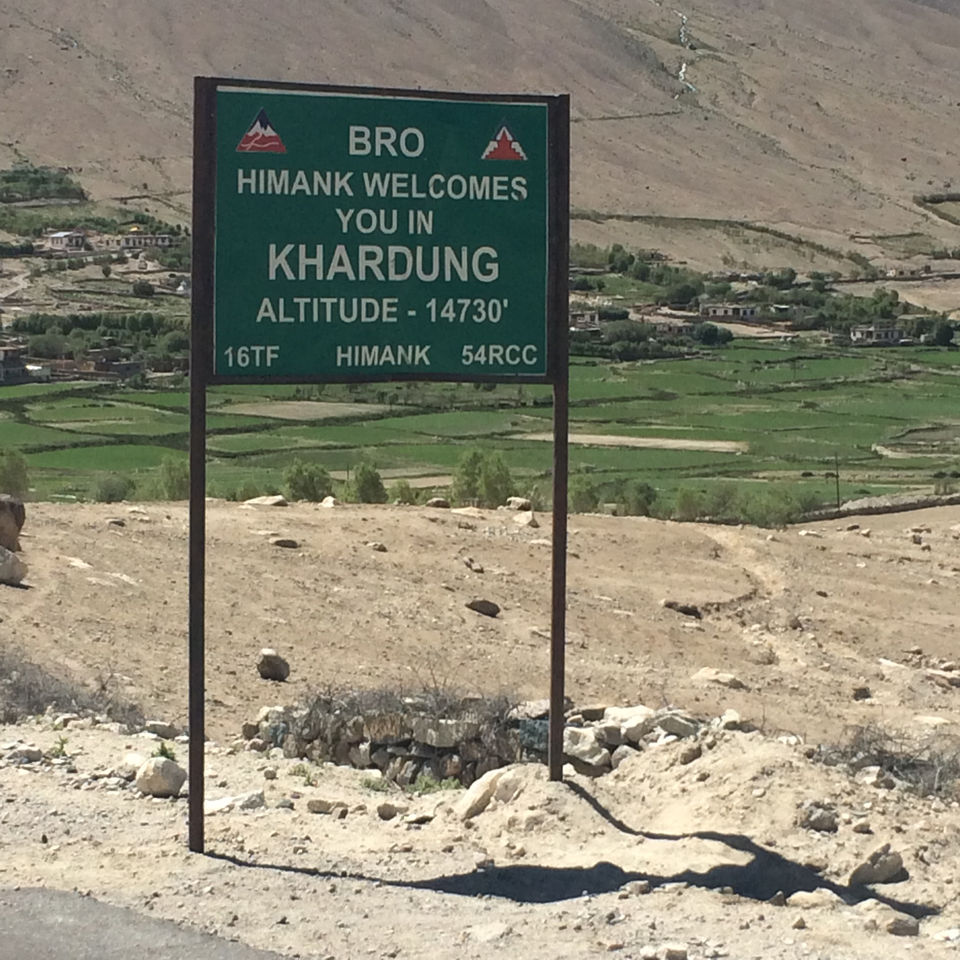 Since past two years we had been planning to visit our dream Destination "Leh- Ladakh". When I say 'we', I mean the rest of my Group, as I have visited there quite a few years back when was much younger. Not that I am old, but yeah now I am on the other side of 40's. We were really looking forward for this trip to materialize this year unlike the past failed attempts. I started coordinating for accommodation in the Month of February, being fully aware that any last minute cancellations or amendment to our Itinerary will not be possible thus the bookings have to en route this being a Road trip. There are two road options to reach Leh, one from Manali in Himachal Pradesh in the south, and one from Srinagar in the west. Both routes are equally spectacular in different ways, and both are time consuming with winding, narrow roads, and numerous military checkpoints.
The main advantage of taking the road from Srinagar, covering a distance of 434 km (270 mi), is that it runs at a lower altitude, and thereby reduces the risk and severity of altitude sickness. It is open for a longer period normally from the beginning of June to October and follows the traditional trade route between Ladakh and Kashmir, which passes through many picturesque villages and farmlands. The disadvantage is that it passes through areas under higher risk of militant trouble. It takes two long days, with an overnight stop at Kargil.
The route from Manali to Leh, covering a distance of 473 km (294 mi), is one more commonly taken by tourists. It takes two days, normally with an overnight stop either in Keylong (alt. 3096) or in tent accommodation in Sarchu (4253) or Pang (4500). Making the first stop in Keylong drastically reduces the risk of altitude sickness (AMS). It traverses one of the highest road passes in the world and is surrounded by wild rugged mountains. The scenery is fantastic, though it is definitely not for the faint hearted. This historical trade route was linked to Yarkhand and was severed by the India-China war in 1962, and later was transformed in to military supply road. Reliable access is limited from mid-June to end-September, as it is blocked by snow for rest of the year.
Keeping all these factors in mind with rest all other members of the Group being first time travelers to Leh, it was decided to take the Srinagar Route while entering Leh and exit Leh Via Manali. After reading reviews of travelers plus with my personal experience the Itinerary was drawn and shared will fellow members, which looked as below  I would here like to introduce the 18 Adventure Junkies out of these 14 had done this kind of terrain last year to Spiti and 3 were on their first such adventurous journey.
The Aroras: Vatsal, Nikita, Naman, Srishti, Shalini, Nisha, Vikas & Vivek
The Mehras: Varun, Rahul, Vandana & Ravi
The Gulatis: Aarav, Charu & Shailendra
The Duas: Shaurya, Archana, Rahul
Noida - Delhi – Patnitop – Sonamarg – Kargil – Leh – Nubra – Pangong Tso – Leh – Sarchu – Manali – Chandigarh – Delhi - Noida
Day – 1, 18/06/2016 Circuit: Noida – Delhi – Ambala – Jalandhar – Pathankot – Udhampur – Patnitop. Distance Covered 654 Kms Time Taken 14 Hrs.
The day began with an early rise up time of 4:30 AM as we decided to hit the road as early as possible, in order to beat the Morning Delhi traffic and have a head start for a long travel during the day. Thanks to my super excited traveler son Aarav, the luggage was loaded in my Mahindra Scorpio a night before, which gave us ample time to get ready and catch our departure schedule of 6:00 AM. Aarav is a young bright 10 year old boy an avid traveler and always ready for adventure trips. We got ready and then started coordinating with rest of the Group members with Arora's & Mehra's starting from Delhi, Dua's & Gulati's from Noida. It was decided to meet at Mukarba Chowk the gateway to Haryana, then crossing over into the state of Punjab further driving into Jammu & Kashmir for our first night halt at Patnitop. My personal experience of giving good sense to anyone defies logic, despite several meetings and discussions we had regarding the trip, we started falling behind our schedule. Someone had not fueled up and another getting stuck in a traffic! On an honest note I must admit to group 18 together is a tough challenge. Finally, with all in order, we shifted gears and pressed the accelerator to rev up the engines of our respective machines. Dua's & Mehra's in their Fortuner, Arora's in Innova & Terrano respectively. Breakfast was on the move consisting of sandwiches, paraantha rolls, cakes and tit-bits whatever something little that had been packed as per the plan. We had already decided that our first scheduled pit stop will be Jalandhar Haveli. Now it was 12:00 PM and seemed we were on schedule. Luckily we were hauled in and were given a table to accommodate a group of our size. The food was excellent a mix of Dal,Roti,Chana Masala, Chana Bhatura, Dosa, Lassi and so on. Difficult to remember every bit that was ordered yet mentioned all lip smackingPunjabi dishes we dug in. Rahul Dua's car was giving a few alignment issues thus it was mandatory to have it resolved owing to the terrain we were to encounter on coming days, Luckily we found a MRF Tyres alignment agency across the road on the Highway where in a short time the issue was resolved. The Journey began again after a hearty meal towards Pathankot. We crossed Pathankot as evening approached and looked for a halt at a road side dhaba. The tea felt refreshing after a long drive from Jalandhar and helped us all in stretching our legs. We finished tea and got behind the wheels driving towards Patnitop. We crossed Udhampur looking at the development being carried out in the region. It was re assuring to look at the laid out railway tracks and bridges which is going to connect Srinagar valley with Jammu. Urbanization has it's adverse effect as well which results in heavy construction being done owing to which there were snarls on the road doubled up with a large convoy of Army trucks and trucks going towards the valley. These trucks take supplies to forward bases at Ladakh & Siachen where the Indian Army relentlessly guards our borders. Here they deserve all the accolades and commemorations for doing a wonderful job and we whole heartedly salute their unconditional love and honor in safeguarding the borders. Crossing through the painful crowded drive we entered Patnitop to a traffic jam thanks to a load of tourists who had just dawned upon the place without any planning or pre -bookings. Meandering through the traffic we reached our destination Hotel Samson – Patnitop at 8:00 PM. Once we parked our machines and stepped out we were greeted by a cool breeze kissing our faces and we were rejuvenated! It was the time to party thus we all checked into our rooms freshened up and got together over a round of drinks and snacks. We were all quite hungry so we overdid on the snacks that came our way without realizing their after effects. Drinks flowed till we realized it's time to catch the deadline for the buffet laid for us. Next day was to be another day on the road packed up and finished dinner. Driving all through the day tired yet excited we had few discussions till we retired into our rooms. As I lay on the bed closed my eyes the lines of an old poem by Robert Frost kept flashing in my mind…"I have promises to keep, miles to go before I sleep".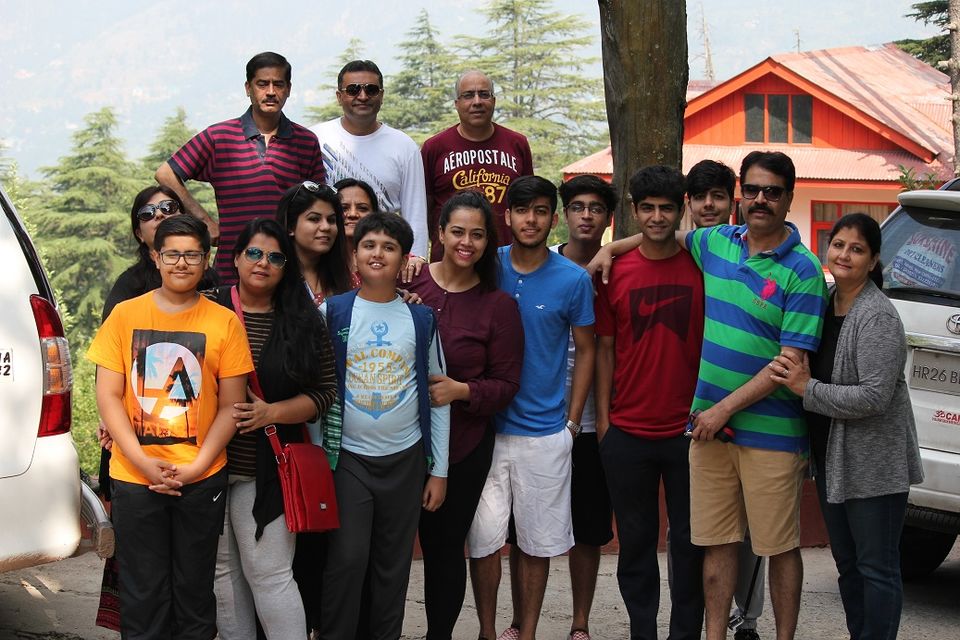 Day - 2, 19/06/2016 Circuit: Patnitop – Sonamarg. Distance Covered 261 Kms Time Taken 8:30 Hours.
Today, was the day we were going to enter the Kashmir Valley crossing Srinagar and to our overnight halt at Sonamarg. It was decided unanimously to wake up as convenient and leave Patnitop after breakfast. We met over tea discussing what the day has in store for us and fixed an ETD of 10:00 AM. After having breakfast, which we all took our sweet time to relish, we were all set to get back on the highway!We clicked few pictures for the Album, fired the engines of our machines and headed off to our next destination. It was 10:30 by the time we left Patnitop negotiating the curves and bends cutting through not a very heavy but regular traffic on the highway. Crossing the town of Batote, we reached Banihal, after a small halt at Banihal we headed to the popular gateway of Kashmir valley "Jawahar Tunnel".
Jawahar Tunnel or Banihal Tunnel is a road tunnel in the Indian state of Jammu and Kashmir. Named after the first Prime Minister of India Jawaharlal Nehru, it was constructed for round-the-year surface transport by Alfred Kunz and C. Barsel between 1954 and 1960. The Jawahar tunnel has been operational since 22 December 1956. The length of tunnel is 2.85 km (1.77 mi), its elevation is 2,194 m (7,198 ft) and it has one lane road in either direction. It is situated between Banihāl and Qazigundon NH 1A that has been renumbered NH 44.The tunnel facilitates round-the-year road connectivity from Srinagar to Jammu.
Later the tunnel was renovated by the Border Roads Organization under the project BEACON in 1960. It was designed for 150 vehicles per day in each direction but the number of vehicles is now 7,000 in both directions. After renovations, the tunnel now has a two-way ventilation system, pollution & temperature sensors, lighting system and with emergency phones for any assistance from Border Roads Organization.
Guarded fiercely by the military round the clock, photography or videography inside or even nearby the tunnel is strictly prohibited. Once the vehicle enters the tunnel, it has to maintain the same speed throughout the tunnel. CCTVs are installed in the tunnel for continuous monitoring.It used to be closed for civilian traffic between midnight and 8 a.m. until 2009. Now it is open all 24x7.
We crossed the Jawahar Tunnel and the scenic beauty changes completely, the terrain gets greener as one enters the Kashmir valley. Upon driving a distance, we were directed by the J&K police personnel to a hold area where we needed to pay the toll for using the tunnel. It's a mandatory toll one needs to pay but is badly managed. We parked our vehicles ( all 5 of them ) and asked an official for the directions to the toll booth. He gestured us to go to counter no 2 and pay the toll. I must tell you it was not a welcome scene to see people trying to get over each other shoving their hands through a tiny window in order to pay the toll and get their receipts. We waited for some time before the window could get cleared and asked the toll collector to collect toll from us, not realizing that the Vehicle Number needs to be provided. In the mean time another set of travelers who looked locals of the area gathered and not wanting to wait started getting impatient and instructing us that you are a large convoy of cars, you should have written down the numbers of the Vehicles and handed over to the collector.Not wanting to get into an argument, we completed the toll formalities and continued towards our destination, to our utter shock we realized later there is no sanctity of the toll as half of us crossed the barrier without anyone asking us for the toll slips. Without wanting to form an opinion we motored on.
We crossed the towns of , Khanabal into Bejbehara and the change is pretty evident from towns we crossed before the tunnel. Troops from our Para military forces patrolling the streets with check posts at all major intersections,yet life running around it all as usual.It was way past 2:00 PM by the time we crossed Bejbehara, when few of our adventurers felt hungry and we decided to search for a place to halt for a break and have lunch. We stopped 40 Kms short of Srinagar at a Roadside Dhaba and ordered for some Dal, Kadhi, Rajma, Paneer and Roti. The food was hot and fresh which we all enjoyed, which some of us realized later was not such a good idea to go overboard with! Over and done with lunch the Caravan commenced its journey towards Srinagar and reached on the outskirts of the city. Instead of taking the bypass we drove through the city it being a Sunday. We crossed Badami Bagh Cantonment driving through Highway 1D went past Jamia Masjid on to Ganderbal Road. The traffic was less as we drove along but despite it being peace times in Kashmir, there is an eerie sense of uncertainty hanging in the air which we all felt.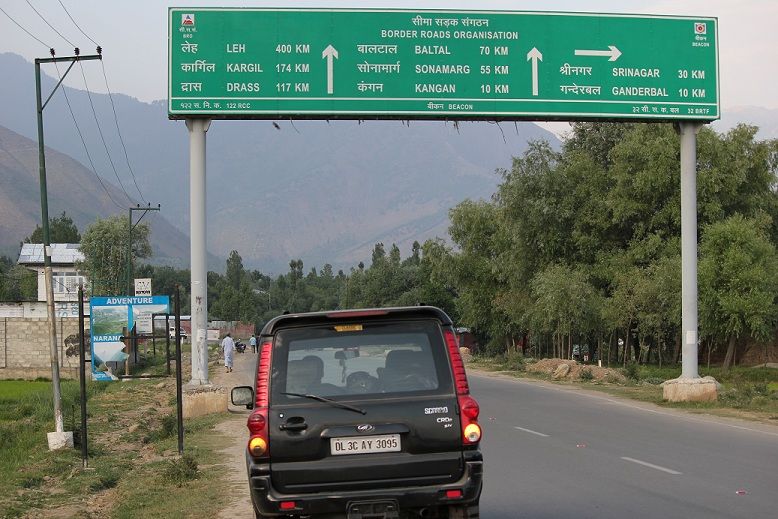 We motored along crossed Ganderbal and on to the Highway going towards Sonamarg. Sonamarg has a significant history! It was a gateway on ancientSilkRoad along with Gilgit connecting Kashmir with Chinaand other Gulf countries. The Zojila pass lies 15 kilometers east and is one of the highest passes for road transport. It still is a base camp for Ladakh on NH 1D, and is strategically important for Indian army who holds control over this part of Kashmir.A close by excursion is to Baltal, 15 km East of Sonamarg. This little valley lies at the foot of the Zojila, only a day's journey away from the sacred cave of Amarnath is a base camp for Amarnath yatra. Trekkers can also reach the starkly splendid 'roof-top of the world'- Leh, by crossing over the Zojila pass.On the way we saw beautiful locales, river running along the Highway with majestic snow laden peaks coming into our view for the first time. The weather started changing for good and by the time we entered Sonamarg the sun was setting down weather turned cooler. The innate beauty of Sonamarg mesmerized us, that is when we realized why the place has been named 'Sonamarg'. After paying the local municipality toll, which is being charged as you reach one town from other, we reached our halt for the night Hotel Glacier Heights at about 7:00 PM. It's an Old property managed well with decent facilities on offer. Our rooms were allotted to us, hotel staff took out the luggage from our vehicles and we settled in our rooms. Some tea and snacks were ordered by a few who wanted to eat, others wanting to have a round of drinks started arranging for the evening ahead.
There is an Old saying "Too many Cooks spoil the broth" you will come across loads of travelers claiming to be travelling on these roads for number of years and the first thing that they ask you is have you started on Diamox  now I must tell you Diamox is no Life Saving Drug or a magical pill that will make you accustomed to the terrain. We were travelling with a few over cautious individuals who were all ears for such advice's. The best way to keep fit to travel on this terrain is to have lots of fluids. Here, water is the best medicine and most important part is to eat light. Follow these two simple rules and you will be good. The drive coupled up with erratic eating habits had started showing its effects on few but we were on a vacation so the motto was " Party toh Bantii hai " thus the party started till it was time for Dinner. Dinner done, tired; we retired to our respective rooms and tried catching on sleep as tomorrow we had the Mighty Zojilla Pass waiting for us. I dozed of humming the famous Kishore Da song written by Gulzar Saab "Raah pey rehtey hain, Yaadon pey basar……… Hum to safar kartey hain"
Day - 3, 20/06/2016 Circuit: Sonamarg - Kargil Distance Covered 125 Kms Time Taken 4:30 Hours.
I got up with the first Ray of Light coming in through a slight gap between the curtains, looked out of the window and realized it's a bright sunny day with clear skies. Sun rays falling on the snow laden peaks in distance and making the snow glisten like gold. The sun sets in quite late in such terrain and rise up pretty early. We had been on the road practically for two days hence it was decided will let everyone rest and let them wake up at their convenience. Soon everyone started waking up, some were pretty unhappy being caught with a bad bout of stomach bug . I already had a few worrying things on my mind which doubled up with the latest situation at hand. Thankfully, the ladies of our group had planned well and stocked in essential medicines the health issues were taken care of. Now we had to take care of the Mighty Zoji La.
Zoji La is 9 km (5.6 mi) from Sonamarg and provides a vital link between Ladakh and Kashmir. It runs at an elevation of approximately 3,528 meters (11,575 feet), and is the second highest pass after Fotu La on the Srinagar-Leh National Highway. It is often closed during winter, though the Border Roads Organization (BRO) is working to extend traffic to most parts of the year. The Beacon Force unit of the BRO is responsible for clearing and maintenance of the road during winter. The Border Roads Organization takes two months to clean the National Highway in the Zoji la Pass Area. On certain occasions, they complete their job before time. Arid climate makes their work simple, due to which the highway opens earlier than expected. To drive this trail, you must have supreme confidence in your vehicle and your driving skills. The Zoji la Pass is considered as one of the riskiest passes in this area. During and after a storm the road may be impassable, even with a four-wheel-drive vehicle and can easily get muddy if it rains making it challenging to get through. The zone experiences high winds and heavy snowfall, which render it impassable for much of the winter. It's incredibly disorienting to look over the edge, or even just to see the valleys a couple thousand feet below you. It's a mind numbing vertical drop of hundreds of meters so you might want to give it a miss on a windy day.
We were aware of the dangers that lay ahead but our adventurous streak got better of us and we started getting ready for the journey ahead. Since I have been travelling to the mountains I swear by a simple policy, listen to the advice of local people as they recognize their backyard the best. Breakfast done, all packed up! Over a cup of tea we got into conversation with the Hotel manager seeking his valuable inputs on what lay ahead. The advice's were simple 'Sir stick to your lane, do not overtake and stay behind the local drivers'. The locals have their own way and instinct while driving. In his good gesture, he narrated us of a mishap that had occurred a decade back, which was overheard by our faint hearted team member who was driving and it left him worried! We brushed the topic aside, cheered him up and optimistically got on to our machines and fired the engines. I was a bit vary on seeing lots of trucks pass by in the morning well aware of the fact if any of the trucks crossing by got stuck on the climb of Zoji La we are in for a long long day. The jams once upon a time at Zoji la ran for miles and lasted upto 6 hours ! As we crossed Sonamarg town, it was a sigh of relief to spot all those trucks parked neatly on our right hand side. Indian Army and BRO has regulated the movement of heavy vehicles from Kargil to Sonamarg and Sonamarg to Kargil. Vehicles coming from Kargil side cross Zoji La by early morning and from Sonamarg they cross after noon. It is a boon for people crossing Zoji La.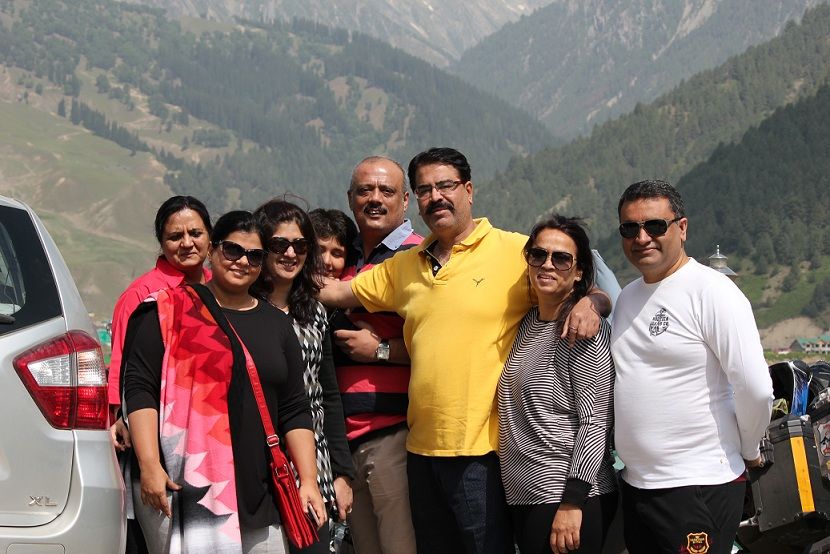 We crossed Sonamarg fleeting by the Baltal camps, being set up at a distance for the upcoming Amarnath Yatra.. Gumri crossed, the steep climb of Zoji La begins, and there is practically no road there. It is full of dirt and gravel with sharp hair pin bends. Another thing one hears constantly that to drive on this terrain one needs to have a 4wd. I would say no, it is not mandatory. Within our group we had only one 4wd vehicle rest all were regular set of SUV and MUV 2wd. It entirely depends on your driving skill confidence, vehicle comfort and shift of gears combined with pedal control. Some members were anxious and jittery with various stories crossing their minds about Zoji La pass. To calm the nerves, their home remedies of Coca and Kapur were well used as an able substitute over the fallaciously famous Diamox  Soon all the instilled fears anxiety and jitteriness gave way to a lifetime experience of crossing Zoji La and we all were grinning from ear to ear… I remember few even saying oh was this Zoji La, what was the big deal in it and so on.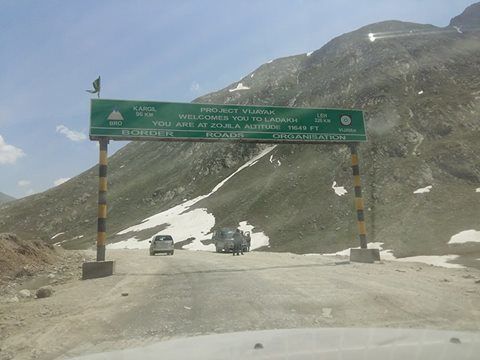 How so I wished should have recorded their reactions a night before, in the morning before leaving and while driving a few minutes back. Clicked few memoirs captured the mighty Zoji La in our Camera frames and commenced our descent towards the town of Dras. As you start descending towards Dras the road starts to get better and by the time you are in Dras the road is perfect nicely metaled. There is a Police post where you have to register, which was loads better than the one we crossed after Jawahar Tunnel. The officers here were courteous and after completing our registration process we crossed the check post enroute to Dras.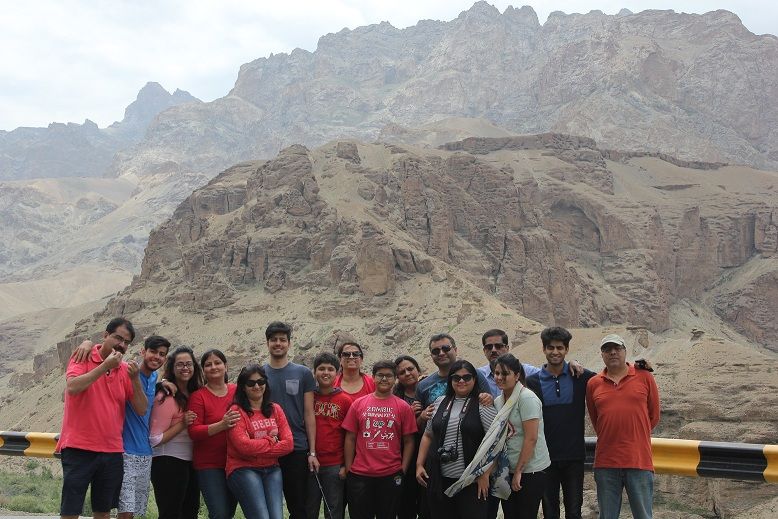 Dras is a town in the Kargil District of Jammu and Kashmir, India on National Highway 1D (India) NH 1D. It is often called 'The Gateway to Ladakh'.[1] The town shot into prominence in the summer of 1999 following Pakistani army incursions into Jammu and Kashmir. The Kargil War saw the town being shelled by the Pakistani army and the war ended with the Indian Army recapturing the areas surrounding the town and the Kargil district. Dras is the coldest place in India, experiencing an altitude-influenced subarctic climate. Winters are cold with average lows around −22 °C (−10 °F), and as low as −45 °C at the height of winter, which lasts from mid-October to mid-May. Summers start in June and go on up till early September, with average temperatures near 15 °C (60 °F) and little precipitation. Annual precipitation is almost entirely concentrated in the months from December to May when Dras gets around 550 millimetres (21.7 in) water equivalent of snowfall. Dras has a war memorial commemorating the brave hearts of the Kargil war. It was a proud moment to see a JAK Rifles Cantonment named after Captain Vikram Batra PVC a brave soldier famous for his "Yeh Dil Maange More" slogan during the Kargil war and named Sher Shah by the Pakistani army owing to his heroics in the war.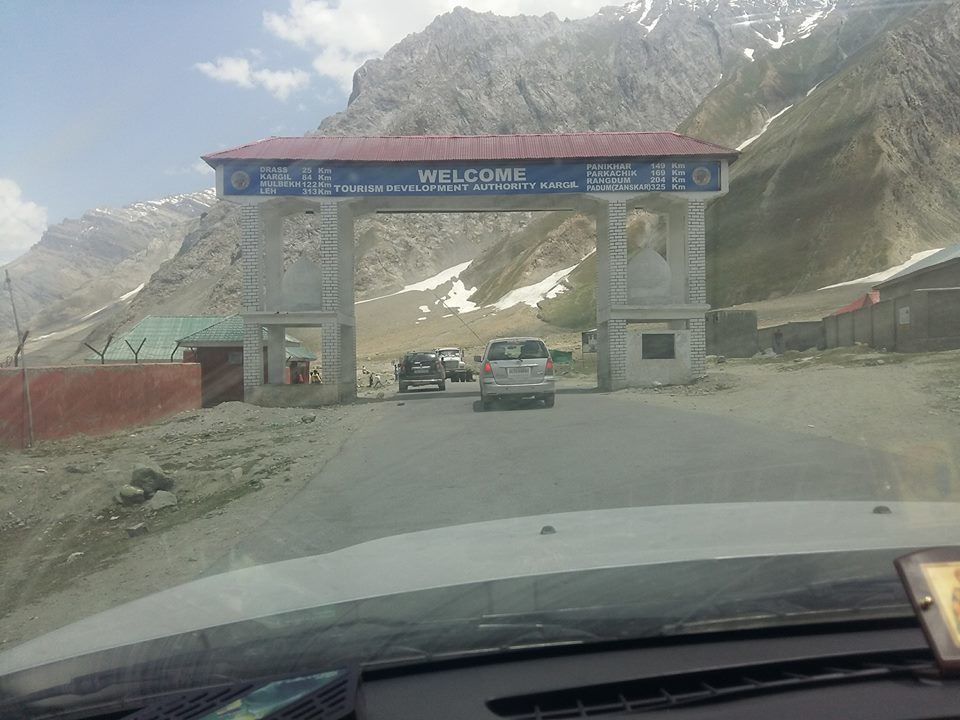 The road from Dras to Kargil is exceptionally good as we clocked a speed of over 110 Kms/hour and were entering Kargil town by noon. Everyone was low on fuel so stopped at the first Petrol Station as we entered Kargil and refueled our vehicles.
Kargil is a city in the Kargil district of Ladakh, in the Indian state of Jammu and Kashmir. It is the second largest town in Ladakh after Leh. It is located 60 km from Dras. Kargil has an average elevation of 2,676 meters (8,780 feet), and is situated along the banks of the Suru River (Indus). The town of Kargil is located 205 km (127 mi) from Srinagar, facing the Northern Areas across the LOC. Like other areas in the Himalayas, Kargil has a temperate climate. Summers are hot with cool nights, while winters are long and chilly with temperatures often dropping to −48 °C 32 °C(−54 °F). A famous all-weather road, the Kargil-Skardu road linked Kargil with Skardu, a city in Gilgit-Baltistan. Since the 1948 Kashmir War, the road has been closed. Whilst the Indian Government has been interested in opening the road as a humanitarian gesture, this has been refused by the Pakistani Government.
We reached our Hotel Zojila Residency at about 2:30 Pm. It is a nicely done up hotel relatively new with decent facilties, rooms are spacious neat and clean and staff courteous. It was 3:00 PM by the time we all settled and went for Lunch. The food is delicious but they do take their sweet time to serve it. There again we met few regular travelling lot and the first thing we were asked have you started Diamox. Lunch was served a regular mix of Dal, Chicken, Parantha, Rice and we had our fill. While crossing the reception my sister Shalini came across magazines like India Today, with India neatly cut out. Being a patriotic that she is the reception clerk was confronted the reason, to our surprise he was at total loss of words with no answers to give and just a wry smile. We let it go talking to ourselves at how naïve these simple people are and brushed this thought aside. It was early evening and we had a lot of time on our hands to relax and regroup our energies for the rest of the days that lay ahead. Few of us sat on the banks of Suru River which flows right next to the hotel talking and discussing the journey completed so far. It was getting dusty and windy, We decided to go back to the rooms and sit chit chat there and as evening started to set in tea was prepared in the kettle's we were carrying along sipped on some hot tea cracking jokes and pulling each other's leg. As the night fell it was decided to have a musical evening along with mandatory round of drinks by the river, by 8:30 we all gathered in the lawn set up our tables ordered snacks put on some music and gazing at the night sky. The galaxy looked so clear and near, it was mesmerizingly beautiful. Drinks flowed there were lots of Jokes cracked yet we had a gentleman looking out of sorts and not enjoying himself. The gentleman loves his caps in such situation sitting and sulking, since we are used to his behavior he was left alone to enjoy his me time till it was time for dinner. We finished Dinner and decided to retire for the night. Three days gone by and time just flowed is what I thought to myself with memories of afavoritemovie shot on Kargil conflict
"LAKSHYA" and a song from the movie I love hearing written by Javed Akhtar Saab " Haan yehi Rasta hai tera tooneyab jana hai…Payega jo Lakshya hai tera… Lakshya toh har haal mein paana hai"
Day - 4, 21/06/2016 Circuit: Kargil – Lamayuru – Leh Distance Covered 210 Kms Time Taken 7:30 Hours
Morning in Kargil was a bit nippier than expected as we got up and assembled for customary morning tea and decide on our ETD, which was fixed for 9:30 after breakfast. Chai, biscuit, namkeen usual chit chat and dispersed to get ready. We were at the breakfast table and the breakfast spread was good. By the time breakfast got over it was 9:30 checked out settled the bill and then the least expected faux pas happened! While helping with our luggage from the cars, a hotel staff boy alerted us that one of our car rear wheels is missing two bolts. The car owner panicked! In a habit of making a mountain out of a mole he refused to take the situation moderately. Another thing that bothered us was that while checking rest of the bolts in that particular wheel one of the bolt joint gave away and broke from the rim. It was early by Kargil standards and being unaware of the facilities around we took the help of the Hotel Staff. The owner of the hotel owns a motor workshop as well thus directed us to go there. We did go there but could not find spare bolts to fix our problem, so it was decided to take out one of the bolt from front wheel and at least make it a better situation that the prevalent one. That done we came back to the hotel picked up the waiting party and set off towards Leh. As we drove a little distance we checked up with few motor garages and were told about an authorized Toyota garage nearby. It was a blessing to have found it, as there they replaced the bolt along with the spoke that had broken. Car set right, we motored along towards our destination. On the way we found a lovely scenic spot to halt and click few pictures. We crossed Mulbekh, Namki LA and Fotu La, by the time we drove into Lamayuru it was about 2:00 PM.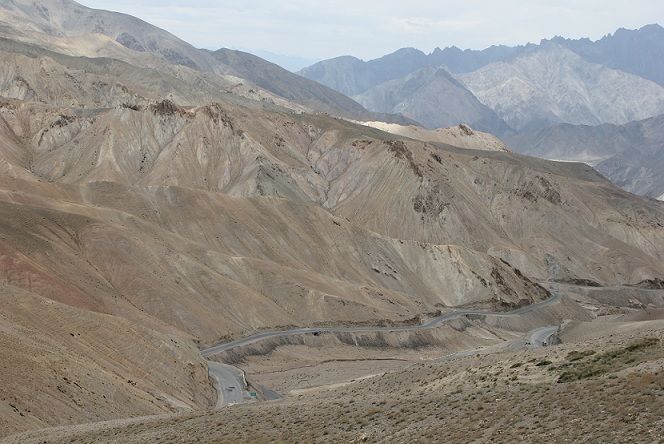 Lamayuru or Yuru is a Tibetan Buddhist monastery in Lamayuru, Leh district, India. It is situated on the Srinagar-Leh highway 15 kilometers (9.3 mi) east of the Fotu La at a height of 3,510 meters (11,520 feet). It was an experience for the kids to have visited an ancient monastery. Lamayuru is one of the largest and oldest gompas in Ladakh, with a population of around 150 permanent monk's resident. It has, in the past, housed up to 400 monks, many of which are now based in gompas in surrounding villages. Lamayuru is host to two annual masked dance festivals in the second and fifth months of the Tibetan lunar calendar, when all the monks from these surrounding gompas gather together to pray. After the tour of monastery we sat in for Lunch at Hotel Niranjana situated in the Monastery premise and ordered a mix of Chinese food. The food was hot and tasty and after filling our grumpy tummies we head off to Leh. We crossed Saspol and on to Nimmu.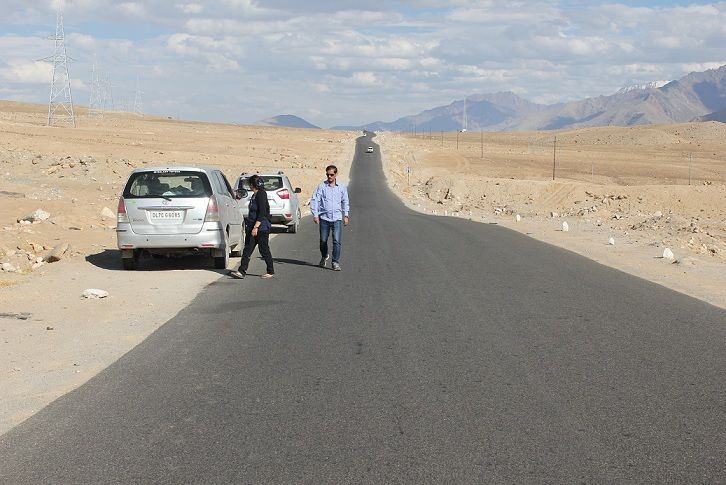 The road from here is a dream, straight wide and well carpeted at that height and one can actually zip off. That's exactly what we did pushed the pedal of our cars crossing Magnetic Hill clicked few pictures and reached Gurudwara Pathar Sahib Ji.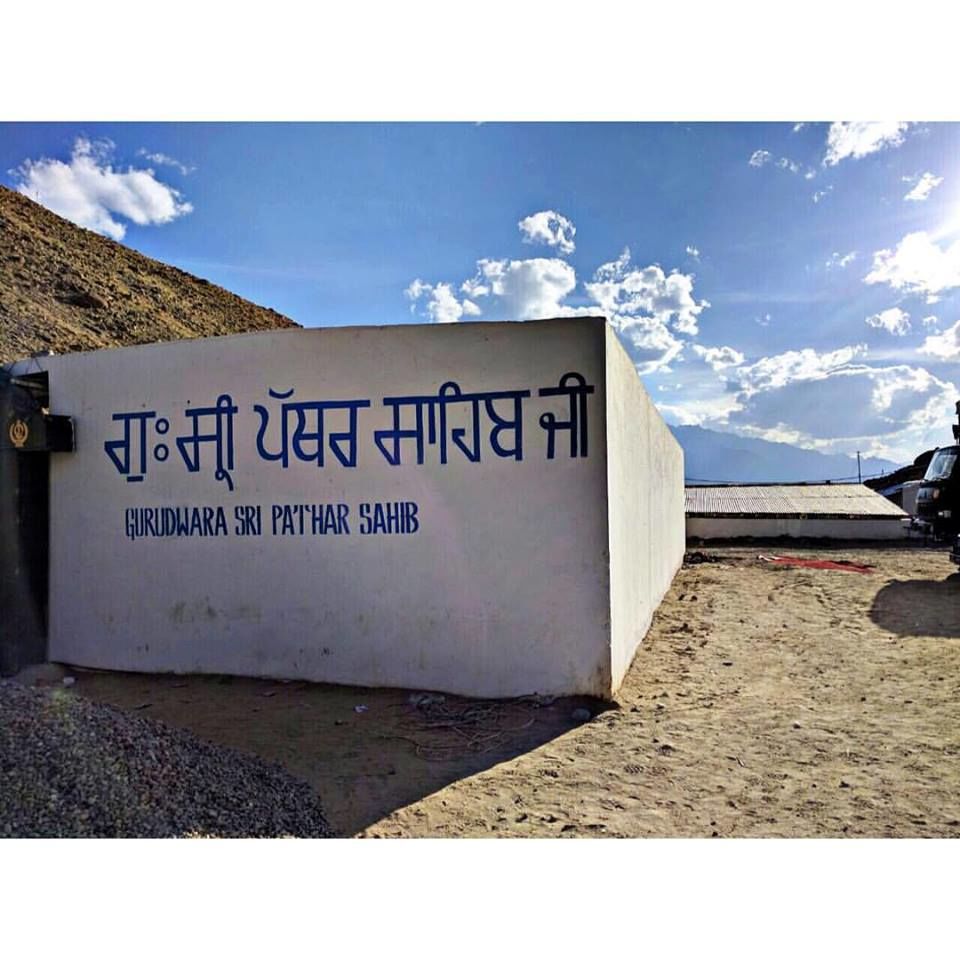 Gurudwara Pathar Sahib, is a beautiful Gurudwara constructed in the memory of Guru Nanak, about 25 miles away from Leh, on the Leh-Kargil road, 12000 feet above sea level. The Gurudwara was built in 1517 to commemorate the visit to the Ladakh region of Guru Nanak Dev, the founder Guru of the Sikh faith. During his lifetime Guru Nanak travelled to many distant places and one such place was Tibet. Guru Nanak is well respected by Tibetan Buddhists who consider him a saint; The Dalai Lama, spiritual leader of Buddhists in Tibet, has confirmed this in his discussions with some Sikh leaders saying that Tibetans revere Guru Nanak as a Buddhist saint under the name of Guru Gompka Maharaj. It's maintained and served by the Indian Army and the Granthees too are on Indian Army payroll. The langar served here is yum but since it was late by the time we reached we could have Tea and Prasad after paying our obeisance.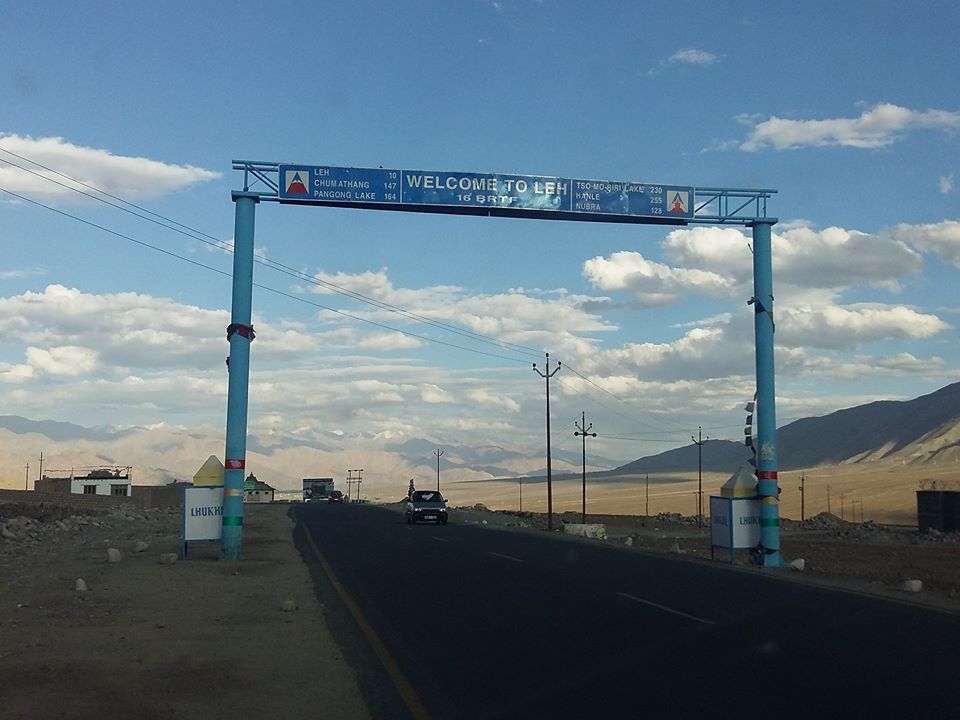 It was the last leg of our journey towards our dream destination as we all were excited now to reach Leh. We reached Leh towards early part of the evening and after co-coordinating with our local contact Abid Ali we reached a certain point and asked him to come fetch us. One of the cars lost directions and was misled. Abid, a sweet helpful guy that he is coordinated and reached the point we were waiting for him. I robustly recommend Abid, our guiding light on this tour; to all who plan to travel to this part of the world. A warm, local Ladakhi, who is happily into the travel business. It was around 6:30 that we reached Dream Ladakh, our Home stay guest house in Leh. Dream Ladakh is a family run guest house run by a Ladakhi Couple. It's a nice, comfortable, a neat and clean place. This too is on my recommendation list especially for a group like our in size, it's one of the best place to stay. We parked our cars, offloaded our Luggage and settled in our rooms. A shower rejuvenated us and we again met for discussions. Snacks were ordered from the market and drinks were on. It was not such a good idea to have heavy snacks and drinks immediately upon reaching Leh. We had some snacks, drinks and then dinner too, which proved to be an overdoing and it was enough to plot the uncomforting night that lay ahead. At about 11:00 we retired for the night with a day to take it easy and rest in Leh. Unfortunately someone felt badly dehydrated and there was a knock on my door at 2:00 am, it was scary to see her as she looked in a bad shape. I advised her to go back to her room pop a Diamox and drink as much fluid as possible. Worried, I lay down on the bed expecting another knock, waiting… reminiscing a song from the popular hindi movie Ghayal "Sochna Kya Jo bhi hoga dekha Jaayega" I didn't know when I dozed off.
Day - 5, 22/06/2016 Circuit: Leh Town
We were to stay in Leh today. After all the travelling the idea was to give rest to our tired bodies to rejuvenate our energy levels for further drives. It was decided we take it easy have a good sleep and wake up at whatever time one wishes to. It was not to be, as early morning rays of sun flickered through the curtains and almost all were up by 7:30. I got up and walked out of the room to see a few in the group sitting holding their heads having headache. Other few were grumpy with issues relating to their stomach. The lady who walked up to my door at 2:00 AM owing to her intelligence avoided the medicine as suggested. She was having a splitting headache as she had not slept the whole night. One good thing that she had done was to have lots of fluid through the night which at least kept her dehydrated. Sitting in the balcony we had tea and ones having headache popped Diamox, don't know whether it was psychological or the medicine did actually help them as after a while they did feel better. We had a leisurely breakfast talking, chit chatting, planning ahead for the day. It was noon when we all got ready and went to explore the Changspa Bazaar. Ladies as usual no matter where they are manage to find a place to shop whereas rest of us headed to a Local Restaurant Wonderland. Wonderland is a nice restaurant located in Changspa with a nice terrace famous for Chinese, Continental and Local Ladakhi food. Keeping in mind to eat light lunch was ordered comprising of Momos, Garlic Soup, Thupka, as we waited were joined by rest all. Food was good, service was a little slow but we had not much to complain about. By the time we got over with lunch it was early evening and after roaming some more we decided to head back to our guest house and rest. Sitting in the lounge we had tea chit chatted planning for the next day, travel light to carry bare minimum luggage we needed for next two days and so on. It was around 8:00 or so that a few felt really uncomfortable and were advised to go see a doctor. One gentleman had to be literally pushed to go visit a doctor as we had to travel further crossing Khardungla to Nubra Valley the next day. The guest house is run by Tundup and Kunzang, Kunzang the lady of the guest house volunteered to take them to the doctor. Now, a piece of advice! Instead of local doctor best place to visit in any medical emergency is the S.N.M Hospital. That is where she took them and it's better equipped with a dedicated section for tourists. It was a good decision as they were given necessary and timely medication which helped them in almost an instant and speedy recovery. Not many people were in a mood to party that night thankfully! Though the incorrigible kinds like me had a customary few drinks before dinner and we retired for the night. I, sincerely wanted the night to pass of peacefully and all to be well as we get up tomorrow towards our next destination Diskit, Nubra Valley. The T off deadline for tomorrow set at 7:30 we headed to our rooms settling in. Sleep evaded me as events of the day kept crossing my mind when I recalling the song from Anil Kapoor's Tezaab "So gaya ye jahaan so gaya asmaan" slowly drifted off to sleep.
Day - 6, 23/06/2016 Circuit: Leh – Khardung La – Diskit – Distance Covered 160 Kms Time Taken 6:00 Hours
The day began early around 6:30 am, as today the Leh leg of our journey was to begin. We were to cross high mountain passes, treacherous roads while travelling to Nubra Valley. Our excitement took a back seat as one youngster in the group was reported to be running fever through the night and was down with a bad bout of chest congestion, cold and cough. We decided to hold up till he got proper treatment at the nearby local hospital. We waited for the doctor's opinion. It was not a prudent decision to continue with such illness as today we were to cross highest motorable road in the world Khardung La.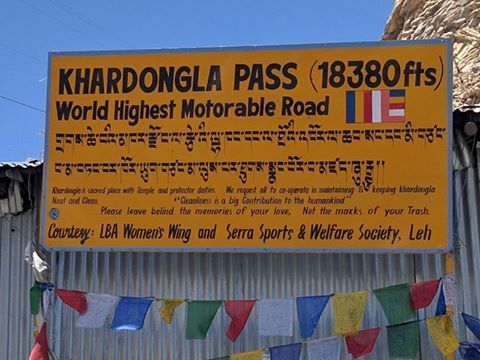 Khardung La (Khardung Pass, la means pass in Tibetan) is a mountain pass located in the Ladakh region of the Indianstate of Jammu and Kashmir. The local pronunciation is "Khardong La" or "Khardzong La," but, as with most names in Ladakh, the romanised spelling varies. The pass on the Ladakh Range lies north of Leh and is the gateway to the Shyok and Nubra valleys. The Siachen Glacier lays part way up the latter valley. Built in 1976, it was opened to public motor vehicles in 1988 and has since seen many automobile, motorbike and mountain biking expeditions. Maintained by the Border Roads Organization (BRO), the pass is strategically important to India as it is used to carry supplies to the Glacier. The elevation of Khardung La is 5,359 m (17,582 feet). Local summit signs and dozens of stores selling shirts in Leh incorrectly claim that its elevation is in the vicinity of 5,602 m (18,379 feet) and that it is the world's highest motorable pass.
The news from the hospital was not favorable; our young partner had to be administered medicines for which the medical staff on duty had to keep him under observation. This dampened our spirits but a realistic decision was taken and the rest of us decided to go ahead. It was decided that barring one family of three, we all will continue the journey as planned. If he starts to feel better and the doctor discharges him by noon, they shall leave too and join us at Diskit by late evening. It was 9:30 by the time we left Leh. We tanked up fuel and filled our jerry cans with some spare fuel and headed off. Khardung La is situated 39 km by road from Leh. The first 24 km, as far as the South Pullu check point, are paved. From there to the North Pullu check point about 15 km beyond the pass the road is primarily loose rock, dirt, and occasional rivulets of snow melt. However, this pass is in better repair than many of the surrounding passes From North Pullu into the Nubra Valley, the road is very well maintained (except in a very few places where washouts or falling rock occur). Hired vehicles (2 and 4-wheel-drive), heavy trucks, and motorcycles regularly travel into the Nubra Valley.
We reached K-top as it is famously referred to, stayed put for a while before commencing our descent towards Khardung Village. This road is frequently used by Army Convoys as it connects Leh to Siachen Glacier base camp. As we descended one member showed much uneasiness so we asked one vehicle to move faster than the rest. Once we crossed North Pullu the road became good towards Khardung village with us driving at a fair clip. As we drove further one of the Vehicles with us had a flat tyre and we stopped on the side of the road to replace it. We wracked our brains to remove the spare which finally my nephew Vatsal managed, an energetic and intelligent team boy. Another blockage was to raise the vehicle in order to change the wheel, all methods were used but we were not getting the desired elevation. Being on a slope where we had to stop it was difficult. We tried to seek help from a few people but none came until Vandana went and managed to get them to come and help us. Luckily they were local drivers and were well trained for such tricky situations. They replaced the wheel for us in a jiffy and we were good to go.
It was 3:00 PM by the time we reached Khalsar. Khalsar has a puncture repair shop and a few tiny restaurants right next to it where we had some Maggie and Eggs. To our bad luck the cut was bad and puncture could not be repaired thus we were left with only one option which was to put a regular tube in order to use the tyre. We left Khalsar deciding against the idea of buying tube there as he had a used one and wanting to check at Diskit. It was 4:30 by the time we reached Hotel Sten Del, Diskit our halt for the night. As we settled in, the news from Leh was not encouraging with the doctors deciding to keep him under observation for the night and decide the next morning.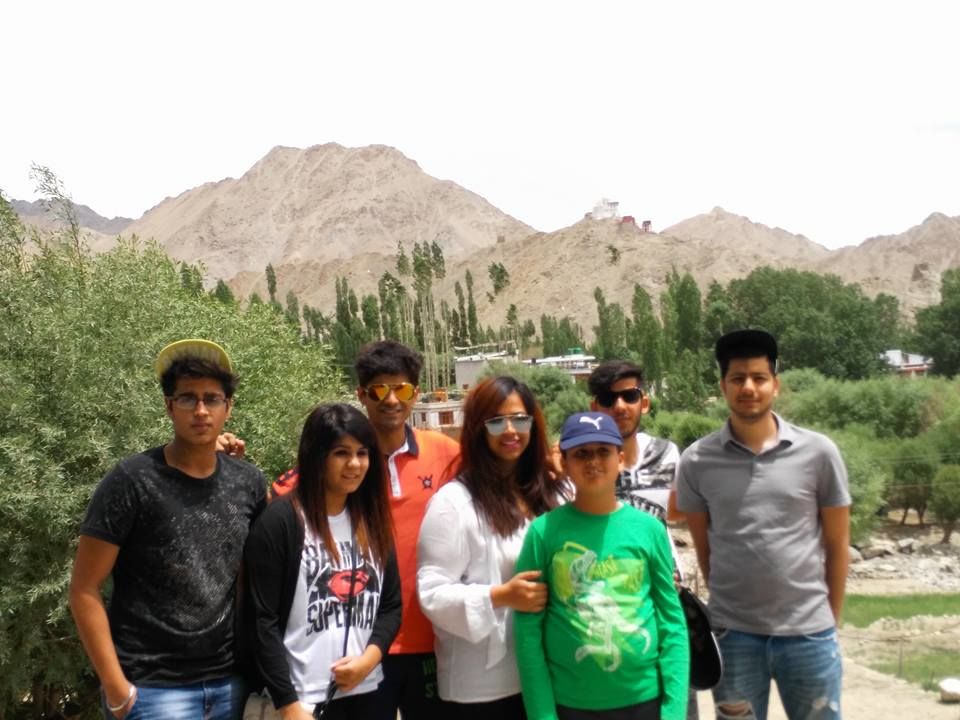 We headed towards Hunder to see the sand dunes and double humped camel. By the time we reached Hunder it had gone dark as we had stopped on the way to get the puncture repaired. We managed a glimpse of the camels but were too late for a ride on them! We went to our Hotel and relaxed before the night partying began. Hotel Sten Del is one of the best properties available to stay in Diskit. They serve good food; have a spacious lawn and decent sized clean rooms. We sat in the lawn enjoyed a bit of snacks, few drinks and chit chatted till it was time for dinner. Dinner was a delicious spread of vegetarian and non vegetarian dishes served hot in the restaurant. Over dinner we discussed to leave next day at 7:30 in the morning and requested the hotel staff to get our breakfast ready and packed.
We had decided to drive to Pangong Tso directly from Nubra, which as per many is not the best thing to do. Little worried and all kinds of thoughts fleeting my mind about what tomorrow has in store for us switched on to my music library on my phone and the famous song sung by none other than Pancham Da "Kal Kya Hoga Kisko Pata…. Abhi Zindagi ka …." soothed my nerves and I didn't realize when I dozed off only to wake up with the shrill voice of my alarm.
Day - 7, 24/06/2016 Circuit: Diskit (Nubra Valley) - Agham – Shyok – Pangong Tso Distance Covered 177 Kms Time Taken 7:30 Hours
Nubra to Pangong direct the moment I discussed with friends who have visited Leh earlier all I got to hear was a big NO. This further increased my curiosity and I started gathering information as much as I can collect from various blogs and other information available on the internet. There are two direct routes from Nubra Valley to Pangong Tso, one goes through Agham – Wari La - Sakti – Chang La – Pangong Tso and the other Agham – Shyok – Durbuk – Pangong Tso. The Wari La route is longer and one needs to cross two high passes, whereas the Shyok Valley route is much shorter. The information collected from Internet pertaining to both these routes was discouraging with people mentioning you will hardly find any movement on the Wari La route and the ascent and descent is very difficult, Shyok Valley road is not an official road and government does not pay any attention to this road, if it rains the road is prone to serious landslides and so on. The local taxis too do not ply on this route and in case of a break down help will be very hard to find for miles.
We were short on time owing to which while planning the trip it was decided we will be going to Pangong Tso directly from Nubra via Shyok River Valley. It was 6:30 AM by the time we got up met over cup of tea in the lawn and then went back in order to get ready and leave on our target time of7:30 AM. We left Hotel Sten Del at about 8:00 AM driving back to Khalsar and then to take a detour to Agham. A Day before I met a local taxi driver and got chatting with him trying to gather some knowledge about the route, the guy was taking the same route and advised me to cross Shyok before noon and all will be fine. Keeping that in mind we kept pushing ourselves and crossed Agham. Road from Diskit to Agham is fairly good, with amazing views rocks being wind eroded and forming a shape on their own. I must say if Gregory Peck was alive he would have convinced his director John Lee Thompson to make a sequel to his movie McKenna's Gold right on this location.
We crossed Agham driving towards Shyok with an eye on the watch wanting to cross Shyok before noon. The reason being as the Sun rises high, snow on the peaks starts to melt, raising the water level in stream crossing the road which makes it impossible to cross. The road from Agham to Shyok is broken but it was good to see BRO - GREF men working towards improving the condition. We could see loads many men working on this stretch of the road, hopefully from now on after few years the conditions will be better.
God had been kind to us throughout and we crossed Shyok well before it gets impossible to cross and reached Durbuk. It was 11:30 AM and we have had nothing to eat since morning thus stopped at a road side dhaba at Durbuk, ordered some Maggie, Tea and sat down eating out of our packed breakfast. It was time to go and we set off towards our destination for the day, and at about 2:00 PM we saw the first glimpse of beautiful and serene Pangong Tso. It looked turquoise blue and the view was magnificent it made us forget the arduous journey over past week and was rejuvenating.
Pangong Tso, Tibetan for "high grassland lake", also referred to as Pangong Lake, is an Endorheic lake in the Himalayas situated at a height of about 4,350 m (14,270 feet). It is 134 km (83 mi) long and extends from India to China. Approximately 60% of the length of the lake lies in China. The lake is 5 km (3.1 mi) wide at its broadest point. All together it covers 604 km2. During winter the lake freezes completely, despite being saline water. It is not part of Indus river basin area and geographically a separate land locked river basin. The lake is in the process of being identified under the Ramsar Convention as a wetland of international importance. This will be the first trans-boundary wetland in South Asia under the convention.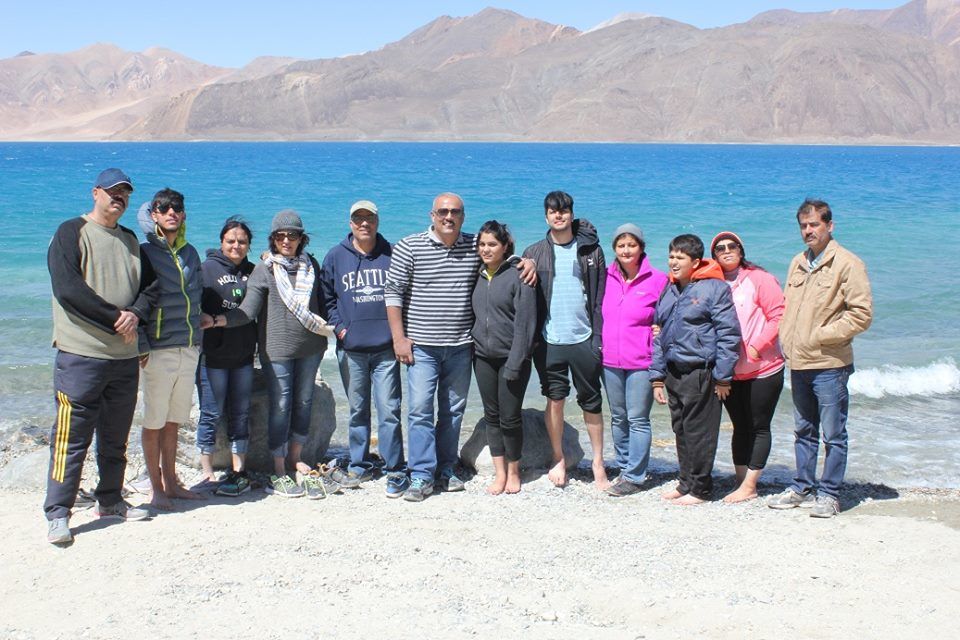 The brackish water of the lake has very low micro-vegetation. Guides report that there are no fish or other aquatic life in the lake, except for some small crustaceans. On the other hand, visitors see numerous ducks and gulls over and on the lake surface. There are some species of scrub and perennial herbs that grow in the marshes around the lake. The lake acts as an important breeding ground for a variety of birds including a number of migratory birds. During summer, the Bar-headed goose and Brahmini ducks are commonly seen here. The region around the lake supports a number of species of wildlife including the kiang and the Marmot.
As we drove towards Spangmik village and to Himalayan Retreat Camps, where all major accommodations are we were stunned to see the natural beauty of the lake. It was changing colors and they say it changes into seven different colors based on direction of sun. Mother Nature at its best, driving along the lake we reached the campsite at about 2:30 PM. We decided to have lunch comprising of regular Dal, Sabzi, Rice, Chapatti, food was edible but service nothing to write about. I would recommend everyone not to plan your stay at Himalayan Retreat. They are uncouth, unprofessional cold people with an uncaring, inhospitable attitude. It was windy and cold by the time evening started to settle in and as we sat sipping tea we heard a familiar horn blowing with friends who had stayed back because of the unwell youngster landing up. It was good to see them thus excitedly we all welcomed them taking stock of his medical status. It was a bold step on their part to have made it here as we settled evening started to set in and we went to the lake once again to click few photographs. By the time we reached back to the campsite the sky had turned dark, wind picked up and we all sat huddled in one tent enjoying our Old Monk Rum. Some chit chat keeping an eye on the youngster we decided to proceed for dinner. Dinner in such places is an early affair, by the time clock struck 10:00 PM dinner was done and we retired to our respective tents. With a prayer on my lips "Aye Maalik Terey Bandey Hum….Aisey hon hamaarey karam" thanking the almighty for taking care of us all through, I dozed off to the sound of wind hitting against the walls of our tent.
Day - 8, 25/06/2016 Circuit: Pangong Tso – Chang La – Karu – Leh Distance Covered 155 Kms Time Taken 6:00 Hours.
The night at Pangong was windy and cold, the youngster had to be shifted to car early morning with heater running to soothe his cough and congestion. We all had been uncomfortable through the night thus by 6:00 am were all up, seeing the situation at hand it was mutually decided to leave right away without any further delay. We left by 6:30 am. The staff at Himalayan Retreat was even colder than conditions as none of them bothered to show up for us to settle their account. That too was more of our concern to pay them our dues thus Vivek went to the main service tent and cleared the dues. We stopped at Durbuk yet again at the same place for Breakfast and to look for a Mobile Phone misplaced by one of the Group member. As we sat ordering out breakfast of Maggie, Butter Toast, Eggs enquiring about the Mobile Phone which bore no result. While the person who lost it was sitting glum, a local appears asking if we dropped a Mobile Phone. Now whether it was a change of heart or wanting to make quick buck he fished out a Handset. He said that if he returned the phone it will bear charges. Not wanting to create a scene or start an argument (heaving a sigh of relief of finding the handset) we paid him, finished our breakfast and left Durbuk towards Chang La.
The Chang La (el. 5,360 m or 17,590 feet) is a high mountain pass in Ladakh, India. It is claimed to be the second highest motorable road in the world (which is either Merisimik La or Mana pass). Chang La is approached from Leh via Karu and Sakti village by an asphalt road. The climb is very steep and requires a careful drive. During the summer months specifically the tourist season, small streams appear across the road, making the climb a challenge for the bikers. The descent from Chang La towards Tangtse or Durbuk is again very steep. As per the medics, it is advisable to not stay at the top for more than 20-25 minutes as it could be detrimental to health owing to its high altitude.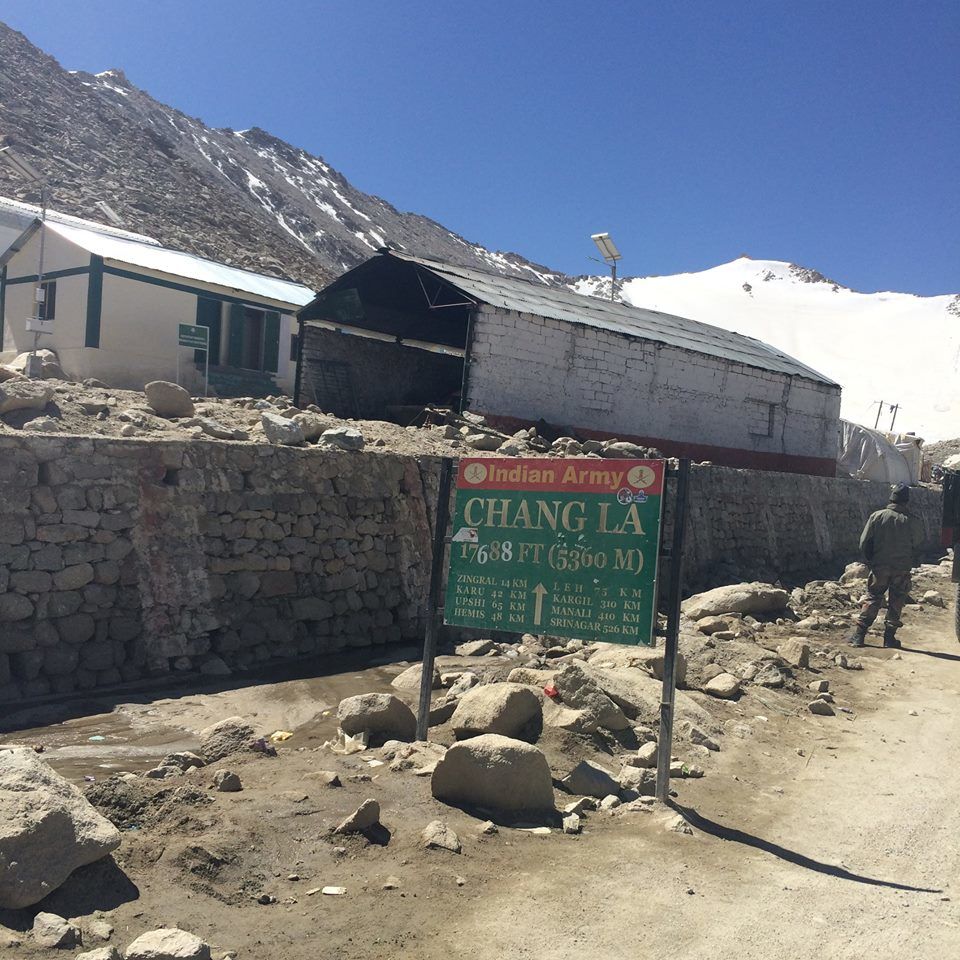 The Chang La is on the route to Pangong Lake from Leh. The name literally means "Pass towards the South" or "Pass in the South" (Chang = south, La = Pass). It is falsely claimed that the pass is named after the supposed sadhu Changla Baba, a myth propagated by the dedication of a temple at the pass to the supposed Changla Baba. If any such sadhu exists or existed, he would have been named for the pass, rather than vice versa (since the name "Changla baba" means the "baba of the southern pass". The small town of Tangste is the nearest settlement. The Changla Pass is the main gateway for the Changthang Plateau situated in the Himalayas. The nomadic tribes of the region are collectively known as The Changpa or Chang-pa. The world's highest research station, established by the Defence Research and Development Organization is functional in Chang La at a height of 17,500 ft.
We crossed Chang La and as we saw below the drop in the valley we could see many vehicles fallen in the past deep below and even some Army Vehicles. It made me shudder with the thought it could be any one travelling on this road if one does not follow the rules of Hill drive and tries to be a Gama in the Land of Lama. These are a few phrases put by BRO on the hoardings all along the roads another few being "better be Mr. Late than Late Mr.", "Be Gentle on My Curves", "It's not a Rally enjoy the Valley". Driving cautiously we crossed Sakti and into Karu. The road from Karu is carpeted, wide and smooth which gave us an opportunity to accelerate to Leh. It was around noon that we reached back at Dream Ladakh, unloaded the Luggage and left to get the basic tuning done for our Vehicles and to look for a New Tyre. The cars were left at the service station and we left for the market to buy a New Tyre. It was around 3:00 PM after having done the needful we sat for Lunchenjoying few Beers and chit chatting. There was nothing to do today as we settled in rested and enjoyed the lovely cool evening setting in and cracking jokes.
As dark settled in and it was time to party, we were joined by Amit Goel a friend posted at Air force Station Leh and had a good time listening to his experience and stories. It was a nice informative session owing to his knowledgeable talks time just flew till we realized its 12:30 AM, late enough to have dinner and give rest to our aching tired limbs. We finished dinner as rest of us slowly retired to their rooms me and Rahul Dua found some common connections with Amit and another round of discussions started, which continued late till late into the night. We realized it was pretty late thus decided to bid bye to our friend, saw him off to his vehicle and returned to our rooms. Tired of waking up pretty early in the morning thinking about past one week put my head on the pillow remembering a lovely song again written by none other than Gulzar Saab "Phir wahi raat hai … khwaabon ki…raat bhar… dekha karengey tumhein" sung by evergreen Kishore da from movie Ghar slept dreaming of such a beautiful journey till now.
Day - 9, 26/06/2016 Circuit: LEH TOWN.
Woke up to a lazy Sunday after hectic few days of zipping around the dangerous curves in the beautiful mountains and were taking it easy. Today was our last day at Leh which was kept to visit the local Monasteries and nearby areas.After a breakfast of Local Ladakhi bread and scrambled eggs we headed off to Thiksey to visit Thiksey Monastery.
Thiksey Gompa or Thiksey Monastery (also transliterated from Ladakhi as Tikse, Tiksey or Thiksey) is a gompa (monastery) affiliated with the Gelug sect of Tibetan Buddhism. It is located on top of a hill in Thiksey village, approximately 19 kilometres (12 mi) east of Leh in Ladakh, India.[1] It is noted for its resemblance to the Potala Palace in Lhasa, Tibet and is the largest gompa in central Ladakh, notably containing a separate set of buildings for female renunciates that has been the source of significant recent building and reorganization.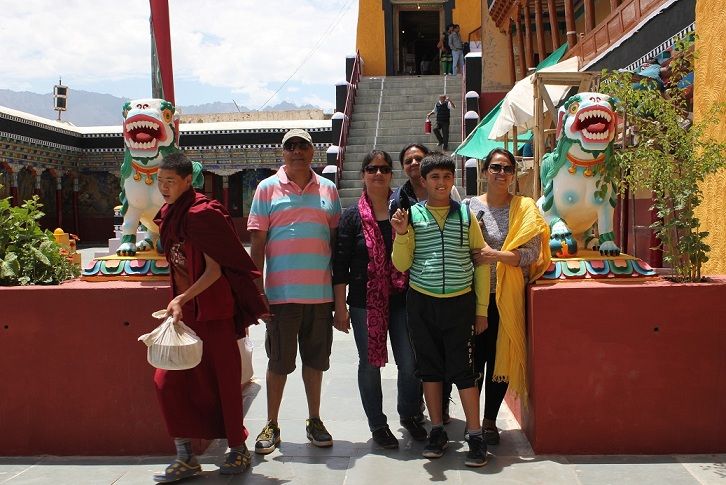 The monastery is located at an altitude of 3,600 meters (11,800 ft) in the Indus Valley. It is a twelve-story complex and houses many items of Buddhist art such as stupas, statues, thangkas, wall paintings and swords. One of the main points of interest is the Maitreya Temple installed to commemorate the visit of the 14th Dalai Lama to this monastery in 1970; it contains a 15 meters (49 ft) high statue of Maitreya, the largest such statue in Ladakh, covering two stories of the building.
It was noon by the time we finished our tour of the monastery and headed back to Shey Palace. The Shey Monastery or Gompa and the Shey Palace complex are structures located on a hillock in Shey, 15 kilometres (9.3 mi) to the south of Leh in Ladakh, northern India on the Leh-Manali road. Shey was the summer capital of Ladakh in the past. The palace, mostly in ruins now, was built first in 1655, near Shey village, by the king of Ladakh, Deldan Namgyal, also known as Lhachen Palgyigon. It was used as a summer retreat by the kings of Ladakh.
The Shey Monastery was also built in 1655 on the instructions of Deldan Namgyal, in the memory of his late father, Singay Namgyal, within the palace complex. The monastery is noted for its giant copper with gilded gold statue of a seated Shakyamuni Buddha. Shakyamuni Buddha is so named since Buddha was the sage (muni) of the Sakya people who resided in the Himalayan foothills and their capital was Kapilvastu. It is said to be the second largest such statue in Ladakh.
I suggest that this one can be missed, since we were there so we fitted it in our itinerary of local sightseeing, had a quick tour of the palace and started towards Stok.
We visited the Stok Monastery. Stok Monastery or Stok Gompa is a Buddhist monastery in Stok, Leh district, Ladakh, northern India, 15 kilometres south of Leh.[1]It was founded by Lama Lhawang Lotus in the 14th Century and has a notable library including all 108 volumes of the Kangyur. A ritual dance-mask festival is held annually. Around 2km from the monastery is Stok Palace, built in 1820 and it's still the summer home of Ladakhi royalty from the Namgyal dynasty of Ladakh. There they have a tour of the Monastery which gives an insight of the past years depicting about their culture, way of living and artifacts from ancient time put on display.
Built entirely by the Ladakhi craftsmen in 1820, the Stok Palace still continues to be a snug abode for the Namgyal dynasty. The Namgyal dynasty traces its origin to its founder –Lhachen Palgygon as early as 10th century. You are entering a historical property and the Palace stands 195 years old. The Stok Palace was opened to public in 1980 with blessings of His Holiness the Dalai Lama and since it's been over a decade and visitors continues to pour from all over the World. It encapsulates and reflects the lifestyle and history of Royalties set in the midst of the valley of Singey Sangpo which is known more popularly as Indus River.
Preserved from urbanity, this pristine natural landscape allows you to relax in serene atmosphere, pregnant with the delicious aroma of the country side and amazing views all around and takes the visitors through the imagery experience, detailing the softness of Snow, the brilliance of sunlight, billowing clouds, wandering pathways, and picturesque local architecture. As with anything embracing the grandeur and beauty of nature, the landscapes achieve a sense of timelessness; they envelop the echoes and silence of eons gone by. So come and enjoy the fine dining experience prepared from the family kitchen products coming from the local market and village. You can enjoy the pleasures of healthy and natural Ladakhi, Tibetan and Indian food.
After a heady tour of the Stok Palace which has been turned into a luxury Hotel now we headed back to Leh, with foodies of our group feeling hungry and a tour of Bazaar which resulted in zilch, we landed back at Changspa to eat and some of us reached our Guest House. Too much of activity owing to past few days we sat relaxing waiting for others to come back after finishing their lunch which was pay past a normal Lunch time.
It was evening by the time they walked in as we all sat in the Lobby having tea, Abid our coordinator at Leh paid us a visit to bid us goodbye as we were to leave the next day for our journey back to Delhi. We had a good time spent with him discussing about our trip so far, giving him inputs about generally an awesome experience minus the one we had at Pangong, sun was out and sky started to turn dark and we decided to enjoy our last night at Leh for the time being, rounds of drinks started with regular chit chat. Dinner was served, we all ate feeling little heavy at leaving such pristine naturally beautiful destination. With the inevitable sadness we retired to our rooms, some of us doing the last minute packing. Our target was to leave next day early around 8:30 am heading off to Sarchu. Thus by 11:30 PM we were in bed. As I was ready to sleep with vivid memories of the beautiful creation of the Almighty, I could not resist humming a song from the movie "The Burning Train" which was inspired by an Urdu Christian Prayer composed by ever great RD Burman "Teri Hai Zameen Tera Aasmaan…Tu Bada Meherbaan. Tu Bakshish kar… Sabhi Ka hai tu… Sabhi terey… Khuda Merey Tu Bakshish Kar" The prayer gets me nostalgic too as I recall singing it to Aarav as a bedtime lullaby when he was a little kid  memories………
Day - 10, 27/06/2016 Circuit: LEH- Tanglang La- More Plains- Pang- Lachung La-Nakeela- Gata Loops- Sarchu. Distance Covered 224 Kms Time taken 8:30 Hours.
It was an overcast morning as we started waking up got ready and sat sipping tea looking at sky and hoping them not to open up. Luggage was loaded into our vehicles and around 8:30 AM we headed towards Leh – Manali Highway fuelled our vehicles, carried some extra fuel in Jerry can, which was not necessary which we realized later. Once again followed local advice thus extra fuel. We drove towards Karu took a right turn after Karu towards Rumtse and zipped across the nicely laid carpeted road. Amit our friend had already apprised us that the Road to Tanglang La is similar to a Formula 1 Track which indeed it was.
We had been driving for two hours by the time call for Breakfast was made. We stopped at a Roadside joint at Rumtse. It was a small joint on the highway managed by two local ladies, the tea they offered us was amazing, and by far the best we had on the entire journey till now ordered Maggie, the breads and boiled eggs we were carrying with us and sat down for breakfast. Chit chatting with each other and discussing what lay ahead breakfast was done and we motored along towards Tanglang La. The road till here is wide well carpeted and remarkable. Speedometer showed me driving at a speed of 110 Kmph which is something not heard of even in plains and to be able to drive at that height and that speed must say BRO has done a wonderful Job.
Tanglang La, elevation 5,328 meters (17,480 ft), is a high mountain pass in Ladakh region of the Indian state of Jammu and Kashmir. As of August 2014, the Leh-Manali highway leading south from Upshi to Tanglang La is paved, with the exception of a very short (approx 500m) unpaved section just north of the pass. The pass itself is paved. The elevation in meters, which is taken from a local sign, is in agreement with SRTM data. The sign claims 17,582 feet, which would be 5,359 meters, and incorrectly claims to be the world's second highest motorable pass.
As we descend from Tanglang La one comes to More Plains which is a stretch of road mostly on the plain for around 30–35 km. The Border Roads Organization (BRO) of Indian Army is now in the process of converting the road to two lanes - one in either direction. The area is uninhabitable and has no construction at all, and also no population. Once we crossed More Plains we descended to a small village of Pang. One can see from height an Army Cantonment below, the terrain is straight out of western classics such as McKenna's Gold and Magnificent Seven, with the rocks wind eroded taking their own shape as per the direction of wind. Trust me any Hollywood Production house would must wish to shoot a movie here, though the logistics and all remain a big issue.
We crossed Pang which resembles a Ghost town towards Lachung La. Lachulung La (el. 5,059 m or 16,600 ft), or Lāchālūng La or Lungalacha La, is a mountain pass along the Leh–Manali Highway. It is located some 54 km (34 mi) from Sarchu and 24 km (15 mi) from Pang on the Leh–Manali Highway. This is one of the easier 16,000 ft (4,880 m) passes and it can be traversed cross-country by moving along the nalaon both sides. However, due to elevation, the hikers face breathlessness during climb and those who have not undergone acclimatization may face severe symptoms of altitude sickness. We crossed Nakeela Pass and onto Gata Loops.
Gata Loops which not many would have heard off unless one goes on this bone jarring yet a stunningly beautiful journey. They are a series of 21 Hairpin bends descending into Sarchu where the J&K Border ends and one enters Himachal Pradesh. There is an interesting story about Gata Loops going by the name "The Ghost of Gata Loops". Now I am a non-believer in spirits and ghosts yet have heard and read about it. As it goes some truck was crossing the place which broke down, since there were no mechanics around the driver went looking for help asking his cleaner to stay put. It was that after a week a mechanic could be found and help came in as by then the weather had turned bad. By the time they reached the truck the cleaner had apparently died owing to extreme conditions with no food or water. They buried his body there only and after that things started happening with people meeting a man asking for water and few stopper by who refused giving water suffered from Mountain Sickness with few having died …. So don't know how true it is and I missed the so called shrine as well which people made for the Ghost to calm down. Though one hears of such stories only when in mountains. It was around 4:00 PM as we entered Sarchu.
Sarchu (also known as Sir Bhum Chun) is a major halt point with tented accommodation in the Himalayas on the Leh-Manali Highway, on the boundary between Himachal Pradesh and Ladakh (Jammu and Kashmir) in India. It is situated between Baralacha La to the south and Lachulung La to the north, at an altitude of 4,290 m (14,070 ft). The journey along the Leh- Manali highway at high altitude and variable road conditions, normally takes two days, so travelers and tourists use this spot as an overnight stop. Sarchu offers most number of various options in order for an overnight halt. An Indian army camp is sited nearby on the banks of the Tsarap Chu River. The highway and thus the camp are closed during the winter, when snow blocks the high passes along the road.This spot can also be used as a start point for the difficult trek into the Zanskar region of Ladakh.
We were pre-booked at Goldrop Camps Sarchu, about which we have heard excellent reviews such as it happens to be the best of the accommodation in Sarchu. It was 4:30 PM as we drove into Goldrop Camps and parked our vehicles. From the moment we parked our vehicles it was clear the reviews as told by us were spot on and they were courteous, hospitable and thorough professionals. Since we were hungry we requested them to offer us some Chai and Pakoras which they made fresh for us. In the meantime with our snacks being prepared it was time to wash dust of our Vehicles hence we caught hold of a pipe attached to a stream and started to wash our vehicles. That's when Hemant one of the partners at Goldrop came informing us the snacks were ready; we all went to the dinner tent to enjoy piping hot Pakoras and Chai soothing our grumpy tummies. Time passes pretty slowly at such places thus even after so much of activity we realized it was only 7:00 PM and pretty bright. Evening started getting windier thus the jackets came out as we sat in the lawns around our tents and chatted. It was decided to have an Old Monk night as dark fell, Rahul Mehra our rock star borrowed a Guitar and we drank, danced sang till it was time for Dinner. Hemant was there clicking our performances of group and solo singing till the time we sat there. Dinner was a routine simple affair but tasty which ended around 10:00 PM. Electricity at such places is limited and supplied through gensets till 11:00 PM, next day had to be another early day.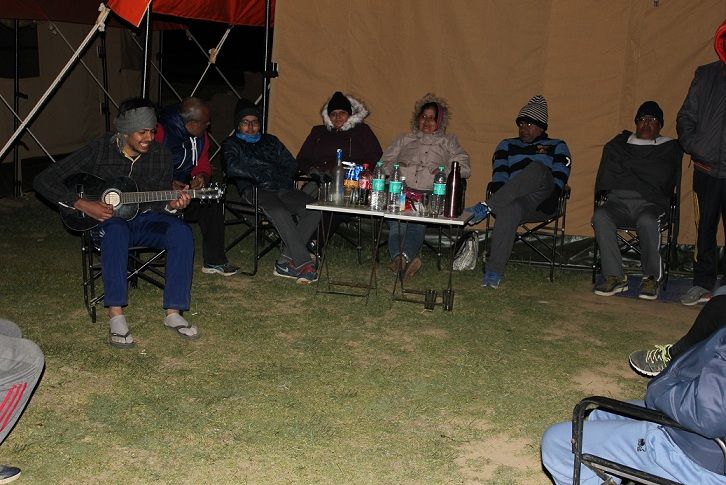 A request was made to Hemant to pack our breakfast for the way as we wanted to leave next morning ASAP. We were informed the breakfast would be ready by 7:00 which was fine by us as the expected time of departure was fixed at 7:30 AM. Retired to our respective tents and snuggled in the blankets with warmth engulfing me I slowly drifted to slumber and in the lap of sleep humming a song I love sung by none other but the great Kishore Da " Jeevan Ke Din Chhote Sahi Ham bhi bade dilwale.. Kal ki hamein fursat kahaan sochein jo hum matwaaley"
Day - 11, 28/06/2016 Circuit: Sarchu- Baralacha La- Jispa- Keylong- Khoksar- Rohtang- Manali. Distance Covered 224 Kms Time taken 8:30 Hours.
We woke up to an overcast dark sky at around 6:30 AM and to our Surprise Hemant was already doing rounds asking the guests about their comfort and requirements. A crisp Good Morning sir and asking about my wellbeing he informed me that our breakfast will be ready and packed by 7:00 AM. By the time rest woke up it had started to drizzle which turned little heavy as we sat in dinner tent having tea. The clouds were lower on the peaks which confirmed presence of Snow fall as we ascend further. Not wanting to waste time we loaded the Luggage picked up our breakfast bidding good bye to our hosts began our drive towards Baralacha La.
Bara-lacha la also known as Bara-lacha Pass, or Bārā Lācha La, (el. 4,890 m or 16,040ft) is a high mountain pass in Zanskar range, connecting Lahaul district in Himachal Pradesh to Ladakh in Jammu and Kashmir, situated along the Leh–Manali Highway. The Bhaga river, a tributary of the Chandrabhaga or Chenab river, originates from Surya taal lake, which is situated a few of kilometers from the pass towards Manali. The other major tributary of the Chandrabhaga, the Chandra also originates from glacier in this region. The pass also acts as a water-divide between the Bhaga River and the Yunam River.
We motored along towards Baralacha La till we hit a broken patch of the road and rain picked up. Clouds grew nearer as we ascended towards Baralacha La which turned into heavy rainfall and soon it started to Snow first in small flakes and then Into proper heavy snow fall as We climbed higher up to the pass. Now the snow fall was heavy and proper flakes falling on the wind screen and in the valley to our left, it was an awesome experience for all of us driving at those heights in the month of June with snow falling. As we approached the pass, we had an Army convoy coming from the opposite direction. It slowed our movement negotiating on the narrow road in heavy snowfall. Slowly but steadily we crossed Baralacha La descending to Suraj Tal. It is much lower than Baralacha yet it was snowing till this point.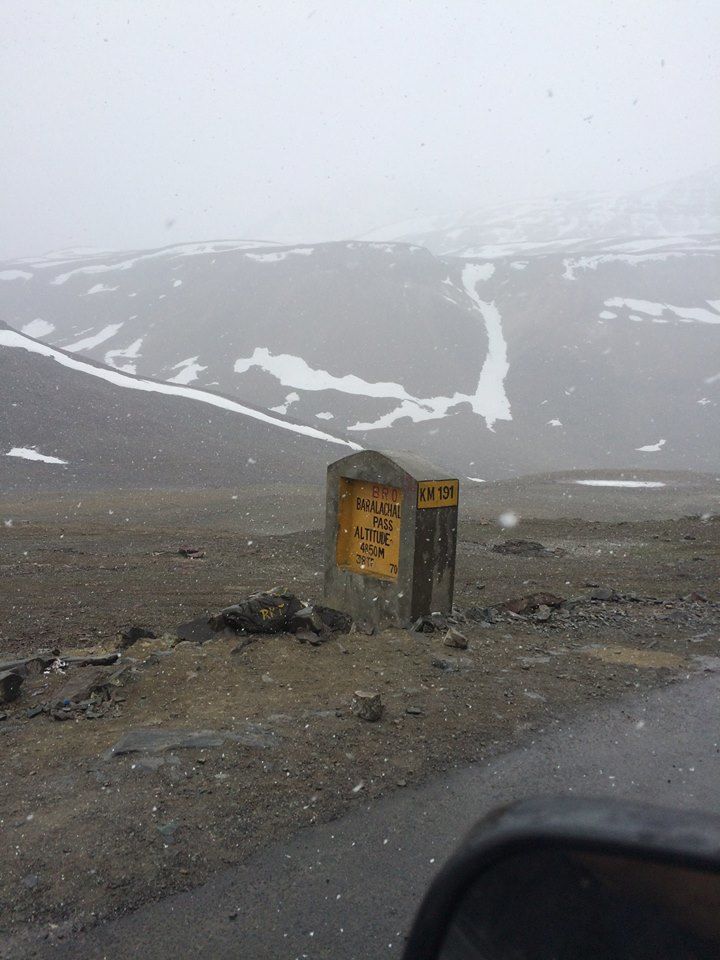 Suraj Tal or Suraj Tal Lake also called Surya taal, is a sacred body of water, literally means the Lake of the Sun God, and lies just below the Baralacha-la pass (4,890m) (8 km (5.0 mi) in length) in the Lahaul and Spiti valley of Himachal Pradesh state in India and is the third highest lake in India, and the 21st-highest in the world. Suraj Tal Lake is the source of Bhaga River which joins the Chandra River downstream at Tandi to form the Chandrabhaga River in Himachal Pradesh territory, and as it enters Jammu and Kashmir it is renamed as the Chenab River.[2] The Bhaga River (a tributary of the Chandrabhaga or Chenab) originates from Surya tal. The other major tributary of the Chandrabhaga, the Chandra originates from the glacier close to the Chandra Taal Lake in the Spiti district.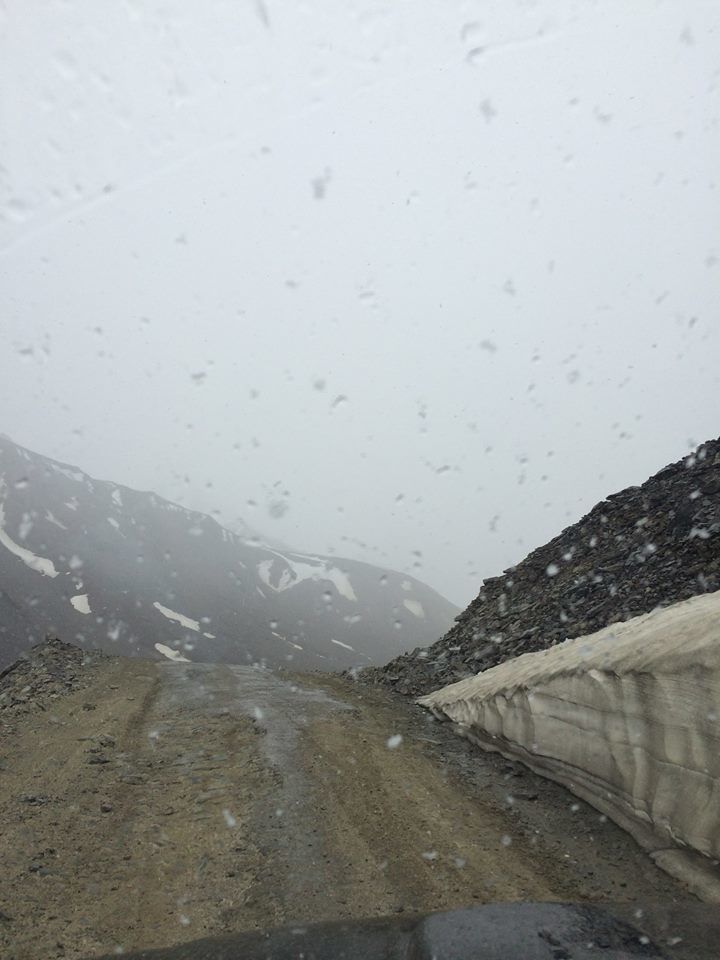 We drove past Suraj Taal to Zinzingbar and encountered a river crossing across the road, the flow was heavy thus we had to be careful negotiating it. It was negotiated well by all of us thanks to our High Ground Clearance vehicles and we started our descent towards Darcha. It's a steep descent to Darcha and on reaching Darcha there is a small Police check post where we got our vehicles registered and started climbing towards Jispa. It was getting late and our tummies getting grumpier, we started looking for a joint where we can halt for breakfast and some hot tea but could not find a decent place that can accommodate the 18 of us till we reached the town of Keylong.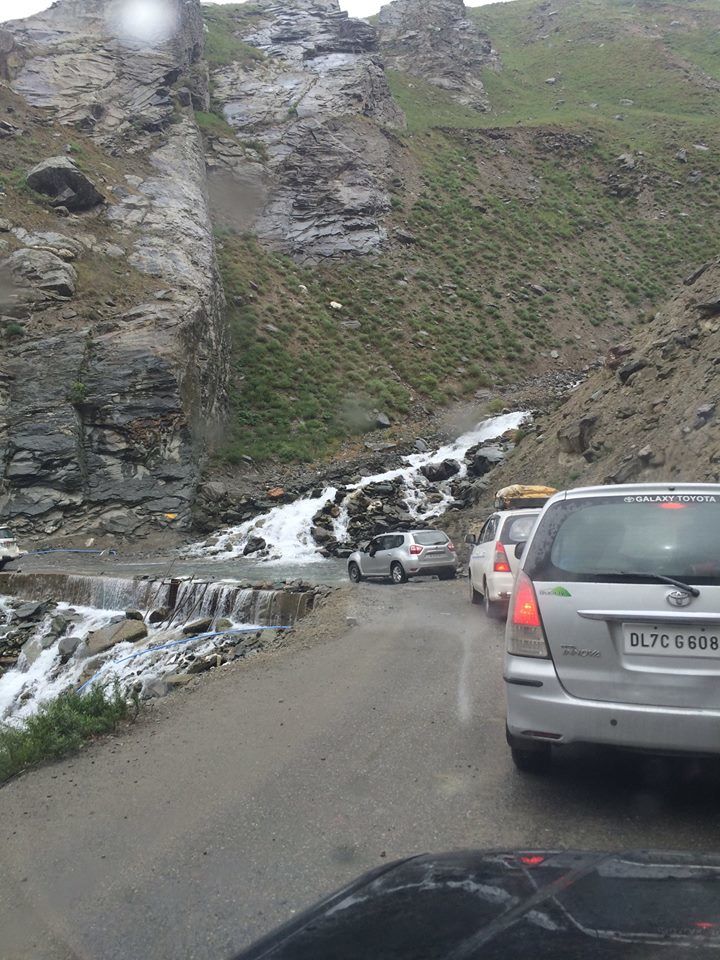 Keylong (or Kyelong or Kyelang) is the administrative center of the Lahaul and Spiti district in the Indian state of Himachal Pradesh, 126 km (78 mi) north of Manali and 120 km (75 mi) from the Indo-Tibetan border. It is located along the Manali-Leh Highway, about 7 km (4.3 mi) north-east of intersection of the Chandra Valley, the Bhaga Valley, and the Chenab Valley; on the banks of Bhaga River. To our luck on Keylong by pass we found a place to park ourselves right across a local shop serving tea, Maggie and Eggs. It was decided to halt here ordered Omelets, Maggie and Tea opened our packed breakfast and started eating a Lavish Breakfast. Breakfast finished the Journey started once again and as soon as we crossed Keylong had a nightmarish beginning with broken road and muddy. We motored along negotiating the broken road to reach Tandi further to Sissu and to Khoksar. Khoksar is about 20 Km from Rohtang which was heartening but as we started our ascent to Rohtang the excitement of reaching so close to Manali turned into a pain as there is practically no road, a steep uphill climb with hardly any road with dangerous curves. It took us close to an hour by the time we crossed those 20 Km and reached Rohtang Pass.
Rohtang Pass (Hindi: रोहतांग दर्रा) (Bhoti: Rohtang , lit: pile of corpses, due to people dying in bad weather trying to cross the pass) (elevation 3,978 m (13,050 ft)), is a high mountain pass on the eastern Pir Panjal Range of the Himalayas around 51 km (32 mi) from Manali. It connects the Kullu Valley with the Lahaul and Spiti Valleys of Himachal Pradesh, India. As we crossed Rohtang were all shocked to see not a flake of Ice which is unlikely for Rohtang. I remember coming to Rohtang during same time a few years ago and witnessed huge walls of Ice on either side of the road. Looks Global warming that we talk about has certainly taken its toll. After crossing Rohtang there is a continuous descend of about 55 Km into Manali which we continued to and at about 2:30 Pm we reached our destination the Shingar Regency, Hadimba devi road and parked our tired vehicles and bodies in the Parking. Looking back and discussing the arduous, eventful, amazing memorable 11 Days that we spent in the lap of pristine beauty of Mother Nature we started checking into our cottages our home for next two days.
I was limping by the time we entered Manali, all these days of driving had taken a toll on me resulting in a furuncle on my right thigh which was really painful. We settled in our respective rooms had long shower and ordered some snacks along with tea and chit chatting in the Living room. Our discussions continued till evening as it grew dark it was decided to Party. Out came our Single Malts, snacks and the party began. We partied listening to music doing ho halla till it was time to eat dinner. We finished dinner which was a good spread of Veg, Non veg and retired to our respective rooms. I was under tremendous pain by now and being tired I hummed a song from Kala Patthar " Ikk Raasta Hai Zindagi jo thham gaye toh kucch nahee " and dozed off to sleep as soon as I hit the bed.
Day - 12, 29/06/2016 Circuit: Shingar Regency – Manali.
Manali is a Valley nestled in the mountains of the Indian state of Himachal Pradesh near the northern end of the Kullu Valley, at an altitude of 2,050 m (6,726 ft) in the Beas River Valley. It is located in the Kullu district, about 270 km (168 mi) north of the state capital, Shimla. The small town, with a population of 8,096,[1] is the beginning of an ancient trade route to Ladakh and from there over the Karakoram Pass on to Yarkand and Khotan in the Tarim Basin. It is a popular tourist destination and serves as the gateway to Lahaul & Spiti district as well as Leh.
I don't know if it was the pain or the breaking sun light filtering through the gap in the curtains that broke my sleep. I checked up my watch and it was 6:00AM only, tried sleeping further but after 15 Minutes of tossing turning in bed I got up. The commotion caused by me made Charu, my wife, to wake up too and we decided to drive to town to have morning tea at a Roadside Dhaba. We picked up Terrano and drove towards Manali town crossed the bridge on Beas and found a small shop selling tea. We sat there having tea and discussing how commercialized Manali has been from our last visit. Vehicles zipping across the road at 7:00 Am, blowing horns, billowing dark smoke from their engines was extremely disappointing. I remember coming to Manali about 25 Years back, the Manali of then was pristine, fresh and beautiful. Later again all of us had come even then Manali was loads different from Manali we were seeing now. Pained at the state of affairs we finished our tea and headed back to our hotel after picking two cases of Bisleri from the same shop. It was around 8:00 by the time we reached back and saw Vivek sitting by the window looking out. We gestured him to come join us in the lawns and ordered another round of tea. As we sat there hearing our voices the rest of the group started getting up slowly and joining us in the lawns. It was a fun time sipping tea and chatting in the Morning with no rush or deadline to catch sitting leisurely and enjoying our time. Soon it was time for breakfast and we all headed to the Dining hall to have a scrumptious breakfast.
It was decided that those who wish to roam around can continue after breakfast, I being in no position to walk had already opted out and decided to be at the resort itself. Our young brigade Rahul, Naman and Vatsal went to motor workshop to get the window glass fixed for my Scorpio and on their way back had picked up a case of Kingfisher Beer. By noon the beer was nice and chilled and we started with our afternoon beers enjoying the rest and easy time over a couple of beers. A few of them went to sleep and a few to the mall for a walk and some local shopping. As night set in, party began again, over rounds of snacks music and the regular shor sharaaba. Dinner was served which was delicious finished dinner and it was time to bid goodnight. We retired to our rooms and hit the sack with a vague memory of a Song Written by Anand Bakshi, Sung by the evergreen Kishore da music by SD "Yeh Lal Rang kab mujhey Choddeyga" coming to my mind as I slept off.
Day - 13, 30/06/2016 Circuit: Manali – Chandigarh. Distance Covered 310 Km Time taken 8:00 Hours.
We were going home and on the last leg of our memorable Journey so far as we got up around 8:00 finished with rounds of Tea and chit chat breakfast and on the road at around 10:00 AM. It was decided to have a night halt at Chandigarh instead of going directly to Delhi. As we crossed Manali town the weather got warmer and humid doubled up with bad Highway conditions as we motored towards Chandigarh. The traffic was unusually heavy which slowed us down and by noon we could manage to reach Bilaspur. We encountered heavy traffic even further into Swarghat. It was around 3:30 Pm when we reached Swarghat Hotel Hilltop ordered Sandwiches, Pakoras, Noddles and Tea. It was around 5:00 pm by the time we were back on the road heading towards Chandigarh, the traffic remained heavy all through after crossing Swarghat till Kiratpur Sahib ji doubled up with bad broken roads slowing us down. After crossing Kiratpur Sahib the road improved, enabling us to press the pedal of our machines trying to catch up on lost time. Following our GPS we entered Chandigarh from New Chandigarh side happy that this side is new and has no traffic not realizing which we realized later that we will have to cross the entire length of the city to reach our destination Golden Tulip which is in Panchkula near Nadda Saahib Gurudwara. City traffic further slowed us down being peak hours and finally we reached our destination at around 6:00 Pm in the evening. Golden Tulip is a nice property nestled in Morni foothills in green open surroundings thus we all liked the feel of the place as we got out of our vehicles and headed towards the reception. Check in done under immense discomfort I limped to my room and immediately went for a quick relieving shower. It was refreshing to have a cold shower after a long day of negotiating bad roads doubled up with heavy traffic as we all met after deciding to stay in the hotel itself than going to city for dinner.
Evening that began with friendly chatter soon turned into a bitter batter thanks to intolerance of the group on a general comment made by me in a banter pertaining to being happy and unhappy travelers  the scene looked completely out of a blockbuster movie with all jumping in a Royal Rumble kind of a situation which thankfully did not get out of hands and was managed well by all concerned. Tempers brought under control we went for dinner, dinner served was delicious and we all enjoyed a real good Indian meal.
Discussions followed for a while after meal, as it got late for the night we headed to our rooms. I walked thinking and laughing at the turn of events for past few hours as to how it started how did it turn and how was it back to square one after a while humming the new Airtel Punch Song " Har ek friend Zaroori Hota hai" entered my room and went to sleep little sad that this awesome journey is coming to an end, but then again it reminded me of another one of my favorites yet again by Kishore da " Ye Jeevan hai is jeevan ka Yahi hai Yahi hai Yahi hai rang roop…. Thorrey gam hain Thorree Khushiyaan"
Day - 14, 01/07/2016 Circuit: Chandigarh – Noida. Distance Covered 240 Km Time taken 3:30 Hours.
Last morning of our amazing sojourn memories etched in our mind for a lifetime we got up to get ready and left for Breakfast. The spread was a wide range of Indian, American and Continental dishes and we ate to our heart's content. I finished my breakfast and settled our expenses as rest finished theirs and Luggage brought down to the parking. After a round of byes and see you soon fired the engines of our vehicles and off we go towards our respective homes. At around 10:00 Am we set off deciding not to stop enroute zipped off on the highway which was near empty and at about 1:30 Pm we reached our home in Noida to a warm humid and sultry Noida. The first thought that came to my mind was " Jeena Yahaan Marna yahaan Iskey siwa Jaana Kahaan"
As I entered my home I thanked the almighty mother nature of taking such a good care of us and bestowing us with her generous blessings to be back safe and sound. We had experienced all her glorious forms in full bloom. It was time to make a promise to myself and to go back and finish the rest of the leg which we could not complete owing to shortage of time. We were finally Leh'dd 
These are my thoughts as I remember which I have put together to make it as real as possible. Cheers!!