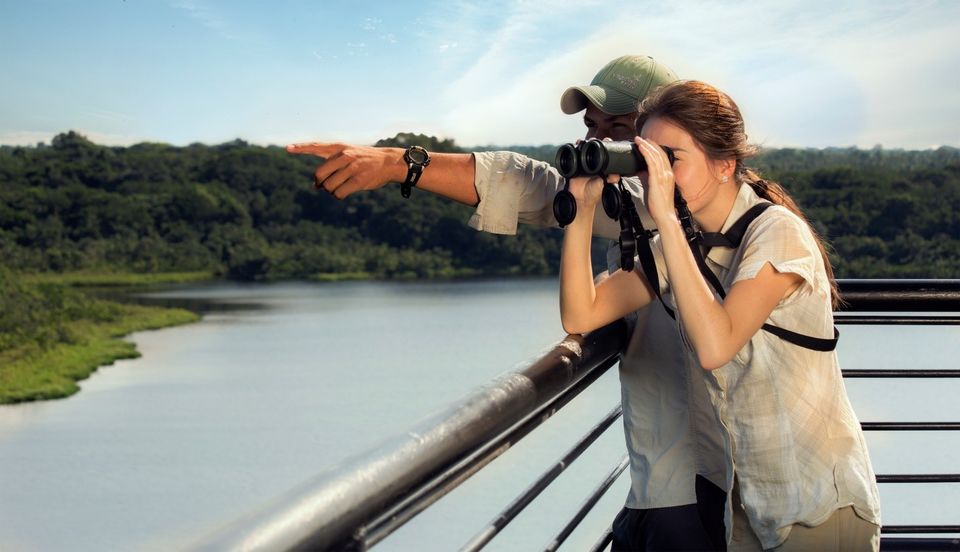 "I'm not eating that! You're crazy!" my young daughter explains. "You don't put insects in your mouth. Mommy, tell the man, it's dirty." She glares at our guide, furious at him for breaking the rules. I laugh, though I myself am anxious at the idea of eating lemon ants. "Here we go!" I think to myself as I shudder, and our guide pops an ant or two on my tongue. I am surprised and delighted to learn that my bug feast really DOES taste of lemon, as advertised. My daughter isn't having it, though, and she turns in disgust, much to the delight of the rest of us.
Where, you might ask, can you enjoy a delicious feast of lemon ants? Well, for our holiday adventure this year, we decided to travel with Ecuador and Galapagos Insiders to the Ecuadorian Amazon, and our tour is tailor made for us, with a several-day stay at Sacha Lodge Ecuador. While we were wowed with many options for Amazon tours from Quito this particular multi-day trip to a wildlife paradise in the depths of the jungle ticked all the boxes for us. Our Amazon adventure begins almost immediately we disembark our flight from Quito, and nervously step into a motorized canoe for our journey up the Napo River, to begin our Amazon rainforest tour in Ecuador.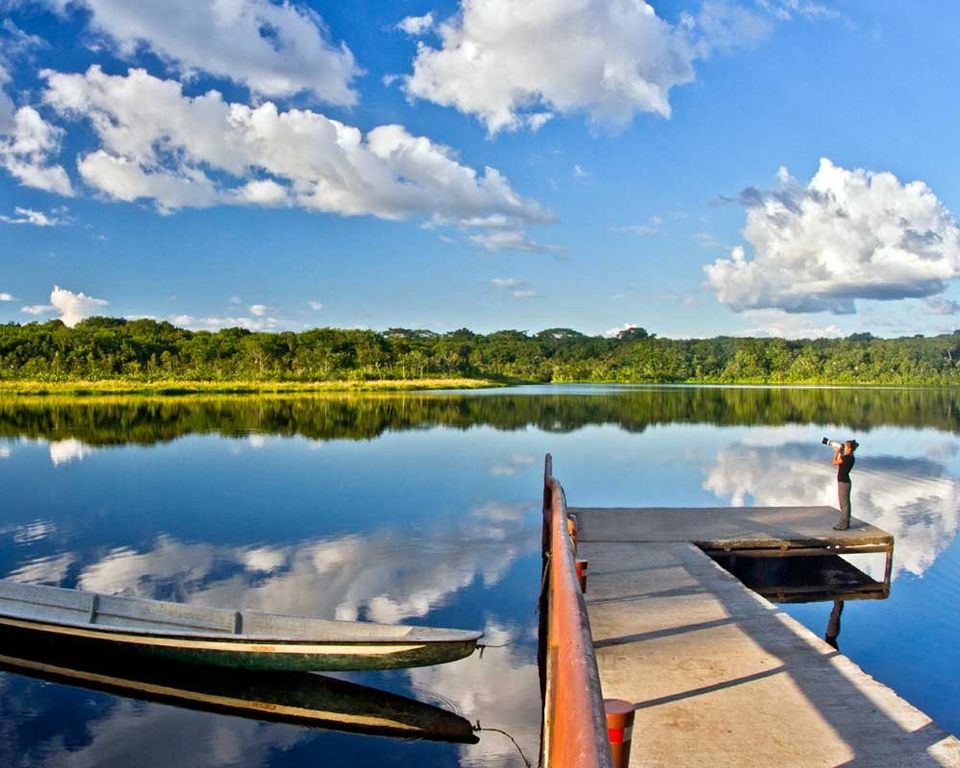 The jungle is teeming with wildlife, and every day we wake to a cacophony of birds singing exotic, alien tunes, and monkeys screaming and howling in the distance. On our first day we take a stroll along The Canopy Walk, or as the lodge refers to it, "A walkway on the wild side." It lives up to its name and we gasp with delight as we walk high in the canopy. We are blessed with views of a small troop of monkeys, human-like in going about their daily business, and every so often there is a quick dash of color as a pretty bird darts across in front of our path, in search of a delicious insect lunch, and we recall our lemon ant experience of a day prior. We follow up our canopy walk with a climb up to the very top of the 43-meter-high Kapok Tower. From here, we gasp as the magnificent views of the rainforest unfold in front of us. We spy toucans and parrots galore, before descending for yet another delicious meal in the Lodge's fine restaurant.
While we left civilization behind days ago, our Sacha lodge is most luxurious, and we want for nothing. Who knew that Amazon tours from Quito could be so comfortable? While lounging in hammocks we spy Tamarind monkeys swing in the trees overhead, and on this morning's tour we also saw a three-toed sloth, snoozing above us. Sacha Lodge is proud of its fine lodge with private shady terraces and high thatched roofs, built deep in the Amazon jungle. The cabins blend in well, and every last detail has been considered, for comfort while not taking away from the jungle experience that we sought. Yet, the cabins are carefully screened to avoid insect entry as far as possible, for which we are all endlessly grateful.
When booking the trip, I had a concern that there might not be enough to do in the jungle to keep us all amused for several days. Yet, this was the Ecuador Amazon trip that kept on giving, day after day, and night after night. During the day time we enjoyed walks down densely vegetated forest pathways, sloshing through the mud in rubber boots. We learn about medicinal plants, and how the local people live in the rainforest. We also learn why this is called the "rain forest", though the downpours do not drown our massive enjoyment of our exciting adventure. This is a bird watcher's paradise, and we spot so many multi-colored birds flying in the canopy, or nesting in trees. Our guide says we will see 60 species a day, but who can keep count with so many? One of our trip highlights is to the Yasuni salt lick. We are promised a show of sound and color, and we are not disappointed, as we watch the strange but delightful sight of hundreds of our feathered parrot friends munching the clay at the lick.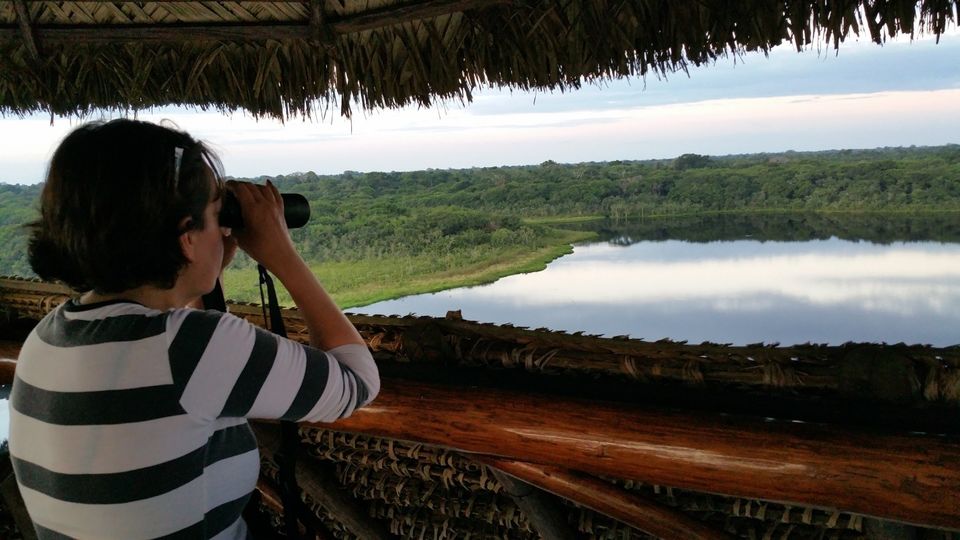 At night there are also walks galore, and never a moment to be bored. We spot boa constrictors, a multitude of frogs and stick insects while traversing the forest paths. To my daughter's horror, our guide picks up a creature from the forest floor: A tarantula. Some of our group bravely hold it as it crawls across their hands, curiously, before our guide releases it back to the forest floor from where it came. It scuttles off into the dark. Other horrors include a caiman, floating silently in the water at night time, as we wind our way back to the lodge for a tasty dinner, while the caiman seeks its own feast – luckily not us!
The highlight of the trip comes the next day, gracefully gliding down the river towards us. We are delighted by a pair of Amazon River Dolphins, similar to their sea-faring cousins, but recognizable for their pink snout. River dolphins live only in freshwater, and I gasped with amazement, as I did not expect to see such a fine creature on our Amazon tour from Quito. Contamination of water ways and the construction of dams has led to classification of this beast as vulnerable, yet populations are still sizeable in Ecuador and other Amazonian countries of South America.
Hot, sweaty, and with a few mysterious insect bites, but happy and relaxed from the unique adventure we have experienced in the rainforest, we board our canoe back to catch our flight. For the moment Amazon tours from Quito are over for us, but I feel sure we'll be back, at least in our dreams, as this authentic, adventurous, jungle experience is sure to remain with us and our children forever.