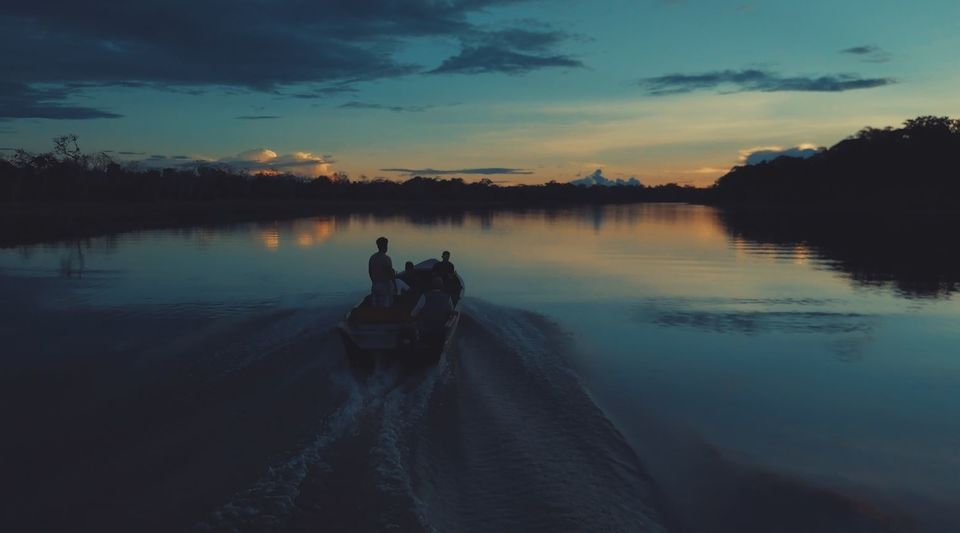 Located 140 km upriver from Iquitos Peru and nestled in the wilderness of the Amazon Rainforest, Muyuna Lodge is an incredible location for a true nature getaway. We spent 4 amazing days getting lost in the jungle and observing dozens of species of birds, bats, spiders, caymans, sloths, monkeys, piranhas and pink dolphins. The experience starts with a pickup from your hotel in Iquitos, and a relaxing 2.5 cruise up the Amazon river before arriving at Muyuna Lodge. The moment you step off the boat you truly feel like you closer to nature than ever before - with birds singing and flying overhead, and walking along the boardwalk that floats above the water. We opted for the 4-day "Sunset" package, and these were some of our favorite memories of the trip: The food at the lodge is delicious! Meals are cooked fresh, and served three times a day, with fruits and snacks available in-between those times. Staff are out of this world friendly, going out of their way to make your stay at the lodge comfortable. Sleeping with the symphony of nature - incredible to fall asleep to the sounds of the jungle. Boat rides through thick river plants, and cutting our way through the jungle on a small rowboat to get as close to the animals and birds as possible. Sunset boat rides, floating to the amazing stars of the night sky, and then watching as our guide spotted Caymans (alligators) from hundreds of feet away in the darkness, then lept off the boat to catch them for us to see! Fishing for Piranhas, and swimming with the pink dolphins
What I liked Most
5 days observing the amazing wildlife of the Amazon Rainforest. Birds, crocodiles, piranhas, sloths, monkeys and pink dolphins.. Thanks to the Muyuna team for an amazing weekend, we couldn't have asked for any more from our 4-day adventure! For any nature lovers, this is an absolute must do, and well worth the price tag.
Pro Tips
Asked for pan-fried plantains (off the menu) - they are so delicious! Visit the small town nearby and play soccer with the kids. No electricity in the rooms, but you can charge all your devices in the common area 24/7. Very safe to leave items in the day or night
Cost Details
Costs will vary depending on the package you choose. Our 4-day "Sunset" option cost approximately $550 USD each
Additional info on transportation
Pickup and drop off from your Hotel in Iquitos followed by a boat ride to the Lodge.
Additional info on food
Delicious breakfast, lunch and dinner provided by the Muyuna kitchen staff. Snacks also on site in case you get hungry throughout the day