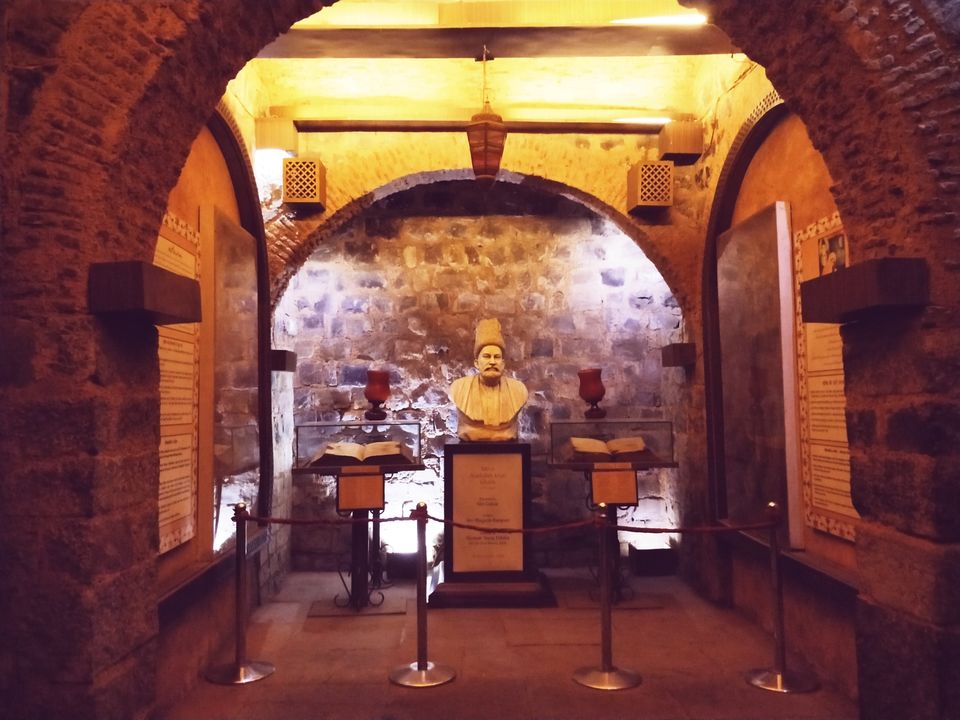 Imagine a day which ends with the most peaceful evening, stargazing and maybe a soft retro track playing, making you nostalgic and maybe making you miss someone close to your heart. THAT, my friend, is the feel of this place. 💞
Ghalib ki haveli is located amidst utter chaos of purani dilli ki galiyan, and yet is the most silent, tranquil place you can visit.
The haveli, although not really well maintained, has a beautiful ambience. It beholds all the belongings of ghalib, his writings, his ornaments, his hookah and what not.
It was here, right in this small haveli, that ghalib came up with his most celebrated ghazals and shayaris. After ghalib's death, the haveli has been occupied in multiple forms. The caretaker informed me that a part of the haveli is still rented to some small business person. As of now, the haveli is In possession of the delhi government.
The ambience of the haveli is a treat to watch, I say this especially for the poetry lovers. Well crafted with bricks and red decorative curtains, all the walls have artistic feeling, some or the other ghazal articulated on the walls. it's like, you just turn your head to whichever side, and there is something beautiful for you to read.
According to me it is one of the most underrated and non commercialised heritage site of Delhi, which should have been celebrated a little bit more.
Ghalib left us with this mughal- antique culture and love for urdu shayaris, we owe him a little bit more appreciation.
Also, ending this write up with one of his quote :
वो आए घर में हमारे, खुदा की क़ुदरत हैं!
कभी हम उमको, कभी अपने घर को देखते हैं ♥️
How to reach:
It is located in gali qasim jaan in ballimaran. You can walk upto there or take a rikshaw, whichever suits you.
Nearest metro station:
Chandni chowk
Please feel free to inbox me if there's anything in this regard I can help you with.
Thanks for reading :)