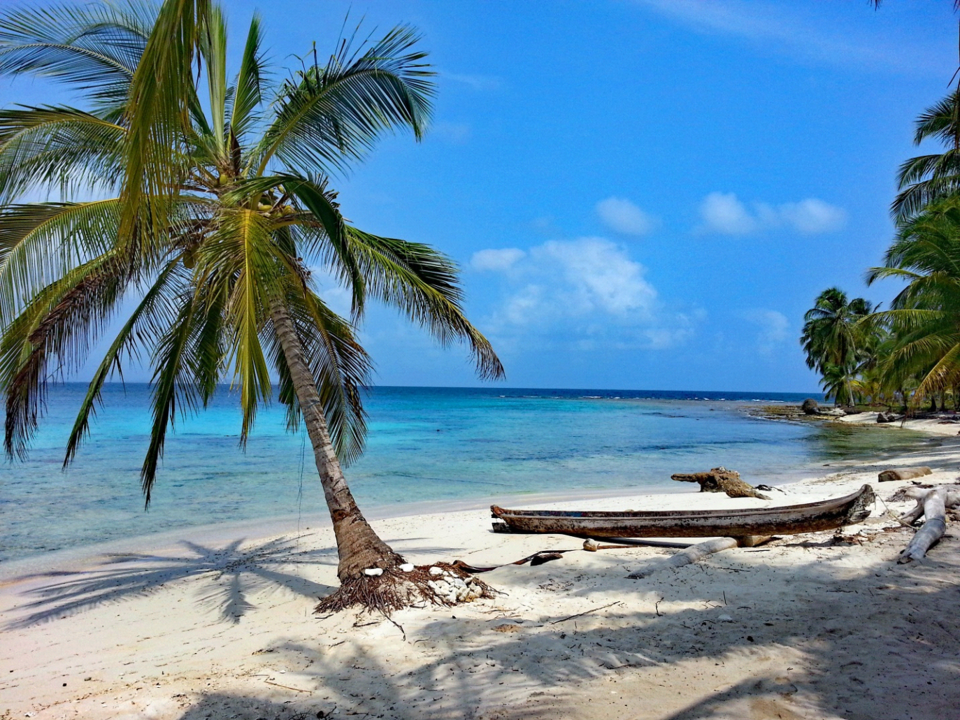 The San Blas Islands are a group of about 365 beautiful islands (with only 49 being inhabited) that are located to the north-east of the mainland of Panama along the Caribbean coast. The Kuna tribe has a sovereign authority over these pristine islands. They operate their own economic system and preserve their cultural heritage as they are not under the national government control. The Kuna tribe protects their islands against massive tourism and keeps them healthy, beauteous and attractive, which makes San Blas the home of pristine nature and culture.
The San Blas Islands offer a colossal and prodigious tourist sights, starting with the beautiful and lovely nature of the locals, soft shores, white sands and clear water body with shades of turquoise blue, multicolored reefs, a wide array of sea life in the waters and wildlife on the mainland. Some of the most interesting islands in San Blas are Kagantupu, Achutupu, Yandup, and Coco Blanco. There are flights available to tourists and visitors to get to some of these islands from Panama and it takes about 20-minute plane drive. Merchant ships are also available from Colon, these ships are owned by Kunas, and they can help find the perfect island that suits your pleasure.
>>> More Info to Book Your trip in San Blas : sanblastour.com <<<

San Blas is famously known for one of its many arts and crafts, The Mola. The Kunas are incredibly warm and friendly to tourists and guests; the women are known for their abilities to produce beautiful fabrics and fashions which consist of bold and striking colors with prodigious designs that include animals, fish, bird and sometimes geometric patterns which would impress anyone in the world. Kuna men still go fishing with their locally made canoes. Each morning, they run to the corner of coconut palm trees to get some cool and fresh drink. In the midst of the wonderful people of Kuna, one is given the opportunity to experience their distinctive cultural heritage, music, language, dressing and lifestyle in general. The Kuna people will expect a tip if you take a picture with them.
It truly is a pleasure to visit and to feel welcomed as you explore the array of islands and breathtaking beaches. The San Blas Islands give tourists and visitors an enormous amount of time to enjoy the beautiful sun with a drink in hand as well as the accommodations. One can engage in activities such as sunbathing, swimming, snorkeling, water-skiing, diving, fishing, and lounging. One can also explore the natural rainforest along with the attractive villages with their thatch-roofed homes. Things are carried out at your personal pace.
The most astonishing feature of the San Blas Islands is the exceptionally glamorous simplicity. The foods are fresh and healthy: seafood (such as shrimp, lobster and crab freshly caught) and various vegetables and fruits which include tomatoes, onions, carrots, and potatoes. The lodges: basic, rustic hotels with stick-built huts similar to those of the locals. It's possible you have power for a couple of hours per day, but nonetheless, after the generators are powered down, beautiful natural light is readily available for you.
If you feel a vacation is about eating varieties of rich foods, staying in luxury accommodations, and playing with electronic gadgets, San Blas is not a place for you. But if you believe vacation signifies relaxation, then San Blas islands are the ideal vacation spot for relaxation in Panama and probably in Central America as a whole. There is nothing to distract you from the spontaneous relaxation. The islands of San Blas offer visitors a small piece of paradise, full of gorgeous sun, sweet drinks, prodigious wildlife, birds and fishes, crystal clear waters, soft sand and friendly people. Isn't this the perfect place for a vacation ?