Exploring foods are the best part in travelling. After all, you can never enjoy the scenery with an empty stomach. And though you may love to try unusual cuisines, your taste buds will still crave for tastes that they are already used to. Luckily, some foods are commonly found in most places in the world and one of this is French Fries.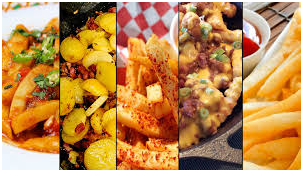 As we know it, French fries are just potatoes cooked in a deep fryer. And it can only be perfectly cooked if you use the right kitchen tool. It is no wonder why French Fries enthusiasts love to read fantastic deep fryer information before they would buy one. After all, they will be using this appliance most of the time for deep frying. French fries are considered to be the first vegetable kids agree to eat and this can be found in most part of the planet. This can be eaten as a meal but mostly taken as a snack. In fact, this can be a great snack while you enjoy watching the scenery in places you visit. Here are the leading countries where you can find French Fries at its best:
1. Belgium
Where else can you find the best fries other than the country where it originally started? Yes, French Fries came from Belgium and not France. In Belgium, this is often taken as a standalone meal and not just a side dish to accompany the main course. They are often termed as "pommes frites" offered with varieties of sauces. In this place, fries are soft inside and thick. They are also huge in sizes.
2. France
Unlike Belgium, France serves their fries as thin and crispy. They claim to be the inventor of this type of food, the reason why it is named after them. Here, French Fries are eaten as a side dish with Moules Frites and Steak Frites as their favorites.
3. Canada
Canada has its way of improving the taste of fries. How do they do it? Well, simply by adding gravy and cheese curds. Fries are delicacies here and they are found in diners, pubs and road side stands as well as sport games. A lot of companies in the world adapt Canada's menu. One example is McDonalds.
4. United States
French Fries are staple foods in this country. In fact, it is very common to be asked here if you would like to add fries in whatever food you order. However, when the French refused to support the US in their war against Iraq, it almost changed the name "French Fries" to "Freedom Fries". Here, you can also find French Fries prepared in various styles.
5. United Kingdom
If you order chips in UK, don't be surprised if they give you French Fries instead since this is how they call this food. If you order a battered fish, expect that it comes with French Fries as a side dish. In fact, it often comes with almost anything you order. They also appear "sloppy" and soft and covered with vinegar as their distinct taste.