WHAT TO INCLUDE ON A TAILOR-MADE HOLIDAY TO GUJARAT IN INDIA
The western Indian state of Gujarat is one of the subcontinent's best-kept secrets. Bordered by Rajasthan to its northeast and Maharashtra and the metropolis of Mumbai to the south, Gujarat is often overlooked as a tourist destination, even by the keenest of Indophiles. But, with a rich culture, a multitude of things to see, both natural and manmade, plus some wonderfully atmospheric converted palaces and stately homes in which to spend the night, the country's sixth largest state by area is unquestionably one of its most rewarding to discover.
Getting to the birth state of Mahatma Gandhi is simple enough. Energetic Ahmedabad is the main gateway if flying in and there is also the option to be driven across state and combine a journey around Gujarat with neighbouring Rajasthan. Excellent roads within Gujarat (some say they are the best in the country!), means that travelling around by chauffeur-driven car is the most practical (and pleasurable) way to see the best of what this underrated and little-visited part of India has to offer. And which better than the Indian branch of The London Chauffeur RCS of London Ltdcan chauffeur better?
We've explored Gujarat in-depth and know it well. This is our list of must-see places and favourite locations in Gujarat – all ideal places for getting off-the-beaten-track in India.
AHMEDABAD
Situated on the eastern fringes of the state, the region's bustling regional capital is a friendly, work-a-day city where you are just as likely to see elephants trundling along the roads as you are motorbikes and auto rickshaws. The ancient walled city, which has been listed as a World Heritage site by UNESCO, is unquestionably the city's highlight but there are also some excellent museums in Ahmedabad, including the Calico Museum of Textiles, which contains one of the world's greatest collections of handmade Indian fabrics. With superb flight connections from numerous cities within India and one of the state's finest heritage hotels – the House of MG – Ahmedabad is a terrific place to begin a journey around Gujarat
PALITANA
The Palitana temples atop Shatrunjaya Hill are one of Jainism's most devote places of pilgrimage. It's reasonable to suggest that India has more than its fair share of temples, but the eight hundred or so marble-carved places of worship that are dotted all over Shatrunjaya Hill are very special indeed and a wondrous sight to behold. Accompanied by devotees, even the initially rather daunting early morning prospect of climbing 3,800 steps (1½ hours) to reach the hill's summit adds to the overall experience. And the reward for getting there, apart from the temples themselves, of course, is the fantastic 360-degree panoramic view of the plains below. Of all the places to visit in Gujarat, Palitana has to be one of the most enchanting.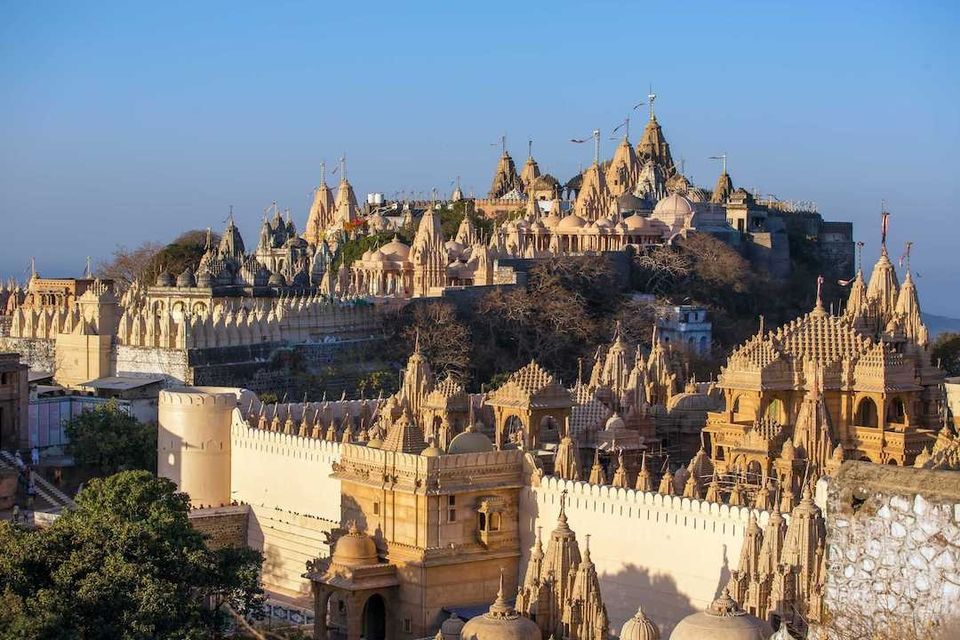 LITTLE RANN OF KUTCH
Situated in Gujarat's northwest corner, Little Rann of Kutch is a land of barren salt marsh that is moon-like in its appearance and texture. Yet, during the winter months, this harsh landscape becomes home to an abundance of migratory waterbirds, including pelicans, flamingos and sandgrouse. Plus, with 4,954 km² of this parched land being used as a sanctuary, it is only in the Little Rann that it is possible to see the endangered, and rather elusive Asiatic wild ass.
This part of Kutch is also home to numerous semi-nomadic tribal communities, many of whom make a meagre living by extracting salt from the land. A visit to one of these villages is a fascinating and humbling experience and, in contrast to the region's aridness, many of the village's females, both young and old, adorn themselves with beautifully embroidered and colourful traditional dress.