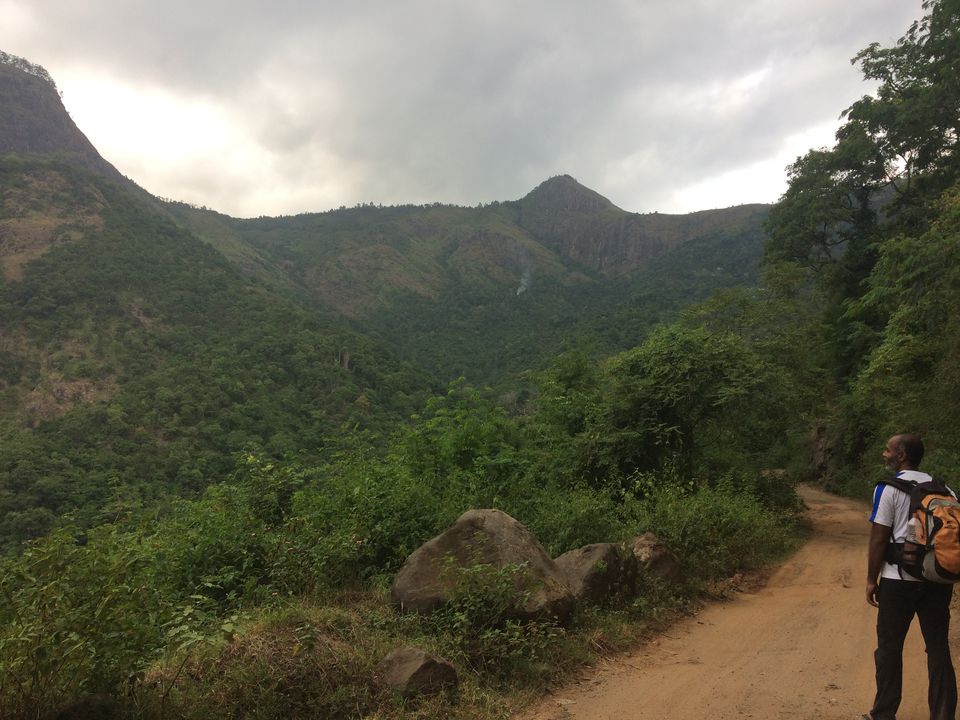 @Ela started from chennai by Friday night and reached Madurai by morning. As my bus from Bengaluru to Madurai was late, Ela was reluctant to to sleep in Madurai bus station and hence he started to Meenakshi Amman temple in search of #Butterbun which we couldn't get it even after visiting Madurai back on day 2. So he tried #Podi Idli instead.
I reached Madurai by 8 AM and took a bus to Meenakshi Amman Temple and went in search for Ela. Found him with a bag of Custard Apples in his hand and he to took me to 'Modern restaurant'- Opposite to North Gate of the Temple. Rendu pongal kesariku 184 rubaa (For Two Pongal and kesari)....
Madurai vanthchu jigarthanda kudikalana eppadi? (Came to Madurai, how can we leave the town without tasting the famous Jigarthanda). Went to the #worldfamousjigarthandashop (Location - Vilakuthoon). But it was closed. Who will open the shop by 8.30 AM? (Ela Mind voice- Kadai eppa sir thirapeenga). We also checked the other branch in Maatuthavani, it was closed too.
Mean while discussions started between us (where to go). At last we decided to go to Maatuthavani Bus Stand, from there, we will leave to Periyakulam. There was no direct bus from maatuthavani bus stop to Periyakulam. Inquired the time keeper in bus stand and he told us to go to Aarapalayam. Took another bus from Maatuthavani to Aarapalayam. From there we got a bus to Periyakulam. Window seat. Three hours sleep. Eyes open, we are in Periyakulam. Sema pasi (Height of hunger). Went it search of soaru (rice). Stomach full and we started feeling sleepy again. Decided to take a power nap in bus stop itself, but Ela suggested that we will go to #kumbakarai falls and will take a power nap on the way.
Kumbakarai was six kms from Periyakulam, so we decided to go by walk. We crossed nearly one and half kms, and the food we ate made us stop. Stopped a crossing share auto and asked him to drop in Kumbakarai falls. Meanwhile we have decided to reach Kodaikanal via Vellagavi (One can reach this village from Dolphin Nose point Kodaikanal. You have to trek down few Kms to reach here), climbing from kumbakarai falls. We reached the Falls entrance and everything was closed. One Akka came and told, just now a forest officer left from this pace, you have to take permission form forest ranger and for that we have to travel back 20 kms to Devanathapatti to get the permission. We were in a dilemma whether we need permission to climb the hill.
The half an hour confusion
We googled the options to reach Kodaikanal and found out it was Adukkam village. The other plan was to take a bus to Theni, stay there for a night, get a bus to Bodinaikanur by morning and start trekking to Munnar.
Confused...
Decide to toss a coin and chose whether Kodaikanal or Munnar
Glad it was Kodaikanal. We googled how far is Adukkam from Kumbakarai falls and surprisingly the google told it was 6 kms from where we are standing. As few villagers were nearby, they asked where do you want to go and we told Adukkam.
They asked,"How are you going?".
We told, "By walk." And they were shocked.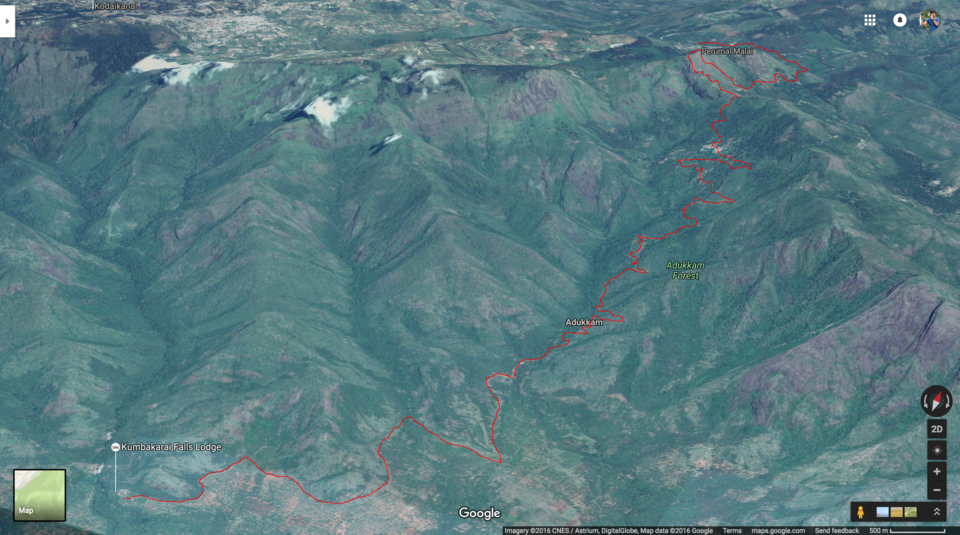 It was 19 Kms. The place was marked incorrectly in google maps and the village was almost at the top of the hill. It was 2.30 in the afternoon.
We started waking
Walking
Walking
Walking
???? ???? ???? ????????????????????????????????
It was 7 O' Clock and still we were walking.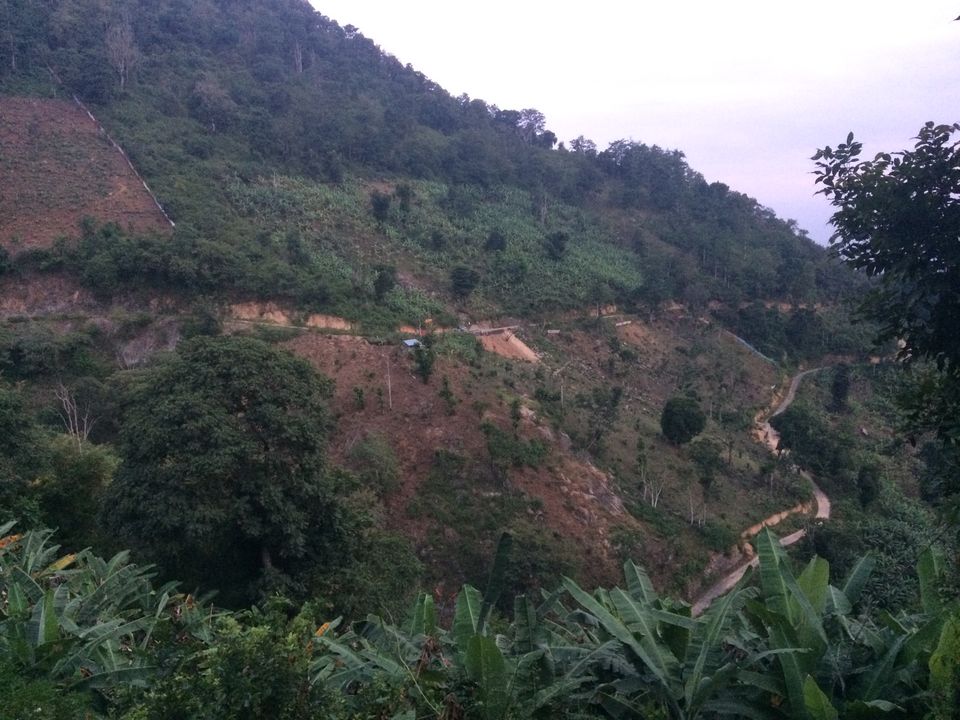 We could have chosen the trials following the valley, but we don't want to risk it as we are new to this place. So we preferred the never ending zig-zag roads. I was too exhausted to take my DSLR out and we had walked more than 19 kms, but there was no sign of village and its getting dark. You could hardly see any vehicles in the road. Around 7.15 PM we heard a bike approaching from behind and we stopped them to ask how far we have to walk. The scene reminded us 'Mr.Bean's Holiday' as the bike was moving too slowly.
It's just 1 Km. Thats the only thing running in the mind and more over we are running out of water. Luckily on the road, there was a water tanker used for watering banana plantations. Filled our stomach and bottles. Found a lemon on the road and I told Ela, "A lemon". Suddenly his reply was, 'Someone might have used it for Pooja'. (There's a practice of keeping lemon under the vehicle tyres). Took it, squished it and mixed with water and recharged ourselves with the lemonade.
Again we started waking
Walking
Walking
Walking. . .
Finally a ray of hope. We can see the village lights.
We barely knew any person in that village. Ela had been here two years back, but he travelled by car and too that was a few minute stop in that village. Somehow he kept the mobile number of the driver who helped him during his travel two years ago. We reached the village and we both were very hungry. When I saw the first home in the village, I told Ela, "We can ask for some food." Ela told, "We can go still further inside the village and look for any shops." We found a shop and it was a grocery store and we asked them, is there any way we can get food here? They told no.
Suddenly there was a crows around us. I was totally exhausted & i felt like my knee was getting detached from my leg. I was lying down on the street, stretching my legs. The villagers started enquiring us.
Who are you?
What are you doing here at this time?
Where are you coming from?
Why are you coming by walk?
Do you anyone here?
You should not come here after evening. There were too many Bisons and you were lucky enough not to get hit by any.
They asked our ID's for verification and we showed them what we have and they started listening to us. We told them we are too tired and asked them can we get anything to eat. They told there are no shops here and there will be no food at this time. Please give us anything (Even if it's old rice and Water. That would be sufficient for us.)
Meanwhile Ela was trying to call the Driver Shiva as the village were pestering us after we told them that we knew shiva. They need to know whether we are genuine people. Shiva told the call.
Ela: Shiva. This is Ela, Two years ago you helped me with your vehicle to reach Kodaikanal from Kumbakarai. Do you remember me?
Shiva: Yes, I do remember. How are you?
Ela: I'm fine. We are in your Village and can you help us. & Sorry to disturb you at this moment.
Shiva: This is not a disturbance. If i come to your place, will you leave me alone or wouldn't you take care of me. I am outside, Will be there in half an hour.
Also Shiva told the villagers that he knew them and do the needful till he reach.
Selvaraj opened his house for us and told us, i will start cooking. Please wait for half an hour. Meanwhile another person in the village bought few eggs and asked Selvaraj to cook the eggs for us.
We are supposed to go to Vellagavi from Kumbakarai falls. As the forest officials were not there, we had decide to take this route to reach Kodaikanal. We explained everything in detail. Suddenly one of them asked, 'Who do you know in that village (Vellagavi)?' Ela replied, "Muthu". Because he was the one who used to help Ela with food and accommodation whenever he goes to that village.
One of the villager (Forget to ask his name) told, Muthu's sister is here & we can talk to them. He took us to her house. We were standing outside her home and when she saw me, she invited us suddenly and asked us to sit. That guy told her that we know Muthu, your brother. The women suddenly told that she had seen me in Kodaikanal and my face looks familiar. I was shocked. I told her that I was in Kodaikanal once or twice. The chances are very less that you could have seen me.
Selvaraj knocked the door by 6.00 Am in the morning and offered us coffee grown in his own plantation. He told that Shiva came and knocked the door by 11.00 Pm yesterday and you were not opening the door. He bought you food from hotel. I told the incident to Ela. And we both wanted to meet Shiva. Ela could barely remember his face as he had seen him two years ago. we enquired the villagers where Shiva's home was and reached. His Mother was there and we asked for Shiva. She invited us inside and offered tea. Shiva entered and we started talking to him and he was telling everything what happened yesterday night.
Shiva's mother cooked break fast for us. We were n a worry that we had wasted the food that was brought yesterday. We told her to serve the food that was bought yesterday. She was not interested in serving the old meal. She served freshly cooked meals and we forced her to serve the old meal to us. Because, we don't want to waste it.
Heart is full. Stomach is full.
Took our bags and thanked everyone who helped us. We gave them our address and told them to call back if they are in our place.
Selvaraj told us that if you take the road to kodaikanal, it will be 11 kms from the village. He also told that there was trial leading to Kodaikanal via Cinnamon plantation. We took the trial and started climbing the trial.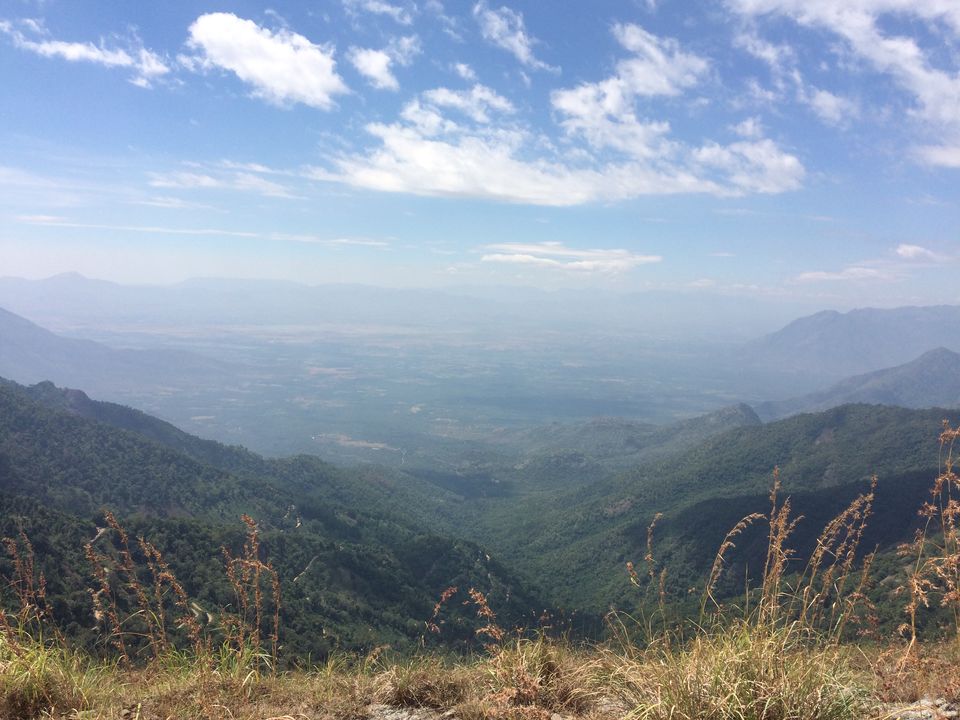 We climbed the trial within 2 hrs and decided to climb a peak which was on our way.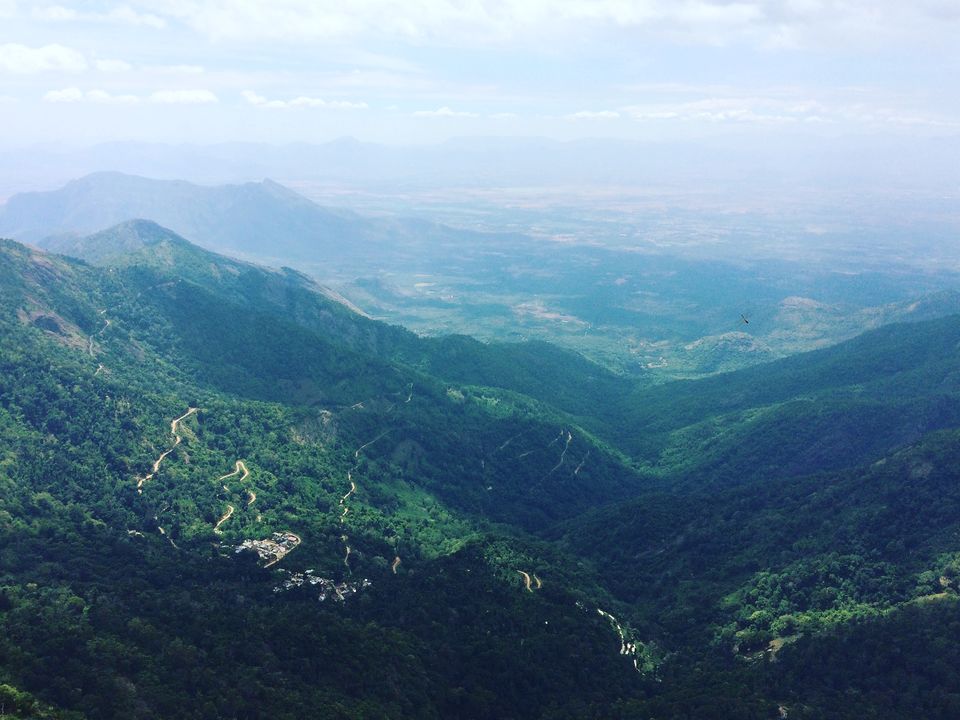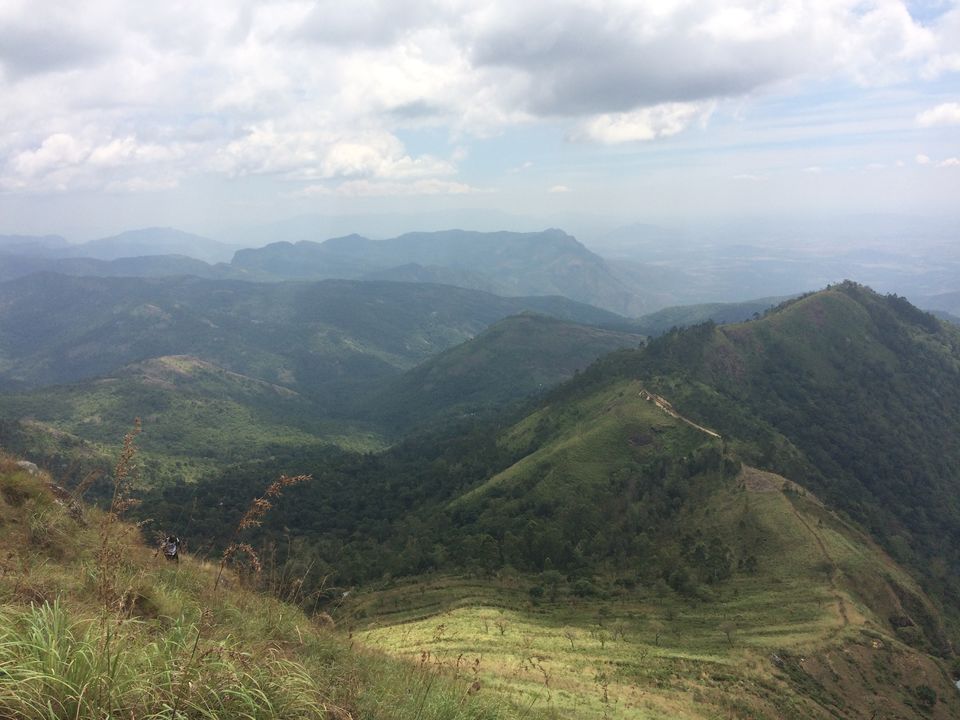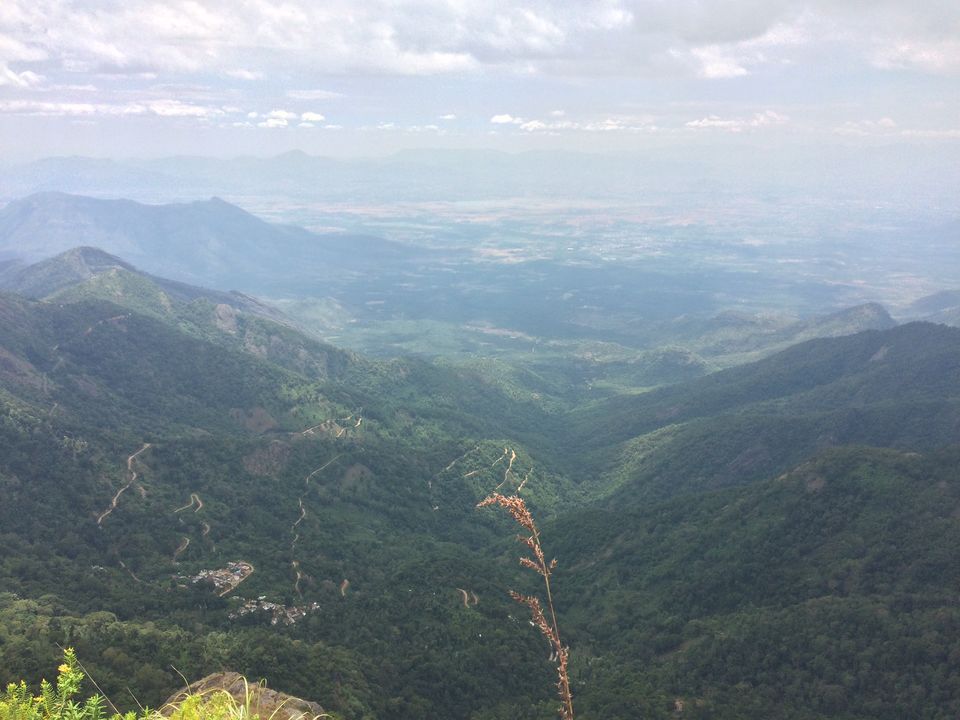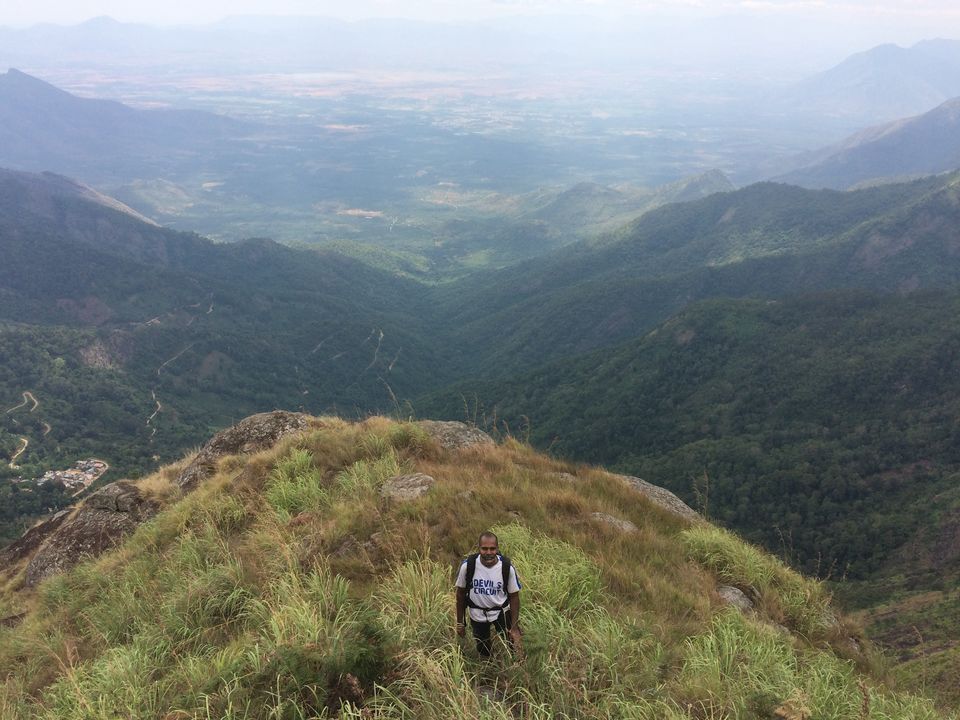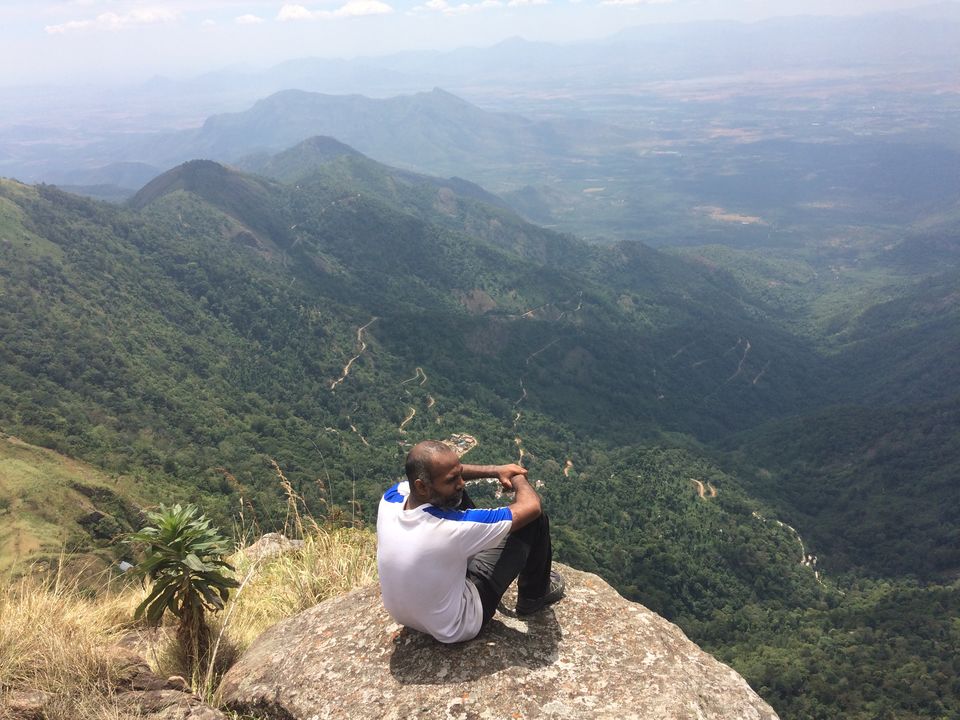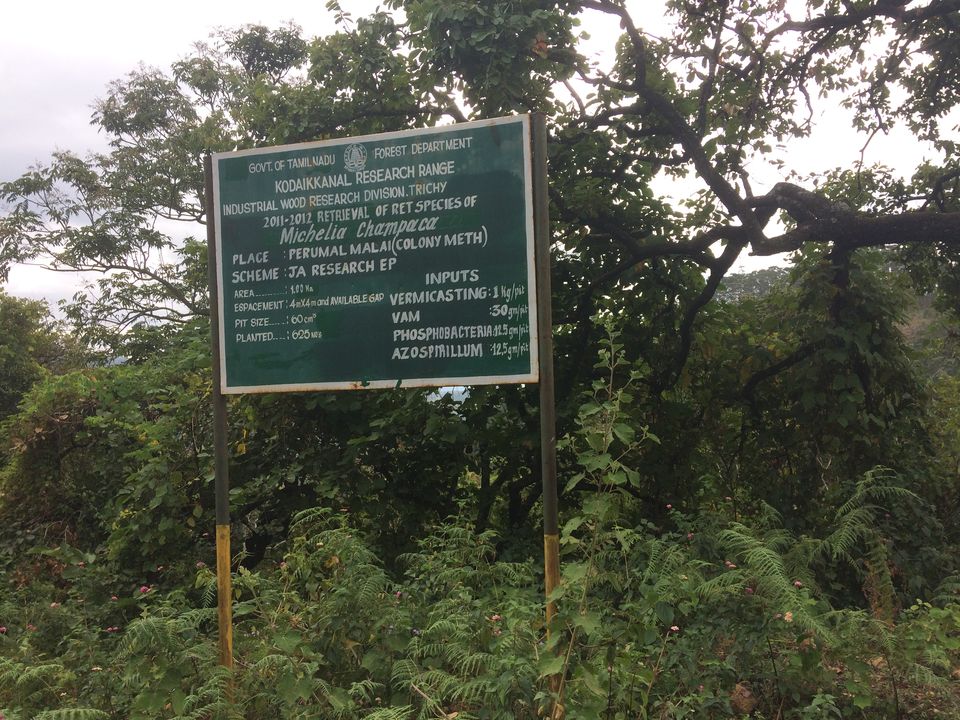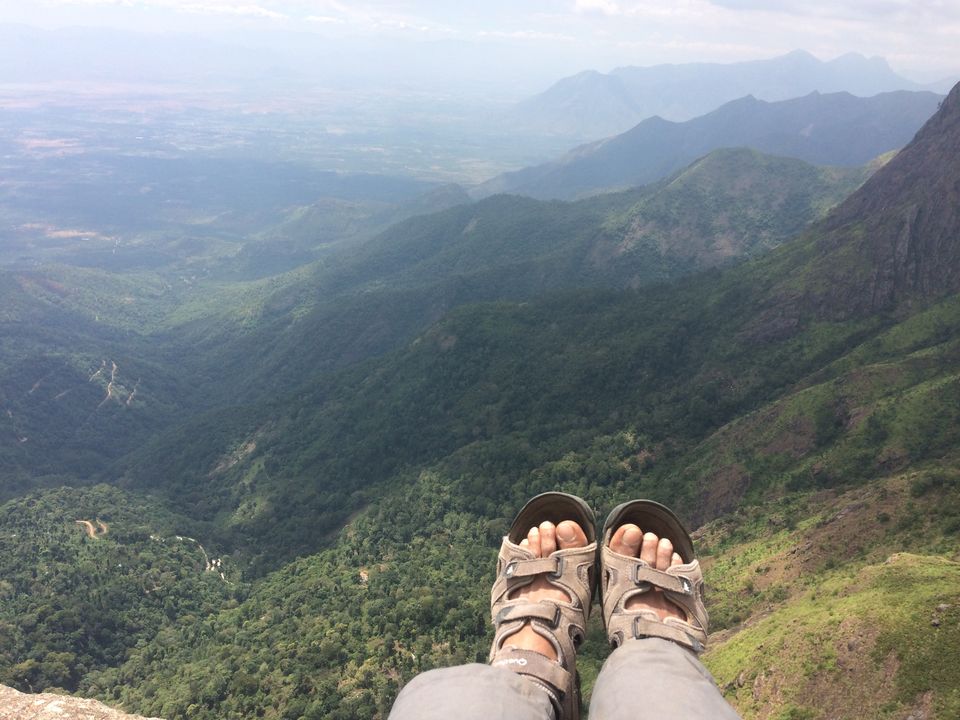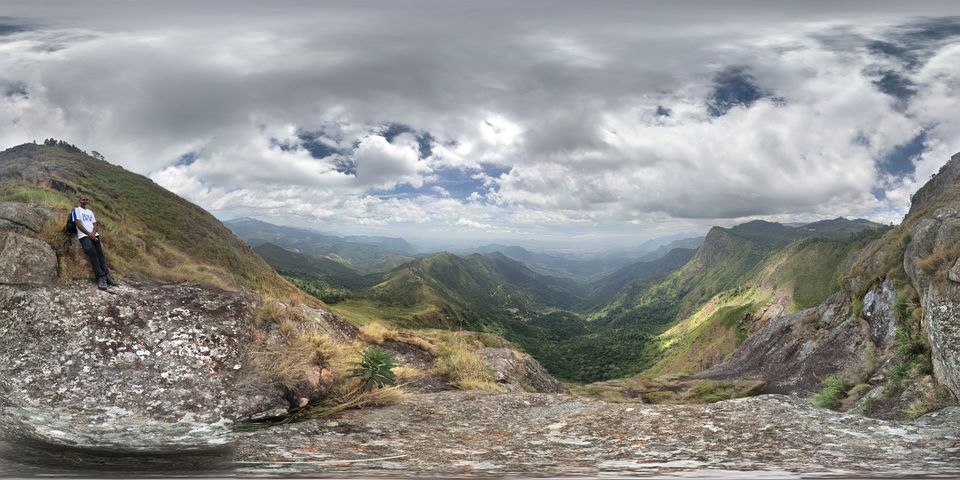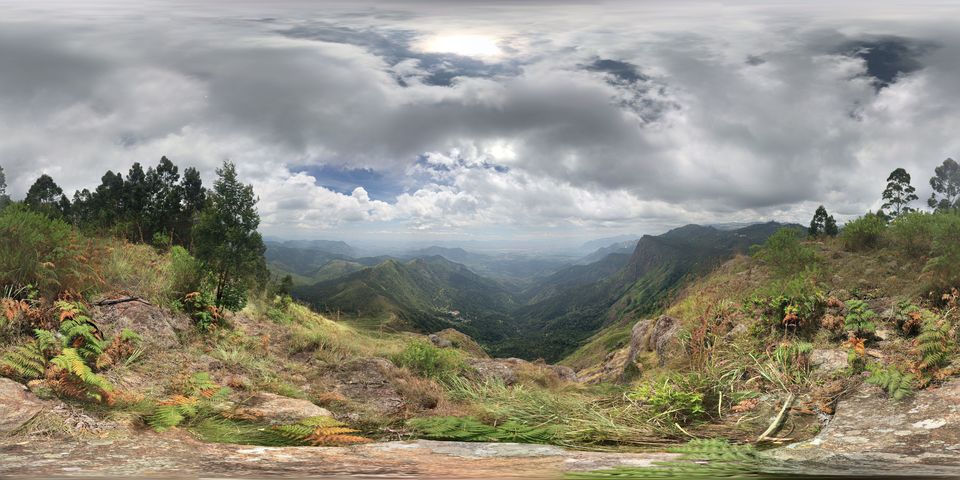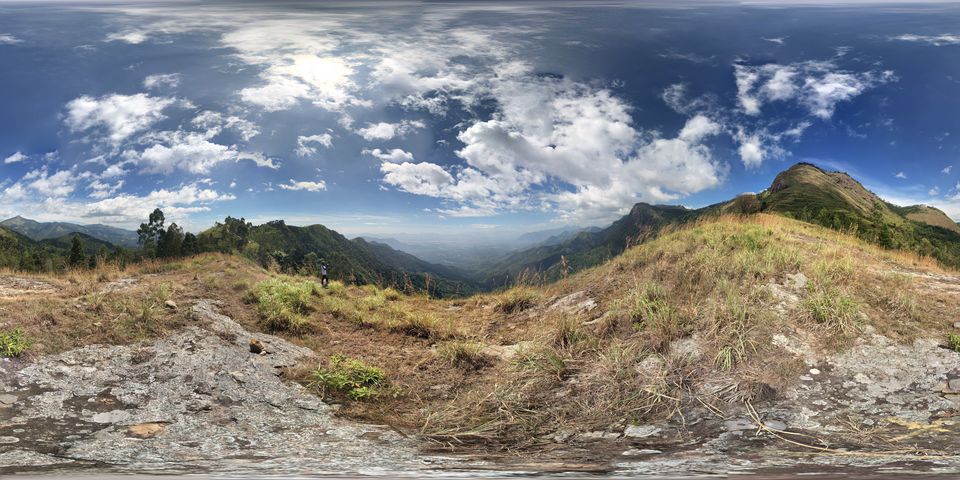 We reached Perumal Malai bus stop at 2.3o PM. Kodaikanal was 14 kms from the stop. We decided to take any bus that comes first, either to Kodaikanal or in the reverse direction. We tried to stop a bus that goes to Kodaikanal, but the driver didn't stop the bus. In the opposite direction came an another bus that go to Batlagundu. We boarded the bus and slept. It was a one and half hour drive.
From Batlagundu we took a bus to Madurai as we had an unfinished business in Madurai. It was a wonderful drive in the evening by bus. Reached Madurai. Again went to the #WorldFamousJigarthandashop. We both had special jigarthanda and left the place.