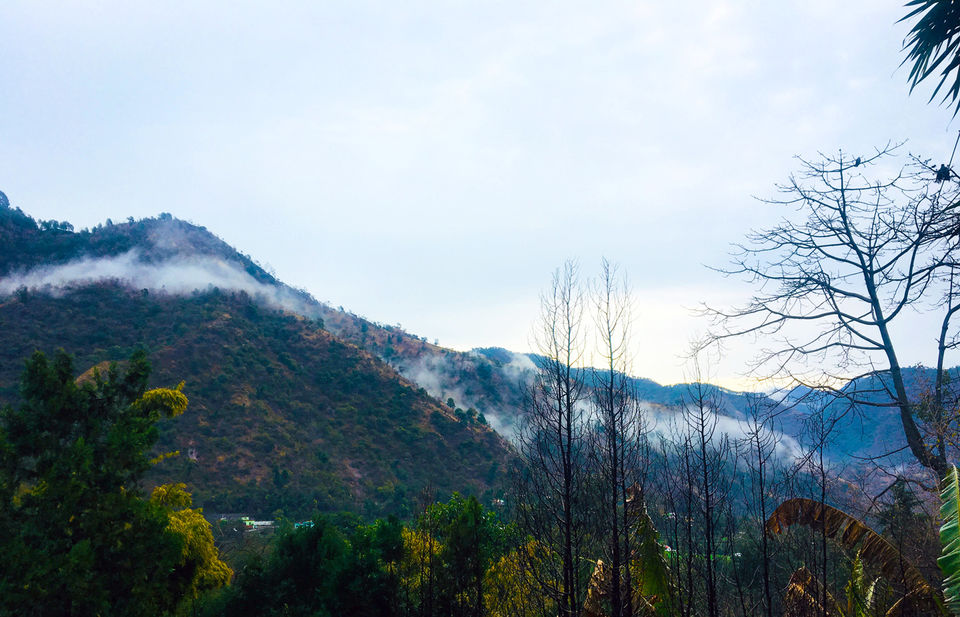 About The Cottage & Host:
Way back in the sixties, a young girl at a boarding school in Nainital, with dreams in her eyes, would wistfully drool at the little cottages with sloping roofs and a fairy-tale ambiance, while her school bus stopped for a routine 'strawberries & mulberries' break at Jeolikot. This young girl Bhuvan Kumari from Bundelkhand owns & runs this charming boho-chic cottage. She is a vivacious lady who began her guest house with just one single room in 1994. Now she offers 5 beautifully designed bedrooms & welcomes guests into her space to enjoy the freshness & serenity of the mountains. She is also a royal descendant of the Chattrapati Shivaji clan & married into a royal family of Madhya Pradesh.
But we are talking about history, so let's get back to Victorian times when it all started, and the 'cottage' found itself as an appendage of Vergomount Estate. It seems that Sir Vergomount wisely chose to locate his estate at an 'all-weather' location like Jeolikot, thus dispensing with the necessity to move from 'hill-stations' to the plains, and vice-versa, as dictated by the vagaries of the weather.
Originally established as a health resort, the Cottage was, till independence, run as a hotel by a Scottish lady & her daughter. The Cottage's history is incomplete without vignetting at least two neighbours from the hoary past. One a lady-a direct descendent of Napoleon-who came visiting, fell in love with a local boy and stayed on. The other was a retired British Army major named Warwick Sahib, who hung on, till death, to the fantastic secret that he was actually a she!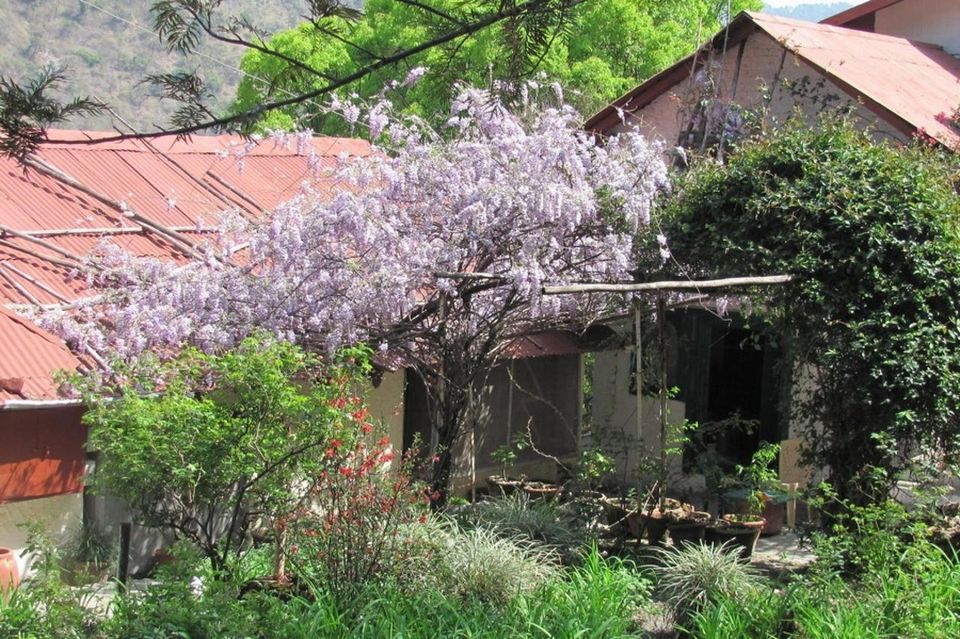 Meals:
Delicious home cooked meals with delicious desserts by Kamla (a local of Kumaon region) are offered at per head rates:
1. Rs.400/- per person (Per meal)
2. Rs.200/- per child (4–12 years old) (Per meal)
Tea, coffee, nimboo pani, soup, home made cake are complimentary.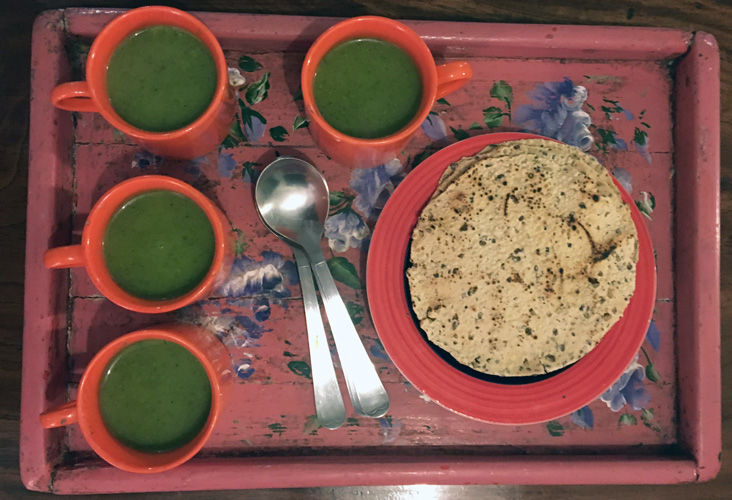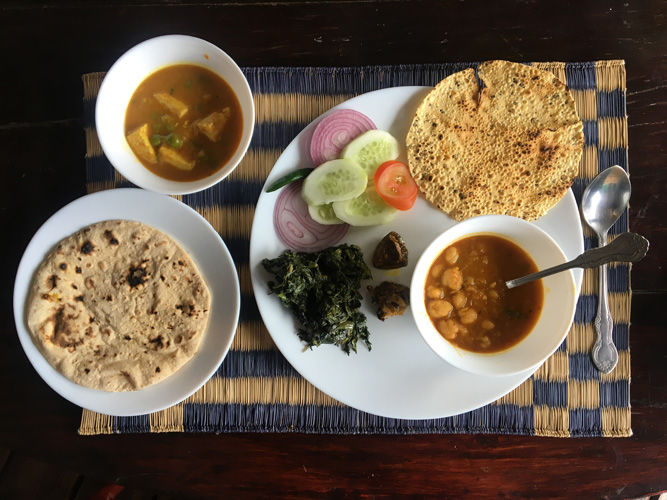 Cottage Rooms: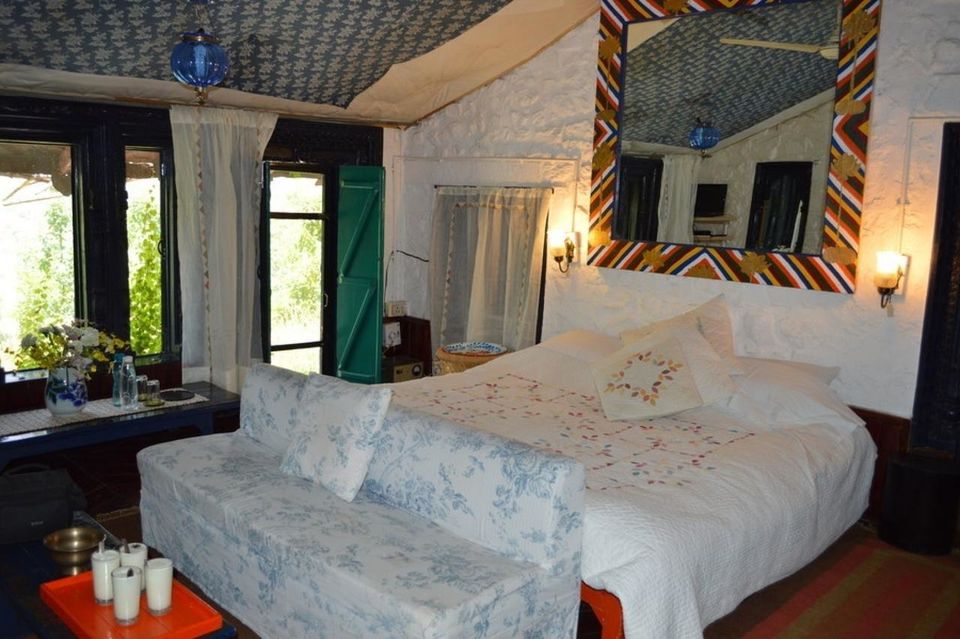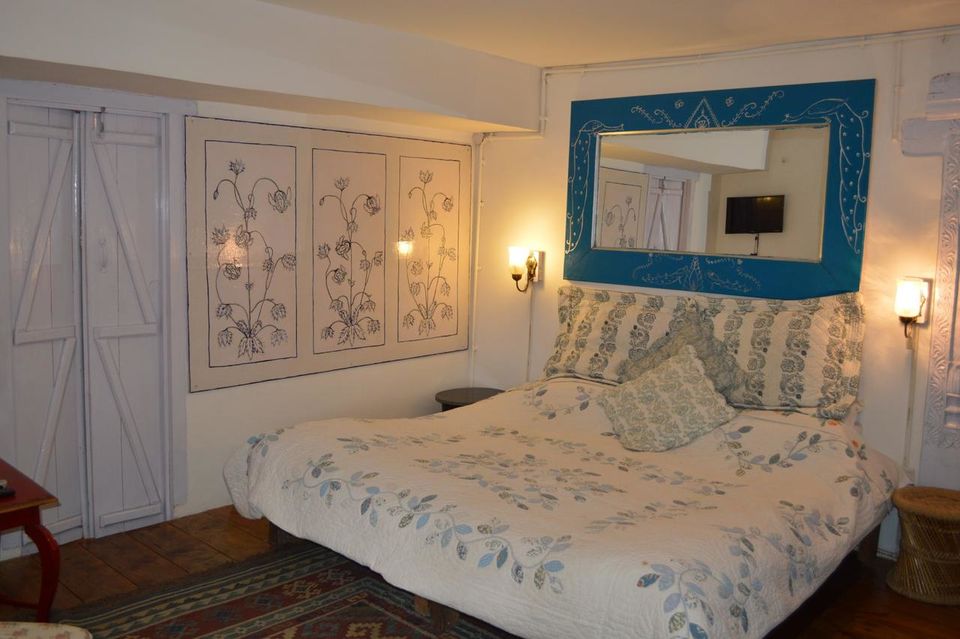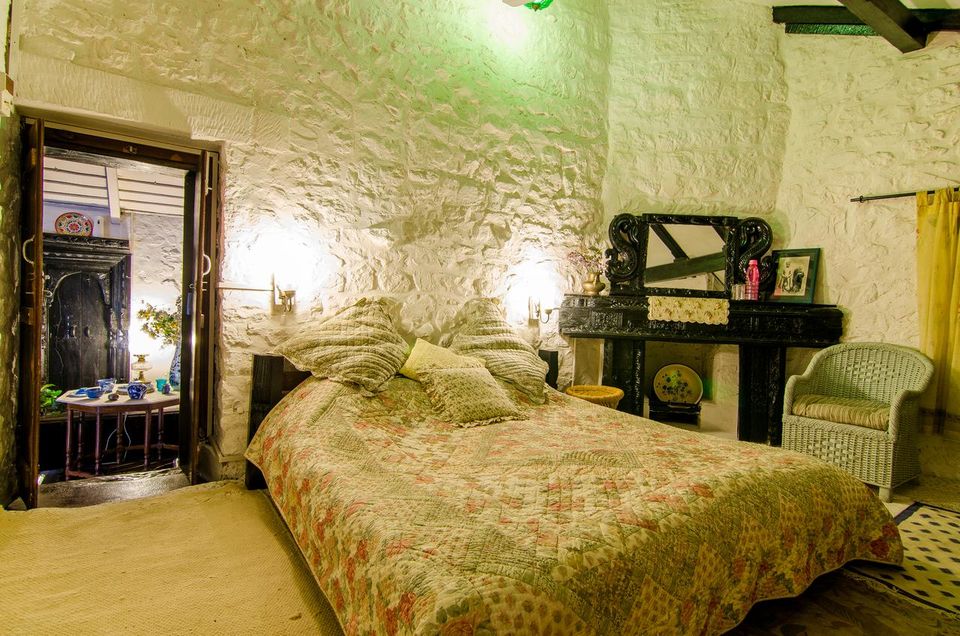 Facilities available at the Cottage:
Free wireless Internet access
TV room with a coffee and tea maker
Air conditioning/ air coolers
Heaters in each room
Running hot and cold water
Laundry at extra cost
On-site parking for vehicles
Doctor on call
Good hospitals (17 km)
A certified yoga teacher with prior notice at an extra cost
Taxi on prior notice
Note: Be careful of the tiles in the bathroom.
How to Reach: (From Delhi)
1. Train & Cab - Jeolikot is 18 km ahead of Kathgodam on NH-87.
a) The Kathgodam Shatabdi is the easiest way to reach the cottage. It starts at 6 am & takes about 5 hrs to reach. Book train via Paytm: Rs.785 p.p. b) From the station, take a local taxi to the homestay (17kms). Charges: Rs.400 for Alto & Rs.500 for Swift Dzire.
2. Road - The homestay can be reached in 6 1/2 hrs from Delhi (300 km).
a) Own car - approx Rs.1200 to Rs.1400 for one way.
b) Taxi - You can also book a cab from Delhi (Rs.5800 approx. for one way) using MakeMyTrip & Get 10% Off!
3. Air - Nearest airport: Pantnagar (56km/1 ¼ hrs)
Linked to Delhi by Jagson Airlines on Mondays, Wednesdays & Fridays. A taxi to Jeolikot costs Rs.600 to Rs.800.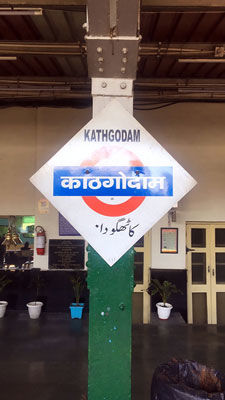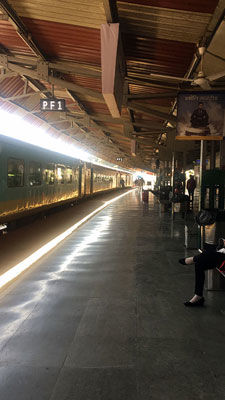 Book this amazing cottage here: