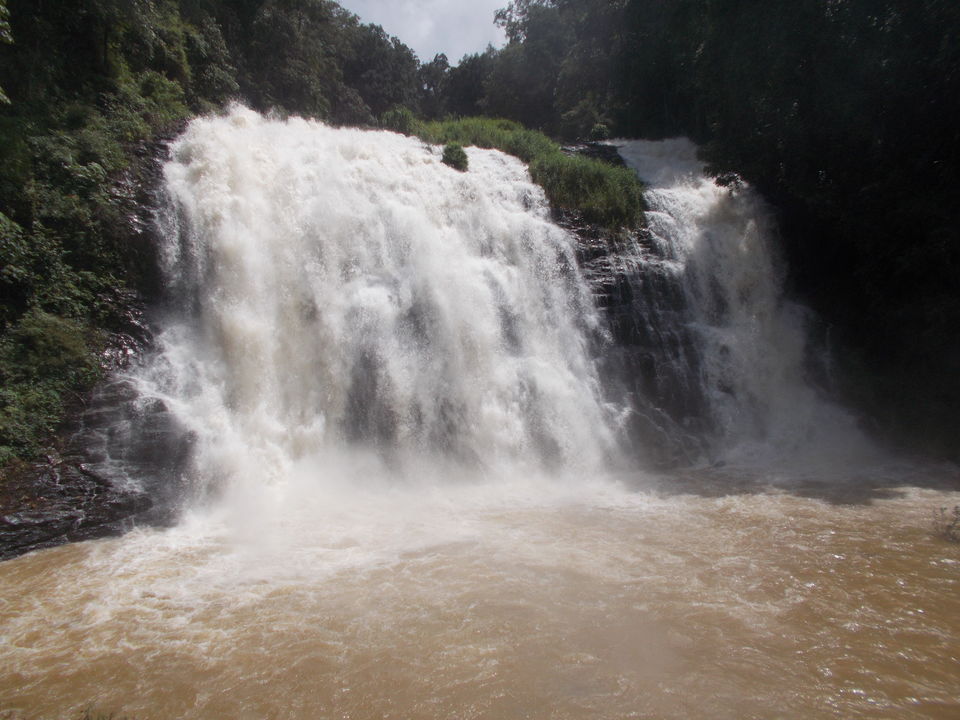 Being in Maharashtra, if one could think of a leisure season, it has to be monsoons. Ahaaaa, the monsoons!! The lush green finely finished Western Ghats. Running parallel to the western coast of India, it stretches across Kerala. Although being on notice period in my organization, I was longing to utilize my compensatory leaves; maybe a solo trip was the answer. The long weekend of Independence Day had already increased the chances. This time, I backpacked to the Scotland of India- COORG.
"Travelling leads you to experiences, travelling solo leads you to peace". The freedom to roam anywhere, anyway, anytime you wish, is classic.
I booked my tickets to Bangalore and henceforth Coorg well in advance from Mumbai, to avoid any interruptions to the trip. As a thumb rule- I decided to look for accommodation once I'd reach there. I left from the office early, caught a bus from Mumbai and reached Bangalore early morning well as per the timetable. For a break, I decided to pounce upon a friend's place. I stayed there the entire day, hit the bar in broad day-light and constructed the much needed hangover. At 10:30 PM I had to board a bus to Coorg, which due to the travel agencies' poor handling and ignorance, was running late by complete 2 hours. I won't recommend the agency for booking tickets (through PayTm), AT ALL.
The bus rolled via Mysore and Kushalnagar as it took us 7 hours to reach Coorg the very next morning. As I were approaching the Coorg region, the lush green hills with mist all around became more evident. The sky whilst sunrise was worth watching. The beauty was to be best recorded in mind than the camera. We were dropped at Madikere, our last stop.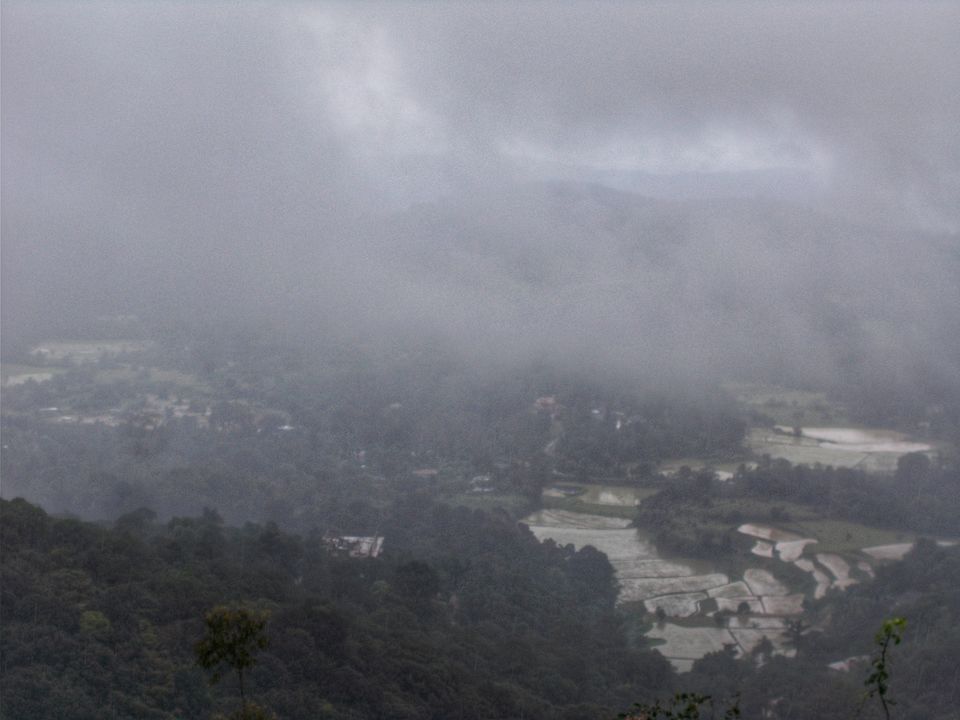 Madikere is the so called central hub for visitors at Coorg, lying largely along the famous coffee plantations. Finding an accommodation proved to be a serious job at Coorg… as the entire place was filled with couples from all over the metropolitans, especially Bangalore. The lodges were booked well in advance. Hotels would prefer either couples or groups to occupy rooms, for reasons best known to them. Seriously, it seemed some kind of a honeymoon destination. In fact some lodge owners exclaimed when they learned that I was travelling & planning to stay solo.
DAY 1: After lot of rejections, I even started giving a thought about staying at the bus station at nights. But thankfully, I finally managed to get a single-room shelter at meagre amount of 300 rupees per day. I freshened up in no time and marched out to explore the misty mountains, our local Scotland. First on my bucket list was Raja's seat near the Coorg fort. They've built a park near it to facilitate people to relax and chill around with splendid scenery offered. Since it was monsoons, I was nearly breathing clouds. The clouds took over the roads in the ghats, the flat peaks right in front of my eyes.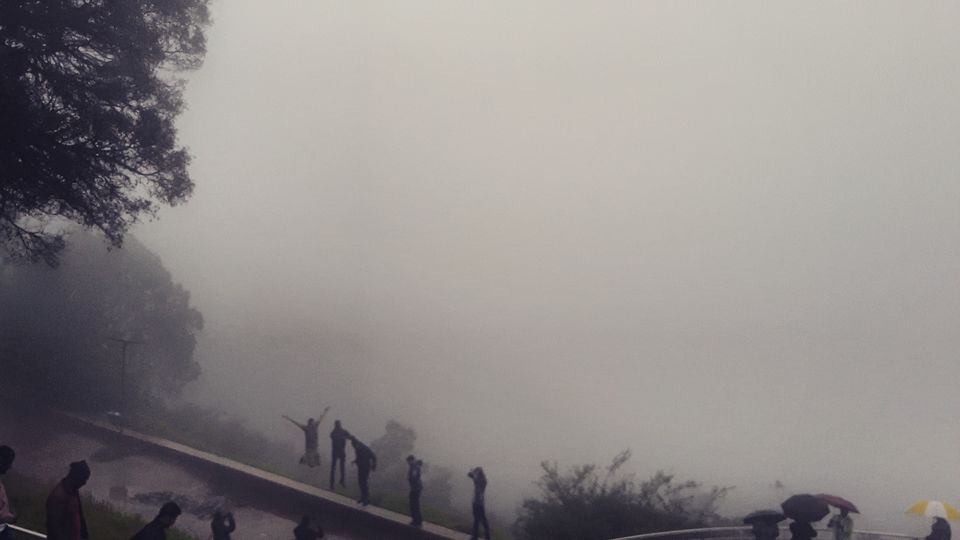 By afternoon, I decided to explore some local coffee plantations out of curiosity and headed for Kushalnagar, a sub-urban area 30kms from Madikere. To my surprise the locals were too welcoming in nature and showed no hesitation in enlightening me about the coffee farming.
**One must try the local Coorg-coffee once you're there**
By evening, I returned back to the hotel room, with the head full of beautiful clouds & generous people. To my surprise, when I woke up next morning, the entire neighboring region was covered in clouds, which resembled Fog in north India. It was too beautiful to handle. This is what I saw on the streets: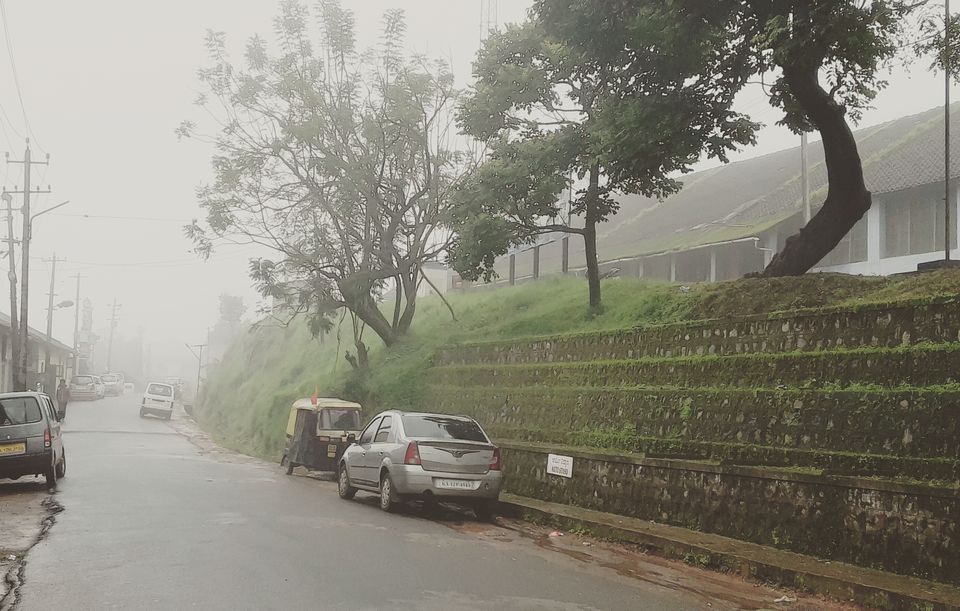 DAY 2: For the next day, I paid a visit to the Abbey falls, The Elephant Camp and the Golden temple subsequently. The golden temple was in Bylakuppe adjoining the monastery. A sight of a jolly kid sprinting around with his dress high, made my day.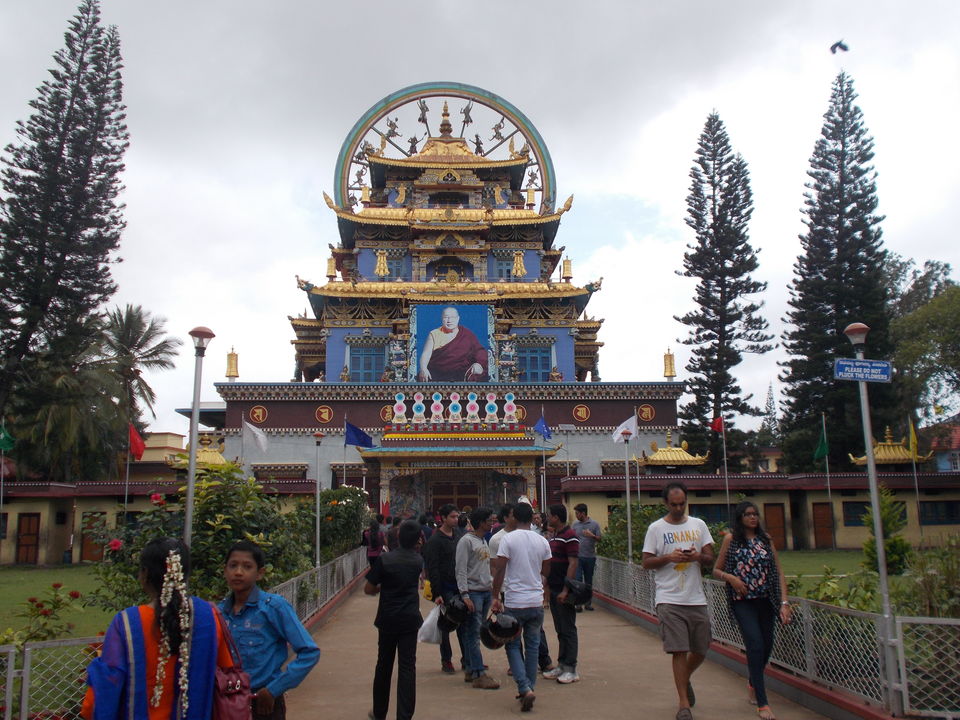 Although I missed out on far too many adventures and places to visit in the span available, I thoroughly enjoyed myself for those two days there. Coorg is a place to be visited with a family or group of friends, NOT SOLO (As per my conclusion). You would be required to travel 70kms to visit few some spots which are economically not feasible by an auto/cab. Having a group ensures fare distribution & is light on the wallet. Also, boozing among the clouds has its own pleasure with our beloved ones.
The locals used to ask me "So do you like Coorg?" numerous times. The people there were too nice who ensured that visitors like me were comfortable at their place. They enthusiastically helped me with all navigations and food whenever required. All in all, it was a memorable trip for me!
And did I mention I was there on Independence Day.. school celebrations??! Brought back a lot of memories.