Vrindavan, the holy land in Uttar Pradesh, is a fairly well known pilgrimage city that adheres to the rustic feels of an India of days gone by. The chants of Radhe Radhe frame a serene ambience, as they replace every possible greeting exchanged between the locals – from Good Morning to apologies.
I happen to visit it almost every month, so much so that its untidy lanes have started to feel like a second home – a home no one really cares about. Despite the number of tourists this place attracts on a daily basis (note 'daily', not annually), the city is far from becoming a hygienic and tourist-friendly destination.
This lack of attention has turned this warm and pious place into a hub for scams and muggers. And these professionals are so good at it that you might not even realise that you've been duped! I watch it happen all around every time I visit Vrindavan and it's high time everyone knew about it. Avoid it or fall for it is still your call.
It Starts At The Very Beginning!
I usually travel by train from Delhi, so let's start at the railway station. The spider web spawns till right outside the Mathura Junction station, where one would get down. Moving into the public transport area, one finds countless auto and rental taxi drivers calling you out for a ride. It usually takes around 40 minutes to reach Vrindavan from here for which they'll ask an extorting amount of money. The drivers usually ask for Rs100 or more per person. The price I pay every time – Rs20 per person. Just tell them that you come here every week and know the rates. They'll agree.
Thugs of Hindustan!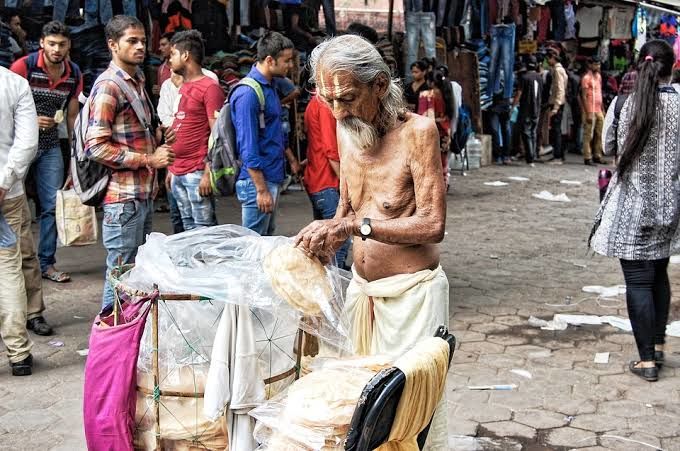 Now that you've been dropped within the vicinity of one of the countless temples, strictly avoid falling for the portable guides that would appear out of thin air and offer to help you explore only the 'very important' temples. They usually charge Rs50 and would take you to a couple of the major temples first. That's where they showcase their verbal skills. They would convince you within the first 10 minutes of the field trip that they are trying to help you out by telling you not to drop money at every drop box or at the steps of every temple. That's the catch!
Ashram of the Widows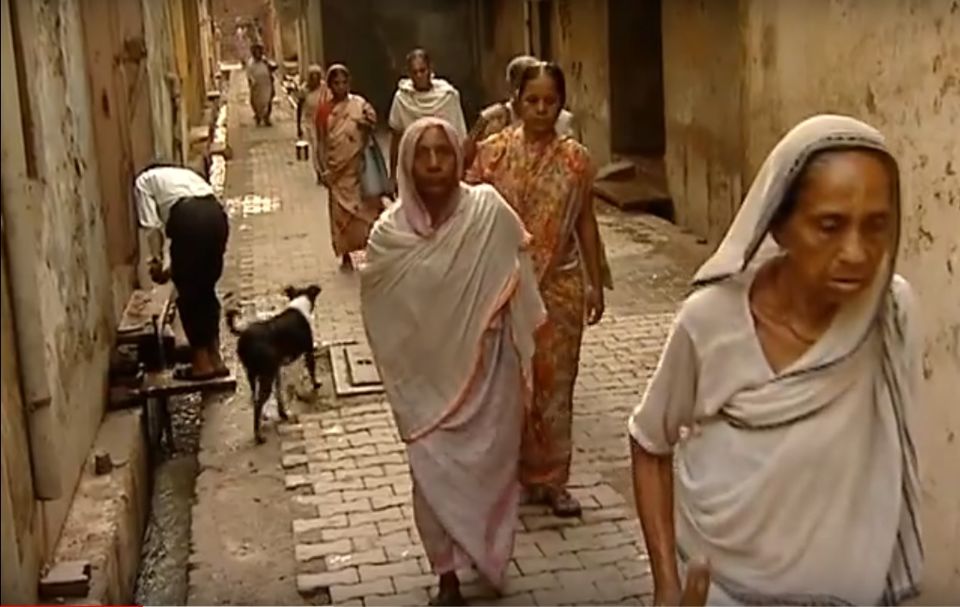 They want you to save your money now so that you could put it in the hands of their allies, the likes of the so-called widows that would later cross your path inside an ashram. You would also be told that they live off charity of tourists like you. Fact check: they don't. It's a well-framed scam to attract unaware people into throwing away their money in the name of religion and philanthropy. Then again, how much could you possibly give to a widow for food? Rs10, Rs20, a Rs100 note if you're too generous. Is this amount viable to repay the guide's efforts? It isn't, right?
Tiles by the Miles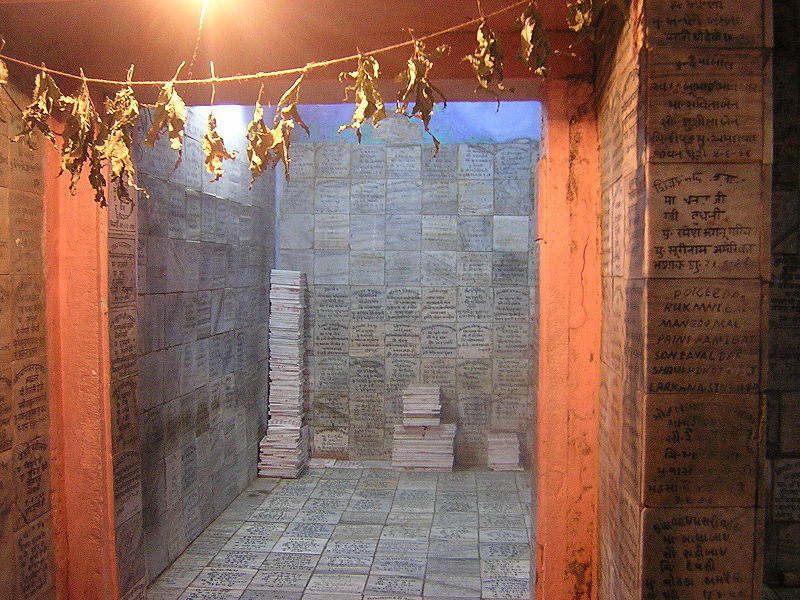 After taking you through a gazillion tiny confusing lanes that seem like alleys from Gangs of Wasseypur and getting you rid of your tid-bit loose change across unknown ashrams and temples, they guide you into their casino. I had to call it that because that's where they hit the jackpot. They'll take you to a temple that opens with a large gate, followed by a huge tulsi plant right in the middle of the entrance verandah, growing on top of an elevated platform. Pundits and pilgrims have diyas, incense sticks and flowers placed in front of this plant.
As you begin to walk inside, you will notice that the floor is made of white marble tiles with names of people written on every tile. Every wall of this temple will look the same from inside - white tiles with names on them. The guide will now ask you to relax for a while. You will be told to circumambulate the plant and prey for your own and your family's wellbeing. Next, you'll be guided into a smaller room, where a curtain awaits you. You will be told to sit down till punditji comes for a special pooja that will be organised especially for you. One of the priests that you might have noticed smoking in the verandah, would now take over, as your guide awaits you outside.
This priest will help you prey, ask you to chant a few mantras and suddenly bam! He'll ask you to donate a hefty amount in the name of God. The price usually starts with Rs51,000, gradually reducing to somewhere close to Rs12,000. If you were to talk amongst yourself, he will forbid you from doing so. He will try and intimidate you in every possible manner. He might as well be forcing you to pay the money. If not the entire amount, he will try to extort as much as he can.
He will tell you to donate in the name of charity, an amount that would then be used to place another tile in the temple with your name on it. Expect to be told that the tiles all around have been donated by people like you and that many of them have gone on to have great fortunes. There may be others sitting around you, who are actually his accomplices. They would declare their donations loudly with humungous numbers to make you think as if all this is legit. You know the drill by now, so you must know what not to do. But be ready for some action!
If were to refuse to pay, they will start cursing you. Trust me those pundits actually start abusing tourists and pilgrims. Sitting in the house of God, they do that without flinching! Oh, I almost forgot. You have a guide waiting outside. The guide gets his commission for bringing you here. Every penny that you donate here adds to his profits as well. He too will join the band of conviction.
Eventually, he will have to let you go after you pay his pre-decided fee. I remember taking my relatives there very recently and telling them not to seek a guide. But faith has no bounds and we ended up hiring one of the goons. We agreed at Rs31 as his fee (yes, in 2019!) He was good at telling stories and explaining everything till we reached the Tile Temple. I knew the drill, so pulled my relatives out at the right moment. This of course triggered the guide, who had a Pan in his mouth all along. I could hardly understand what he said after that. I paid him Rs50 (he deserved it for walking with us under the Sun for a good 30-40 minutes with all his storytelling skills) and set him off.
Sentimental Ruckus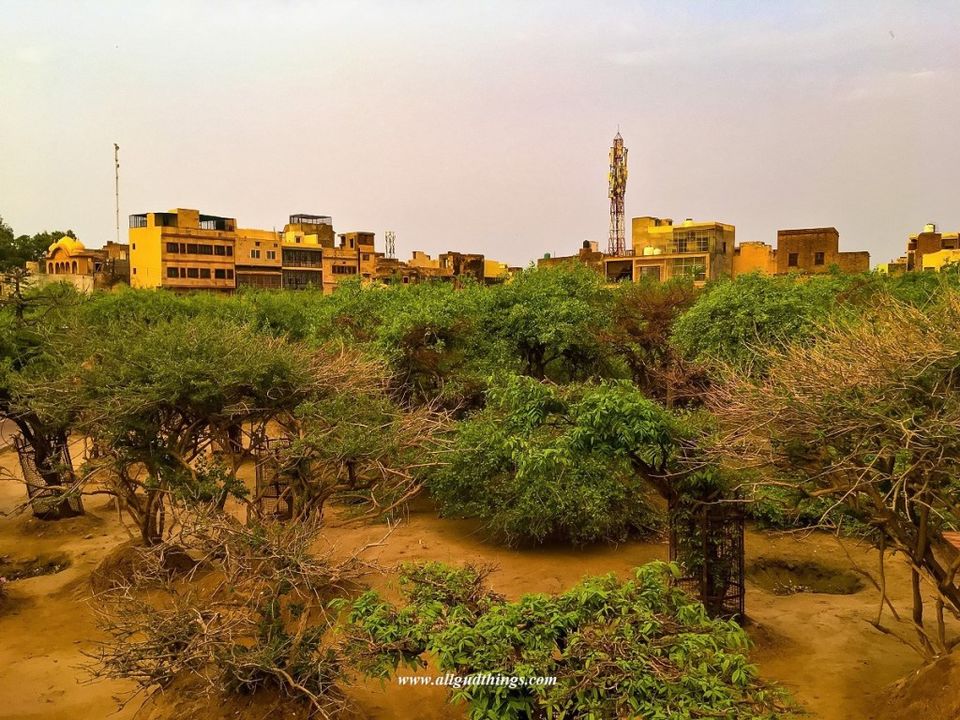 As religious as one may be, witnessing the present day condition of Vrindavan is saddening. People tell stories of Lord Krishna still showing up every night at Nidhi Van for rasleela and that whoever tries to get a sneak peak ends up being blinded or mentally ill. Yet I could easily see tall residential buildings right next to the location from where residents could easily get a clear view of what goes on inside Nidhi Van. If the stories were true, then these buildings should have been long abolished.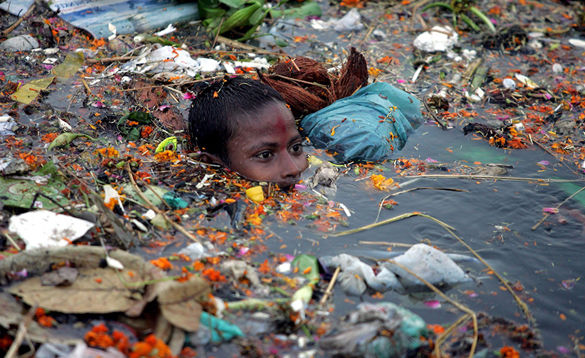 One step into the city and you could notice the lack of basic amenities, hygiene, traffic management and whatnot. Were Vrindavan truly respected by the administration or by the self-proclaimed protectors of culture, its face would have looked much different.
With all these conflicts and shams occurring as a daily norm in the heart of this pilgrimage, how am I not supposed to question the faith of people who run the show. I believe in the All Superior. But I also believe that cleanliness is Godliness, outside as well as within. And this place needs both.
Radhe Radhe!
Tell us about your views in the comments below or here on Tripoto.
Get travel inspiration from us daily! Save our number and send a Whatsapp message on 9599147110 to begin!