In an attempt to carry on the adrenaline fuelled posts I wrecked my brain over what other adventures I partook in whilst in South Africa, and for some reason cage diving with sharks nearly slipped my mind! Not because it was forgettable in any way, but because although it was one hell of an amazing experience, it wasn't one that stirred random irrational fears (such as heights; see my bungee jumping experience!).
Sharks are obviously not an irrational fear. It is very rational fear. They are huge toothy creatures that could potentially rip you to pieces, but, they have not been one of my fears. I think I'd describe my feelings towards them as more of a fascination. Being an apex predator, its large size and the fact it's been on this Earth for what may be millions of years, there's no wonder! So, although it was not on our original itinerary to do so, our tour group chose to make a pit stop along the Garden Route to a place called Mossel Bay (situated pretty much half way between Port Elizabeth and Cape Town).
Our tour guide booked us on a tour with a company called White Shark Africa, and there was nothing to fault with the whole trip! We arrived an hour before the start of the tour, to get settled, grab some breakfast (included) and to watch a quick briefing video on boat safety etc.
Once on the boat, the journey is a short trip (around 10 minutes) from the dock to the shark site! In one sense, this is brilliant, especially for those not too keen on long boat journeys. But, in another it's quite nerve wracking to see how CLOSE these sharks get to the coast! You could still see people sunbathing on the shore! After a briefing about the cage, a little while was spent chucking bait and chum into the waters to tempt the sharks to the boat. It did take about an hour for something to happen, but the island of seals provides some entertainment whilst you wait!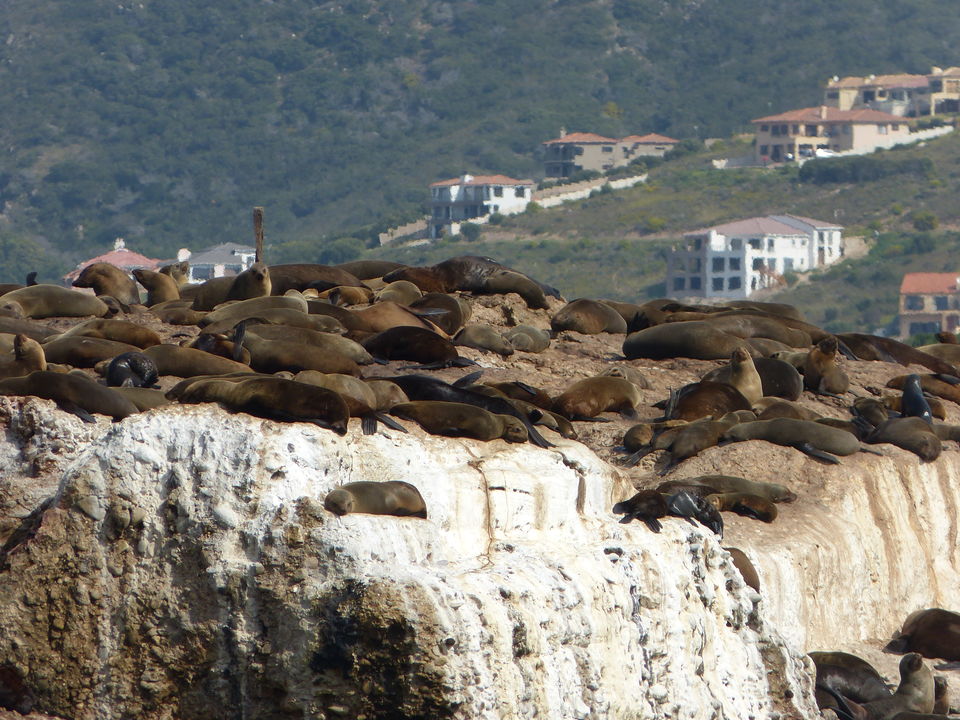 One by one, sharks approached, and one by one, people got into the cage. You are submerged under the water with little but a few bars separating you from this huge predator! Unfortunately, the conditions were a little too dark for my underwater camera to get some shots - but from the top deck of the boat I managed to get some amazing shots of the shark getting up close and personal to the guys in the cage!
It's no Jaws movie. And it was actually a rather calm experience. They move so graciously through the water, with the only time they gave some action was when the bait was snatched away from them! (See photo below!)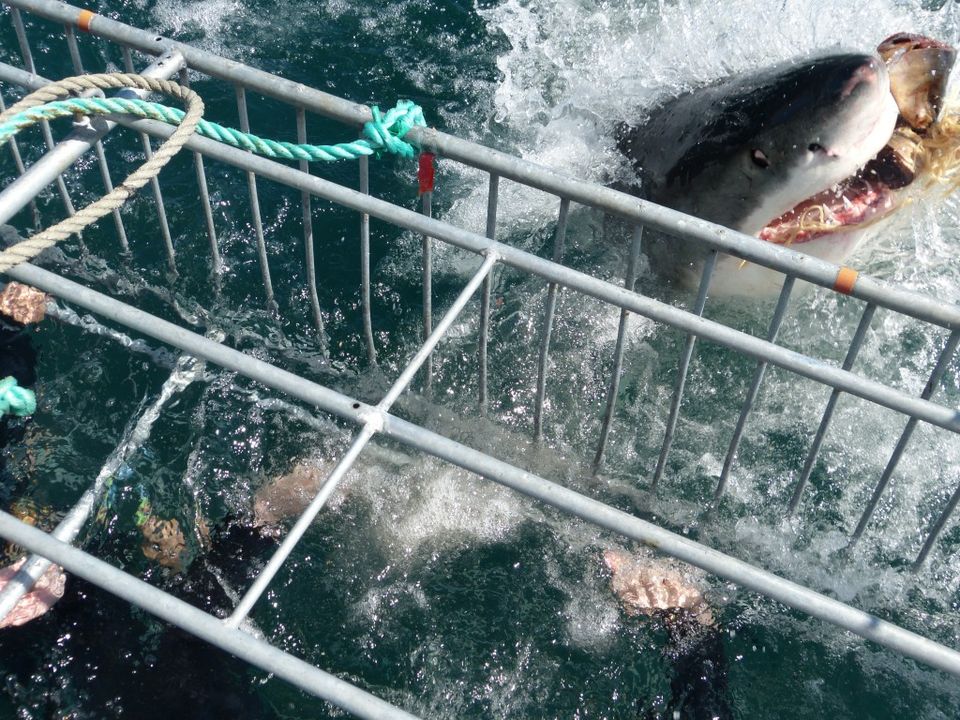 You don't need any experience, as you're just given snorkel masks rather than actual oxygen tanks. Just an ability to hold your breath long enough for you to get underwater far enough to catch a glimpse of the shark!
Have you ever cage dived with sharks? Or maybe something bigger? Or even swam with these awesome creatures without the safety of a cage, then let me know!