Early dark evening, shady streets, narrow paths and butcher shops selling pork and beef at every corner. That's pretty much my first impression of Shillong! FYI, by mentioning all this, I am not portraying the city in a negative frame but a different part of India.
I could sense the vibe more because I discovered most of the things about the place even before reaching there.
While I was studying it, I also learned that the local tribe doesn't understand either English or Hindi. However, it wasn't one of the first impressions.
I shared my cab (Guwahati to Shillong) with two other, one of them was an outsider like me so he knew both and the other one was local who communicated in understandable English. And the driver (who played a vital role in the tour) spoke Assamese Hindi. I was sorted for the time being :)
I didn't make any prior bookings in Shillong for the night. But as long as I had a good internet connection, a hotel for a night was not a pain! Anyways, didn't fret about spending the night. Just needed good sleep and a full belly before I start the ride of memories and only memories.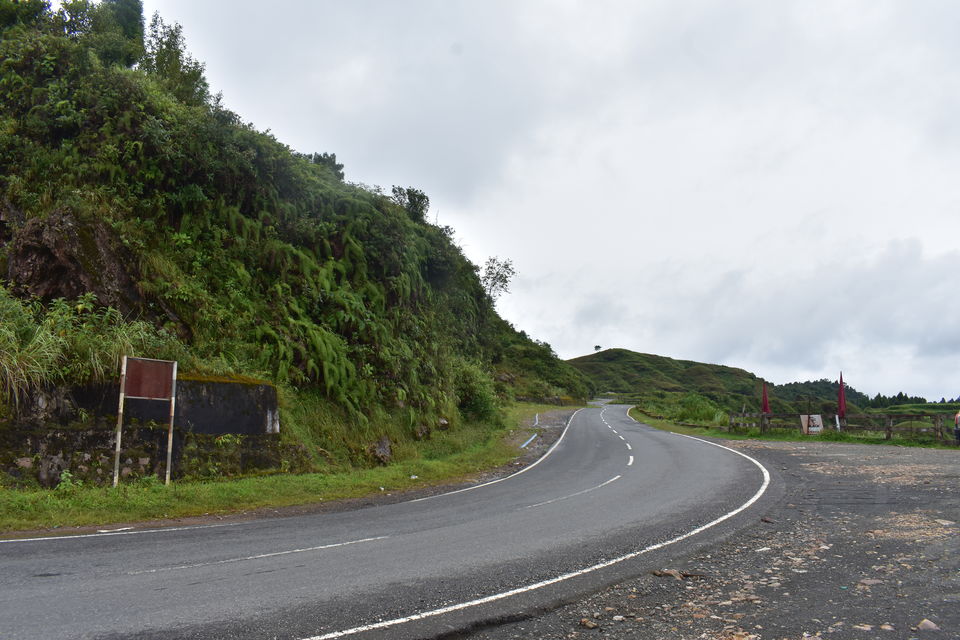 'Love catches you most unexpectedly', 'Opposite attracts', 'No matter what love makes its way through' - All such cute quotations came to life for me.
Despite the first impression, I was in Love.
How? Read on!
It was during the last moment of the planning when I learned about a place which is supposedly the deadliest trek in Meghalaya called Mawryngkhang. Without much thinking and scaring myself by watching any video or blog, I decided to add it in my itinerary.
Coincidently, the first day started with the same trek. The trek starts from a small village 'Wahkhen' in the East Khasi Hills of Meghalaya. There are neither direct buses (Oh! The fact is, you won't see any buses operating in Meghalaya if you see one then consider yourself lucky) nor shared taxi running from Shillong to the village. Also, the road condition of the last stretch is bumpy and damaged.
You need to pay Rs.50 per head to access the trek and a trekking guide appointed by villagers for trekker's safety accompanies on the trek.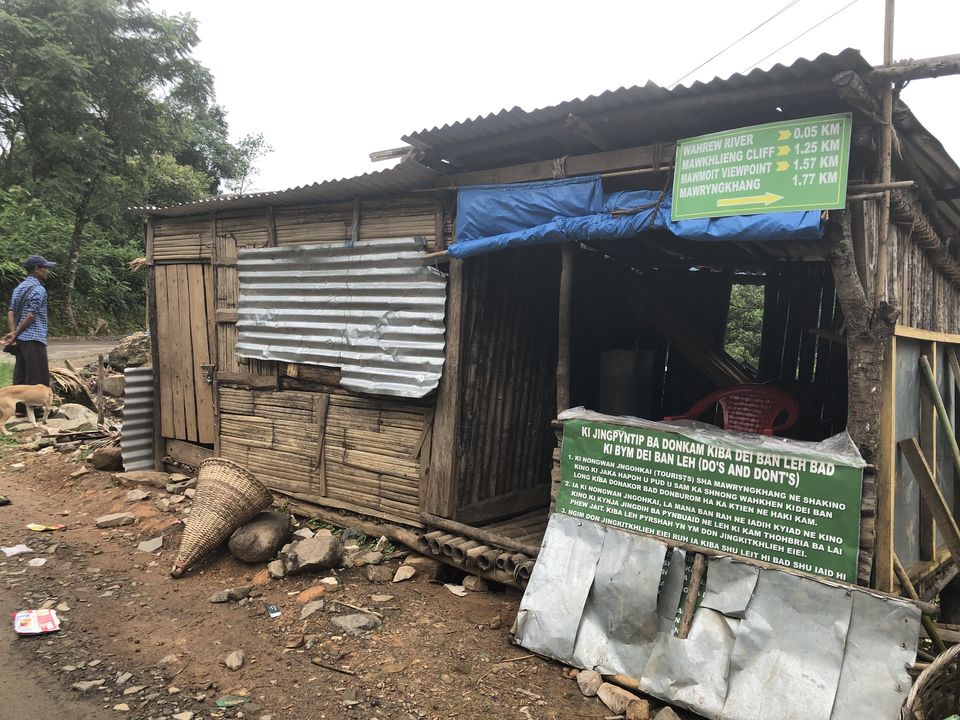 Total trek distance is approximately 4 km and takes 3 hours to complete. Trail throughout is not very steep, on the contrary, there are no regular trails on the trek. You are required to walk on man-made bamboo paths which hang in the air over the edges of deep mountain gorges and rivers.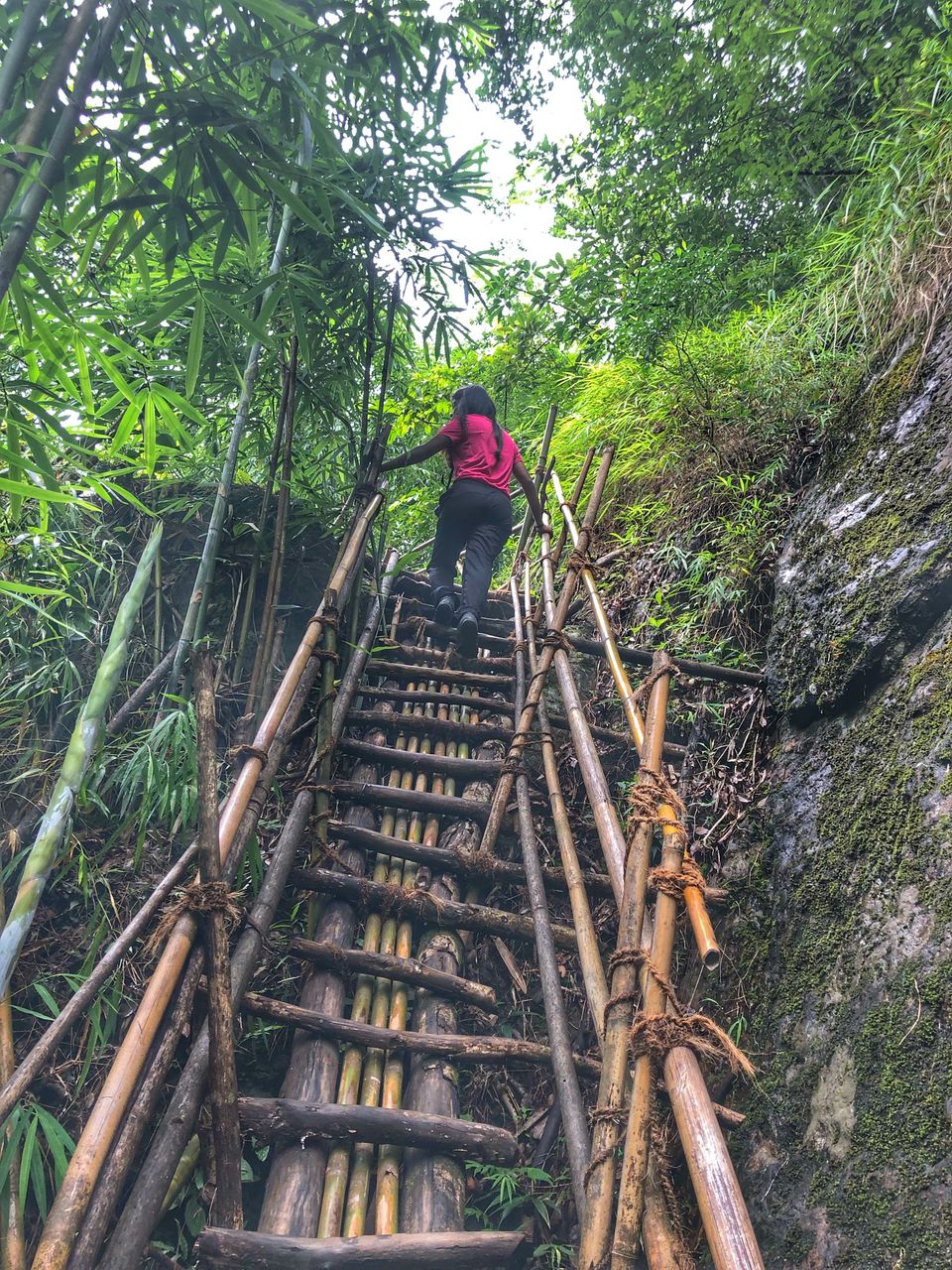 A smart suggestion would be, you should keep walking without looking down if you don't want to thrill yourself. There are a few tricky spots in the trek which look difficult but seem easy once you start the climb. Overall the trek is more of technique and balance than the physical strength and distance. However, you need not wear full gear trekking shoes, good walking shoes that can hold on the slippery base will do the work.
Now the question is, 'Where does this trek end?' It ends at a huge rock which is standing firm in the depth of two mountains. According to the villagers, it is a part of the mountain standing right to it. I know, all this doesn't sound exciting because my narration of the story isn't as appealing as villager's narration. You should hear it from them and you will see the rock coming into life in front of your eyes!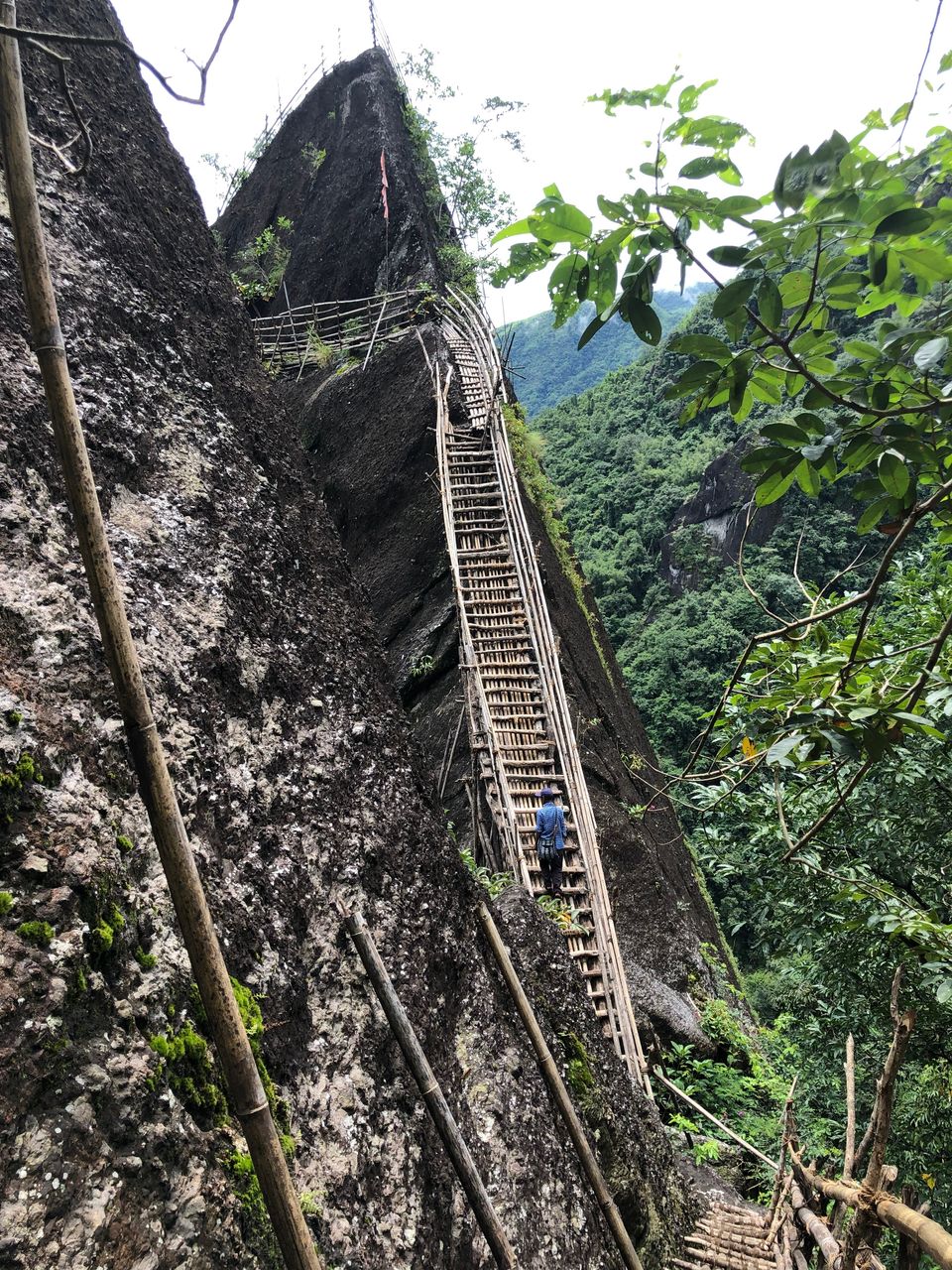 A few pictures to explain the view on the trek. However, it is similar across East Khasi Hills.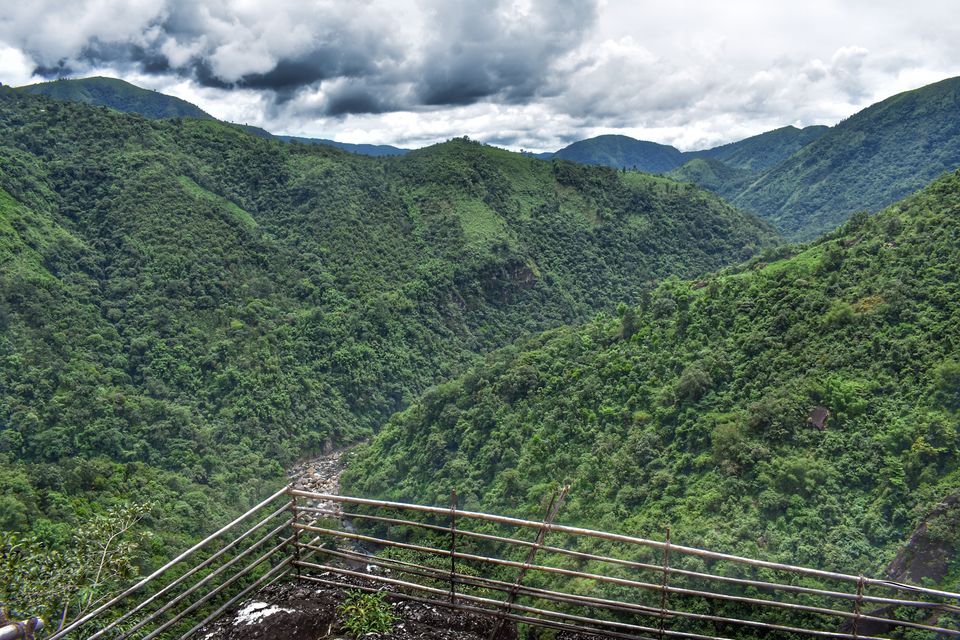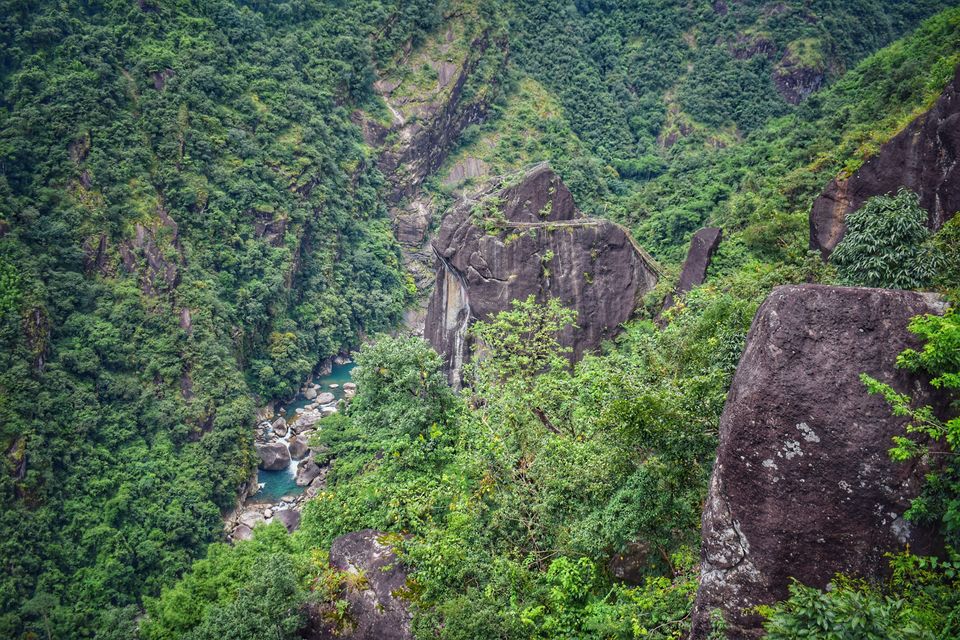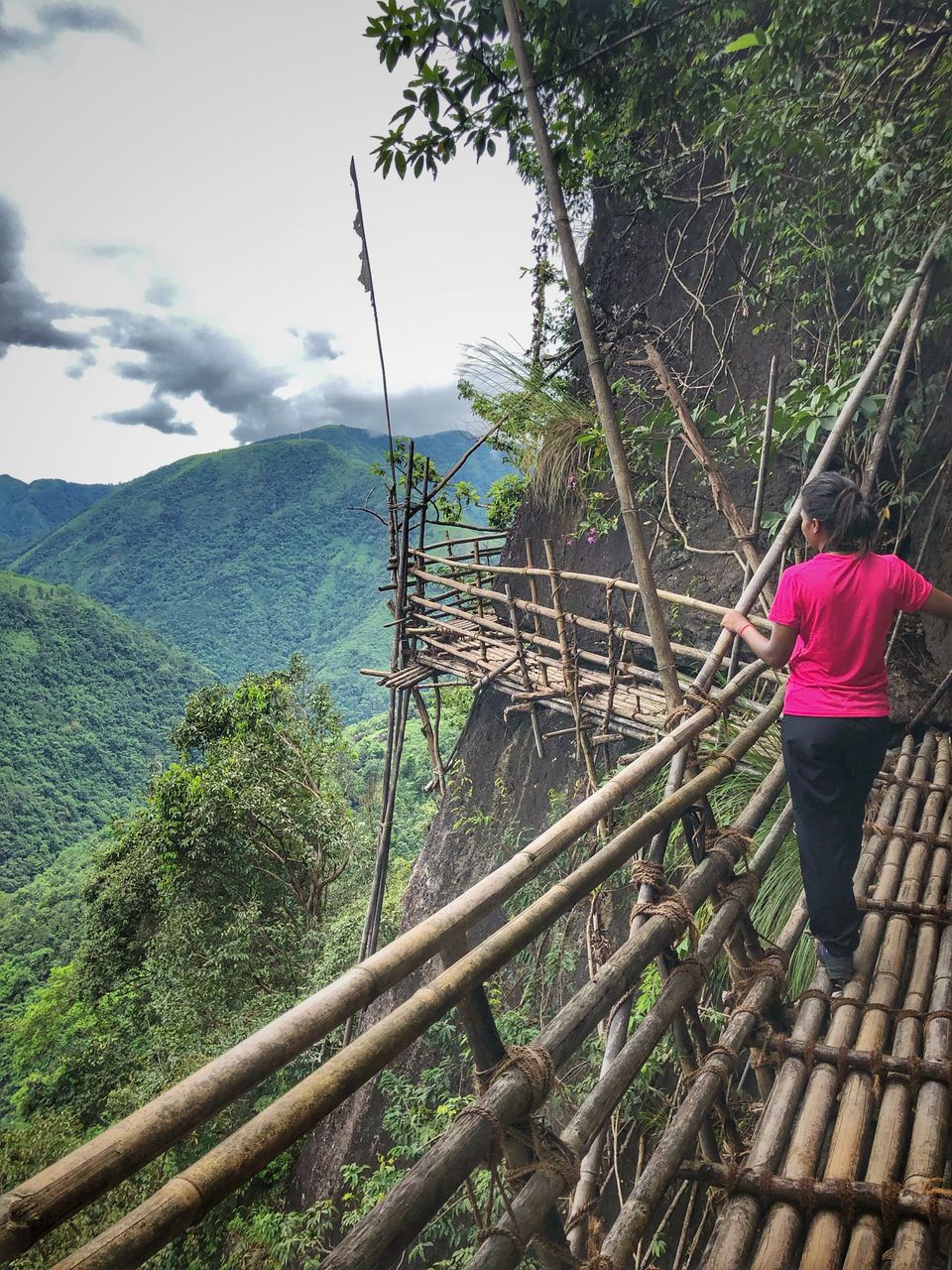 After completing the trek, we left for our next destination. This place was going to be my home for the night and also one of the highlights of my trip.
But let me hold that for the next part!