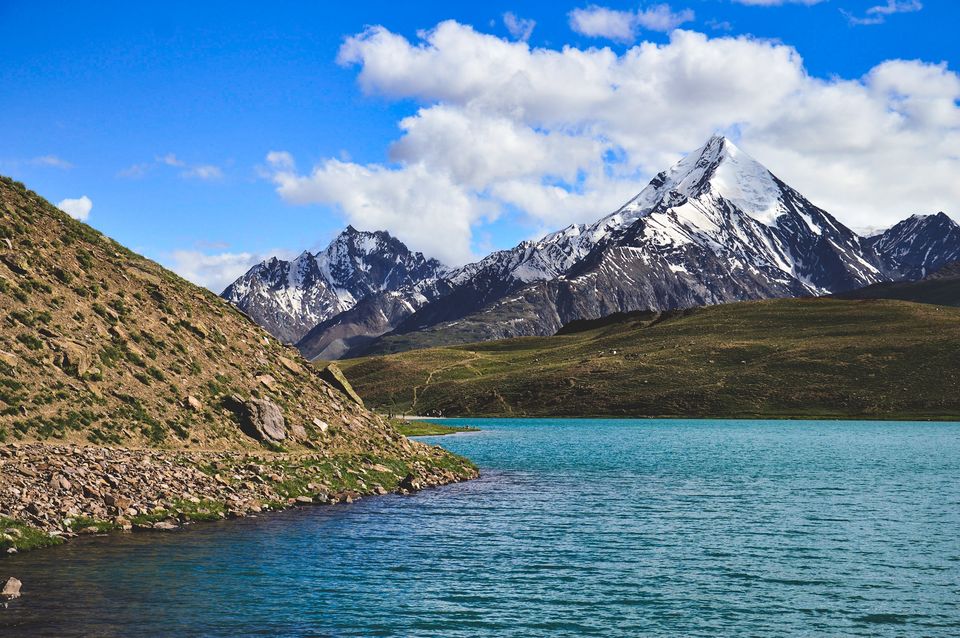 Spiti had been a dream place ever since I got introduced to this charming desert in 2016. I googled up the various places of Spiti, the culture and was very much intrigued by it. On a fine Monday morning, I happen to text my friend to do a stunning cross over trek from Kinnaur -Spiti Ie Pin Bhabha Pass. I knew that this trail and my coming days would be really enthralling and very adventurous because usually people end up in Spiti via car or go by bus. Started my journey from Delhi to Kafnu (Kinnaur) along with my one of my friends. So, it was only two of us. Life happens when you come out of comfort zone and I was ready to embrace the difficulties and challenges. I believe in destiny that is why I happen to share this story whoever I meet. Alone in the valley, only two of us, I met 6 people from Himachal who were on their way to Spiti and cross Pin Bhabha Pass. Trust me Pin Bhabha Pass trek is not for the faint hearted; it is a very difficult trek. Only if had known before I would have prepared myself properly but since the trek was about the stunning cross over from Kinnaur to Spiti, I couldn't stop my excitement and had already had made up my mind to do it. The big day approached when I had to cross a steep gully which was nearly to 75-degree angle darn! I actually about to climb a glacier. This was all going inside my head -
My lungs breathed the wind of the pass, while treading on the snow my eyes felt as if they were popping out because of snow blindness. There was a sense of sudden rush of blood to the head, deep down inside my stomach adrenaline rush was flowing, my foot, palm carried sweat. It was 4 hours of treacherous climb to reach the summit. The trail was slippery every time I looked down it seemed like the gravity is pulling me back, there was no option of injecting the notion of fear. The only thing kept pushing me was the beautiful landscape around me even though enjoying the beauty of nature didn't suffice my limits of going further and further reaching the destination. I was welcomed by two big boulders right beside me (I was moving forward; the boulders were on my right) which were humungous. I didn't know what to do at that point of time. Everything was so bone chilling cold around me; my legs succumbed to numbness due to continuous rainfall in the Himalayas and also while crossing major Glacier Rivers. With my injured foot, numb hands, body carrying 6 kg back pack, my only way to fight this moment was not to think of what could happen on the way, I had given up to think about death climbing a Himalayan mountain which was extremely steep; and I never imagined it would be almost to 75 degree. God had been very kind to me for escaping death, I felt something went awry. To my extreme right I saw the large chunks of boulders passing by me, soil was eroded, wet and lose ground so these were the signs that aura wasn't fine at all. Oxygen was minimal, I was panting as if my heart and lungs were about to burst. 4 hours of struggle and toil, I stood at the top of the pass.
Reaching Spiti was not at all piece of cake but once I crossed the Pass and entered Spiti I got emotional and then I looked around! What I saw was spell-binding – a landscape that was pure white heaven. The feeling was surreal when my dream of reaching Spiti came true. The vast measureless mountains and barren landscapes of Spiti was something etched in my heart forever.
For the next few days, I stayed in the capital city i.e. Kaza where I had pitched my tent and decided not to take up a room. After exploring Kaza, I went to Key Monastery by bus. Key monastery is 14km from Kaza, and 5 km from a small village known as Chicham. Buddhist monks preach the children the notion of wisdom, peace and other religious Buddhist chants. The Spiti river is easily visible from Key which gives a captivating view. I spent almost the entire time watching the landscape, sitting in Monastery and interacting with the travelers from other parts of India. I missed my bus which was scheduled to arrive at 9 Am, as I didn't want to make an early exit from there. I was exploring everything around me, the monastic life of the monks. There were no means of transport to get back to Kaza because buses were available only at one time i.e. 9 am. So, I hitch hiked, till then I kept walking and met a stranger on a bike and two of my friends requested him If I can tag along and give me a free ride. So, I was lucky enough to get a free ride, and I was being dropped till Kaza bus station. It's not over~ I also met the stranger's mother, he invited me to his house, made me drink tea and offered some biscuits. We spoke for about 4 hours and when it was the time to say goodbye - they told me "Bohut Acha Laga Apko Milne, Spiti Phirse Ana" ????
From Key Monastery to Kibber (A small Village in Spiti, 5km away from Key) I hiked and beyond Kibber I went to explore more hidden places. Sunsets are really amazing and eye catching in Spiti . After Kibber I headed towards Chicham: another village in Spiti and I had no place to stay. While traveling in bus, my friend asked an old aged Tibetan man if we can accommodate at his place. His soul was embracing, filled with extreme warmth and affection. Spitians are very welcoming, you will see smile on their face whoever crossing them. He fed me with delicious food (Yak and Goat meat) and good hospitality for three days ????.
The next day, I took a bus from Kaza to Kunzum Pass to visit Chandratal Lake. On my 22 days of Expedition in Himalayas, I have crossed three passes, several valleys and did two treks, total of 70km. First was Pin Bhabha Pass and second was Chandratal Lake Trek, which starts from Kunzum Pass. (9km)
My Chandratal lake stories were the most happening ones.
Himachal is known as Devbhoomi because of its purity and pristine environment. It is an extremely religious and holy place mixture of Hinduism and Budhhism especially in Upper Himachal Buddhism prevails. Camping in Chandratal lake is an offence, one has to abide by the rules and camp 2km away from the lake. Me and my friend pitched my tent illegally near the lake, knowing the fact it would lead us to pay a heavy amount of Rs 10k. Either you camp away (with your own tent) from the lake and pay 500 or pay 1k (without your own tent). - kind of business. I was left aghast at the fact why would I pay for something which I have? Well I didn't really care, but few tourists complained about us camping near the lake. So, they called the police to check on us and what we were upto, how dare we camped near the holy lake.
Believe it or not the gaddis (Shepherds) came up to us tried to refrain these locals who were in charge of the lake, and helped us out to resolve the matter. But they were reluctant for the negotiation and kept on pushing us to pay the money. We said" Hamare Pass Paisa nahi hai, 10 hazar Kaise du aapko'? By god's grace, early morning; one of these shepherds approached us for two days shelter with him along with food and water and escaping those police! I have been very lucky to have known this shepherd who was like a home to us. I learnt about his lifestyle, his life revolved mainly around feeding the goats and taking proper care. Like a nomad he keeps shifting from place to place. He even said "There is 8 months heavy snowfall in Lahaul and Spiti, so we move down (Lower Himachal) Manali". The most interesting part was that these police men came searching for us for we had breached the law, and asked my friend" Why did you come here? You could have stayed in some place" My friend lied that we came from Ladakh (Baralachala Pass). He kept on investigating whether we have good knowledge about the trek, that what are the things we are carrying, the difficulty level of the trek. The next day we were planning to leave Chandratal at the fact that these police men would make us pay 10k for criminalizing. So, the Shepherd was being questioned "Ye Do Kaha Hai?" luckily, we went a bit far from the lake to enjoy the nature. He replied "Pata Nahi Kaha". When we came back, the Shepherd told us the way and the escape route. It was very daring at the same time nervous. More or less I felt like a mission to be accomplished and a spy kid where I finished my assignment.
Escaping the police next day, and hitched hiked towards Lahaul (Batal) from Chandratal Lake. The river Chenub was passing by me. Every time I could hear the reverberation of the currents brimming with effervescence. I was the lone solitary walking down this enigmatic valley. When cars overtook me, strangers would smile and giving me thumbs up saying "Good going keep on moving" I missed my bus again from Chandratal lake which was scheduled to arrive at 4pm to reach Lahaul -Batal(15km). The sun was setting down; it was getting very dark. Hiking wasn't easy for me to reach Batal within a short span of time. (15km). Good fortune has favoured me throughout the entire expedition.
Seriously I had no idea, that I would come across a car which would give me a lift till a point which was my final destination. I prayed to God desperately so that I feel safe and someone sees me during this solitary journey. I am so sure he is out there in the universe watching everyone. Well for me he did listen to me, my heart and my soul. I swear at that moment I had no words to say. These were my words." Hey god someone should give me a lift till the destination where I want to be. As I turned back it was that car, he stopped and he asked me where I am headed to. I was left aghast and perplexed. I was so happy that indeed God listened to my words. I absolutely had no idea that this car would the one to give me lift. I saw a car with a group of people impeding from the other side of the mountain, and asked where I am headed to. I told them my destination and within few hours I reached Lahaul.
I didn't plan for this to happen, I committed to my travel plan, some things changed and rest is history. I decided to head to back Kinnaur after successfully accomplishing my dream trekking route and ending up in Spiti. How I remember, I never planned to visit all the places of Kinnaur. All this time, I swear it was luck that was on my side all the time.
On my way back from Lahaul and Spiti while heading toward Kinnaur, the bus was really packed and there was lot of hustle bustle. Two aged women hailing from Kinnaur wanted the bus seat, so my friend had provided seat for these elderly people. When I arrived Kinnaur they asked me if I am facing any problem telling me "We can accommodate you" I didn't want to bother those two aunties, so I decided to book a room. Mornings couldn't have been better and Blimey I bumped into those two aunties by chance where I met them in Spiti and my friend did a noble thing by giving away his seat to them. Believe me, good people do exist in this world. I believe in KARMA you don't meet people like, there is a reason. I befriended them; they took care of me; provided accommodation for almost 4 days with food. They treated me as if I am their child. They took extreme care and I felt really blessed. I met their family and their children whom I befriended them too. All the expenses and places have had been borne by them. I was extremely lucky to travel to all the places of Kinnaur ie- Sangla, Chitkul, Batseri, Kalpa, Rekong Peo, Roghi, Saharan, Rakham, Karcham.
21 days flew by only to realize that so many things had happened as if few years have passed by. For the next few days I decided to hault in Manali after a tiring journey from Lahaul- Spiti and Kinnaur. It was my friend's hotel, so my accommodation and food expenses were covered up. I went to see some few places around Manali like Nagar, Old Manali. I guess everyone dreams of going on a long trip in a short budget and it was ME who achieved it very successfully.
Well this was all about my journey: it is a surprising thing to see with that amount, how I managed to pull it off. And it was exactly 4.2k cash that I spent from Delhi – Delhi. I have never encountered such a wonderful experience in my life where the trip unfolded on its own way. I reminisce every moment of my Spiti trip: the fairytale voyage.