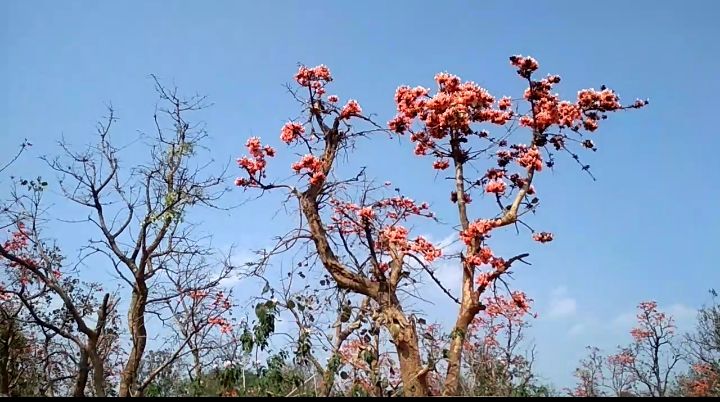 Location : Enroute Dassam Falls near Ranchi
Best Time to Visit : February to April
Once in a while, you take a path to a destination that inks in your mind a poetry in nature. Following one such path, 45 kms from Ranchi, is a road that takes you to a late autumn or an early spring wonderland.
            The vibrant colours of the palaash and Seemal trees that line nearly 20 kms of the Highway and Village road Enroute Dassam Falls definitely gives a beautiful illusion of forest of fire. It isn't a sylvan jungle but a saffron road. Near the heart of our country, a treasure nestled to be feasted upon by the senses. The soft breeze makes the long drive cosy at this time of the year.
            The early spring sky , clear with the cottony fluffiness of the clouds creates a photogenic scene that gets imprinted on your mind. We took the ride on our Thunderbird across this scenic route drenching ourselves in the hues of pre-festive vibes of Holi. It was like the Nature's "Sindoori" Abeer sprinkled over the wilderness of the world.
                  Even the destination, Dassam Falls, didn't fail to enchant a wanderer's heart. Although the water in the falls is not as much as it is in the rainy season, thus, this time of the year calls for a safe dip in the fall (although the water falls from 144 feet), yet there are safe bathing zones too.
P.S. If in Ranchi around the spring season, walk into this saffron land of Fleurs.
#Bespectacled_Adventurer
© Nishtha Mishra,2018