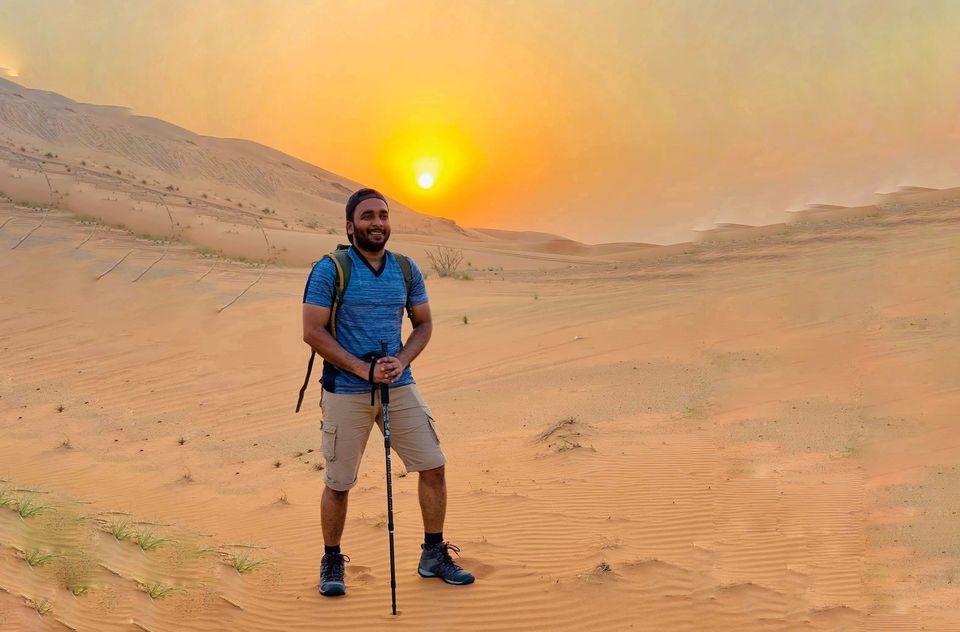 An Evening Expedition to a rock mountain in the midst of a desert known as Jebel Maleiha AKA Fossil Rock.
The reason it is been called as the Fossil Rock is that a lot of Marine fossils were found from this mountain and surrounding areas in the past. A real example that this place was a sea bed years ago.
An off-road drive for 5 minutes from one point of Sharjah Kalba highway leads to the hike start point. 95% of this hike is covered through the sand dunes.
People have collected lot of fossils from this place in the past. It can be still found at the top if one can climb up. This place is also known for dune bashing. A lot of SUV's can be found there in the weekends. Sunset view is beautiful from this place, so I recommend doing the hike in the Evenings. Even though the hike is short, walking in the sand requires double pace.  Easy hike. Anyone with average fitness can do this.
Total distance covered - 5 kilometers.
Time Taken - 4 hours with multiple breaks.
Tips:
* Carry Minimum of 3 liters of water, energy bars etc.
* Hiking poles and shoes are Must.
* Head lamps or torch is must when you do this hike in the evening.
* Never do it alone if you are a first timer. One can be easily lost in the desert.
Ping me if you would like to do this expedition.
#sharjah #visitsharjah #hiking #trekking #uae