A long weekend at the end of Aug 2017 allowed us (me & mr. husband ????) to plan this weekend getaway to Dharamsala/McLeod Ganj. 2-3 days are enough to cover most of the local sightseeing in and around Dharamsala.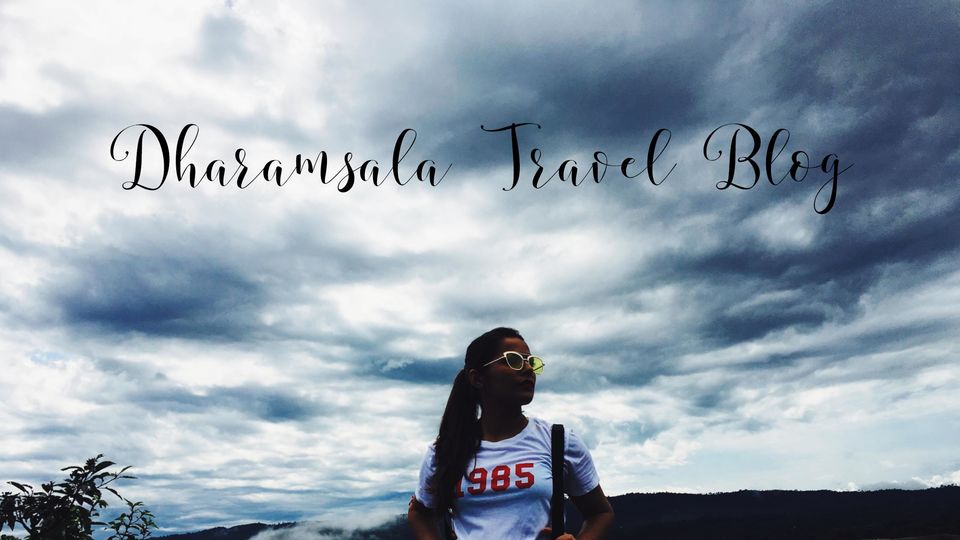 Late June to Mid October is usually the off season in most of the tourist places in Himachal and Dharmshala is no different. Picking late august weekend for this trip was not a conscious effort but as it turned out it was the best time to visit this beautiful city. (Revelation ahead) ????
The most common route to reach Dharamsala is by road. The distance from New Delhi via Chandigarh-Una-Dehra route is about 600kms. You can also reach Dharamsala by air. Dharamsala airport is located 14kms away from the city at a place called Gaggal near Kangra. Although there is no direct train route available to reach Dharamsala but there is an alternative train route till Pathankot. The distance from Pathankot to Dharamsala is only 90Kms and you can book a taxi or take a bus from there to reach there.
We decided to travel by bus and picked night travel to avoid jammed roads. We picked the Volvo Services of Himachal Roadways over the private bus services as the feedback from few friends combined with website reviews suggested these as more reliable and punctual. The reviews turned out to be all but true.
It was raining in and around Delhi NCR and in fact whole of North India the week that led to our departure date - Thursday Night - 31st August; We started doubting our own timing of the trip once we saw rains lash Delhi NCR that week. And on top of that the forecast for next 4 days, till 3rd of September was not promising as well.
Weather apps showed thunderstorms with 100% chance of heavy rains in Dharamsala. Well, all I can say is that odds were really not in our favor . Our minds were like "Ahhhh, much anticipated trip, our first after marriage (excluding honeymoon in Bali here), will this be reduced to painstaking bus travel in mugged roads and hotel room lockdown in torrential rains and thunderstorms??? ????????
In the thick of sloppy Gurgaon traffic on a rain hit evening we started our quest to catch 8:50 PM Volvo bus from Kashmiri Gate Bus Station. Just in the nick of time we could board the bus as they moved it dot 8:51 PM much to our joy - the choice of bus service made considering the scheduled departures and arrivals has proved right for now.
Slowly and steadily, as the wet evening was engulfed by the night clouds filled with rains - we escaped Delhi.
Overwhelming the stubborns showers our bus moved at a fair clip and we started enjoying the downpour more and more, setting aside all the reservations related to probable obstructions due to it. Before we realized we stopped for our Dinner at Vivaan resort near Karnal. Usually state transport buses stop at messed up places but this one was decent for a change. After a standard 30-40 minute halt we zoomed passed Chandigarh and tried to get some sleep. We made another stop around 4:30 am in the morning near Una- 100Km away from our destination. It was the near perfect time to sip a cup of tea while the morning mist was in the air.
From Una the hill drive starts, the roads though are pretty good and estimated time to reach from here was 2.5 hours. The best part about these 100 kms was the fact that you can enjoy the sun slowly peeking it's way out to illuminate the beautiful Himalayas. 90% of the fellow travellers were deep in their sleep during this stretch, but we enjoyed these early morning settings to its fullest.
So we finally arrived at Dharamsala around 7:15am. We were welcomed with light drizzle and dark clouds in the sky.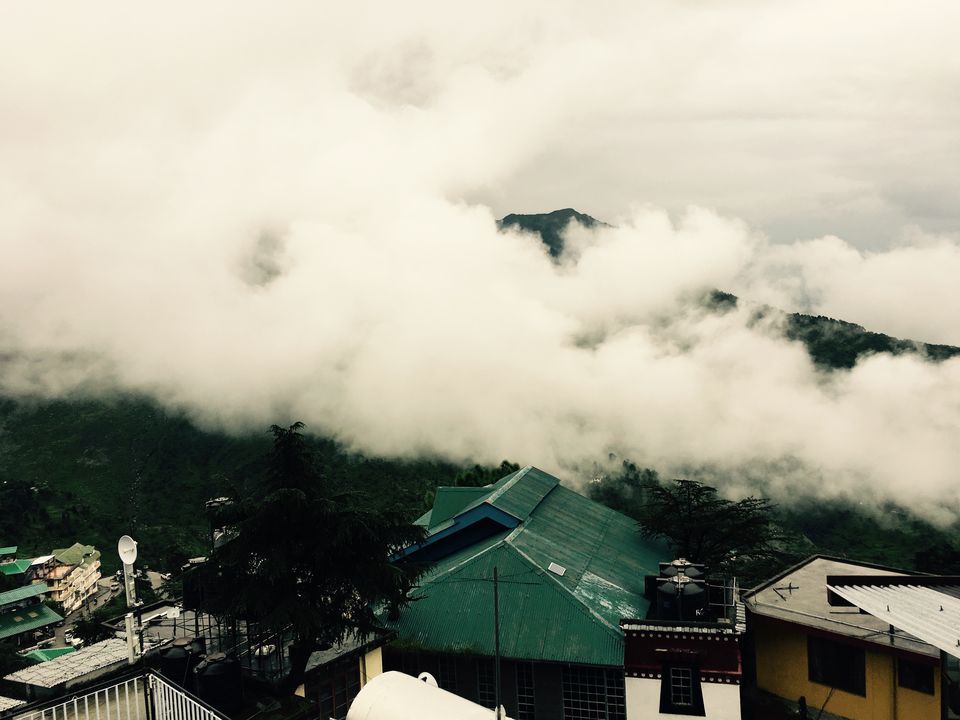 Dharmshala the district headquarters of Kangra is surrounded by lesser Himalayan mountain chains knows as 'Dhauldhar ranges'. These mountain ranges seemed like trying to peep into the morning of the city through the white clouds.
Our hotel was very close to bus stop, a taxi dropped us. The location of the hotel was quite amazing with full view of Dharmshala town and nearby places. The wider landscape and distant lower mountain ranges looked absolutely serene.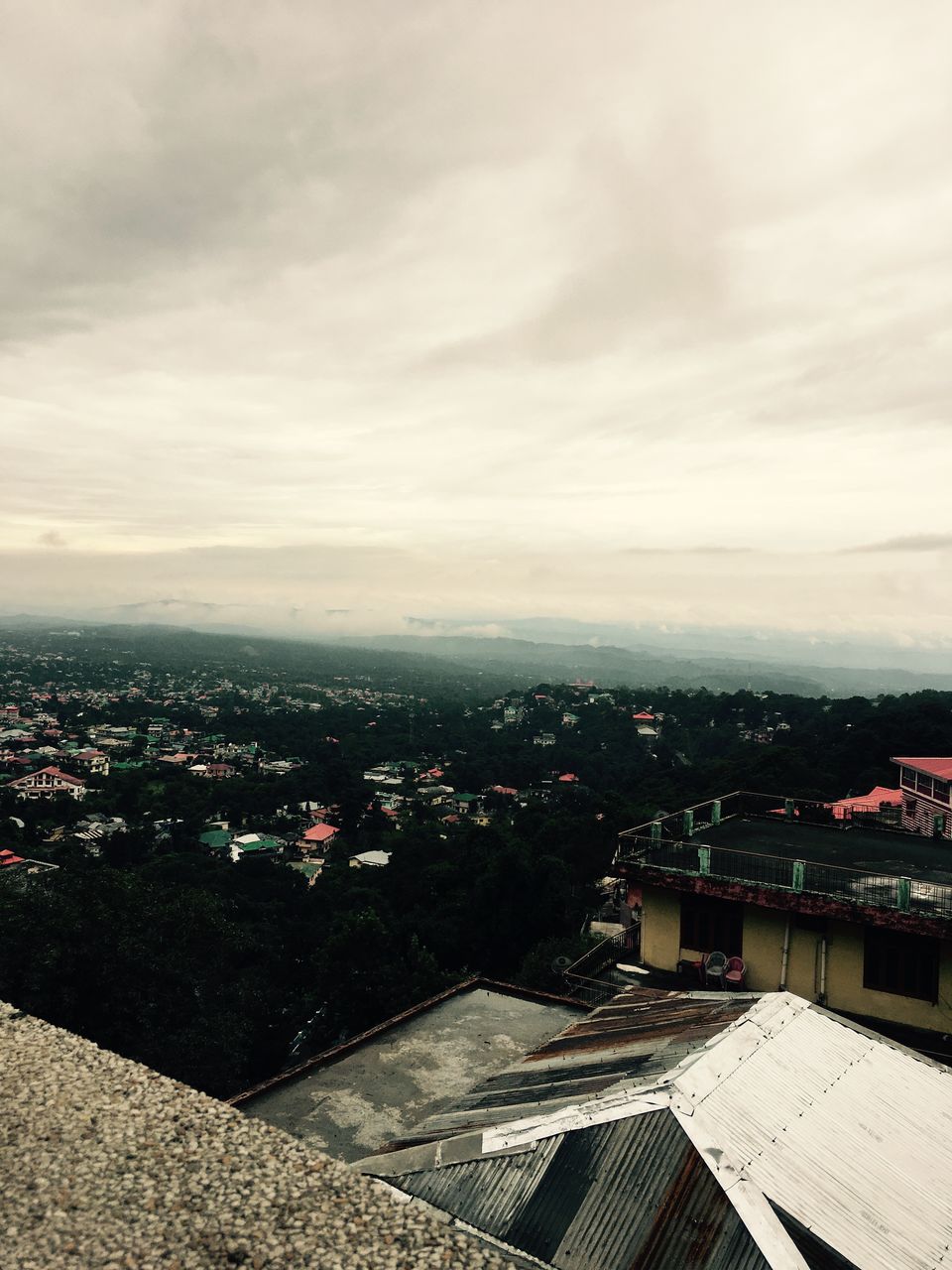 After checking into cute little Hotel Inclover we were raring to go for a local sightseeing tour on Friday afternoon.
We skipped the idea of having Breakfast at the hotel and instead had hot samosa and tea at a nearby food joint. Around 12:30pm off we went for our local sightseeing.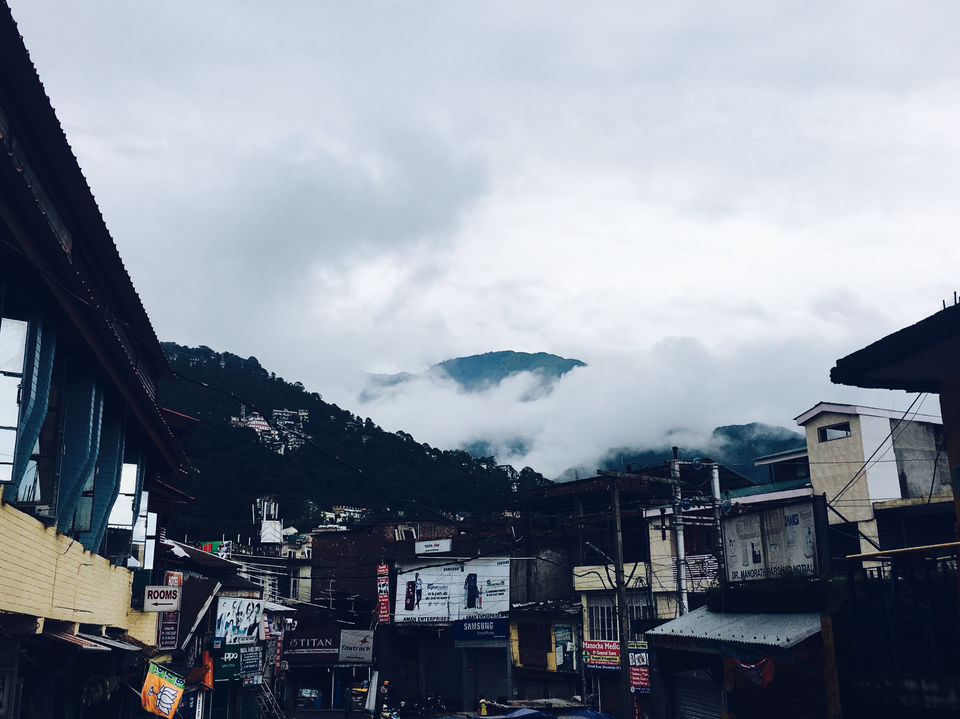 We had quite a list of places to cover on Day 1. Naddi View Point, Dal lake, ST. Cathedral Church, Streets of McLeod Ganj, Dalai Lama Temple.
The first point of interest pinned by us was Naddi View Point.
Naddi View Point Located about 7Kms away from Dharmsala, this popular viewpoint gives you majestic view of mountains covered with snow. Thanks to rain & off season the footfall at that time was not much. We could not trace the snow filled mountains due to overcast conditions, but the view we witnessed was not any short of breathtaking.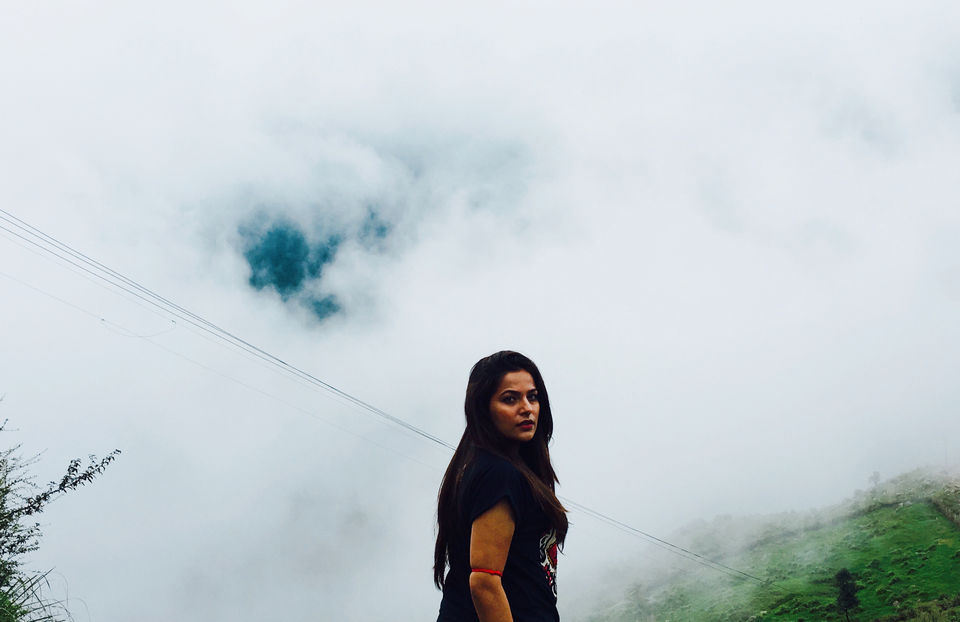 Tiny droplets falling down from a murkier sky and a grand view of clouds hugging the mountains. View from this point could not have been more astonishing.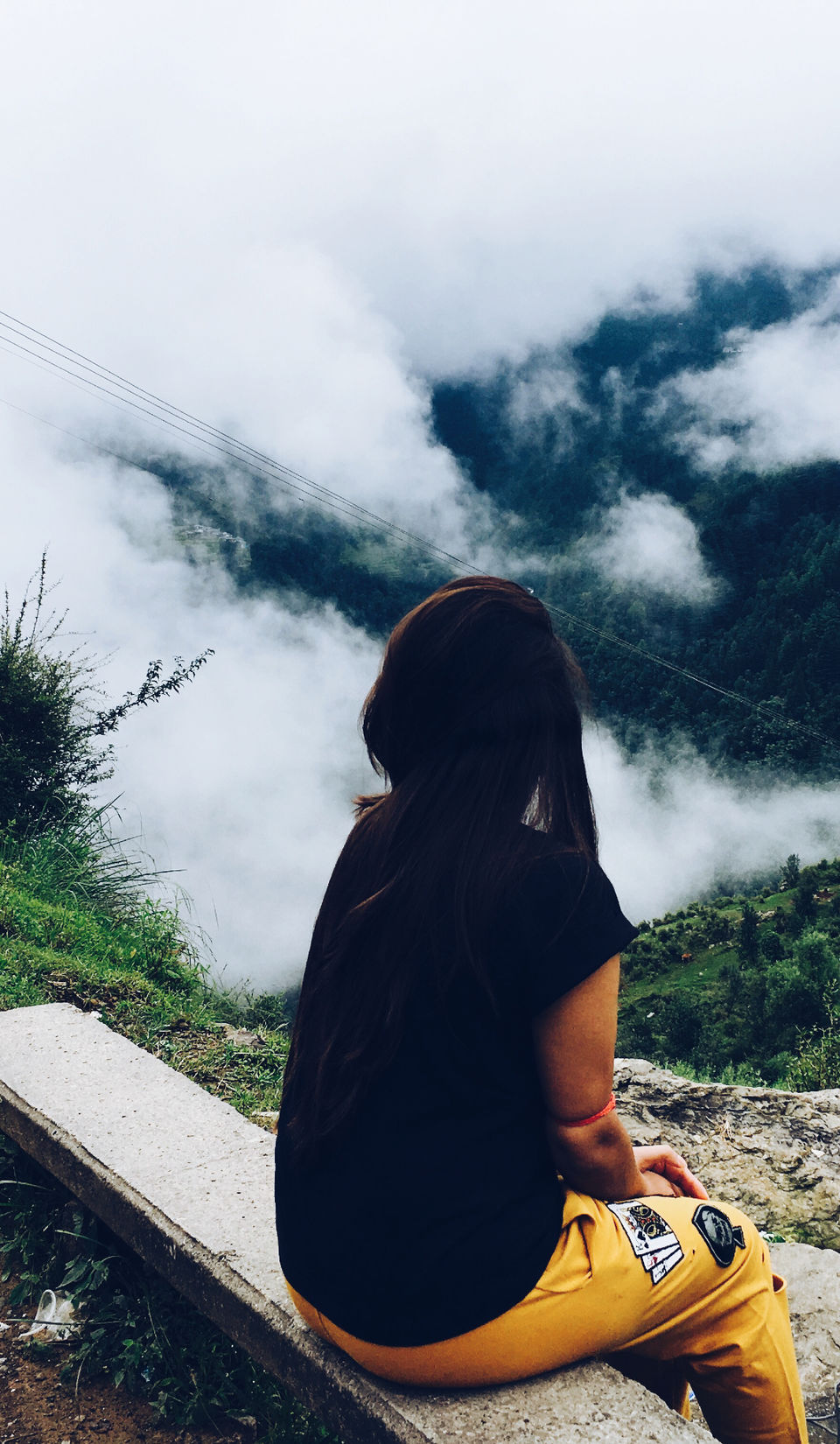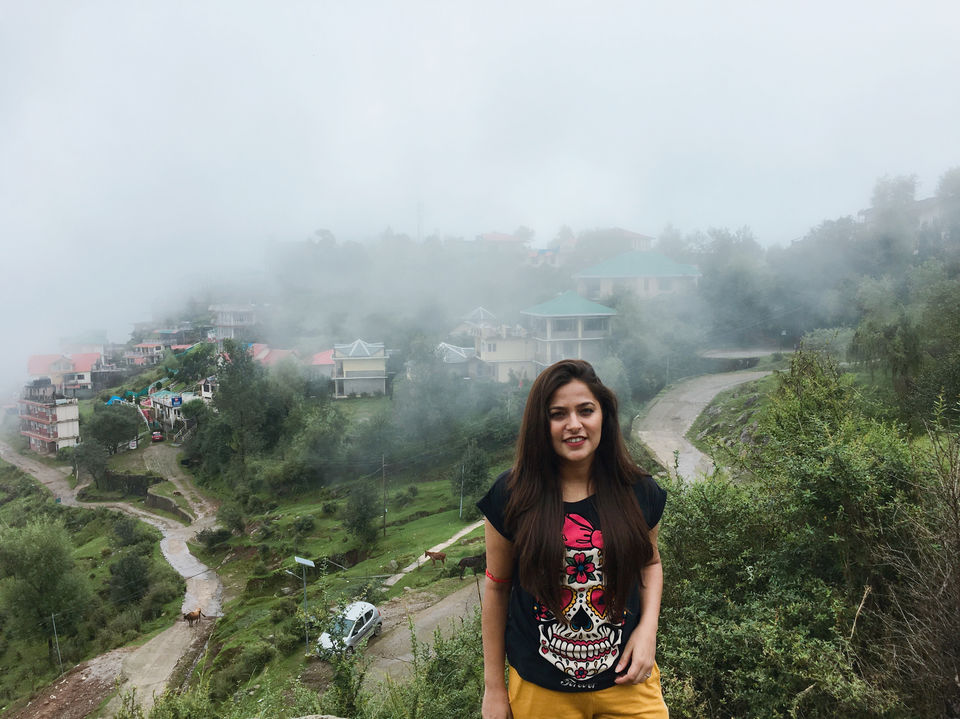 We waited there for only 10-15 minutes, took few pictures. As the rains were getting slightly heavier, and we were yet to buy an Umbrella, we decided to move to next sight of interest.
Dal Lake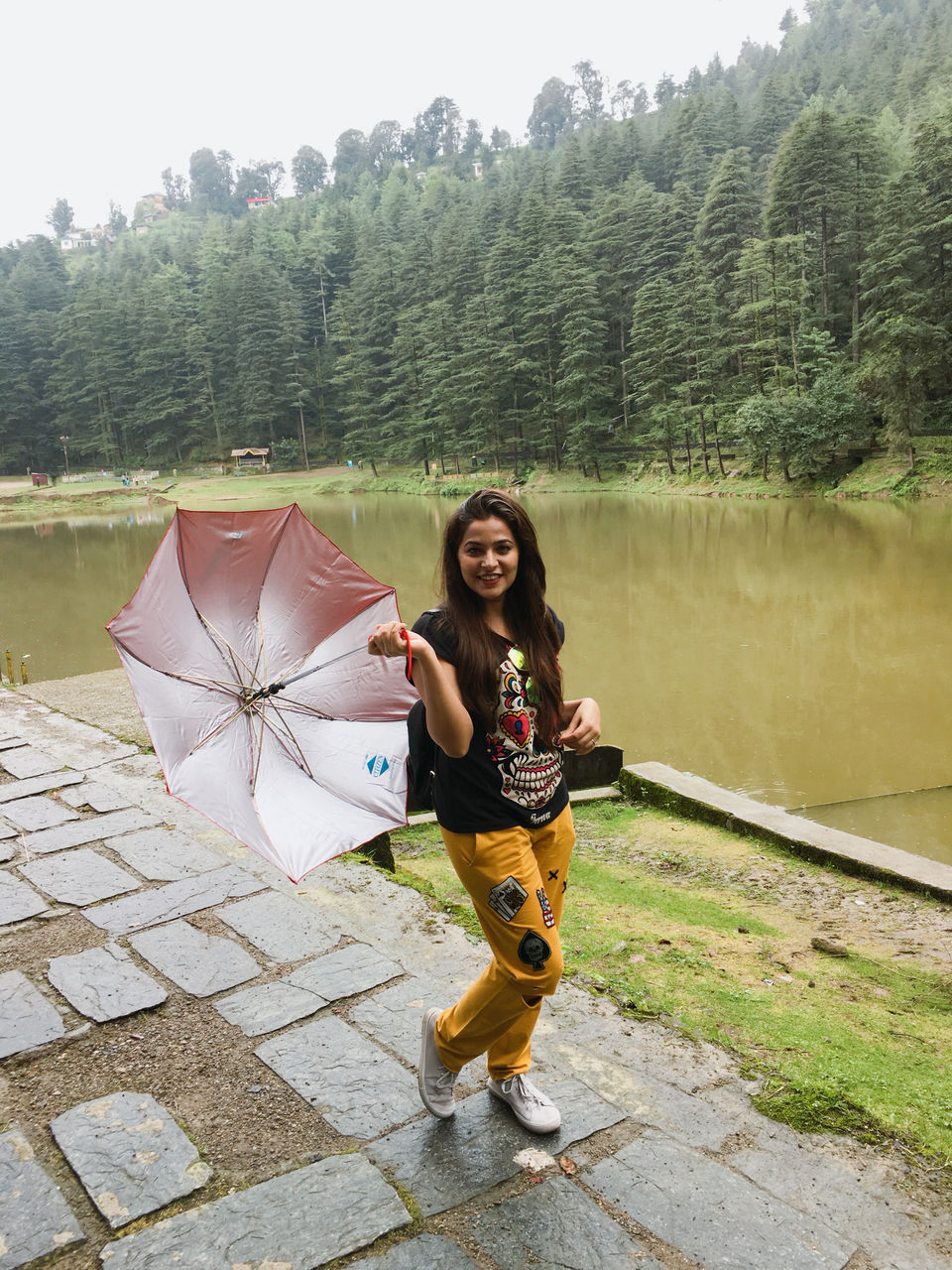 It's small lake nearby Naddi View Point. You can enjoy the freshness of the weather here. You can grab a snack here too. We finally bought a much needed umbrella, which was going to be more than handy for next 2 days.
St John's Church Next we went to St John's Church which is located on the way to McLeod Ganj. This church is located in the middle of deodar forest and church compound brings a sense of calm.
Built in 1852, St John's Church takes to close to the Historical glory of this architecture.
After St John's Church we decided to move towards McLeod Ganj, and went to Bhagsu. Bhagsu is 1km away from McLeod Ganj market and gives the feeling of a small village. Bhagsunath temple and Bhagsu waterfall are the main attractions here.
As the rain picked up and we were starving too we decided to have lunch at a local restaurant. Due to the incline weather we dropped the idea of visiting the waterfall, which is almost 20 minutes walk from Bhagsunath temple. We reserved the waterfall visit for Monday. We decided to come back to McLeod Ganj market around 4 in the evening. With rain settling down a bit we decided to take a stroll in the market lanes. It's a small market with cute little cafe's and restaurants to fill you up.
Located at a distance of around 800m-1km downhill walk from the main circle of the market is the Dalai Lama Temple (Monastery). We visited the temple around 5Pm .The other attraction is the Tibetan History Museum in the Dalai lama complex itself. It's worth visiting to know the History of Tibet and more details about how Dalai lama took refuge in India in 1959.
In the temple compound you can see the residence of 14th Dalai lama as well. After hanging around for half an hour or so we decided to leave for our hotel for much needed rest. We had our dinner in the hotel itself and slept early to be all charged for next day's excursion of Kangra fort.
Day 2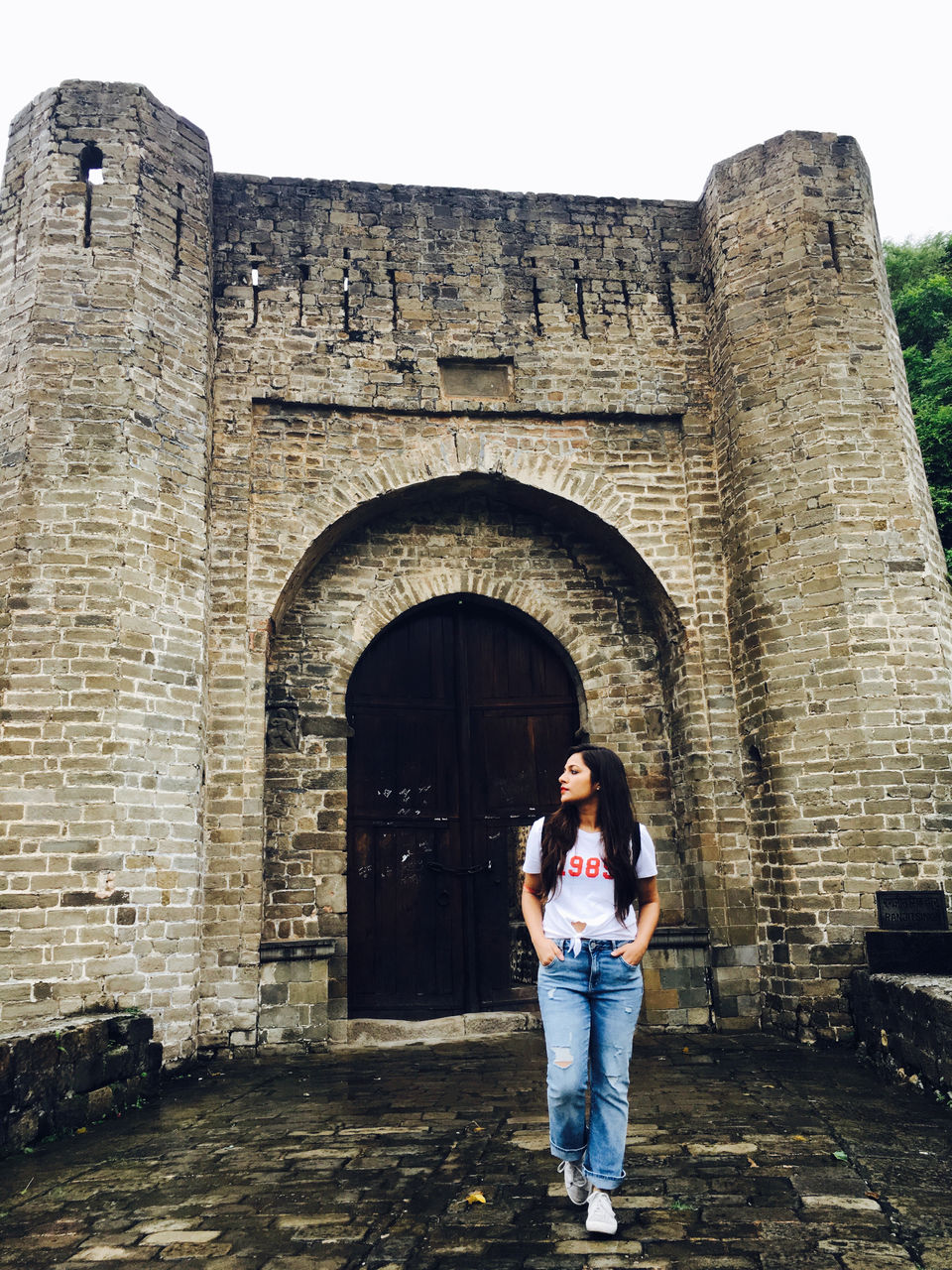 Located on the outskirts of Kangra, around 20Kms from Dharamsala, the fort of Kangra has a rich history to begin with. It is believed that the fort was built 3500 years ago and many rulers ruled this fort which is spread in 4 km area. Kangra Fort
The entrance to the fort is Ranjit Singh Gate. There are other gates in the fort as well, made by various rulers from different dynasties. From here onwards, a long and narrow passage leads to the top of the Fort through the Ahani and Amiri Darwaza(gates). There are couple of temples in the fort as well.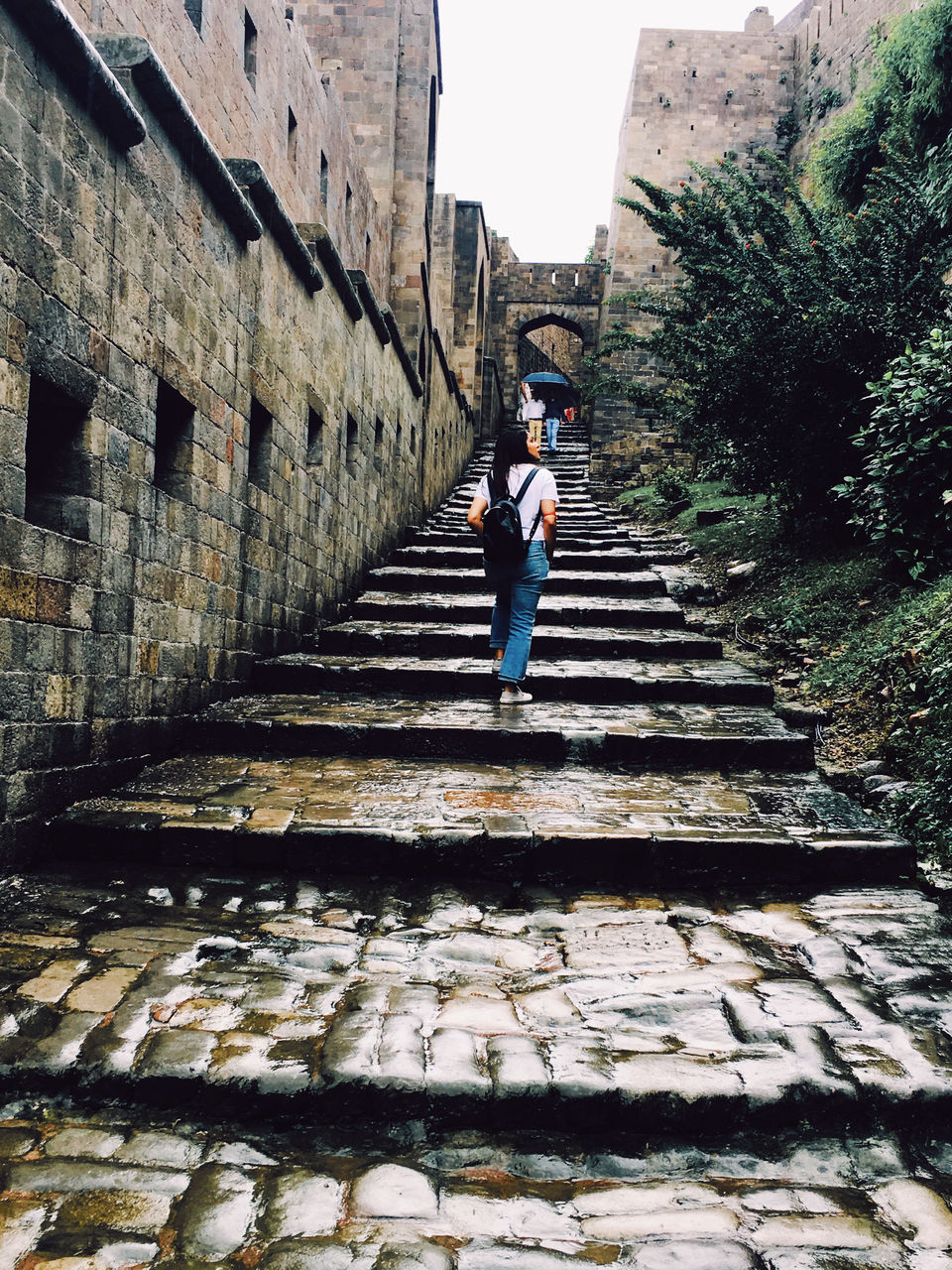 The entry chargers to the fort is just Rs15. When you get near the main Darwaza, you can feel the ancient history of the architecture.
We took few pictures near the main darwaza, the hues spilled by the monsoon clouds in combination with the rustic backdrop of this archaeological classic calls for some pretty cool pictures.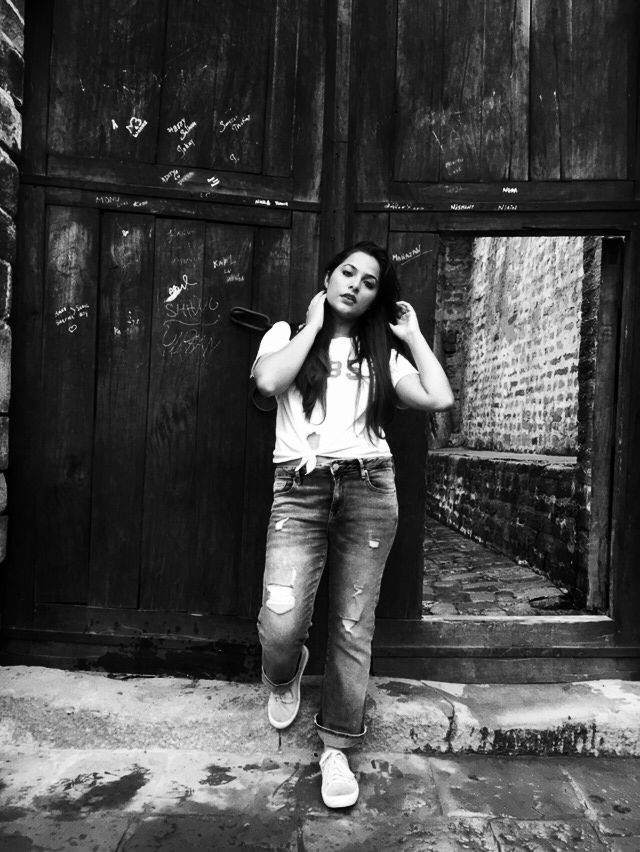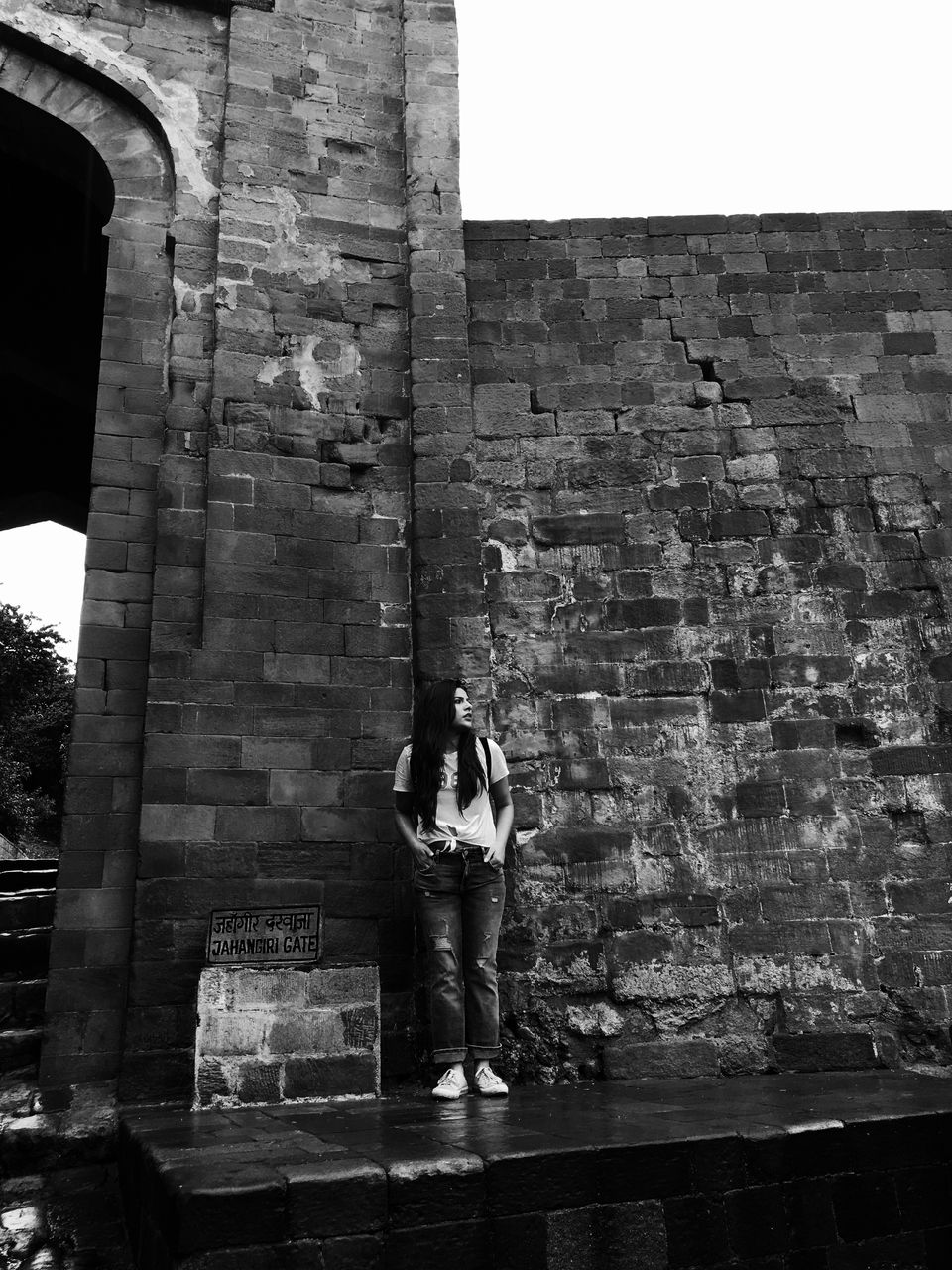 As the droplets started falling coming rapid and bigger in size, we picked up our saviour umbrella and started marching towards the top of the fort. The best thing about sharing a smaller umbrella with the love of your life is that, you be real close while walking in the rain... and this was the best weather and setting for walking holding hands and being close. ☺️????
As we moved higher, the scenic mountains started revealing themselves, and obviously we took more pics.
It takes about 20-25 minutes to reach the top most darwaza of this fort. A larger compound opens at the top, with ruins of temples and fort walls.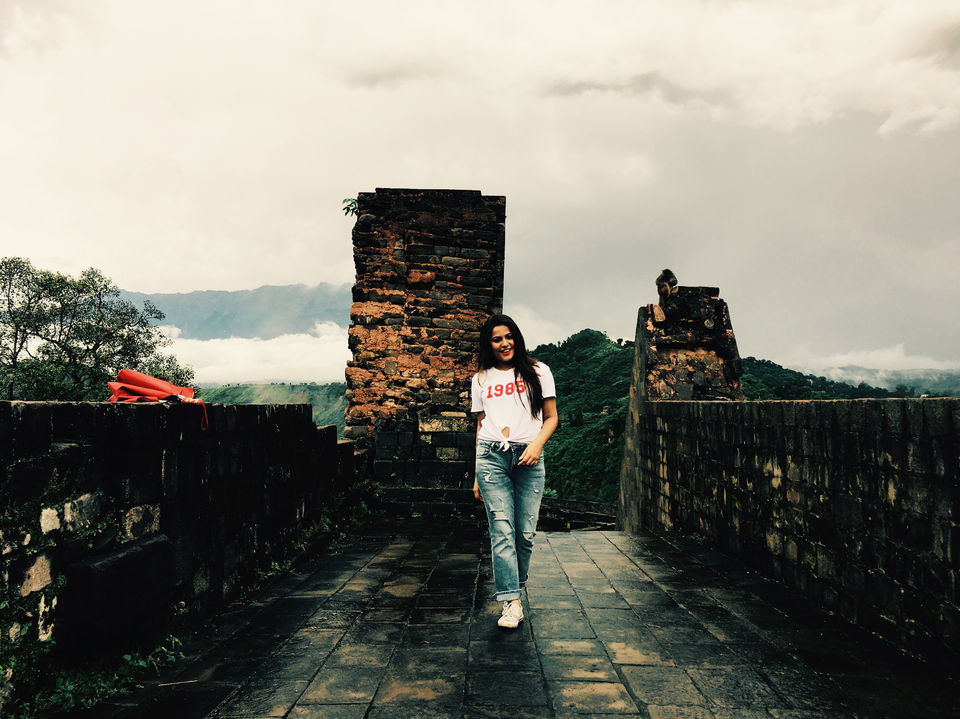 From the zenith of the Fort you could witness a 360 degree view of the surroundings. You may feel at the top of the world for a moment or so. This may sound an exaggeration to some but the exotic weather conditions just amped the feeling of being at the top of that Fort 10 folds.
Beware of the monkeys there, they may not be an immediate threat, but refrain carrying food with you.
As the weather cleared up, and sunshines gulped the gloom, the hill tops covered with deodar tress had a new sheen on them. Sun rays waiting to peep from dark clouds for couple of days now, apparently made the weather hotter than the warmer. Descending back through all the gates soon, we started missing the rain....
By the time we reached main Kangra City we were starving and we decided to have lunch at the hotel restaurant.
After having lunch, around 4:30 in the evening we reached Dharamsala Cricket Stadium. Many would say what is there in a cricket stadium. Buy guys this little beauty should not be missed if you are visiting DS. I had seen this stadium in the live cricket broadcasts and heard many comments about how mesmerising the setup is with snow filled mountains in the backdrop. Well, it is mesmerising.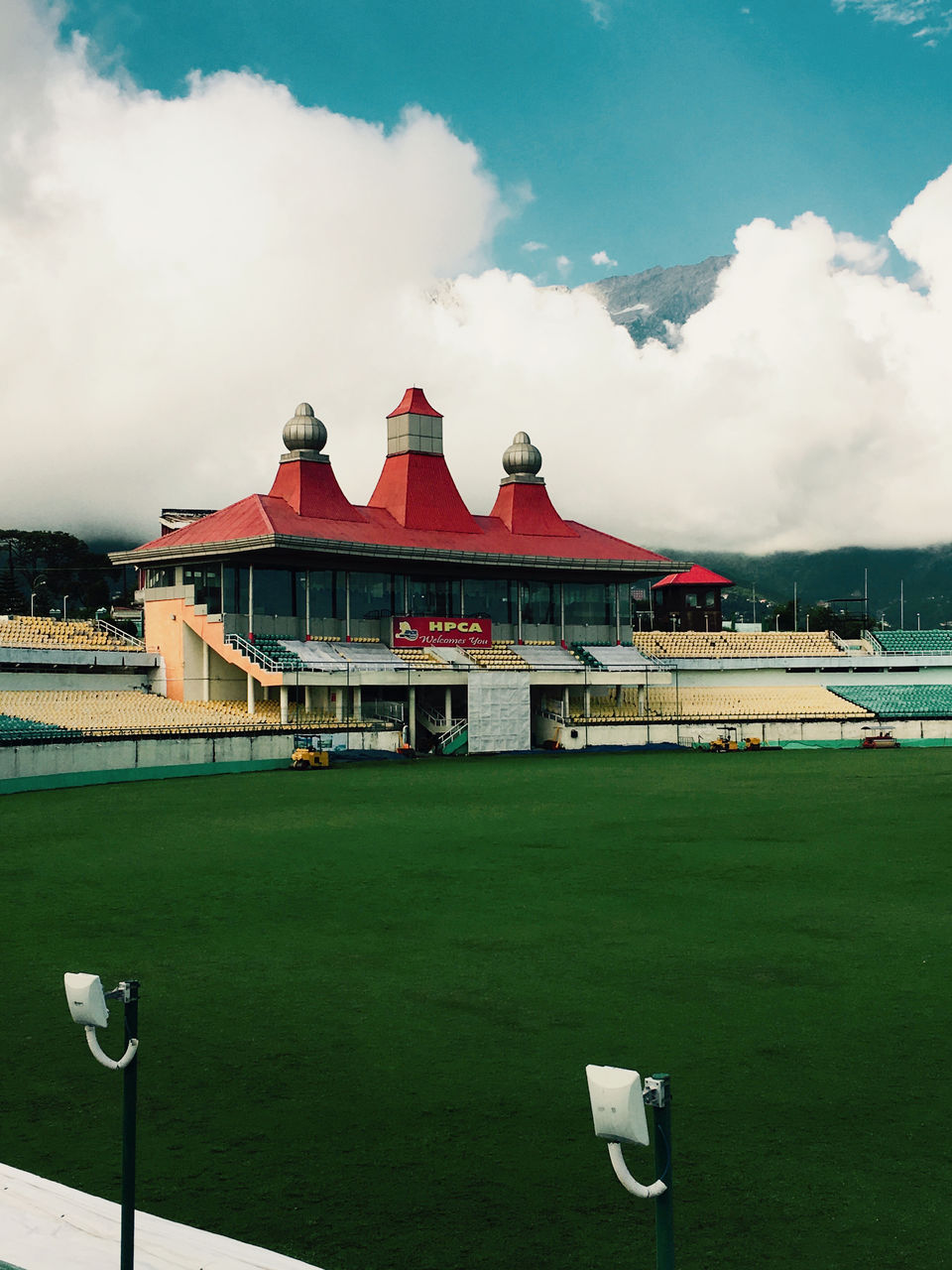 After stadium visit we stormed back to our Hotel, went to the terrace and enjoyed the view with a hot cup of coffee. What a day !
As I said you may find 2 days more than enough in and around Dharamsala/McLeod Ganj, but we had an extra day with us, Sunday - the day when we had to catch an overnight bus to Delhi, but that was late in the evening.
The day started with a clear weather, morning sun rays reaching to our hotel room. Standing on the balcony and glaring at the view - sunshine illuminating every corner of this small city, and the clouds at the distance, as if hugging the mountains and saying good morning.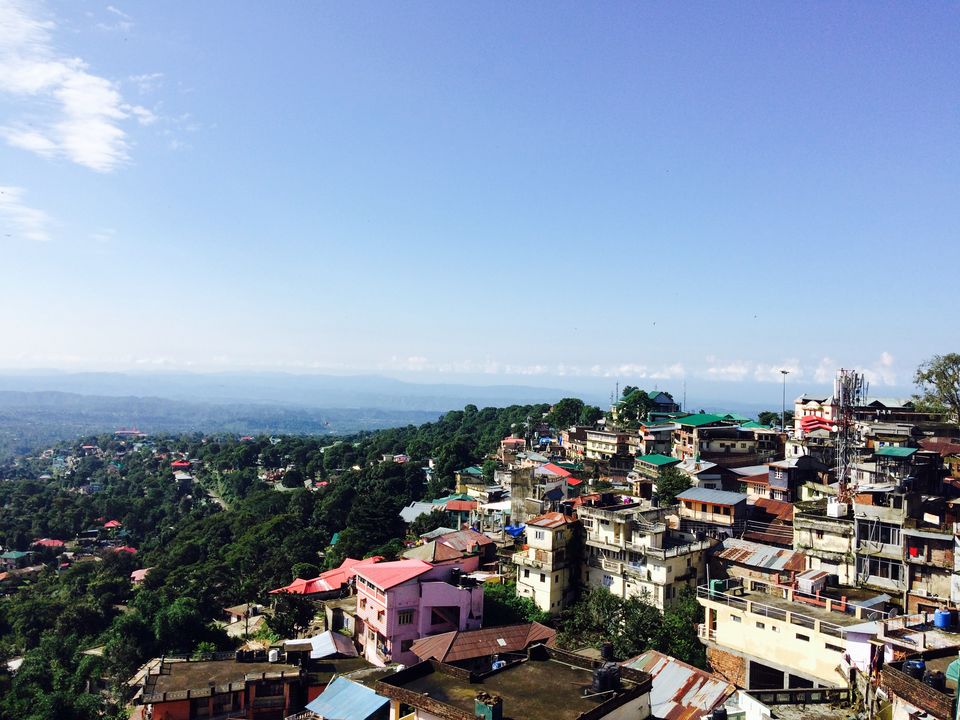 Once we were done with our breakfast and were ready to move to McLeod Ganj, the weather retorted to normal - Rains Rains and More Rains - but we were not complaining - our beloved companion got picked and off we went.
As we missed Bagsu sightseeing on our first day we decided to cover the waterfall. Weather cleared up as soon as we reached Bagsu. The waterfall is around 15-20 minutes walk from the temple and the pathway to reach the waterfall point is made of stones. It's a narrow path way but safe if it's not raining too heavy.
A lot of people were going towards the waterfall, many had decided to go for a water treat near on the water passage - coming right from the waterfall and flowing down the hill.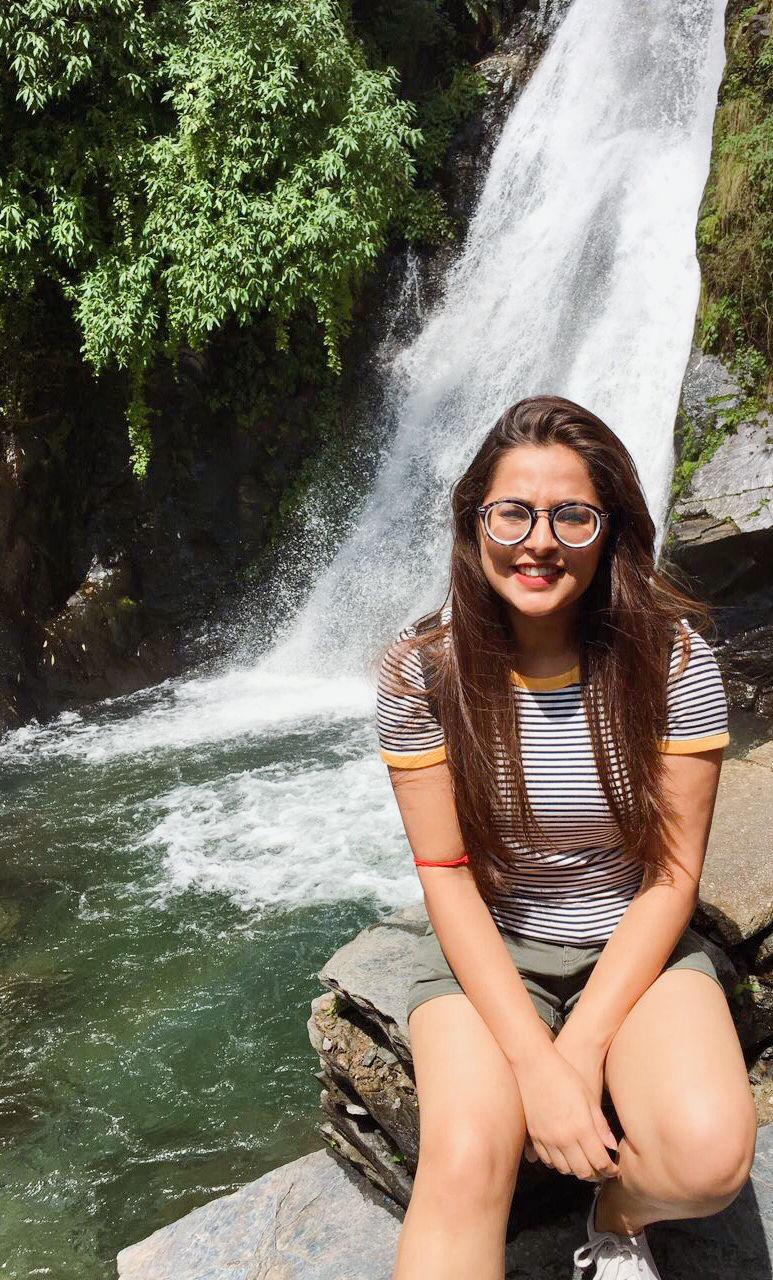 This is a small waterfall, and presence of so many people makes it feel even smaller. But the view & settings around this fall is nothing short of spectacular. The short trek with marked pathway from Bagsu would make this visit memorable.
You can find a lot of Fast food - Maggi point type of Cafe's ..While returning we decided to step down and from our path and visited one such cafe called No Names Cafe. After having Coffee and Tea we strolled back to Bagsu and decided to walk till McLeod Ganj market. This stretch of 2km is fun to walk. Midway through you can witness scenic views
We explored the McLeod Ganj Market in greater details afterwards. There are a lot of Restaurants and Cafe's in the area. We decided on trying this Tibetan restaurant near the market circle.
After that we decided to roam around before taking a cab to Dharamsala, where we had to pack our little bags with not only our essential stuff but more importantly with grand and warm memories of Himalaya's during a monsoon season. The memories of this trip will remain forever green with us and we hope to encounter few nostalgic drags when we visit again.
Blog originally published on Urban Panache.