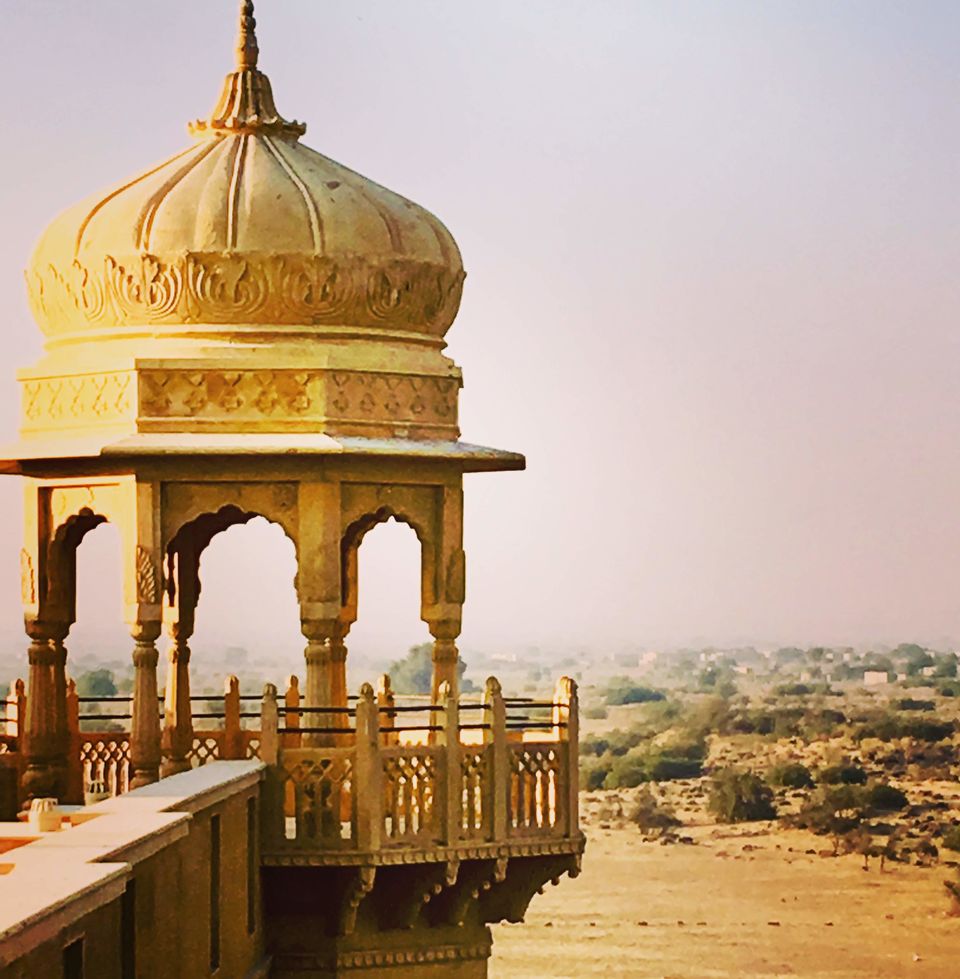 Hi again everyone, before i start the blog let me put out a disclaimer.This blog is a guideline for anyone wishing to go to Jaisalmer and make a quick trip.I live in Rajasthan and thus i have made multiple trips to Jaisalmer and have physically covered lots of places,for you I am just amalgamating some of my finest experiences and making an itinerary sort of.This might seem hectic but its highly possible,i have done it and TRUST ME you are gonna love it.
P.S can disclaimers be so long?Anyway so here it goes my best 03 days at JAISALMER.
DAY 01:Arrive at Jaisalmer,you can easily come here by air,rail or road.Check in at the hotel and head to the sonar fort,it is visible from all over the city.Its a beautiful golden bricked fort,also one of the India's only 02 inhabited forts(you guessed it right the other one is Chittorgarh).While going to the fort you can also explore the local market,which is rich and colorful,but be careful its so huge that you might end up spending all your time in the market and completely forget to go to the fort,so i recommend you can keep it for later too.Now reach the fort you will see that there is a parking before the entrance and there you have my favorite cafe in Jaisalmer called JAISAL ITALY. This place is highly recommended if you love white sauced pasta,some thin crust pizza and as the name suggest some nice Italian food.now once we are done eating you can go to the fort and explore it.The fort comprises of palaces and temples which you can access during 0700 am to 0600 pm.there is an entry ticket which is minimal and you can also find about guides and other attractions within the fort itself. Honestly i just like to explore the congested lanes,shopping places and rooftop cafes in the fort.The view from the top is just serene.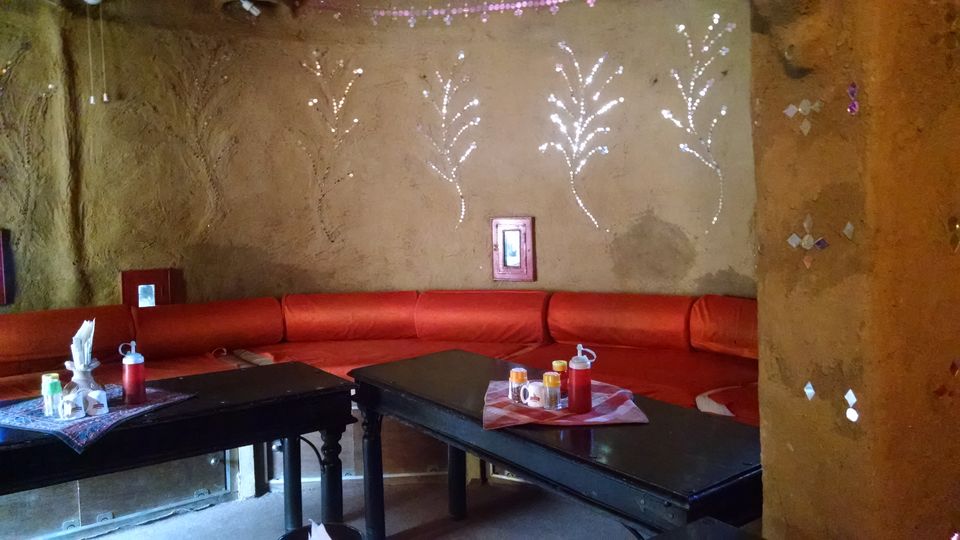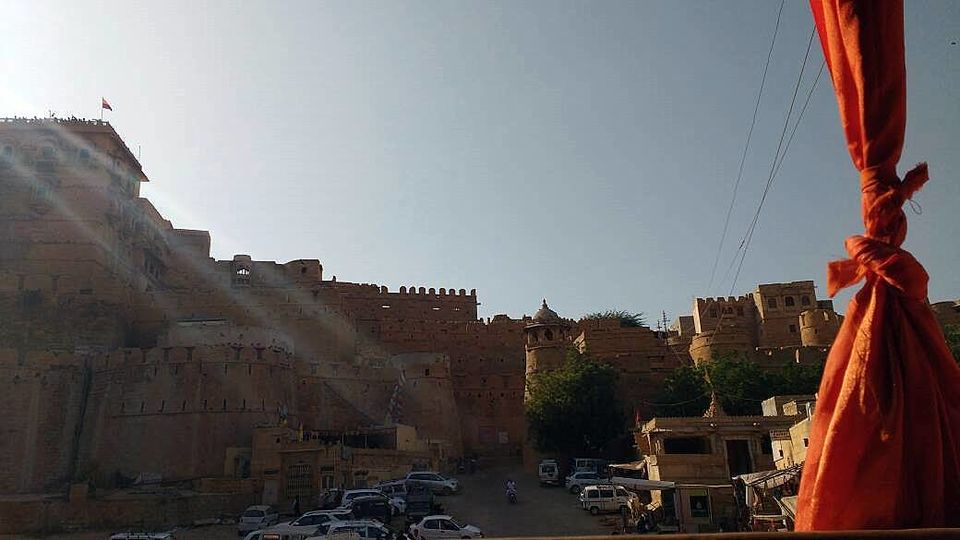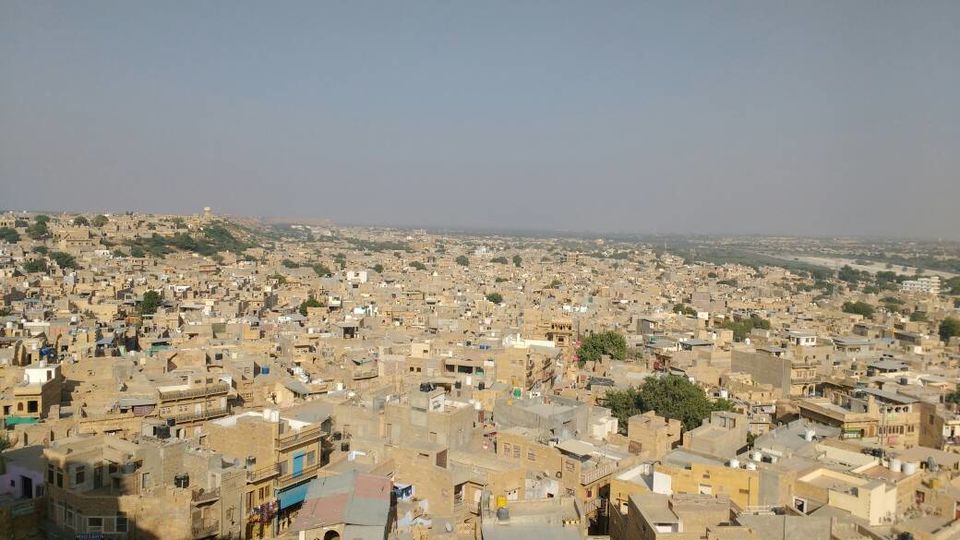 Once you are done with the fort,start towards the Sam sand dunes.its a distance of 40 km approx and there are various cabs and vehicles ready to take you.the road is nice and it will not take more than an hour to reach there.Sam is a place as the name suggest where you can real THAR desert and its sand dunes.the place has various activities and excursions to offer which can be booked in prior or even after going there.Adventure activities like camel riding( although I am totally against animal riding),jeep safari,sand dunes trip and camping are the most famous ones.My favorite activity is sitting on the sand and watching the sunset.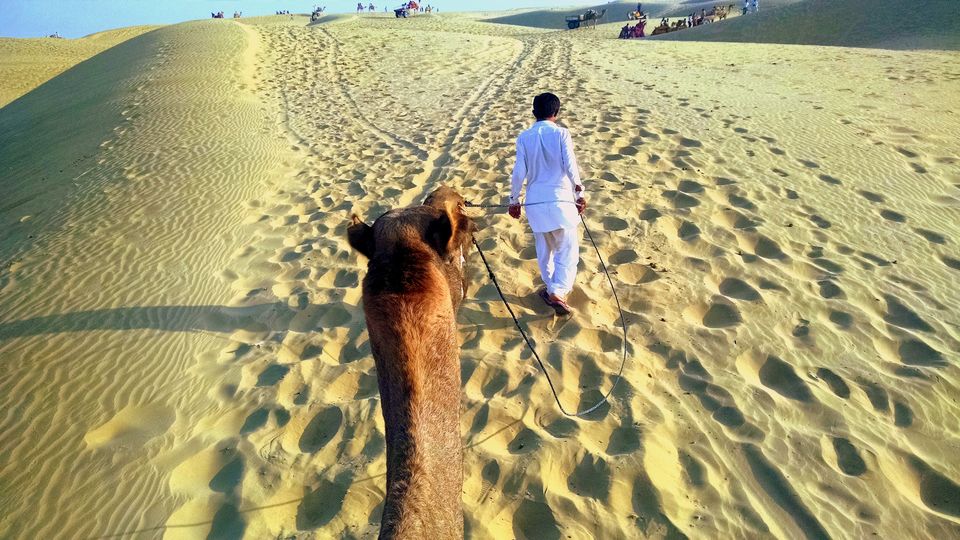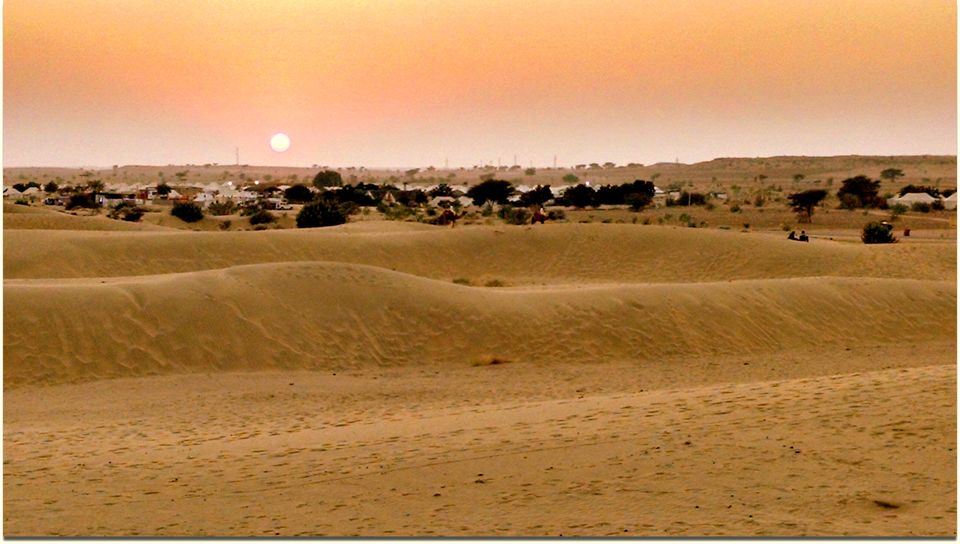 pls note that the place is not advisable to visit after dark so pls make sure you leave the city in time to make it by the sunset or at least an hour before at Sam. The place has this camping at Thar option which you must explore,there are various campsites and tents on hire that include dinner,stay at desert tent,traditional live music and performance and breakfast.Its totally worth the price(usually the price is very nominal like 2-3 K however in tourist season like Dec-Feb the prices can go up to 6-8 k) and an experience to remember also complimentary sunrise in the desert (its cold Btw).So trust me on this don't skip this one.
day 2-I am assuming by the time you would leave the camp site it will be already 1000 am so straight away you must head to Longewala. Now those who don't know Longewala is the Indo-Pak border where the epic 1971 war of Longewala had been fought,also the one which was featured in the Bollywood movie BORDER.This place also has the temple which Sunil Shetty points out in the movie which remained undamaged despite the heavy bombing/shelling by Pak army(well the story is true and you will believe it once you reach that place).So Longewala basically has these two attractions first is the the Tanot Mata temple,the one i have mentioned above and the next is 1971 war museum at Longewala border post.you can go to the temple for a quick view of its history and then reach border post to see the actual remnants of the war.Its so interesting and inspiring that you will fall in love with your country again.Its one of a kind experience and not to be missed. By the time you would have finished the Longewala border visit you would be tired enough to hit the sack so i recommend you must go to the TRIOS restaurant,located right in the city and serving amazing non veg dishes (their specialty Laal maans or red meat) and veg too,have a hearty dinner and retire for the night. Do not forget fort looks even better in the night,you can always go for a post meal stroll or desert or just beautiful view(yes it always open).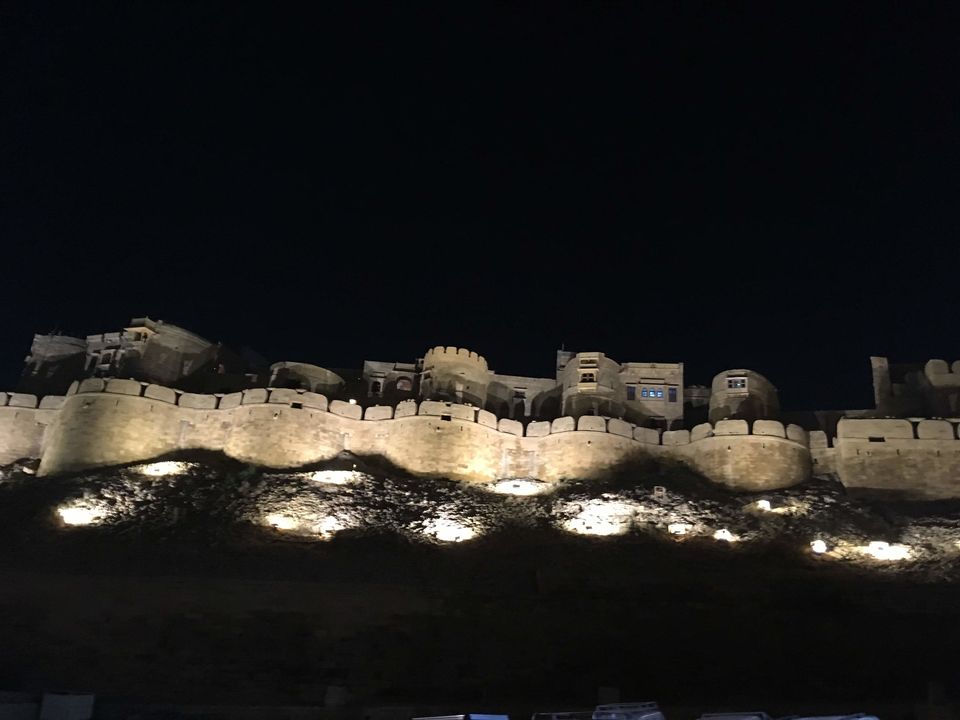 day 03-So its the last day at Jaisalmer we are going to keep it less tiring and more interesting.So first thing i want you to tick off is KULDHARA village.Now this one is a world heritage site under UNESCO and one of INDIA's most haunted places.Its a barren village,completely stranded with all the buildings and houses still intact.It has various tales to its name,the most popular being That the village was once inhabited by Brahmans clan and they were ruled by a Rajput ruler.On one fine day the Rajput ruler saw a beautiful Brahman girl and asked her to marry him.When denied by her parents due to the rigid caste system in India ,the Rajput ruler threatened to kidnap the girl next day.In order to save the girl's dignity and their caste's reputation,all the Brahman families fled the village overnight leaving all their belongings behind since the village has not been inhabited due to a curse on its soil. I am completely unsure if the story is true or false,I am completely neutral towards caste/tribe/religion or any social set up in INDIA.I just shared one of these folk lore here to raise your curiosity in this place. Pls do not come back at me if you know any other story than this.So coming back to point,this place would hardly take 30-45 mins of yours and it is at a distance of 30 km from the city so no point missing it.On the way back stop at Patwaon ki haveli,Bada bagh and Gadisar lake.all these places are near by,you can easily google and they are really photogenic.I don't not have my pictures right now due to some data loss however you can google these on web and the pictures show exactly what they are.
With this we come to an end of this blog,i have covered very few but unique places.this itinerary will cover all the important location and still leaving time for you to explore the city and shop around on your own. Few tips to keep in mind though
1. Do not take cab/vehicle inside fort or market since they are really congested,i will recommend wear some good comfy shoes and relaxed travel pants and just go walking.Trust me its hassle free and you will enjoy it.
2.The stays in Jaisalmer are very vivid with most of the antique homes/old houses converted into home stays,try to pick the one that has more palace like feel. Instead of typical conventional hotels.Book in prior for cheap deals, prices can almost double during the peak seasons.
3. You don't actually need a travel package or packaged tour for traveling around Jaisalmer however hiring a car for 03 days would save on lot of time and add to comfort.All the places can be easily explored with the help of google and some research on your own.
4.Last but not the least do try local cuisine like Dal Bati Churma, Gatte ki sabzi,Sangde ki sabzi,laal maans and Pyaz kachori. They are mouth watering and must try at Rajasthan.
SO WE ARE DONE WITH THE BLOG HERE SORRY FOR REALLY FEW PICTURES I AM STILL TRYING TO LOCATE MY DISK.ONCE AGAIN I HAVE TRIED TO KEEP IT SHORT AND CRISP HOWEVER FOR ANY OTHER INFORMATION OR DETAILS REQUIRED FEEL FREE TO ASK IN COMMENTS.
P.S JUST ADDING FEW OF MY MEMORIES OF JAISALMER NOT PROMOTING ANY HOTEL OR VENUE.