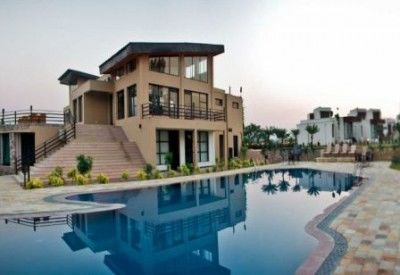 Along with many other reasons, I love NCR for its relatively close proximity to convenient tourist places. From an easy weekend trip to beautiful hill stations to nearby 1-day getaways, you can plan it all without much stress if you are a dweller of NCR-region. I found a great one-day escapade for summers last year which has now become an annual getaway. I am talking about the resort The Golden Tusk that is situated in Jim Corbett region, Uttarakhand which is an awesome rejuvenating place to get completely recharged taking a break from routine life. It is an around 5-6 hour drive from Delhi and the root is a much pleasant journey in itself. You will reach your destination stopping at various places to eat and stretch yourself. You can also load your car with fresh seasonal fruits at great prices on your way back home as a perk.
The property is huge and beautifully done and maintained. It overlooks and surrounded by the neighboring jungle and hills of Uttarakhand, which will give you a feeling of being transported to a whole new place in just few hours. All the accommodation types are worth their price and promise to offer a great experience for any period of your stay. They have tent rooms, villas and deluxe rooms, all having their own specialties. The rooms are aligned in an arranged manner that gives it a unique and appealing feel. With a significantly big pool area, spa and sprawling lawns and open space, the resort has a vast dining area for buffet meals. The evening tea and snacks are served in the gardens and you can also enjoy pool dining later in the evening. The food choices are great in number and quality of food is excellent, not to mention the cordial staff present at your disposal.
Just 24 hours are enough to make you detach from your routine boredom and work stress and that is why this has now become one of my favorite destinations to get myself exhilarated inside out. You can also book jungle safaris if you are looking for some thrill encapsulated in your vacation. If you are looking for an unusual stay, my personal recommendation will be the tent rooms that are true to their name in structure and looks backed with all the amenities and luxury. And you are also going to return with a big album of beautiful pictures if you are a photo buff.