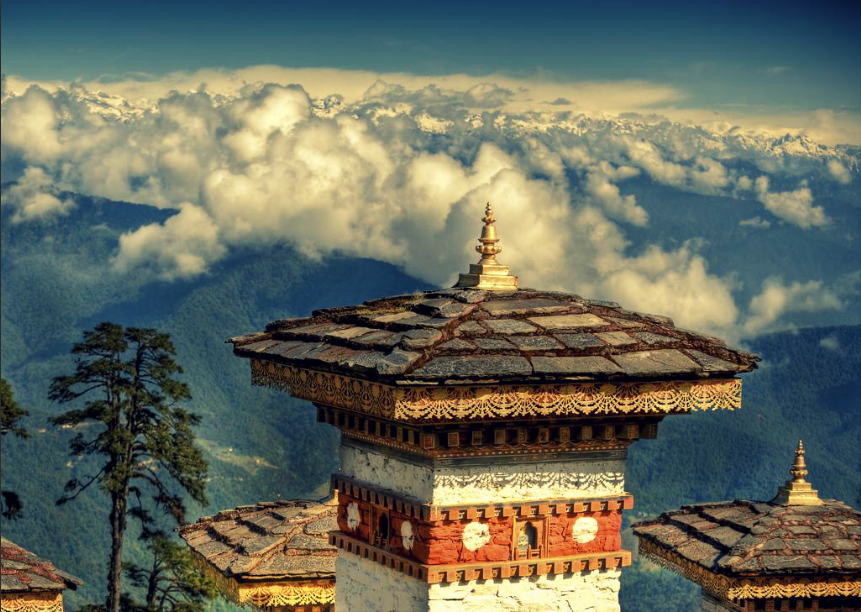 This fall go for an epic road trip to Bhutan, a country where happiness is currency. Travelling to this Himalayan land is an adventure in itself. Long winding drives with magnificent sights that surround you, hikes to the Himalayan hamlets, visit to the stoic monasteries, wondrous mountainous pastures that you pass by and really warm, cheerful, happy people that you meet along the way and share a cup of tea with. But Bhutan had us at happiness being their GDP measure.
Come away to spend the summer on a road trip to this Himalayan land. Start from Bagdogra, entering Bhutan via Phuntsholing and covering the beautiful cities of Thimpu and Paro and the far off valleys of Punakha and Phobjika.
Trip essence: Road journey | Culture | Hikes | Architecture | Photography
Highlights of the trip
1. Road trip. Road trip. Road trip. Start from Bagdogra, go to the beautiful towns of Paro and Thimphu and the valleys of Punakha and Phobjika and come back to Bagdogra, all of this in 9 days.
2. Architecture of the Dzongs is bedazzling. The local stays of western Paro , two storeyed colourful houses, or the sturdy stone houses of central Bhutan. Those with an eye for architecture or beautiful picture frames will find this alluring.
3. Food. Local food of momos, red rice of red panda beer will be a food lover delight. Also the spicy Bhutanese food at local eats should be a whole lot of fun!
4. Local way to life. The Bhutanese live in simple homes with very less access to technology or modern infrastructure even till date. The smaller town of Paro will bear witness to that. So going back to the simple kind of life is a must do for all going to Bhutan. The Bhutanese teach us that happiness truly lies in simplicity.
This is how the trip plan looks:
Day 1: Bagdogara to Phuntsholing (4.5 hours)
Get a pick up from Bagdogra and set out on the journey of a lifetime. Welcome to Bhutan. Phuntsholing is the entry to this beautiful country. Complete immigration formalities at Phuentsholing & transfer to hotel. After reaching the stay push your bags and get out on foot to see the city. The climate is pleasant for a beautiful evening stroll. Phuntsholing is a fascinating place where different ethnic groups mingle prominently Indian, Bhutanese and Nepalese. Meet some locals and exchange few thoughts. Click a happy travel picture with them.
Experience: Crossing the border to another country fuss free, local walk around town 
Day 2: Phuntsholing to Thimphu (6-7 hours)
After breakfast head out to Thimphu, the Capital of Bhutan. Watch out for numerous small towns of Gedu, Chukha and Chunzom, the confluence of Pa Chu and Thin Chu as you drive to Thimphu. Bask in the scenic beauty of the tiny villages which will pass your way too. Once you reach the beautiful city of Thimphu, relax at your hotel after the long drive. Take a short walk to familiarize yourself with the area. Visit the Memorial chorten and a giant statute of Buddha over looking the entire city of Thimphu. Rest of the day is at leisure.
Experiences: Visit Memorial Chorten and Buddha Point
Day 3: Thimphu
After breakfast, proceed for half day trek to Tango Monastery. Need 40-50 min uphill walk to reach to these Monastery. The Monastery was built in 15th century by the great saint Drukpa Kunley ('The Divine Madman'). This three storied building is the highest learning centre of Buddhism in Bhutan.
After lunch visit Trashichhodzong (Fortress). It is home of the National Assembly and the summer residence of the Monastic body. You have the evening at leisure
Experiences: Tango monastery trek
Day 4: Thimphu to Punakha/Wangdue (4 hours)
After breakfast, proceed toward Punakha (Total 3 hours driving time). Enroute, halt at Dochu La - A mountain pass leading further into the Punakha Valley. It offers a stunning 360 degree panoramic view of Eastern Himalayan mountain ranges. The view is especially scenic on clear, winter days with snowcapped mountains forming a majestic backdrop to the tranquility of the 108 chortens gracing the mountain pass. Enjoy lunch at newly opened Druk Wangyel Cafe and visit Punakha Dzong and Chimi Lakhang on your way to Punakha.
Punakha Dzong is a must see! It is an old capital which still serves as the winter residence of the monk body. Sit next to the monastery and breath in the air around, it's as fresh as the first rain drop.
Hike down the moderate slope to the cantilever bridge, one of the finest specimens in Bhutan with its shingle roof and two guard-houses at each end. A perfect way to end the day!
Your hotel is on the outskirts of Punakha at the idyllic Wangdue village, by the river.
Experiences: Punakha Dzong| Chimi Lakhang
Day 5: Punakha to Phobjika (3-4 hours one way)
After breakfast, proceed for a visit to the beautiful Phobjika Valley and Goempa Monastery. The Phobjika valley is home to the migration of the Blacked Crane in the months of winter where the migrant birds a found in large number across the valley floor.
Experience: Local life as you stay in a local homestay tonight
Day 6: Phobjika to Paro (6-7 hours)
Start your westward journey to Paro. After settling in at your stay, go for a walk to the local markets. Drive to the end of the valley to Drukgyel Dzong in Paro from where one can see the towering peak of Jomolhari (7,316m, 24,003 ft). This mountain, also revered as a powerful goddess, forms the border with Tibet and provides magnificent background to the ruined Drukgyel Dzong and village. Also visit the Kyichu Temple, a beautiful site which is one of the oldest temples in Bhutan. Visit the Ta Dzong, which is the National Museum of Bhutan. Don't forget to pick up some authentic local handicrafts.
Experiences: Visit Paro Dzong, Ta Dzong and Kyichu Temple
Day 7: Paro
Hike to the Taktsang Monastery – a UNESCO World Heritage Site - It requires 2 hours trek to reach the view point of the monastery. You can enjoy tea, coffee and lunch in a cafeteria over there. Note that this trek is of a high difficulty level and takes 2-3 hours one way. Ponies are available for hire till the view point on the way up but will not go to the monastery doorstep since you need to climb 700 steps. Ponies are not available for the return trip.
Experiences: Taktsang trek
Day 8: Paro to Phuntsholing (5-6 hours)
Make your way back to Phuntsholing as you near the end of your journey.
Experience: Spend your evening at one of the lively cafes in town.
Day 9: Phuntsholing to Bagdogara (4.5 hours)
With a bag full of memories and a memory card full of pictures, head back to the Bagdogara airport to catch your flight back home.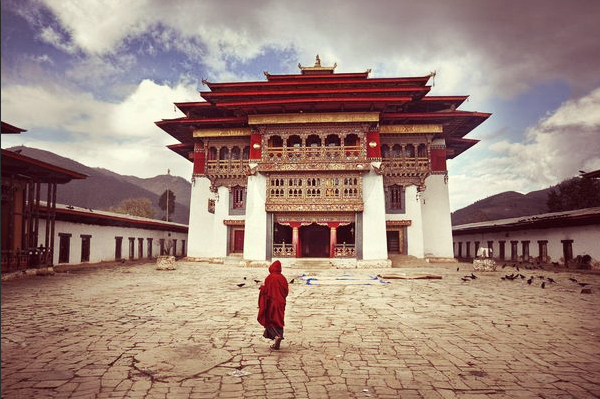 WHAT: Road trip to Bhutan
WHERE: Bagdogra-Phuntsholing-Thimpu-Punakha-Phobjika-Paro-Phuntsholing-Bagdogara
WHEN: 19th – 27th Oct 2017 (9D/8N)
HOW MUCH: Rs. 39,700 + 5% GST (per person)
Inclusions:
• Accommodation on double occupancy in 3 star hotels
• Transportation and sightseeing within Bhutan in a Innova/Hiroof Non AC vehicle as per itinerary (Vehicle NOT at disposal)
• Entry permits
• Airport transfers
• Meals – Breakfast and dinner (starting from dinner on Day 1 to breakfast on Day 9)
• A local guide (ex-Phuentsholing)
Exclusions:
• Flights to and from Bagdogra
• Additional activities you may undertake at the location
• Entry fees for monuments
• Meals not mentioned
• Local transport within the city beyond what is specified in the itinerary
• Personal expenses such as beverages, tips etc.
• Any costs arising from flight delays, change in weather conditions, strikes etc. which are beyond our control
• What is not mentioned in "Includes"
NOTE:
• All activities are subject to availability
• Indian nationals travelling to Bhutan require passport (valid for at least 6 months from date of travel) or Voter ID card only.
Terms and Conditions
By signing up for the trip, you agree to our terms and conditions which can be accessed at http://www.theblueberrytrails.com/index.php/component/content/article?id=71
Payment Details
You can either drop in a cheque at your nearest axis bank or make an online transfer to the following:
Account Name: The Blueberry Trails
Account Number: 911020038982263 IFSC Code: UTIB0001621
Bank: Axis Bank
Account: Current
Branch: Hill Road, Bandra West, Mumbai
Note:
The above is a general cancellation policy and the same is subject to change depending on the travel date, the destination, the package, terms and conditions of third party suppliers and the services booked and paid for.