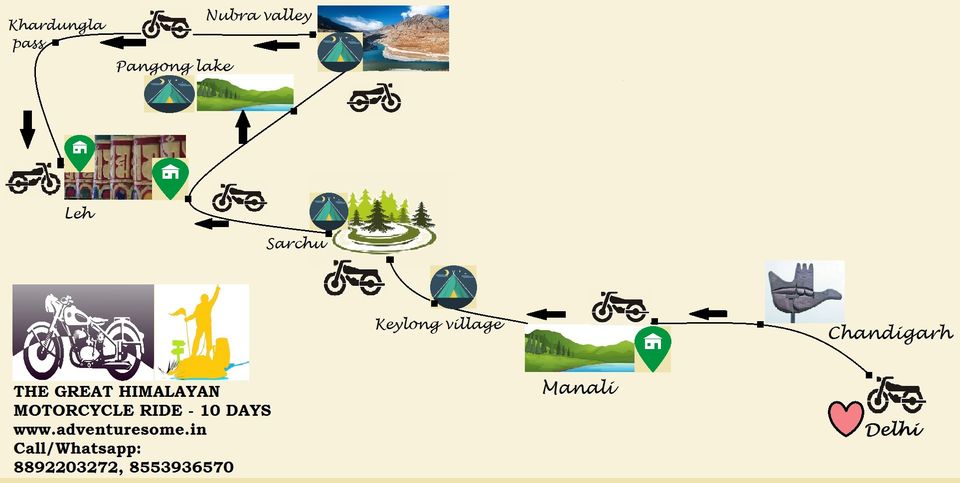 http://www.adventuresome.in/en/The-great-Himalayan-motorcycle-ride-Adventuresome/
DETAILS:
TRIP START DATE & PLACE: 1ST JUNE 2018 (DELHI)
LAST DATE FOR REGISTRATION: 1ST MAY 2018
TOTAL TRIP COST PER PAX: Book now by just paying 10% of the Ticket amount.
Riding solo - 35k
Riding with pillion - 50k
Travelling in SUV - 35K
* Ticket cost Excluding 5% GST
* SUPER EarlyBird 10% Discount (BOOK NOW) - Till March 2018
* EarlyBird 5% Discount - Till 20th April 2018
* Full payment should be made within 30 days from the date of participation OR Before 10th May 18.
"Bike trip to the Mighty Himalayas" - This will surely give goosebumps to all the bikers out there around the world. And when your destination is Leh - The cold Desert, you know how beautiful your journey is going to be. To your surprise we are going to cross all the major places of the North - western Himalayan range from your Checklist.
So Fasten your backpacks, look into the eyes of your Motorcycle and and say "Darling! let's go". This bike trip passes through some of the most challenging and breathtaking landscapes of the Himalayan mountain range. The Humongous mountains, the churning fresh water streams, the snake like roads and the high altitude awe-inspiring passes, the remote of the remotest villages and the celebration of life - Add one of the greatest bike ride adventure to your checklist.
It's not an easy ride, because most of the time you will be riding on some of the highest motorable roads in the world of altitudes touching 13000 feet and above. But whats is the meaning of Adventure if it doesn't make you heart beat faster, doesn't give you that tinch of adrenaline rush.
PLACES TO VISIT ON THIS TRIP:
Manali, Kullu, Rohtang pass, Darcha, Baralacha pass, Sarchu ,Gata loops, Nakeela top, Pang, Morey plains, Tanglang la pass, Indus valley, Indus river, Leh city, Monetries, Shanti stupa, Pangong lake , Changla pass , Nubra valley, Khardungla pass.
ACTIVITY TYPE:
Bike / SUV Rides
Sightseeing and Adventure activities (On Demand)
Camping activities and bonfire (If condition permits)
ADVENTURE LEVEL:
Bike riding on some of the highest motorable roads in the world of altitudes touching 13000 feet and above.
Biking approximately 2500 Kms in 10 Days riding
Challenging outdoor weather conditions during riding and night halting in Camps.
ITINERARY:
NIGHT 1: (10 PM): Departure from Delhi, Whole night journey till Chandigarh (~250 Km, Delhi to Chandigarh)
DAY 1: Journey continues at sharp morning from Chandigarh to Manali (whole day), Meanwhile breakfast, Lunch and sightseeing on the way to Manali (Chandigarh to Manali - 300 Km).
NIGHT 2: Overnight stay in Manali at a riverside Hotel.
DAY 2: Departure from Hotel at sharp morning to avoid traffic till Rohtang pass, Sightseeing at Rohtang pass at 3978 mtrs (1 to 2 Hours) , Then the journey continues till Keylong village. (Manali to Keylong - 120 Km)
NIGHT 3: Overnight stay at Keylong Village.
DAY3: Journey starts in the Morning till Sarchu or Pang , meanwhile sightseeing at Darcha, Baralacha pass gata loops. (Keylong to Sarchu or Pang - 110 Km, 170 Km)
NIGHT 4: Overnight stay in camp at Sarchu or Pang.
DAY 4: Journey continues to leh via Tanglang La pass - 5328 mtr (Sarchu to Leh - 260 km)
NIGHT 5: Overnight stay at main Leh city in a Hotel
DAY 5: Journey to Pangong lake (175 km) at sharp morning via Chang La pass 5360 mtr,
Pangong lake is 135 km long at the elevation of 4249 mtr.
NIGHT 6: Overnight stay at pangong lake at camp.
DAY 6: Journey continues to Nubra valley from Pangong lake (161 km)
NIGHT 7: Overnight stay at Nubra valley.
DAY 7: Back to leh (115 km) city via Khardungla pass 5602 mtr (highest motorable pass in the world) , visit leh city , monasteries , museum and tibetan market etc.
NIGHT 8: Overnight stay at Leh city
DAY 8: Journey starts back to Delhi via Manali and optional via Srinagar highway, journey to Sarchu.
NIGHT 9: Overnight stay at Sarchu camp.
DAY 9: Journey back to Keylong or Manali
NIGHT 10: Overnight stay at Manali in a hotel.
DAY 10: Journey back to delhi at sharp morning
NIGHT 11: Arrive delhi before midnight.
( In case return journey via srinagar; highway distance is more than Manali highway. Leh to Delhi via Srinagar highway is 1677 km. We also opt the highway on request of pax)
INCLUSIONS (SERVICE FOR PAX):
Outdoor leader, SUV Driver and mechanic
Food and accommodation (Hotel and Tent )
Camping activities and bonfire (If condition permits)
First Aid kit
BIKES ON RENT (Including all gears):
Royal Enfield 350cc and 500cc ( Valid ID proofs and security)
SUV on rent with guide cum driver ( Scorpio or Innova)
EXCLUSIONS:
Fuel for the vehicles
Any kind of Life or medical insurence (But it is recommended for every participant to get insurence before the commencement the journey)
River rafting and other activities (On request)
Personal expenses
Any extra expenditure not mentioned.
THINGS TO BRING/CARRY:
Valid identity proof document
Shoes with good rubber grip
Rucksack/Backpack
Slippers/Floaters for walking around the campsite
Water
WindCheater (In case if it rains) or Jacket (It may be cold at night)
Extra pair of clothes
Flashlight/Torch
Personal medical kit (If needed)
Cap or HeadWrap
Snacks/Protein bars for Instant energy
Vaseline or Sunscreen
Spare batteries or Power Bank
Plastic covers (to keep your stuff dry)
HEALTH & FITNESS: Though adventure trips and bike riding are for the unstoppable wanderers; but this is high Risk Adventure, it demands good amount of physical fitness and attentiveness. Along with physical fitness you should be mentally and medically fit. If you are under medication, please carry your medicines or consult a doctor. During the event, our outdoor leaders will have over the counter medication for temporary treatment of common sickness and small injuries, so do give a heads up to them if you need any medical assistance.
INSTRUCTIONS AND GUIDELINES:
All participants will have to carry their backpack and Tents/sleeping bags allocated to them.
All participants have to fill the form before boarding for the trip and must bring a valid ID proof along with them.
For safety, All participants must follow the Outdoor leader's instructions and must not stay away from the group. Itineraries are subjected to change during the event depending upon the situations.
Do not wear tight jeans hike. Tight clothes can be uncomfortable.
Its an adventurous and outdoor travel event trip, so please do not expect any luxury for stay, sanitation or any other unexpected situation that may occur during the whole trip. We will try our best to provide you the needed facilities during the event.
Consumption of alcohol or any other intoxicating products is strictly prohibited during this trip.
Do not litter, do not make loud noises.
Do not carry valuable ornaments with you during the event, the safety and security of your personal belongings and the tents/sleeping bags provided to you are your responsibility.
Full T&C: http://www.adventuresome.in/en/Adventuresome-terms-and-conditions/
FAQ's: http://www.adventuresome.in/en/Frequently-asked-questions/
REFUND POLICIES:
If you cancel the event before 30 days:
100% refund will be provided.
If you cancel the event before 25 days:
75% of the actual amount of the event will be refunded.
If you cancel the event before 20 days:
50% of the actual amount of the event will be refunded.
If you cancel the event before 15 days:
25% of the actual amount of the event will be refunded.
If you cancel in last 15 days:
No refund would be provided.
CONTACT DETAILS:
1. Please call or whatsapp 8892203272 / 8553936570
2. Or shoot a mail: adventuresome@gmail.com
reachout@adventuresome.in
3. Website: http://www.adventuresome.in/en/CONTACTS/