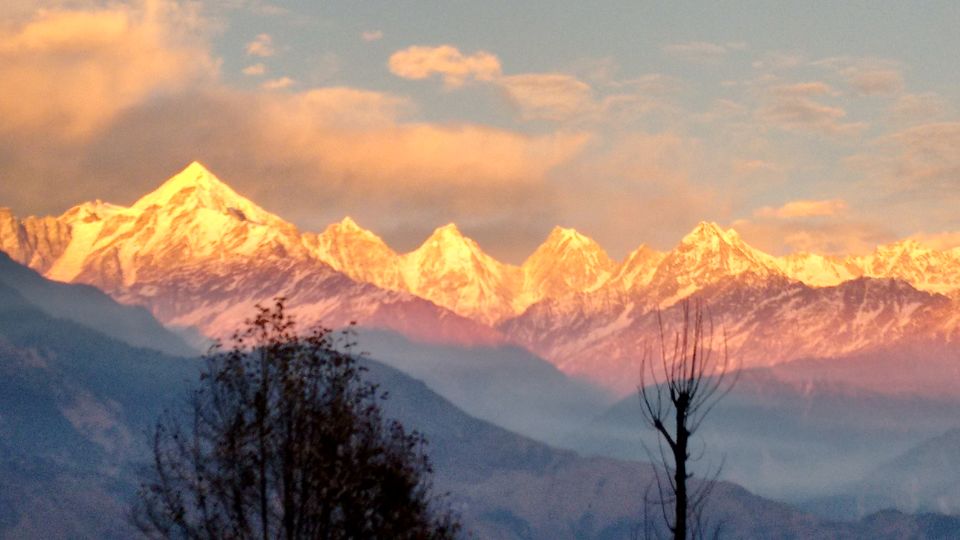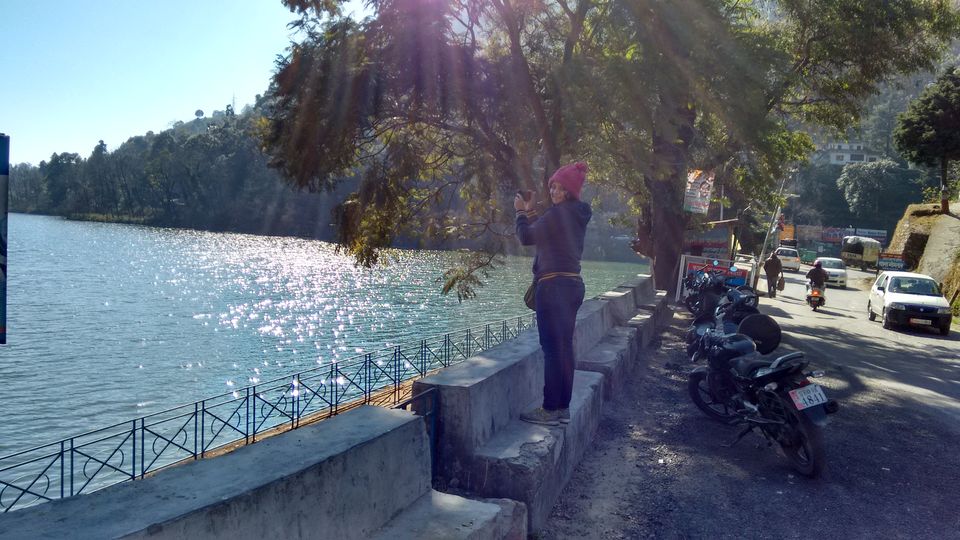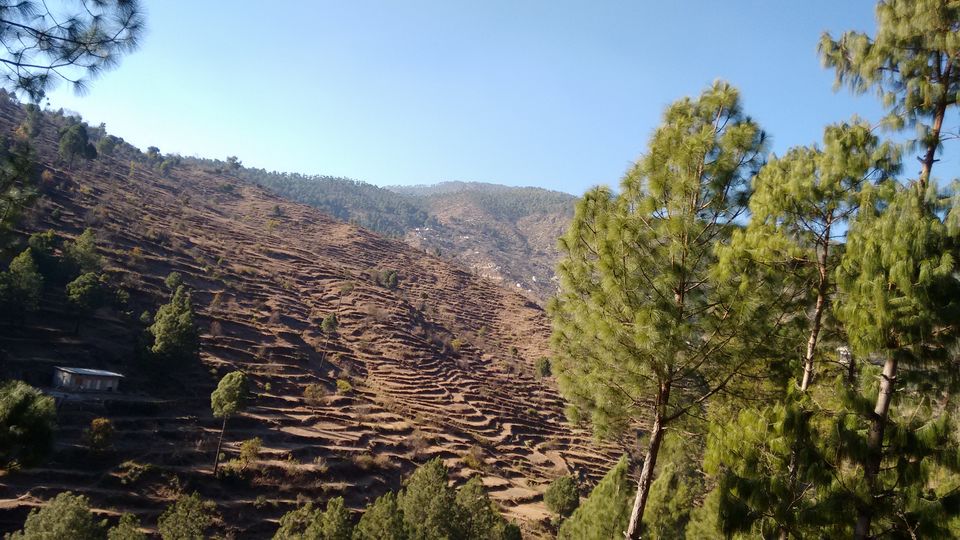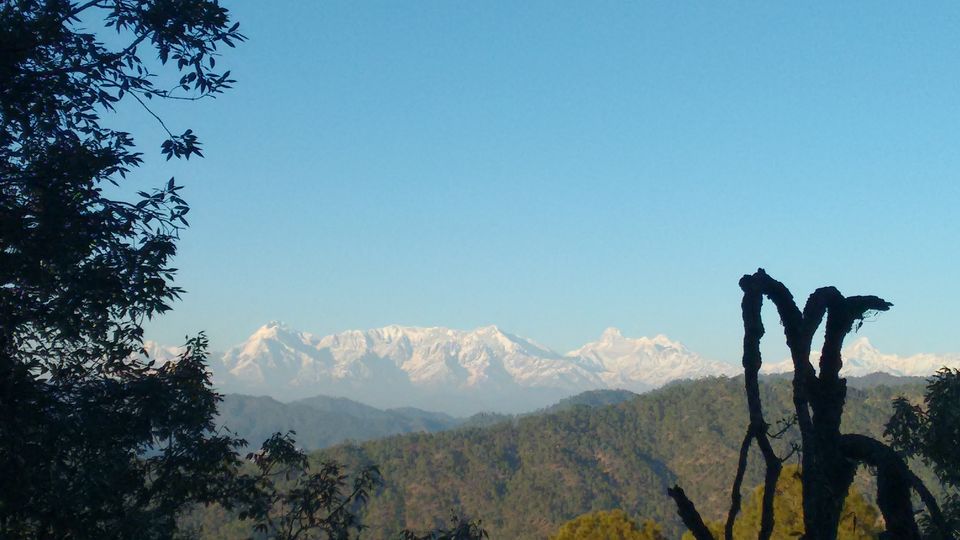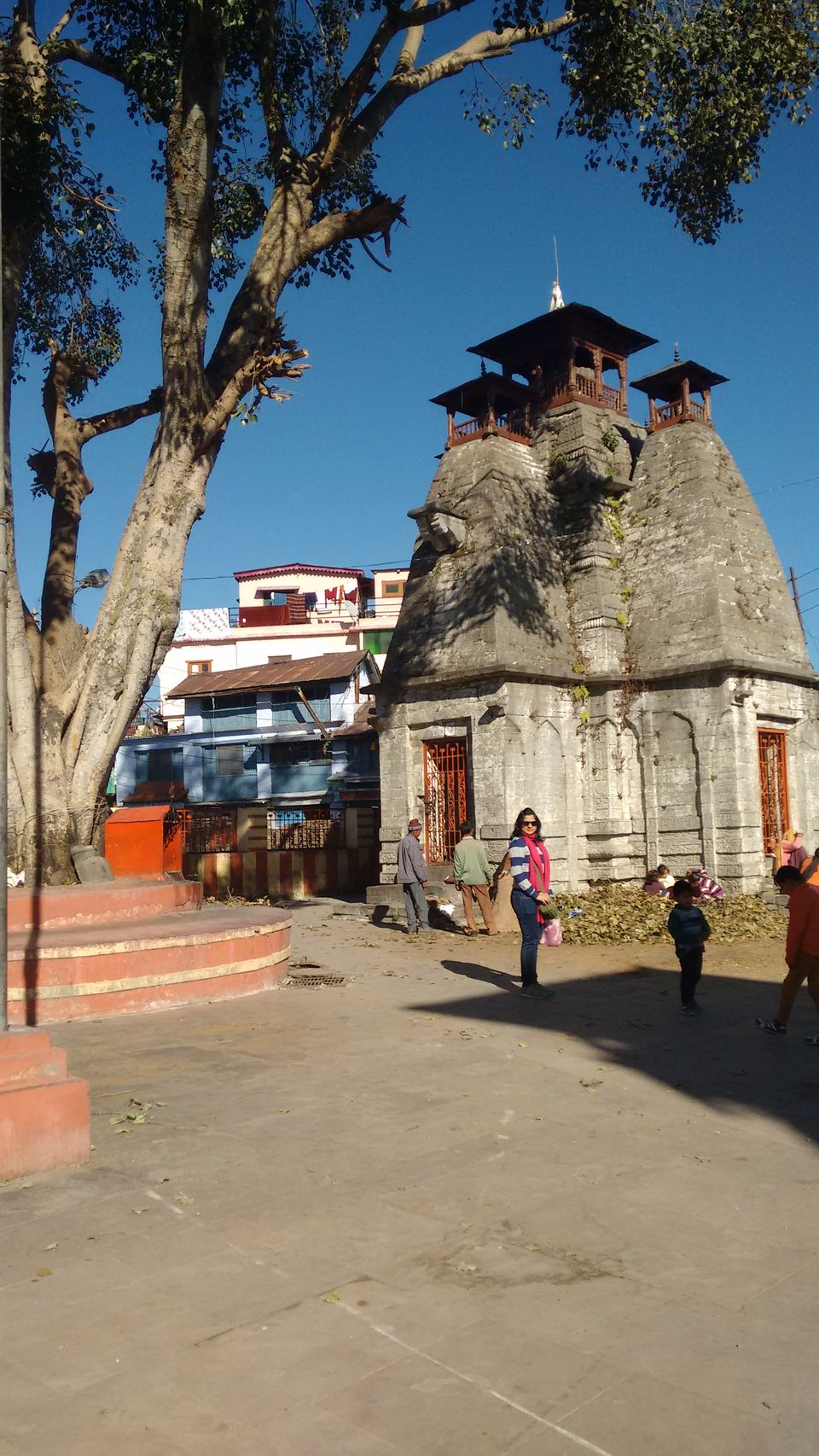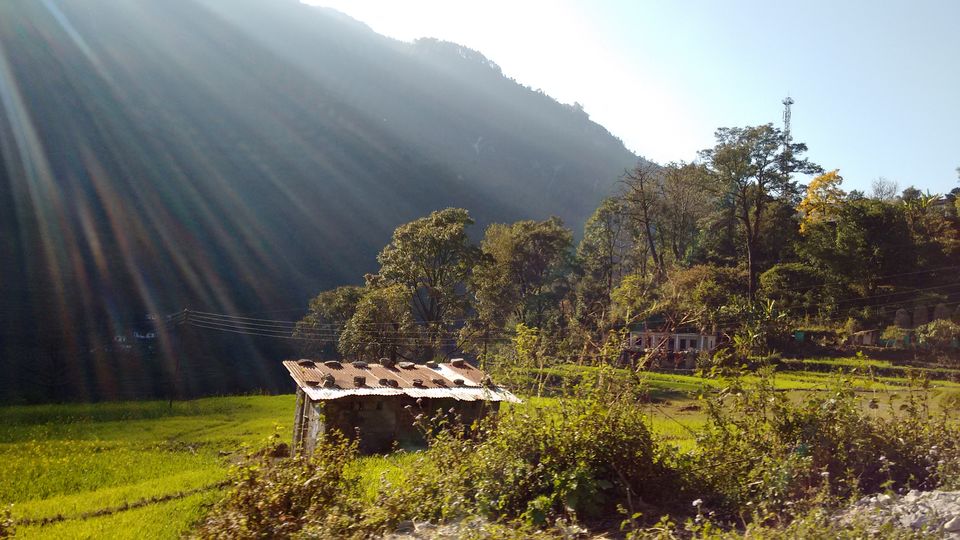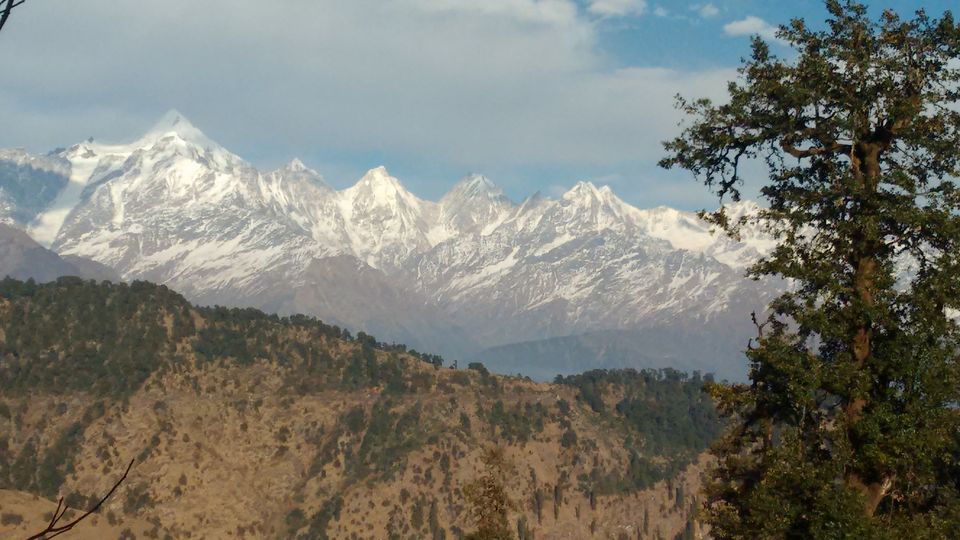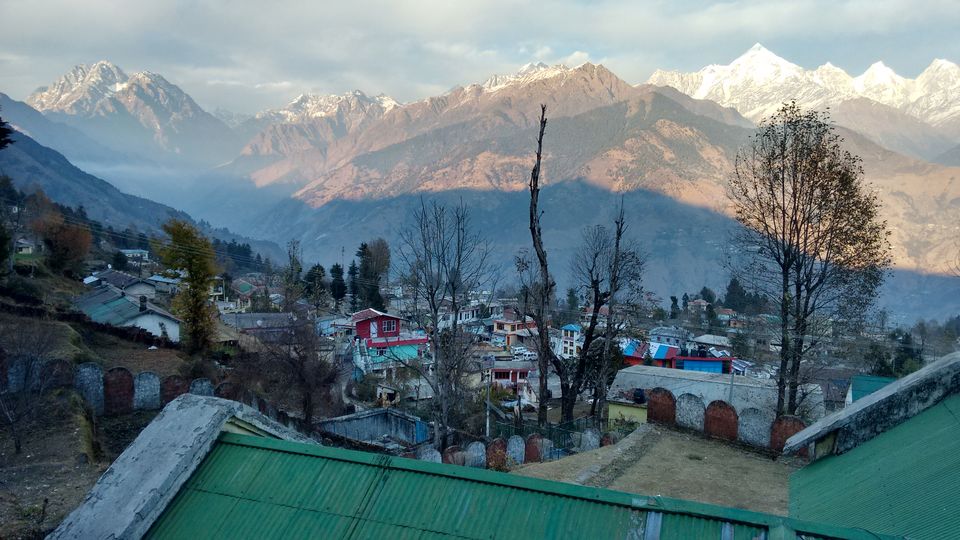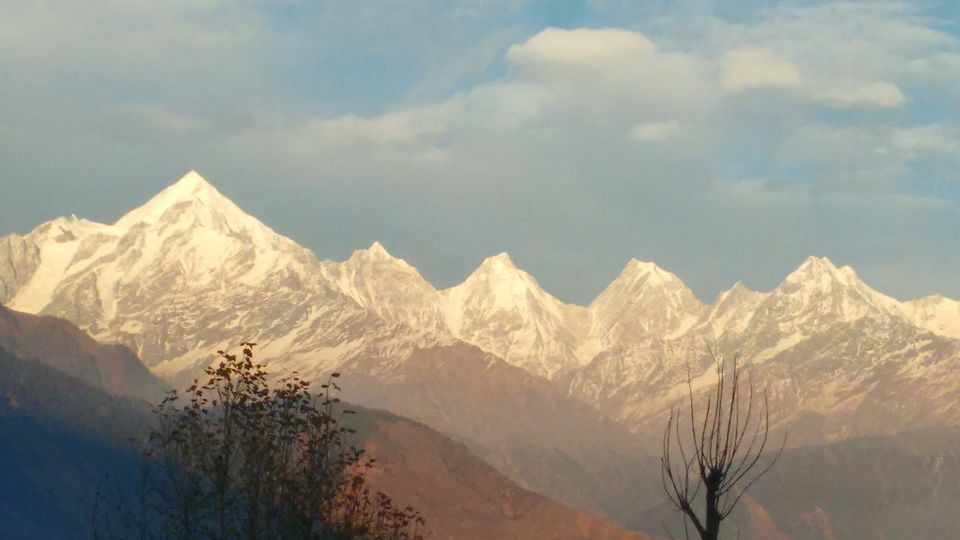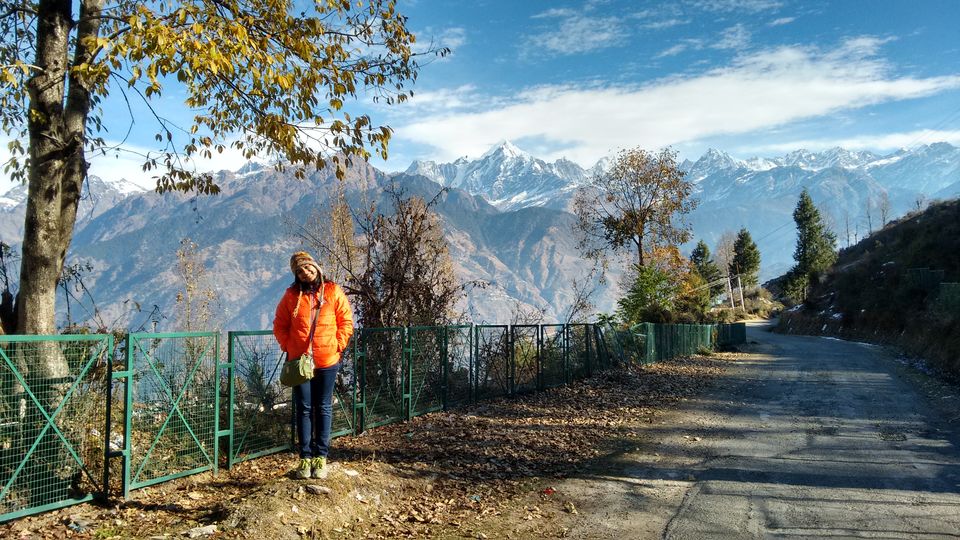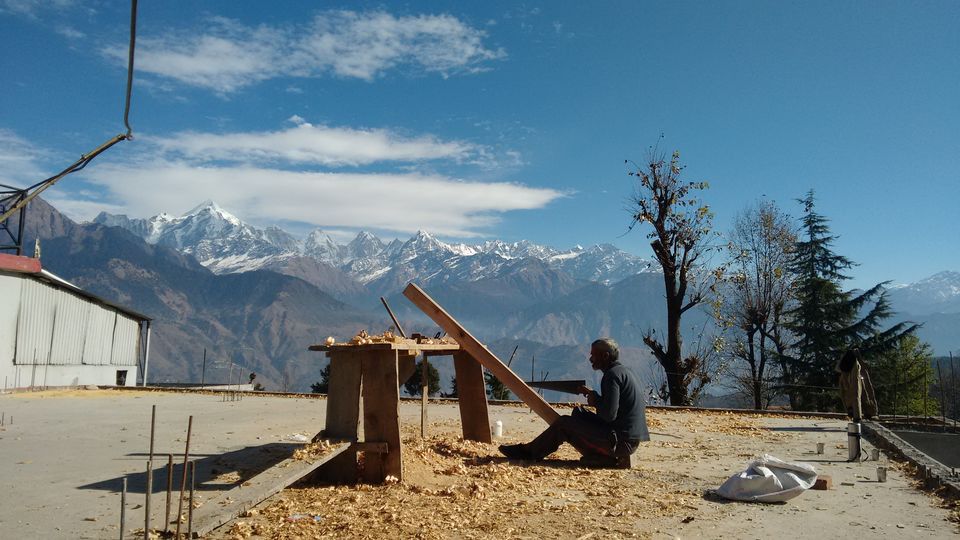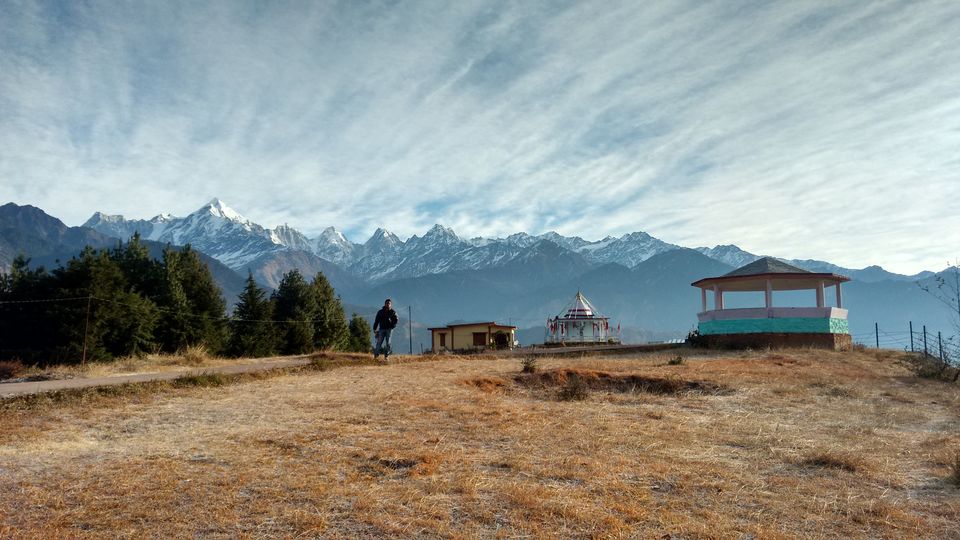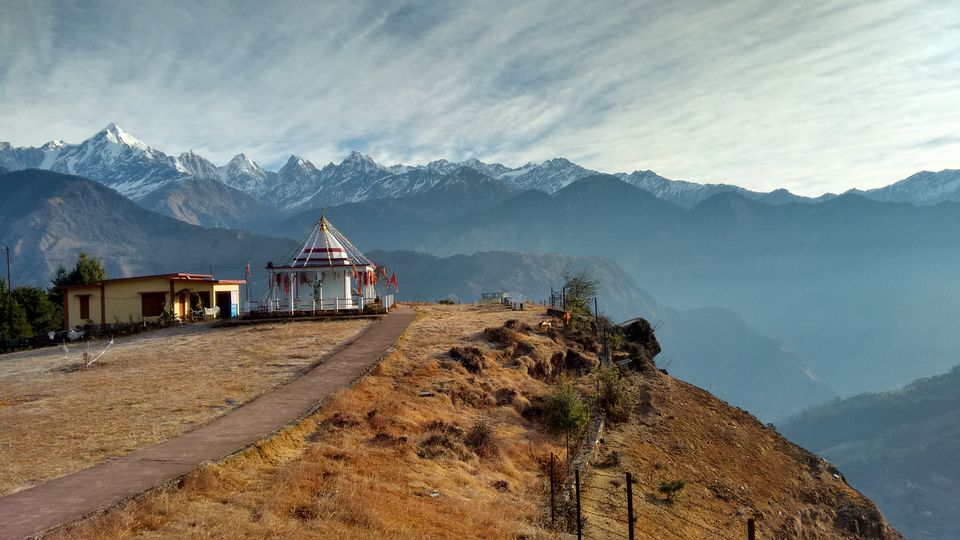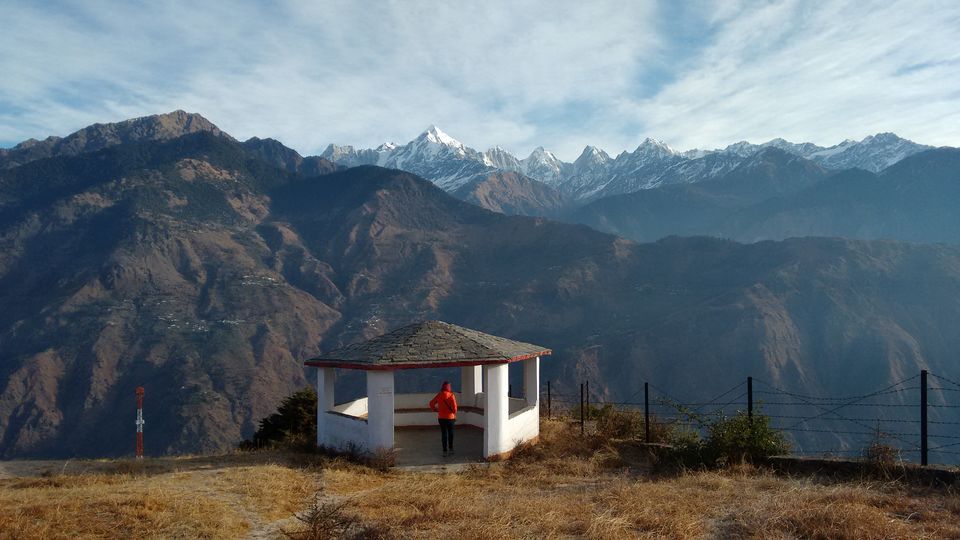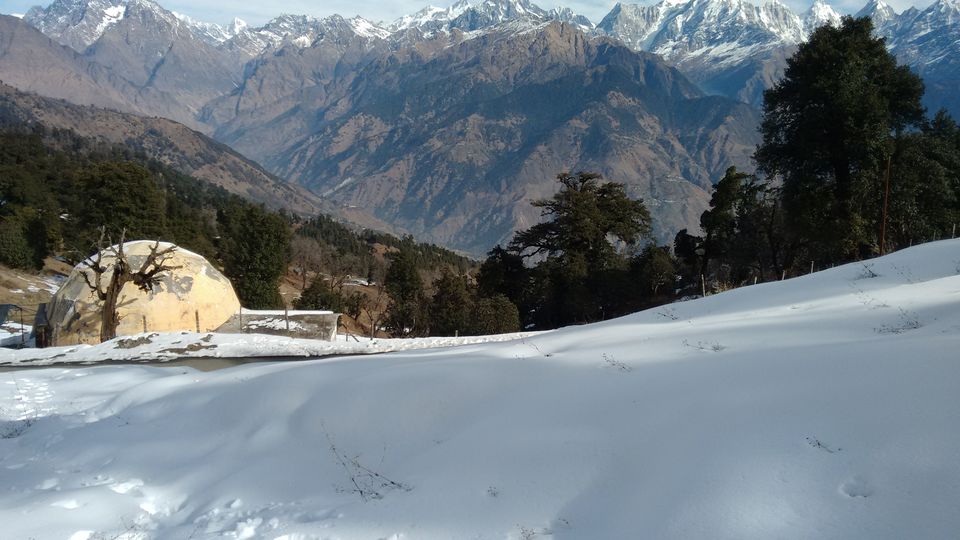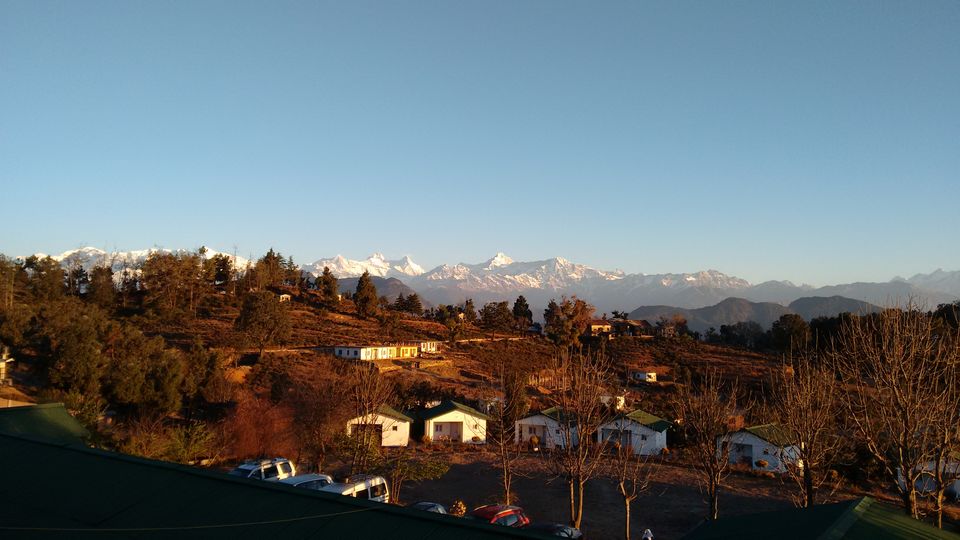 My husband and I had our Christmas vacations and we didn't want to waste our time tucked up in quilts in the harsh and merciless Delhi winters. I had never seen the beauty of mountains in the winters. So we decided to go to Kumaon- specifically Munsiyari from 26th to 31st December 2014.
Slowly the reality started cropping up. The roads in Kumaon were not in a very good condition so it was not advisable to take our own vehicle. So we decided to go by train to Kathgodam and take buses from there. The drive from Kathgodam to Munsiyari was around 10-11 hrs. (280 km) as the roads were very treacherous, narrow and ever bending and curving. After having gone through a lot of travel blogs and connecting with travel experts over the internet we decided to break the journey into small legs, to reduce travel fatigue.
The final itinerary stood at: Kathgodam—>Binsar—>Munsiyari—>Choukori—> Back to Kathgodam
As the date came closer Delhi winters became non-forgiving and it was extremely difficult to put hands in water. And I kept on repenting on my decision of heading to places with extremely low temperatures. We packed a lot of extra woolens, socks, gloves, warmers and a lot of chocolates and dry fruits just in case we got stuck somewhere indefinitely due to snowfall or blocked roads.
The ordeal began on the 26th Dec early morning when we headed to the station at 5:30 in the morning. It was extremely cold and I was on the verge of tears. The train was on time and we started our journey at 6:15 am. The journey was short and comfortable with mostly views of fields and the hovering fog. We reached KGM at 11:30 am and surprisingly were welcomed by warm and pleasant sunlight. It instantly lifted our spirits. We hired a taxi for Binsar from the station for INR 1500 and started our exciting journey. The hills started appearing in sight almost instantly and the scenery and the sun cheered us up.
We crossed Bhimtal and moved ahead for Almora. Binsar falls under the Almora district. It took us around 3 and a half hrs to reach Clarks Inn Binsar. It was a pretty resort, a little off the main road and few km before the main Binsar town. Immediately we retired to our room, ordered food and rested for the evening. At night we explored the resort. There was snow on the non-sun facing side of the hotel and we had fun playing in it.
Binsar lies a little higher than Almora and offers panoramic views of the Himalayas. The Nandadevi Peak,  Mount Trishul and Nandaghunti a are clearly visible from here. The best hotels to stay here (in all of Kumaon) are the KMVNs- The Kumaon Mandals Guest Houses as they are the oldest and placed at the best locations with best views. But it is important to book well in advance as they are mostly full in the season. Unfortunately we couldn't get a room there. Everything else was second best.
Next day we headed outside on foot to explore the surroundings. The sun was bright and comforting and the walk was enjoyable. After walking for an hour we got a shared cab which took us to Almora for Rs 30 per person. One can hire a reserve cab from the resort but they charge exorbitantly for the ride to Almora (Around Rs 1500). The local people are friendly and shared taxis are quite safe.
It took us half an hour to drive down to Almora. It is a big town and quite an old settlement. There is one main or mall road with narrow streets emerging from it. The mall road was thronging with small hotels, tea shops, shops selling fruits and vegetables, samosas, pakore etc. The buildings and houses looked very old and rickety, ready to tumble and crumble. We climbed the stairs to an extremely narrow lane and entered what was the local market of Almora. Everything from bags, clothes, gloves and mufflers, to utensils, bangles, eatables, vegetables were being sold there. Because of lesser exposure to sun, the road was damp and muddy and laden with mud, water, cow dung etc. We found a shop which looked like it had been there forever. This was an old jalebi shop which was being run by a family for 3 generations. The shop was dark with walls and a very high non-existent ceiling covered with soot. The benches and tables were very old and wrecked. The shop sold only jalebi and hot milk and there were queues of people waiting for their turn. There I had the best and crispiest jalebis of my life.
The jalebis fired our appetite and we hunted for restaurants/ eateries. But it took us an hour and a half to find a small clean restaurant (Alka Restaurant). Restaurants and eateries were almost non existent on the mall road . After filling up our stomachs, we went to the chowk which is also the min taxi stand and after much haggling, booked an alto for the rest of our tip for Rs 9000. The driver was supposed to pick us from Binsar and take us to Munsiyari the next day, stay there for 2 days and take us to Patal Bhuvaneshwar and then Choukori on the fourth day, and after a night stay at Choukori drive us back to KGm to board the train back to Delhi on time. We had cracked a good deal.
We explored the mall road towards the other end after this then realized that most of the eateries and dhabas were towards the other side of the town. We visited the famous Nandadevi Temple of Almora but it was closed on Saturday. We spent some minutes of peace and rested in the temple compound and headed back to Binsar.Few kilometers before our hotel we left the cab and decided to bask in the setting sun before it became very cold. We had located an elevated clear area in the morning and so we sat there in the sun hogging on some munchies. We walked back to the hotel before dark and rested for the later evening.
Next early morning we checked out and left for Munsiyari. While leaving Almora we visited the famous Golu DevtaTemple.  Golu Devta is a re incarnation of Lord Krishna and it is said that in this temple what-ever you pray for is granted. The obliged worshippers tie bells as gratitude and thanks to the lord. The Temple compound was laden with hundreds of thousands of bells and applications to the Lord on stamp papers. We meditated there for a while and set out for Munsiyari.
Our driver Ashok was from Almora and was a skilled driver. While Binsar is in Almora, Munsiyari falls in Pithoragarh. Both Almora and Pithoragarh are on the two banks of river Saryu. We crossed the Saryu bridge and entered Pithoragarh. The roads were very good and newly constructed and lined with Chir trees all the way. It was a beautiful sight and looked right out of old Bollywood movies.
The drive to Munsiyari was one of the most scenic journeys I ever took.  Soon the roads became treacherous and broken and interrupted at many places.  We crossed a police checkpoint at a small village called Berinaag. Berinaag offers the most magnificent and vast view of the snow capped Himalayan peaks all around. From extreme left starting with the Nandadevi to the mighty Panchculi peaks the view is amazing and unobstructed. But unfortunately Berinag is not developed as a hillstation although it has a huge potential.
From Berinag we headed to Udiyari bend which is the midpoint of or journey and where we were supposed to halt for snacks. We reached Udiyari Bend at around 12:40 pm after travelling for almost 5 hrs.  We stretched and straightened our limbs and nibbled on some light food and headed further. From Udiyari Bend the road splits and the left one goes to Choukori which was our last destination. For now we took the other road which would take us to Munsiyari.
We started climbing higher and higher. The scenery became unbelievably beautiful. The roads were very curvy with endless hairpin bends and zigzags. Due to height we started feeling mountain sickness and orange cnadies came to the rescue.Soon as the height increased the Chir trees were replaced by shrubbery and deodars. Luckily for us the sun god was favouring and we got the most amazing weather throughout the trip. We came across many small rivulets, small bridges, each one adding its beauty to the nature but lost in oblivion here. The last village that we crossed before Munsiyari was Thal.  After Thal for kms together we did not find any habitation. All we saw were giant mountains and valleys and our miniscule car was like a particle in this ocean. Occasionaly we found some horses or mountain goats grazing at dangerous points.
Ashok told us that we would be reaching the mountain top – called Kala Muni top and then will descnd for Munsiyari. The heights were making me dizzy and due to fatigue I was now not able to appreciate th beauty of the surroundings. The roads now were very narrow, enough only for one vehicle to pass. Also there was snow in patches on the sides. The air was extremely cold now.
We reached KalaMuni top at aroun 4:30 pm. There was nothing except a small temple and an old tea shop. We halted for some tea and the Panchchuli peaks which were playing hide and seek all along the journey from Berinag were standing in front of me I all its glory. The driver tld us that the view would even be better from Munsiyari as the mighty Panchchuli are right there some 100 kms from Munsiyari. I couldn't believe we had reached so close to those mountains.
We started again and soon were on the non-sunny side of the mountain because of which there was snow all around and very chilly. Soon we entered Munsiyari district and by th time we reached the guest house it was quarter to 6. We had made arrangements at the KMVN as it was the best there and when I saw the view from the room I had no doubts left.
The Panchchuli sttod in front of me and I was short of words to express my astonishment and praise for the beauty. I was smitten. KMVN take the best lands in the location. We unpacked and relaxed with some tea and snacks. The service of the guest house was very prompt. The cold was unbearable though and we had to rent a heater to survive. The entire night I kept on waking up to check if it was not a dream. The Chulis were right there staring at me in the starry night and clear skies.
Next morning around 6:30 we heard loud knocking rather banging at our door. I was extremely scared but Kartike yelled to find out who that was. It was the waiter with our bed tea. A rather door breaking tea it was. We were force to have the tea and then slowly crawled out of our beds. We spent some time in the balcony absorbing the view around us as the sunrays filled up the town below us.
Munsiyari is in the Pithoragarh district and is the last town from Indo-Nepal Border. It is literally at the base of the Greater Himalayan Range. A lot of treks to the Himalayas originate from Munsiyari. Milam Glacier trek and the Ralam Glacier trek are the most popular ones for mountaineers and enthusiasts.
After the breakfast (poori sabzi and omlet) we strolled in the streets and clicked a few pictures. There was nothing much to do in Munsiyari. The town is not well maintained and is extremely dirty. Partly due to the tourists who throw their trash on the roadsides and aprtly due to the ignorant locals. You don't get the newspaper until afternoon as it comes from Thal every morning.
After couple of hours we retired to the room and Kartike went to to do what he loved most- sleeping and I picked a random book from the reception and sat in the sun.
The book was nice and informative – about pilgrimages in westen Himalayas and legends behind these mystical peaks and the temples. I read out some stories to Kartike and we had a great time. We decided to keep the day light and roamed in the guest house and the gardens.
Next morning we headed to the ancient nandadevi temple aound 3 kms from here. The receptionist had told me about it.  It looked promising on the net last night but I ahd fears and Kartike was threatening me that it wouldn't be a great place to spend precious time.  The stairs leading to the temple were easily ignorable and next to a secluded road.  What the stairs led to was the biggest surprise of my trip, and easily themost memorable sights of my life.
The stairs led to a small iron rotating gate which looked at a vast open clearing on the mountain top at the edge of which stood a small temple, protected by the magnificent mountains shadowing it.
We were mesmerized by the grandeur of nature. In front of us there was a vast grass covered clearing with the backdrop of mountains. The temple is dedicated to Nandadevi Peak, the goddess. There were small benches in a row and a small canteen which was locked up as it was too early in the morning. The leaves and grass were covered with frost. There were small constructions with hatched roofs and benches to sit and ogle at the scenery. Fro where we stood it looked like they were on the edge, but once we went there we realized that they were on a gentle slope which went ahead slowly into a small village.
We spent an hour there; this was the best moment of the trip so far. The driver told us that every year there nandadevi fair is held here as a part of Nanda Devi fairs across Uttarakhand in the month of Aug and Sep. The villagers come here they buy and sell local produce, mingle, cook food together, sing and dance. The fair signifies the economic  and cultural effluence of the region. We were awed by the information. Never in my dreams did such a beautiful place exist.
We had a hasty breakfast and left the hotel by 9:30 am for Choukori via Patal Bhuvaneshwar. Paal Bhuvaneshwar was a must see place in this area as suggested by a lot of people on different forums on the web. It is referred to as Patal by the locals there. As it is out of the way from both Munsiyari and Choukori, not many people who are budget travelers visit this place.
The drive from Munsiyari downwards was very beautiful. We came across an untouched snowfield with pristine white snow cover. We decided to halt for sometime and play there. It was fun and the snow was still loose because of which we were literally knee deep in it. The day was giving us one pleasant surprises after the other and we very enjoying them for sure. After a pretty regular yesterday, this day was quite eventful and action packed.
We halted again at Thal and decided to take a stroll in the local market. Thal is situated on the banks of Ramganga river. The chief minister was scheduled to attend a function there and so the entire town seemed to be busy preparing for the visit. The markets sold all sorts of groceries, items of daily use, cane made items etc. We pushed again after half an hour. The greenery and terrain around us was spellbinding.
But soon we became tired as for the past three days we had traveled a lot. Patal was still couple of hours away. We halted near Udiyari Bend for some tea and moved again. After crossing BeriNag the driver tld us it was another couple of hours. My patience was giving up. We had been driving since 9:30 am and it was 2 pm now. The sun was setting and it was getting colder. Soon we were passing through endless forests sans any habitation and it was not giving me a very good feeling.
We reached Patal around 3 pm and our phones and camers and wallets everything was collected on the main entrance.
Pata Bhuvaneshwar is a cave temple which claims to have formations of all 34 crores Hindu Gods and Goddesses.  It lies in the Bhubhaneshwar village of Pithoragarh district. It is basically a limestone cave with Stalactite and stalagmite formations which over hundreds of years have gained reputation of temples by locals and adventure seekers alike.It is basically a series of caves inside caves formed due to seeping waters.  The cave is believed to be as old as the earth itself. The mountains have their own legends and folklore which are mystifying and intriguing. The cave is believed to extend to the Kailash Mansarovar but then nobody has ever tried to make that journey through the cave due to lack of oxygen. Our excitement was palpable and we started walking to the cave barefoot. The entrance to the cave is extremely narrow and it has almost a vertical drop which is very congested. One has to take the support of iron chains to climb down, minding our heads at all times. We were obviously not allowed to take pictures.
The entrance freaked me out and I outrightly refused to go inside. It is broad enough for one person to crawl and if you are claustrophobic, better do not try.  My husband and the temple guide encouraged me and entered swiftly, showing me the way. I held the guides hand and slowly crawled inside, trying to fix my foot on slippery stones and rocks. After much ordeal and twisting of our bodies we reached the main body of the cave which is said to house the Hindu Deities. The cave is ample lit and ventilated to feel comfortable. There was a snake formation called the SeshNag which is said to have supported the cave and this earth on its head. There were Lingas of Lord Shiva, formations of Lord Brahma and ganesh, Indras elephant Airavata. It was very spooky but extremely interesting and beautiful in its own way.
After exploring the cave the guide showed us few more connected passages to series of caves but the path was very narrow and suffocating so we did not try those. The climb back to the entrance was equally challenging and I thanked our stars once I was out of the cave. It was an experience of a lifetime and the place is a must visit in this region of the Himalayas.  It was already 4:30 pm by the time we came out and we rushed to our last stop- Choukori. We reached the Choukori KMVN guest house at 6 pm and the last rays of the sun were bidding us goodbye. The guest house had a huge field infront of the main building and towards the horizon I could see snowcapped mountains all around. No wonder Choukori is a mountain lovers delight.
We spent sometime in the balcony absorbing the view of our last sunset in Choukori. After light snack we retired to sleep as we were extremely tired and the next day we ahd to start early for KGM.
The wake up call (knock) came at 6:30 am and we hastily got ready. The sunrays, orange in color soon turned golden and lit up the entire Choukori.  It was a beautiful sunrise. We wanted to sit and enjoy the beautiful morning view in the sun, sipping tea but due to dearth of time, we had to push soon after settling the bills. We bid adieu to Choukori at 7: 30 am, still hungry for more, promising to be back soon.
The journey back to KGM was a low key affair; we were happy yet sad to leave such a beautiful place. We reached KGM by 1:30 pm and had enough time to fill our stomachs before our train back to Delhi. (3:15 pm).
This tryst with the mountains was by far the best of my life.he mighty Trishul, Mount Nndadevi, the magnificent Panchchuli Peaks, each one more beautiful and splendid than the other, I never got so close to the mighty Himalayas like it was this time. The trip left me craving for more. There are a lot of treks that start from these places especially from Munsiyari, but we did not have the time and physical fitness for those. We plan to come back for the treks soon.