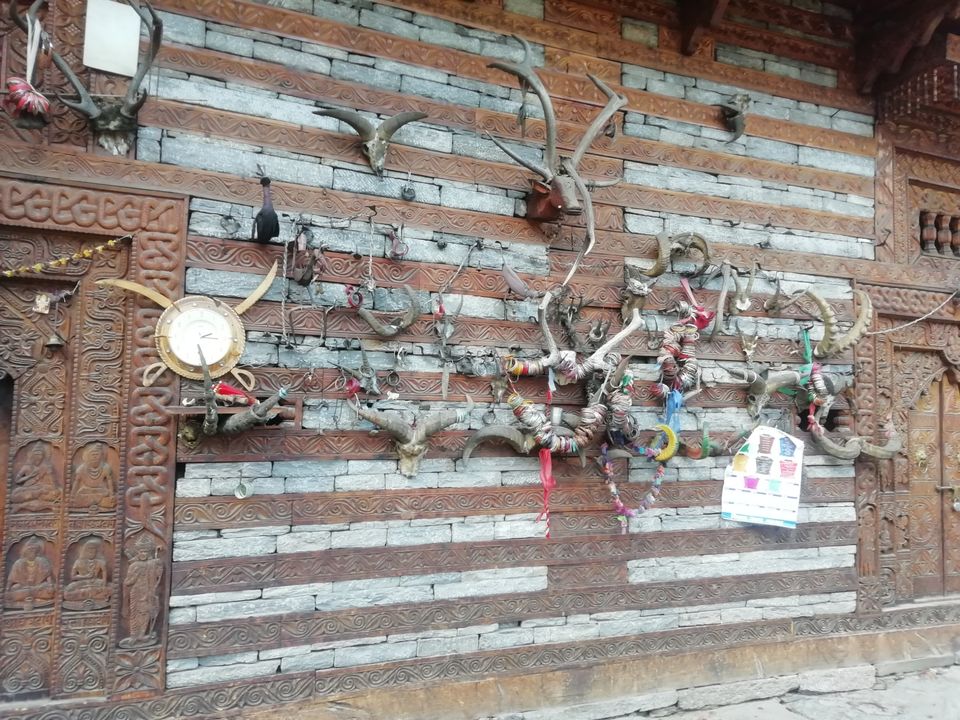 After trekking back from Chalal to Kasol, last evening, I went ahead to 'Jeet German Bakery', in Kasol Main Market itself. I went to meet Jeet as he is one of my known local guy of the place. I enquired with him some things regarding the Malana village, and he later introduced me with a friend of his who was a taxi driver over there. That guy told me that there is a fixed and standard price of the taxi's which is completely non-negotiable (Rs. 1850/- for Malana up-down from Kasol, and the driver would wait there for 4hrs; additional hours would cost Rs. 200/- per hr). The guy also gave me an offer that he could take me there in Rs.1400 only if we could begin early in the morning by 5:30 am.
I agreed to his second deal and said that we'll meet him by 5:00am. He also said that hell call in the morning to wake us up. Now, these are all the plannings which we did and then I procedded from Jeet's to my girl to inform her the things which we discussed upon. She also was fine to wake up early, but now the thing is, what I always say and believe very firmly, 'Things in Life can be planned and pre-planned, but what finally is the outcome, is the perfect will of ALMIGHTY.'
After having our dinner, we straight headed back to our stay, for a sound night's sleep as we had to wake up early in the morning next day.
Next morning we woke up at 9:30am in the morning. I checked my phone and saw I received 3 missed calls from the guy I had word with last evening. I called him back, he did answered, but said now it's late, either he'll take us by the standard charge, else we need to go tomorrow morning early. I looked into my girl's eyes, and the first thing which she said to me, with a smile on her face was, 'Very Good Morning My Love.' I just smiled back, both of us were contently happy, and were just counting on the abundant blessings which THE ALMIGHTY showers on us all the time. Both of us got up & ready, packed our bags with some eatables and necessary stuff, and headed to the Kasol Main Market taxi office. We had a word over there with the front desk person, he told that they 'ONLY ACCEPT CASH, NO CARDS, NO PAYTM'.
Then we went to the ATM to withdraw cash (P.S. It is advised had whenever you go to the mountains, carry cash with yourself, as a lot of times there is no cash in ATM, and then the only option would be Hotels or Money Exchange Office, where they would charge some percent, ranging from 5-10 or beyond). After withdrawing cash we went to Turquoise Café (must visit, delicious food, Rs. 400-500/- for 2 people) for our breakfast. Then we went and took a taxi and started our journey to village Malana.
The trek to Malana can be termed as an easy one if you've done trekking previously, moderate if it's your first time. On our way we met a dog who accompanied us all our way, on our way back, a bitch along with her 3 pups also came along. Trekking along with these beings is fun, you stop calculating time and distance of your travel. It is approximately 45min to an hours trek from the point the taxi drops, till Malana village.
When you enter the very famously-infamous village, the vibes and the auro suddenly change. You find these sign-boards saying fine on touching things of village, especially on touching the temple. You can freely interact with the locals, but you cannot touch or sit anywhere, even go anywhere, without seeking permission from a local.
After spending there approximately of an hour or so, observing things around, we decided to trek back. With a lot of things to learn, and a lot of things to change, also some new experiences gained, we started our journey back. On our way back, we took a halt a café and had evening light meal, enjoying the weather and the auro around us.
Sometimes in life, things around us don't seem that positive, but we always gotta keep our focus on that one lil positive thing. Cuz' that's not a lil, it's just waiting for the harvest time to grow and expand. Happiness would eventually follow, pain and sufferings fade away. We gotta thank THE ALMIGHTY for HIS abundant blessings upon us, and stop blaming HIM for the troubles of our lives, rather we should seek HIS help to bring us above the troubled-waters.
Hope you enjoyed reading. Will get back to all of you with my next, The #HimachalDiaries. Till next time.. Love and Peace to all.