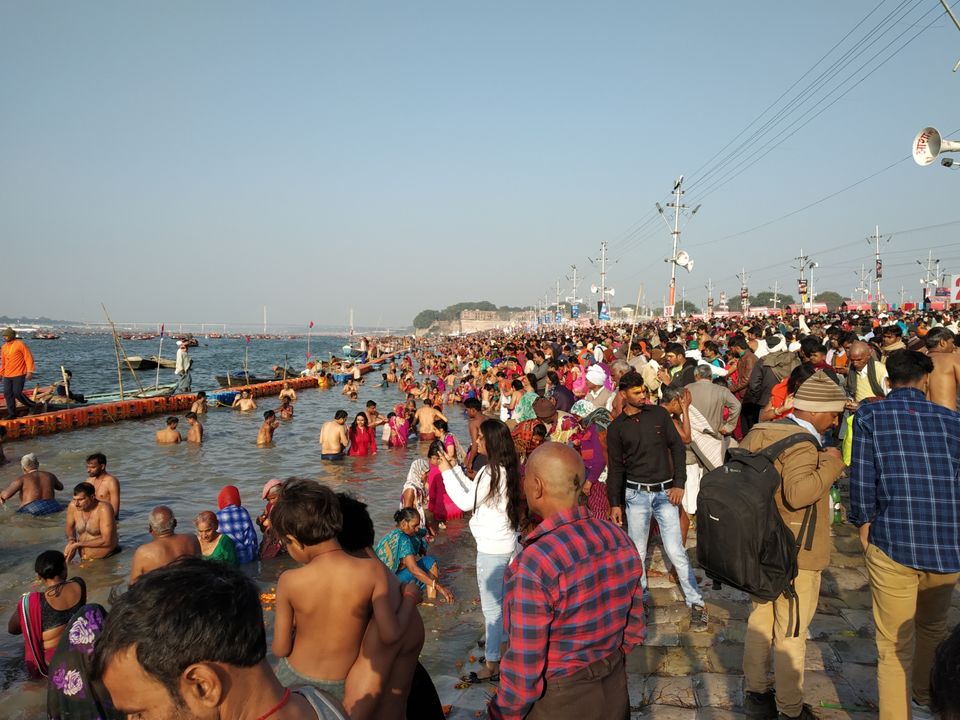 It is my first ever travel blog and this is my story of Kumbh Mela 2019 at Sangam, Allahabad.
Let's start.
● The Departure...
I started my journey on 2nd February from Chandigarh and boarded the Janshatabdi Express at 8:00 A.M. to New Delhi. Though there are few trains which operate from Chandigarh to Allahabad (or Prayagraj now because Thankyou U.P. Government) but due to kumbh mela, the seats were overbooked hence we decided to board from New Delhi.
Our second train was Poorva Express (Train No. 12304) which we missed because my mother's train (Shatabdi Express Train No. 12406) (yes we boarded different trains because my traveller butts were itching to explore delhi. Hence i left early.) arrived late at 6:15 P.M. whereas Poorva's departure was scheduled at 5:35 P.M. Somehow we managed to board another train (Shivganga Express Train No. 12560 scheduled for departure at 6:55 P.M.) to our destination with invalid tickets because due to hactic scenario we were unable to manage the Late Arrival Certificate from the Ticket Examiner.
So because we were on a different train without tickets we didn't got the reserved seats. But thanks to an elderly sweet couple from Sri Lanka who offered us a part of their seats to sit.
● The Arrival...
We reached Allahabad next day at 4:00 A.M. And i swear not to travel without a reservation as i encountered severe backache due to countinously sitting for 9 straight hours. And to our horror there was no transport option available outside the railway station because the police blocked the surrounding area till 1.5kms. So there was no other option left than walking down the street in search of an auto, or e-rickshaw, or rickshaw.
But the environment was so calm and peaceful that we enjoyed the walk. The good thing was that we were not alone at that time as several other people were also on the same path as ours.
So finally we found a rickshaw who happily agreed to drop us to our destination (i.e. my maternal grandparent's residence).
● The D-Day or 'Shaahi Snan'...
So after a day's rest We started our hustle to take bath. There was no transport option available towards the sangam area because due to the risk of lawlessness and traffic jams, the city was declared transport free near the sangam area. Thankfully our house is situated near the Sangam so most of the problem was already solved. So we started walking towards the spot at 5:45 A.M. and covered the total distance of around 5-7kms at 7:00 A.M. approx. (I genuinely respect the hardwork done by the devotees who covered a total distance of 20kms approx. back and forth walking.)
The enthusiasm of the devotees was one of it's kind. Also being a late riser, the sunrise was a scene i was missing all these years.
The preprations were well organized by the officials. There were light poles near the confluence and bathing area, marked with numbers so that people can easily identify their spots where they kept their belongings. Mobile washrooms were available in ample quantity. Of course there was rush as more than 50 million people enjoyed the shahi snan (or royal bath) on 4th February. But the experience was one of it's kind and unforgettable.
Come out out of the bathing area and you will find yourself surrounded by food stalls, vendors selling numerous types of household items, toys, gifts. And yes, there were rides too.
Apart from the officials, the local residents were also very helpful. There were several food spots (bhandaras) organized by the locals for the tourists and devotees within the city. (For rough idea about the number of such bhandaras, there was atleast 6 to 8 spots available at a stretch of 1 km. Now do the calculation for rest of the city. And yes, they charged smiles and satisfaction and no money.) And man, the food provided was actually very tasty.
So this brings me to the end of my first blog.
Thankyou for reading my story.
Like