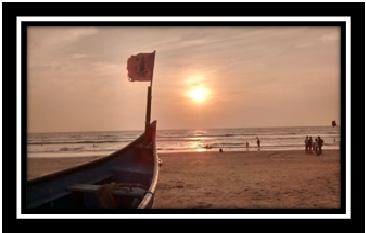 "Nestled in the arms of nature and lapped by soothing waves, let peace envelope you in Arambol Beach, Goa." promised the pamphlet that I clutched in my hands. I looked up and surveyed my surroundings in disappointment. I looked back down at the lying pamphlet and crushed it in my fist. The nature, if ever had existed was camouflaged by the overcrowded shacks run by overenthusiastic salesmen. The 'soothing' waves were dotted with adults and children of all shapes and sizes as they assaulted my senses with a hullaballoo of sounds. I was more likely to get peace in a local train during peak hours as I struggled not to fall to my own demise than I was going to get in the midst of all this chaos.
Growing up in a country as populated as mine, solitude was very hard to come by. I would often find myself surrounded by scores of chatty relatives even in the sanctuary of my own bedroom. After a particularly difficult period in my life, I found myself unable to ignore the spirit of wanderlust nipping at my soul and finally threw caution into the wind. However, here I was, 300 miles away from home and no closer to the much needed solitude.
I began morosely trudging along the length of the coast, feeling the waves persistently tugging at my feet. I courteously made way for a very busy looking crab and watched as it scuttled away. It was at this time that I noticed a curious rock. From afar it seemed menacing and stoic but as I neared it, I felt myself being pulled towards the adventure it promised. Reaching said rock was no picnic. I had to exercise muscles I forgot I even had, to ascend and descend the looming mountainside. I waded through the multitude of street vendors as they haggled away with unsuspecting foreigners. I was in a trance as I walked through the throngs of crowds that seemed so familiar to me.
Walls of multicoloured graffiti guided me to the end of the narrow street and into the jaws of the mysterious rock. I made the heroic ascent to the top of the rock and felt like I was on top of the world. I watched scantily dressed foreigners pass me by as decrepit old men leered at them.
That's when it happened. As I followed the gaze of the lecherous men, I noticed that the foreigners seemed to disappear in front of my very eyes into the violent sea. I knew from
experience that bargaining with strangers was stressful, but I doubted very much that it was stressful enough to make them want to end their lives. My curiousity got the better of me. After all, I had signed up for an adventure, and here it was staring me in the eyes. I watched the foreigners climb onto jagged rocks that were being periodically gulped by the sea and spat out again, only to disappear into the moist air. I took a deep breath and clung onto the rocks for dear life as the sea tried its best to pry me into its infinite depths. Every wave that pawed at me only motivated me to reach the other side faster. I was halfway there and stuck between a literal rock and a hard place. When the wave receded to gather its friends for its next attack, I waded through the watery depths like there was no tomorrow.By the time I reached the other side, I was drenched from head to bare toes as I clutched onto my slippers which had made several desperate attempts to break free and follow their destiny into the water.
What greeted me was the breathtaking view of a beach long forgotten by most. It was a hippie paradise. The sunkissed beach was held in warm embrace by the soft waves. I felt my feet sink into the crusty sand as I set on my way discovering the treasures that awaited me. A few steps into the beach led me to a sulphur lake enveloped by lush green mountains. The jaundiced water bubbled in joy as I bent down to smear the mud on my face allowing it to work its medical magic on my pimple ridden skin. I immersed my exhausted feet into the warm water and shut my eyes. My usually chatty inner voice abandoned its constant vomit of words and directed me to enjoy the melodious silence. And for once, my inner voice was right. I gave myself to the sound of the twittering birds and the whispering waves and smiled a very wide, albeit slightly creepy smile. I thanked Robert Frost for teaching me to take the road less travelled and apologised to the now violently crumpled pamphlet carelessly stuffed in my back pocket.
As I bathed in the perfection of the moment, I was struck by the wave of enlightenment that so many hopeful people travel to India to receive. I had spent my entire childhood following the . I merged into the crowd and cried about there being too many people, while all I needed to do was to take the path less travelled. If I pushed through the choppy waters, a paradise was sure to await me to await me. safe path. people, while all I needed to do was to take the path less travelled. If I pushed through the choppy waters, a paradise was sure to await me.