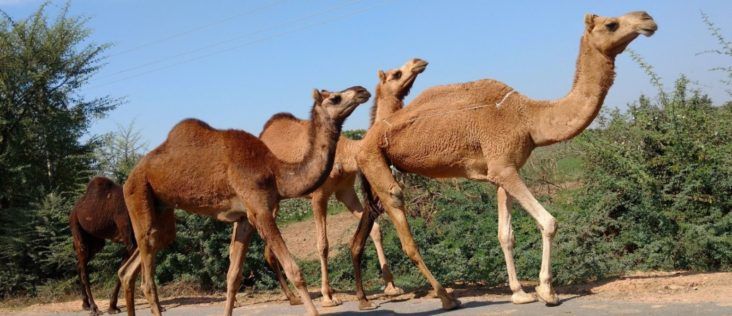 2000 (S)Miles of happiness: Mumbai to Gujarat
Driving your own vehicle on the unknown roads gives you the liberty to greet endless possibilities with open arms which makes you fall in love with the experience instantly. This newly found love in road trips wouldn't let us stay put. Having done a few short trips earlier, we decided to take a leap further and head for a long one! Known for its well-planned road network and amazingly maintained broad roads and expressways, Gujarat became our undisputed choice.
Gujarat is located at the western part of India and is known for its beautiful landscapes, friendly people, culture and traditions that are still prevalent despite its progressive image. It is one of the most famous tourist destinations in India offering you a variety of tourism types ranging from adventure, wildlife, heritage, archaeological, leisure to religious.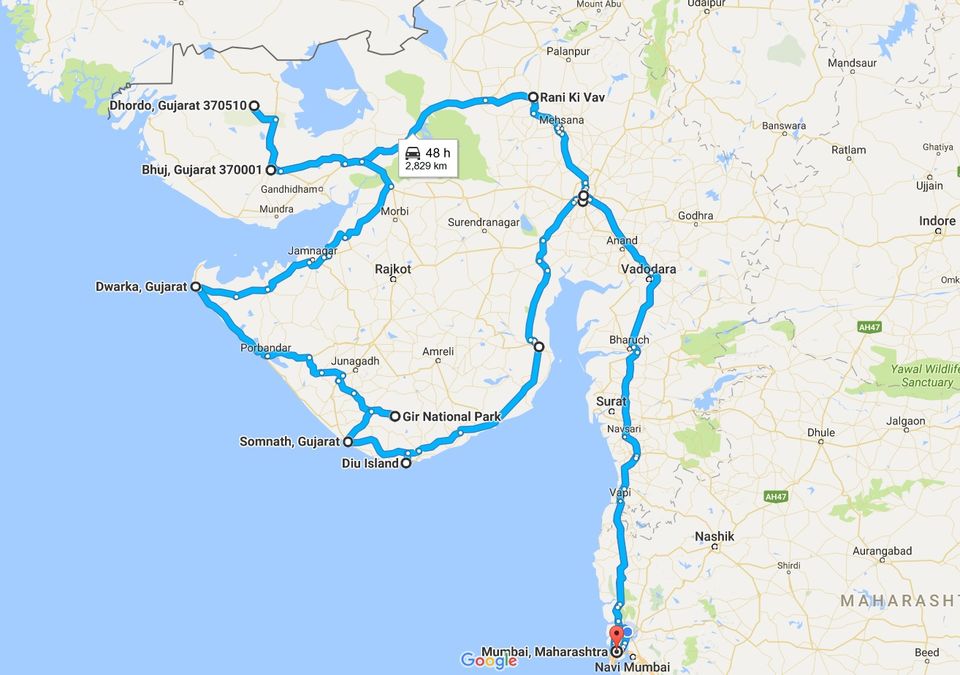 After weeks of planning and research we finally plotted our list of places consisting of a mix match of all tourism types. What appeares to be a Gujarat Parikrama (Circumambulation) was actually a compilation of places we visited in our 8 days trip. Covering a distance of over 3000 kilometers we traversed:
With our bags packed, batteries charged and all hotel bookings done we were all set to embark on our longest road trip. The wait was over and it was time for the journey to begin...
Distance from Mumbai to Kutch is around 1000kms, which called for a stopover. So in order to witness Rann of Kutch on a full moon night, we decided to depart from Mumbai 2 days prior. Gandhinagar was a perfect place to halt being an attraction in itself and located almost halfway. Moreover, the capital city had numerous places of accommodation to choose from suiting your pockets.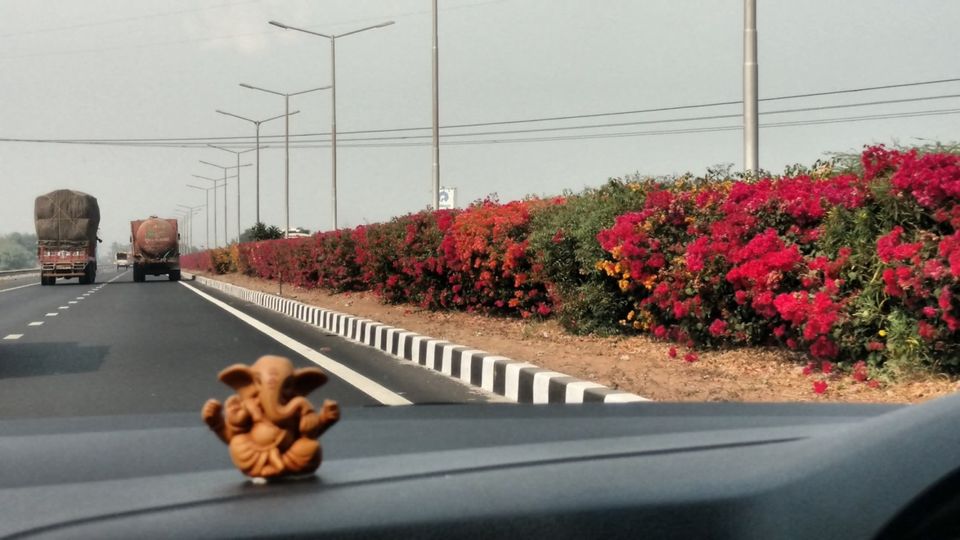 Mumbai to Gandhinagar: 550 km, 10 hours
Starting early morning, taking multiple halts just for fun or to munch, covering 550 kilometers from Mumbai to Gandhinagar (near Ahmedabad) in 10 hours, we reached Gandhinagar by 4 pm. We took the National Highway (NH-48) from Mumbai and the Ahmedabad Vadodara Expressway (National Expressway 1) from Vadodara.
After quickly checking into the hotel, we rested for a few hours and left for a small trip around town. We only had Akshardham temple in our to-do list as a 10 hour trip takes a toll on your body.
Akshardham Temple

Built from 6000 metric tons of pink sandstone from Rajasthan, Swaminarayan Akshardham temple is an architectural marvel built without using any steel or iron in accordance with the Vedic architecture. 20 foot-long stone beams, each weighing five tons, have been used as load-bearing support throughout the mandir.
Huge well maintained garden was the first noticeable thing as soon as we entered the premise. The temple was at the far end with the idol on the ground floor and a painting gallery above it describing the story of Swaminarayan.
Equally good rather best part of Akshardham was theworld class Sat-Chit-Anand water show in an open amphitheatre that happens every evening after sunset. Tickets are available inside the temple premise. The show is a story of a boy called Nachiketa who goes to meet Yamaraj - the death god and forces him to answer the questions on life after death. What makes this show different is the projection of animated characters on a screen formed by numerous high pressure water fountains and the use of elements - fire, earth, light, water and air to depict the difficulties faced by Nachiketa along his path to Yamalok. Role of Nachiketa was played by a small boy but his journey and interaction with the animated Yamaraj was so beautifully depicted and synched as if we were witnessing it in reality.
Breathtaking and enchanting as they describe it to be, lives to its description and leaves the audience spellbound. This was the best water show ever of the ones we have seen and one must experience it at least once in lifetime.
Here is a glimpse of the show: Sat-Chit-Anand Water Show
Other places to visit in Gandhinagar/Ahmedabad
Sabarmati Asharam
Sabarmati Riverfront
Kankaria Lake
Adalaj Step-well
Auto World Vintage Car Museum
Gandhinagar to Bhuj (via Patan): 410 km, 7 hours
Next morning we left for Bhuj and took the road to Patan to visit the magnificent Rani ki Vav. We decided to leave around 9am in order to reach Bhuj by evening.
Rani ki Vav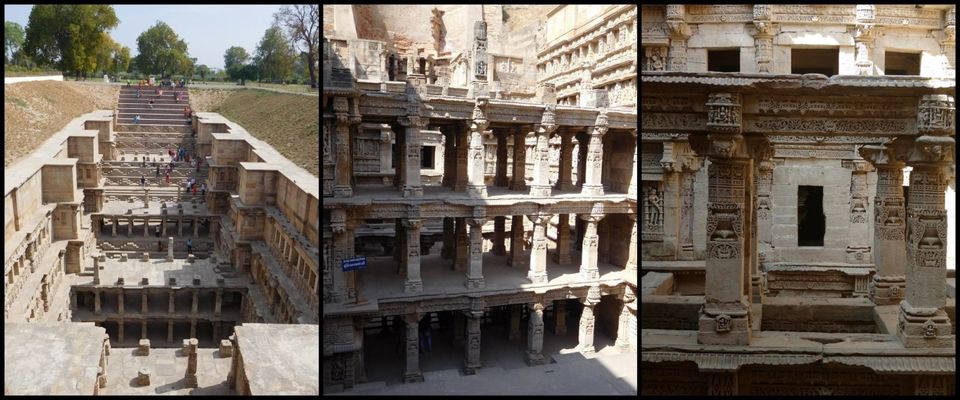 Rani ki Vav or The Queen's step well, 128 km from Ahmedabad, was built in the 11 th Century AD on the banks of river Saraswati and was later excavated. It truly lives by its name and is now considered the queens of all step wells in India and is also added to the UNESCO's World Heritage Sites. The well is designed in the form of an inverted temple showcasing more than 500 principle sculptures and over a thousand minor ones.
The structure was unique and had carvings with details to perfection. Huge steps took us down towards the well. In spite of the scorching heat in the afternoon, it was quite cool; as if we were in the 11 th century's air conditioned room.
We resumed our journey towards Bhuj - located at the northern side of Gujarat. Wide roads running through barren lands were a treat to the eyes, giving us a feeling of heading to the no man's land! We didn't realize when the 5 hour long drive got over as we were lost in the beauty of void!
One can also visit following places around Bhuj.
Wild Ass Sanctuary: Also known as little Rann of Kutch, it is one of the last places where endangered Indian wild Ass can be spotted. This place is also famous for bird watching enthusiasts as flamingos, pelicans and cranes are a common sight in winters. One can take a safari to get a glimpse of these animals and witness the desolate terrain.
Dholavira: It is an archaeological site which contains ruins of ancient Indus Valley Civilization/Harappan city. To understand the site one should take a local guide to the site, more information is available on the Gujarat tourism site.
Accommodation can be a concern in the above areas, so most travelers prefer a day trip from Bhuj.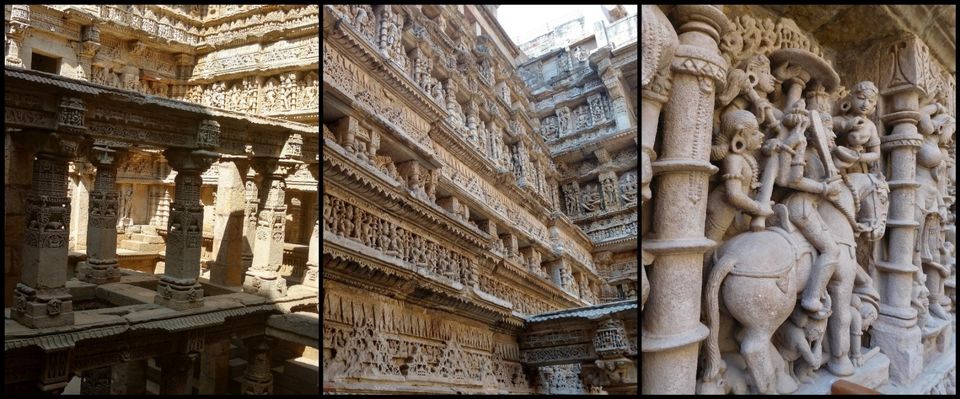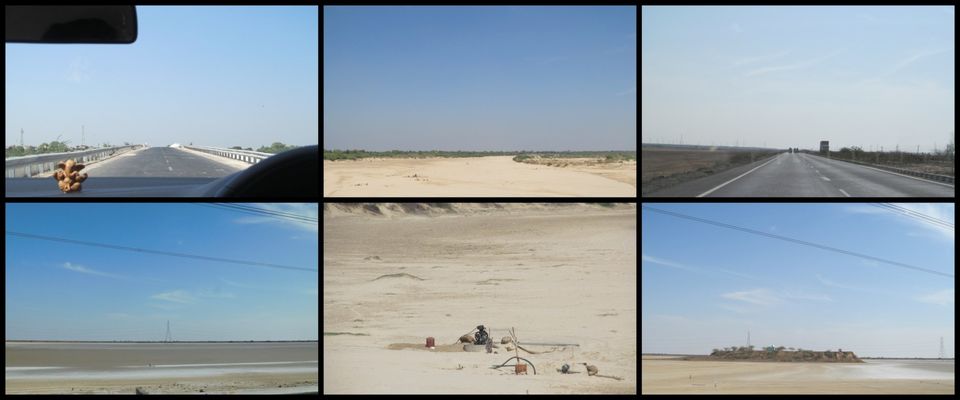 Kutchi culture is prominent in Bhuj. To get a feel of that, we had booked a Kutchi-hut style resort. The resort was an instant energy booster. The splendid view of bright moon, cute little huts along the pool, and their reflection made it a perfect capture!