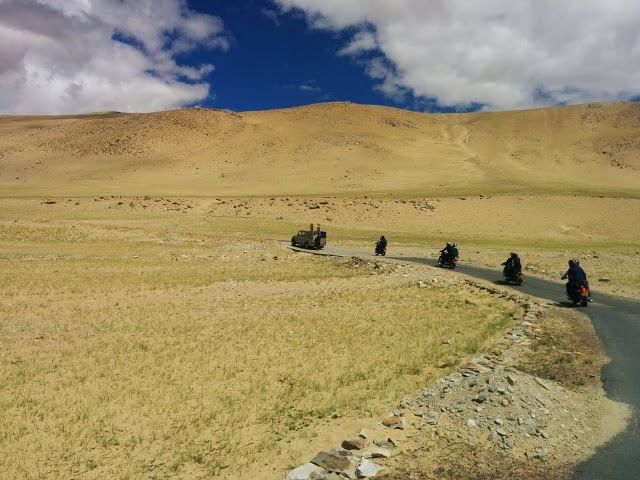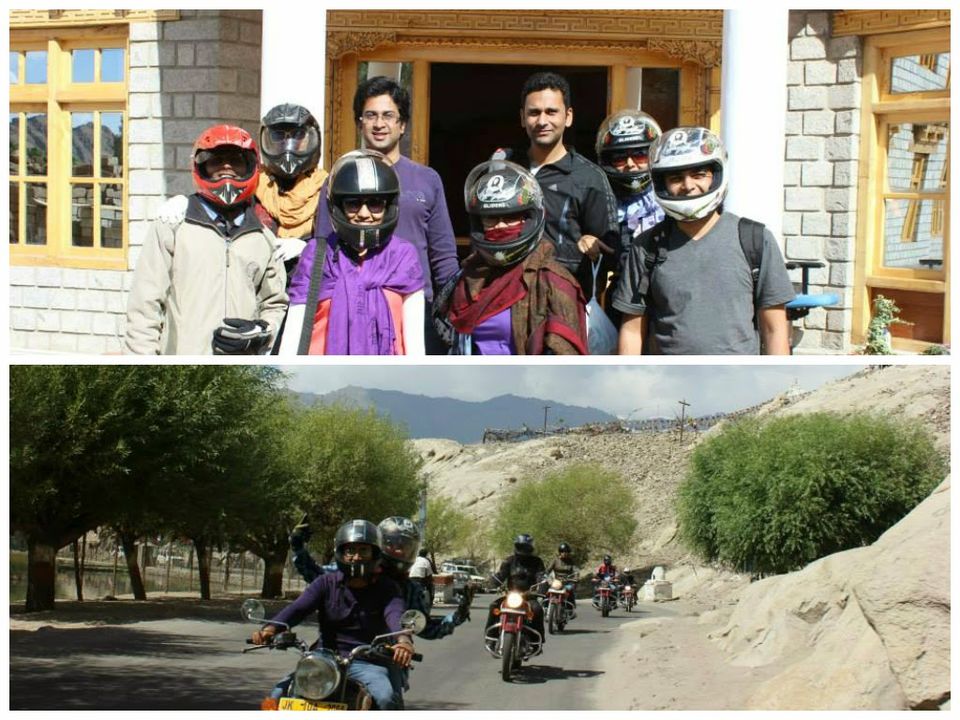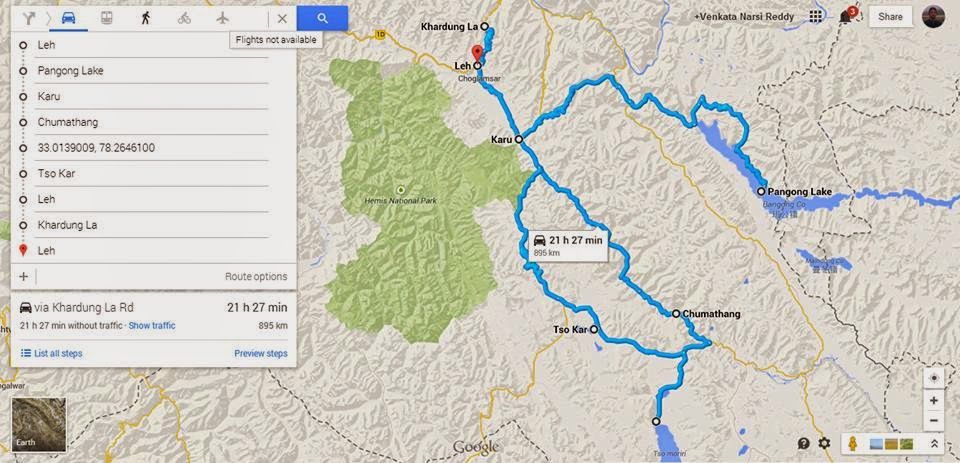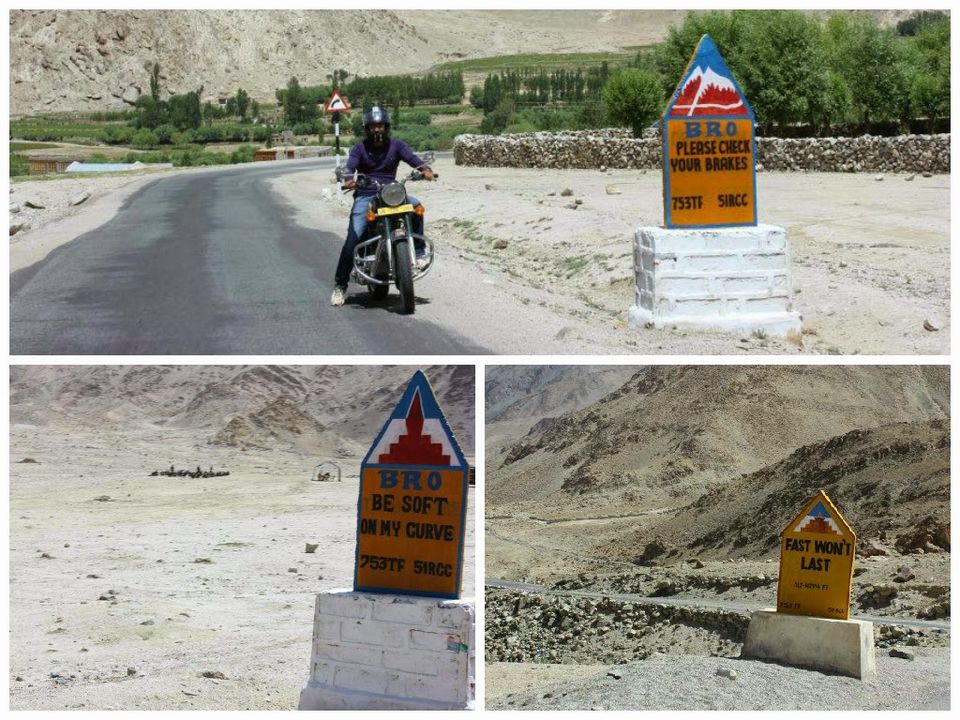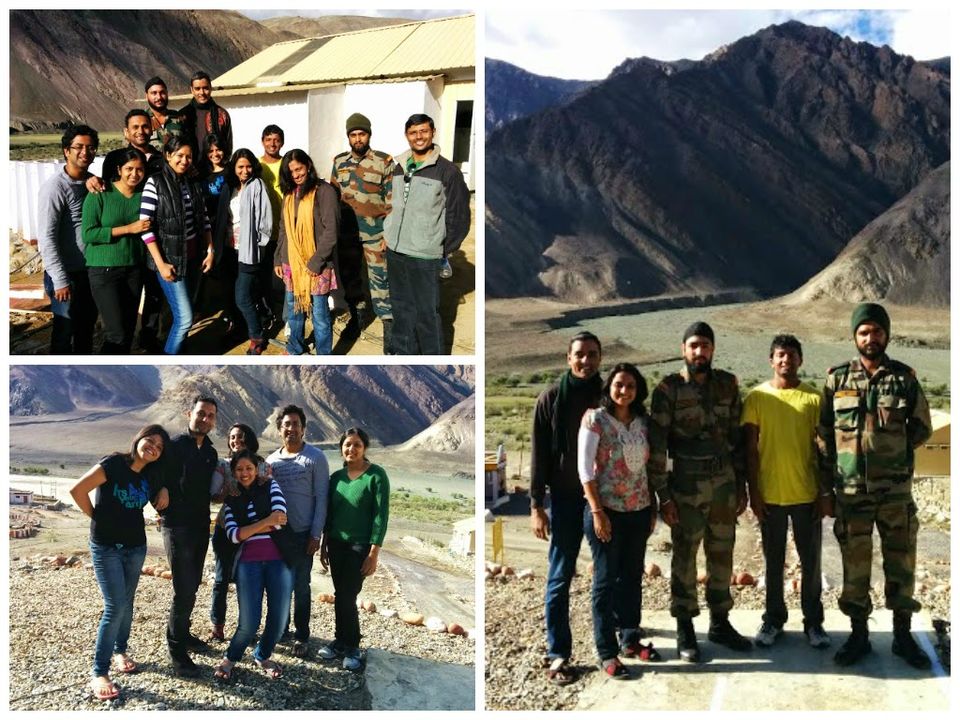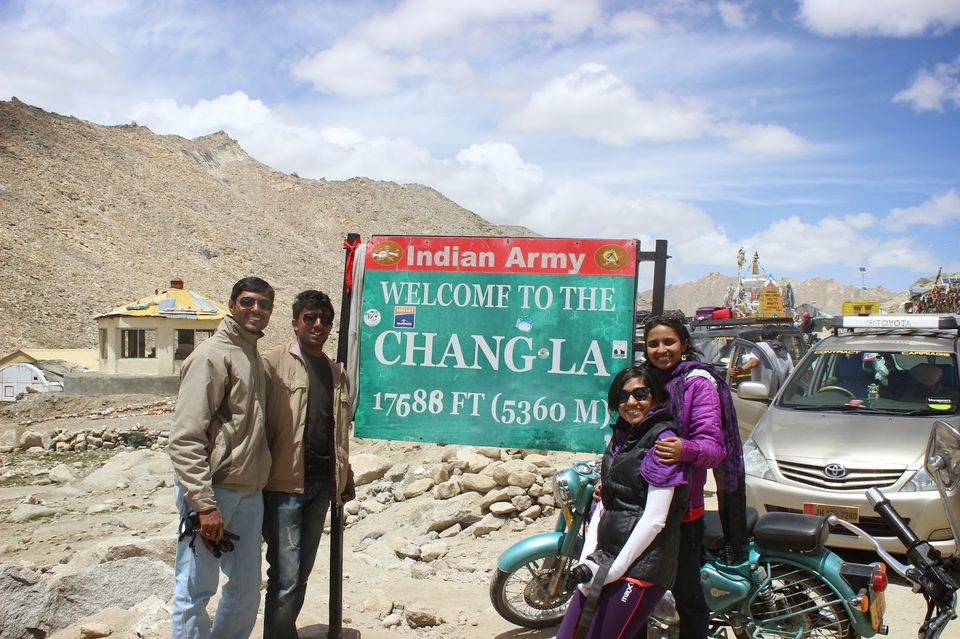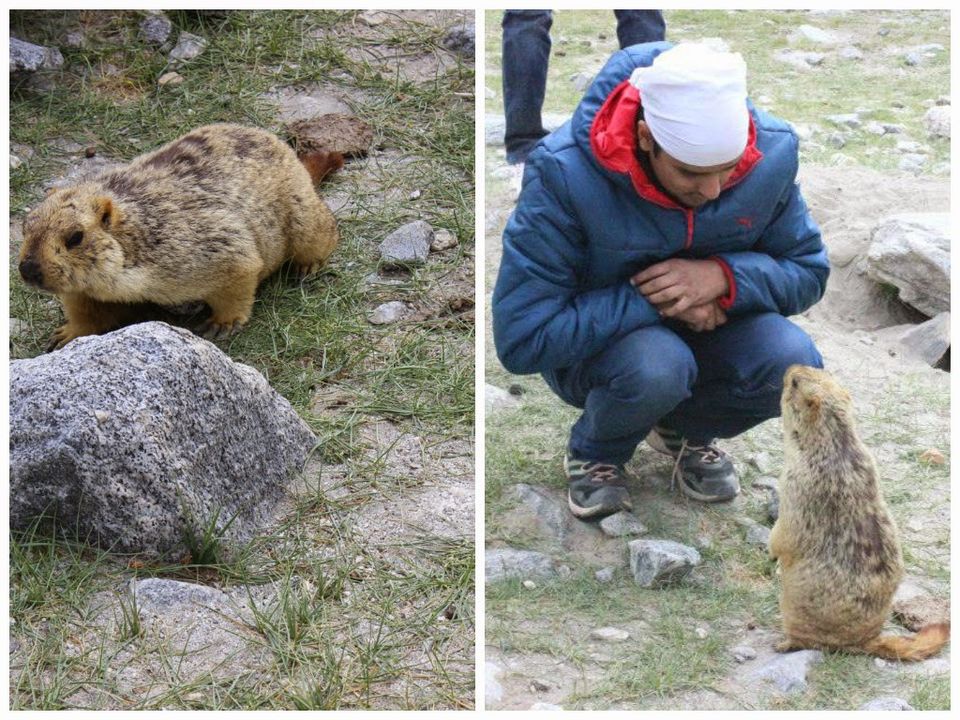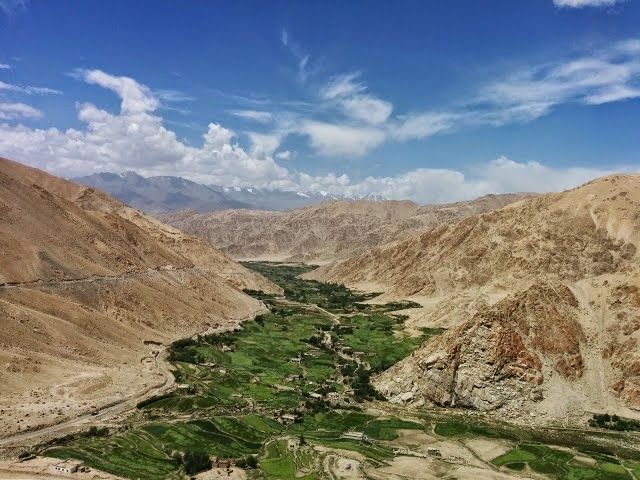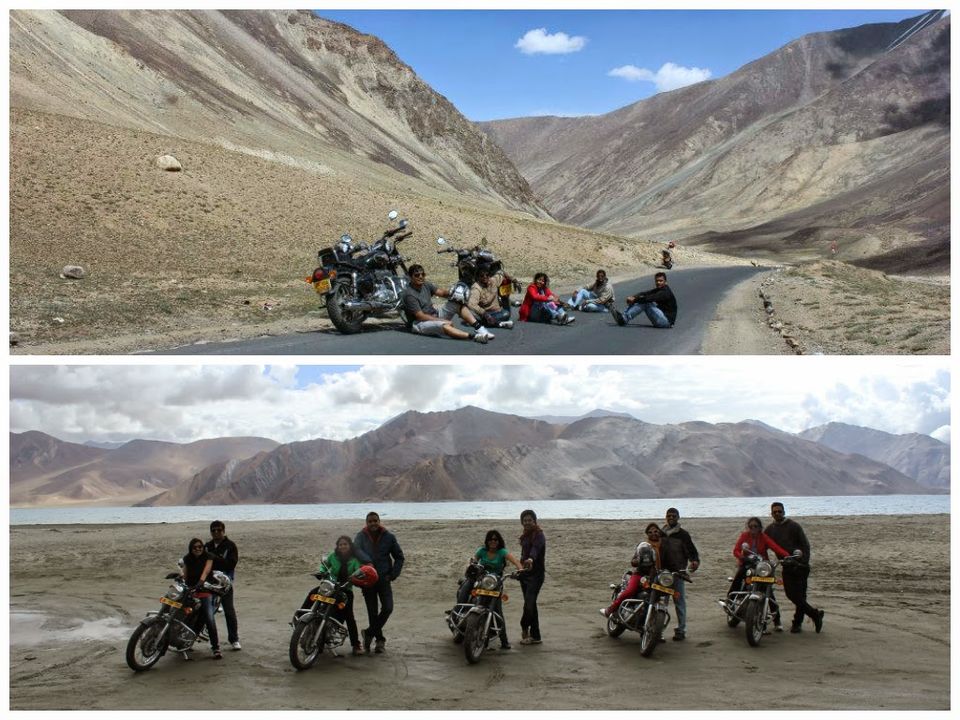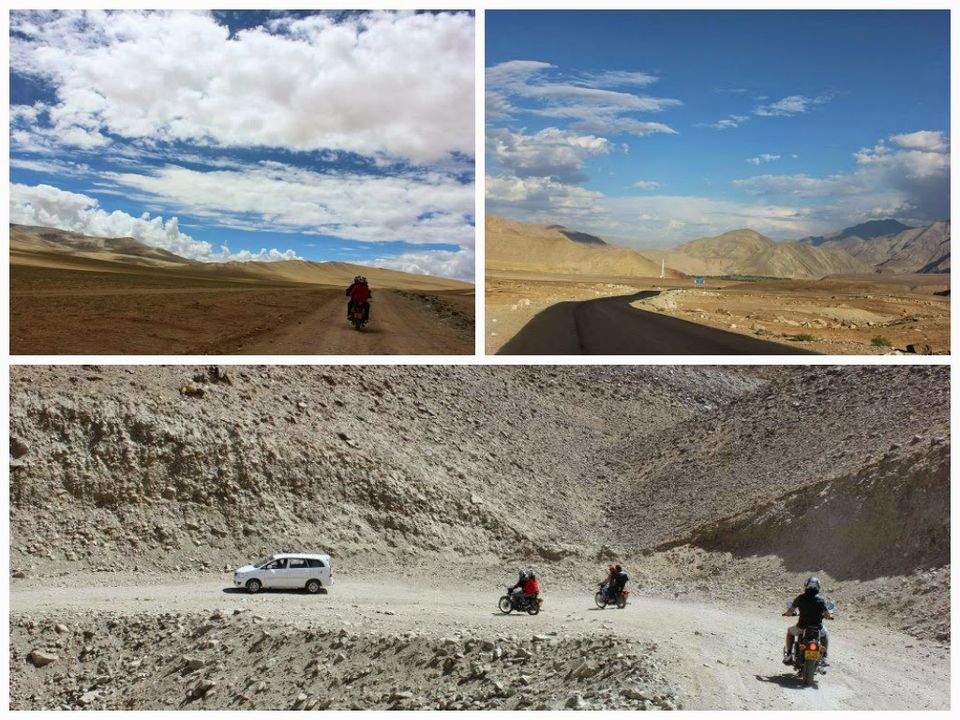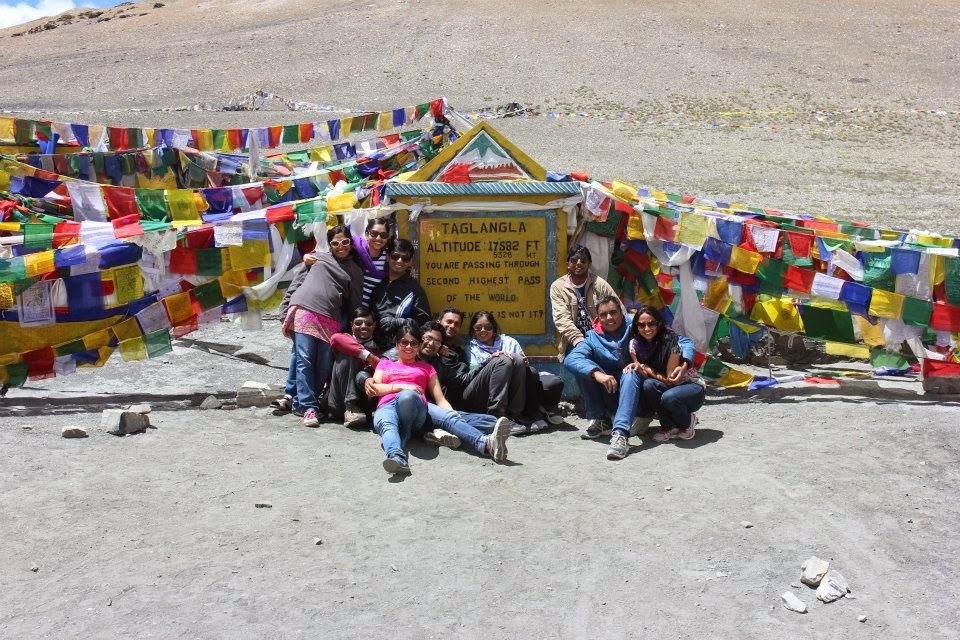 We were in Leh now – excited and brimming with enthusiasm – ready to explore the resplendent beauty of the majestic mountains of Ladakh. We had booked ourselves five thunderbird bikes well in advance to take us further on this trip. But things never go as per plan - our bookings got cancelled at the very last minute!! And there we were, out in the markets, scouting for bikes - It was peak season and as such the probability of finding bikes at such short notice was very less. Hence, we had started planning for alternative - hiring two cars; though at this point the second option seemed more plausible, our hearts laid with the first one – the one that would allow us to soak the elements of the untouched nature, that would let us feel the still clean crisp air wiping across our faces and let us experience the pure raindrops and dust penetrating the cover on our bodies.
And then the event happened – the less likely one - after spending half a day in the market, we were able to get 5 Enfield 500 cc!  We also hired a car along with the bikes; firstly to carry our luggage and secondly to defy the law of diminishing marginal utility - yes, you heard me right, to defy the law of diminishing marginal utility - as the tiredness from riding the bikes would start reducing the incremental utility from every additional km covered, a brief rest period in the car would rejuvenate us and bring back the utility to the initial levels.
We were ready now – ready to scale the heights on this hostile terrain.
For others it was first long motorcycle journey, for the two of us it was first ever motorcycle journey - yeah Prateek's entire driving experience was barely 150kms before this; I, on the other hand, had sat on a bike only once before this that too like for half an hour!. But then this was one of its kind experience, everything about it was new to all of us.
And thus began "The journey"; the journey that took us through some of the most spectacular terrain in the world, across high passes,streams and tumbling mountain surfaces.
The first leg of our journey was from Leh to the Pangong Tso – not a very easy terrain to navigate I must say, at least not for the novices that we were. The first 100 kms were smooth – splendid roads, clear blue sky, brightly shining sun and a slight chill in the air – a biker's delight I shall call it.  We were now making our way to the Chang-La Pass; as we approached closer, it started getting colder – and it was expected, after all it is the third highest motorable pass in the world or so it claims, We reached the top and to our surprise some parts of it were still covered in snow. As we made our way past this, the road started getting tougher – broken patches and covered with small pebbles that made the bikes skid – we had to be very careful. Nevertheless, we got past this patch, crossed the streams that flowed through the roads and finally reached Pangong Tso towards the evening. We spent a night here. Next morning, we started early towards our second destination - Tso Moriri.
The journey back till Chang-La Pass was more or less the same except that we got to encounter, on our way, these beautiful shy little creatures called the marmots – there were a bunch of them, enjoying the morning sun in the open meadows – a wonderful sight it was
After crossing the Chang La Pass, we became more relaxed and may be a bit less careful, as we believed the tougher patch of the road was over. After travelling for a while, we realized that two of the bikes were not to be seen, perhaps they might have stopped for photo shoot, or so we thought. We decided to wait for them before moving ahead. We waited for almost twenty minutes and when saw still no signs of them, started getting a little impatient and a little afraid. We prayed and hoped that they were safe. We thought of going back and checking for them; as were about to leave, we saw them coming – we all heaved a sigh of relief! Once they reached, we learnt that one of the bikes, while trying to get past an army truck, had skid but thankfully the bikers (Karthik and Rekha) weren't hurt; perhaps there was also some issue with the bike that they were riding. Hence, this point on, we decided to movetogether.


We had barely moved a few kilometres, when one of the other bikers – Jigish – suffered the same fate; but this time it was bad – the bike had apparently skid a few metres ahead and Jigish was trapped under it - our hearts skipped a beat; thankfully he escaped with a few minor scratches. The bike, however, was completely damaged and could go no further. We called up the agency from where the bike was hired and asked for it to be picked up from that location. This incident had scared us all – me especially given Prateek's experience or rather inexperience at riding a bike. At this point, a kind of debate spurred up – whether we should go back to Leh, forfeit our bikes, hire another car and then continue with the journey or we should just move ahead with the original plan. I, intimidated by the incident, was supporting the first option. It almost seemed like the debate would never end. It was at this point, that Narsi came up, and said something which put an end to all this; wondering what? So it went something like this –"I had come along not because I was interested in seeing all these beautiful lakes, but because I wanted to enjoy the thrill of riding bike through this challenging and exciting terrain. But if you guys wish to hire a car, it's ok, go ahead".

And that was it; we all decided to stick to our original plan, but this time with some more precautions. So before we started, we decided on the speed limit that we shall maintain through the journey as also the position that different bikers would take as we moved ahead.
That night, we took a stop at Chuma Thang – and it turned out to be one of the best stays we have had during the tripWe reached Chuma Thang at around 8 at night – welcomed by a light drizzle that had further intensified the chill in the air. We started searching for an accommodation for the night – asking people if there was one nearby; we came across an army personnel and posed the same question to him. He took us with him and showed us some of the rooms that were available in their guest house – and the rooms were awesome, equipped with heaters to keep warm. We happily took the accommodation and expressed our gratitude for helping us out. But their hospitality did not end here – they arranged for a sumptuous dinner spread for us – chapatti, vegetables, chicken, rice, daal and kheer – the food was lip smacking! They provided us with extra mattresses and blankets so that we could keep ourselves warm. In the morning again, they arranged for some delicious breakfast for us. When before leaving, they handed us over the bill, we were amazed – it was lower than what we had paid at any of the other places we had stayed at! What more, when we tried to offer them some extra money out of our gratitude, they simply refused it and did not take even a penny extra than what was mentioned on the bill. These rare awesome living souls, none of us will ever forget
Post this, we made our way to Tso Moriri, first passing through a stretch of what we called the "vibrator roads"; then a stretch of buttery smooth road and lastly through a long patch of dirt (plus vibrator) road. Having spent the afternoon there, we then left for our next destination – Tsokar – again passing through a similar combination of roads. The only difference I believe was that we hardly encountered any other car or bike or for that matter a living soul – and I am not exaggerating when I say this - on our way to Tsokar from Tso Moriri. We reached Tsokar around the evening and spent the night there.
It was now time for the last leg of this (bike) trip – journey back to Leh. We started the next morning; covered the rough patch of road to reach Tang Lang La –the second highest motorable Pass in the world. After a quick photo session here, we continued our journey traversing through the smooth curves of the mountains, travelling by the crystal clear streams to finally reach Leh.
The amazing bike trip had come to an end; but the incredibly wondrous experience that it was shall never fade away from our memories - Not in this lifetime.