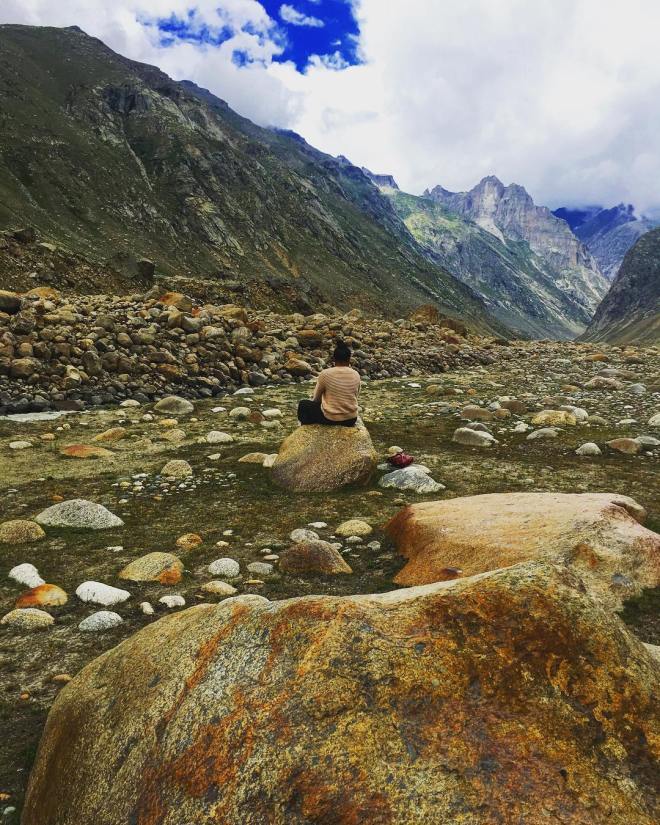 I was contemplating about Spiti Valley for almost a year. You hear all kind of things - difficult trip, hard terrain, dangerous roads, no food...
But, I gave in and decided to gift myself a 10 days trip with a group of 10 other travellers who were complete strangers. Strangers, who later became some of my very good friends.
So I packed my bags, flew to Delhi, met the gang at the Delhi bus stand. After an overnight journey to Shimla, the first we did was to get into a restaurant for a good breakfast. After feasting into some delicious parathas, our adventurous road trip to Spiti began...
Day 1 - We were on the road for almost 8 hours, dead tired. That long journey led us to this beautiful town called Sarahan in the Kinnaur district. Three-fourth of this lovely town is filled with apple orchards. Honestly there is nothing much to do in this town, except to walk around and feel the magic of nothingness. We had a quiet early dinner of hot Maggie soup and then we went to our hotel rooms to start our journey the next day.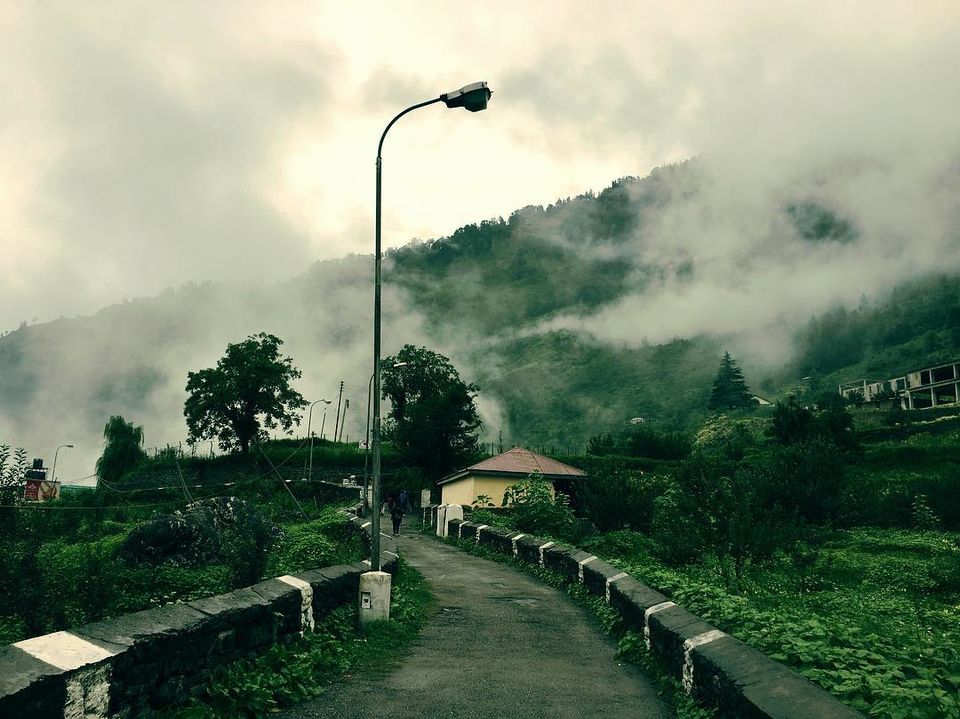 Day 2 - After breakfast, we left for Kalpa. We took one of the most dangerous highways of the world NH 22 (also, the most clicked for Instagram).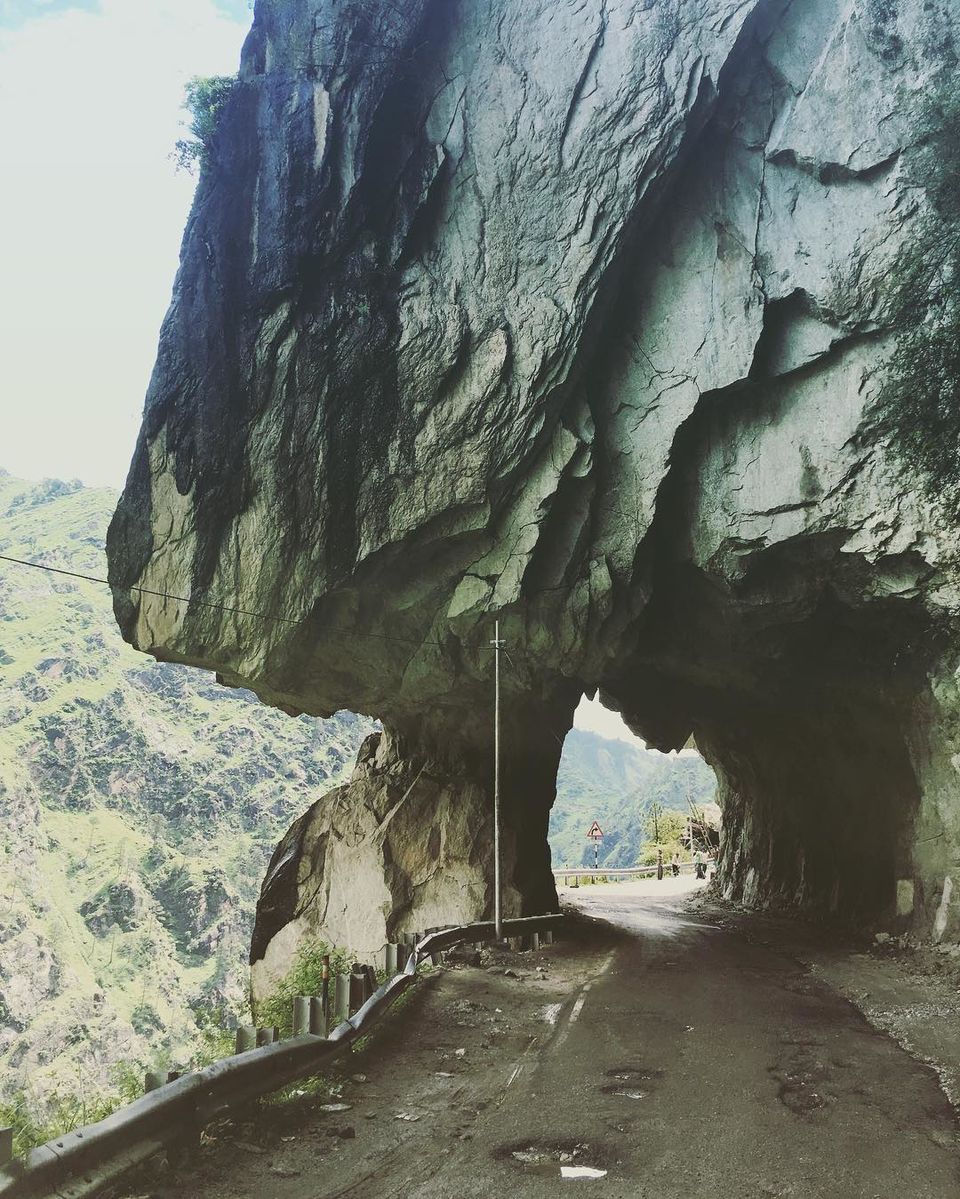 The first thing I realised, my phone network went kaput. Its one of the worst feeling in the world, I must tell you. You can live without food, but no phone network is like a blank slate. Or at least, that is what I thought. We travelled further amongst the mighty Himalayas and reached the surreal town Kalpa, a small town in the river Sutlej valley. A town so mystic and picturesque that it will compel you to explore, no matter how tired you are.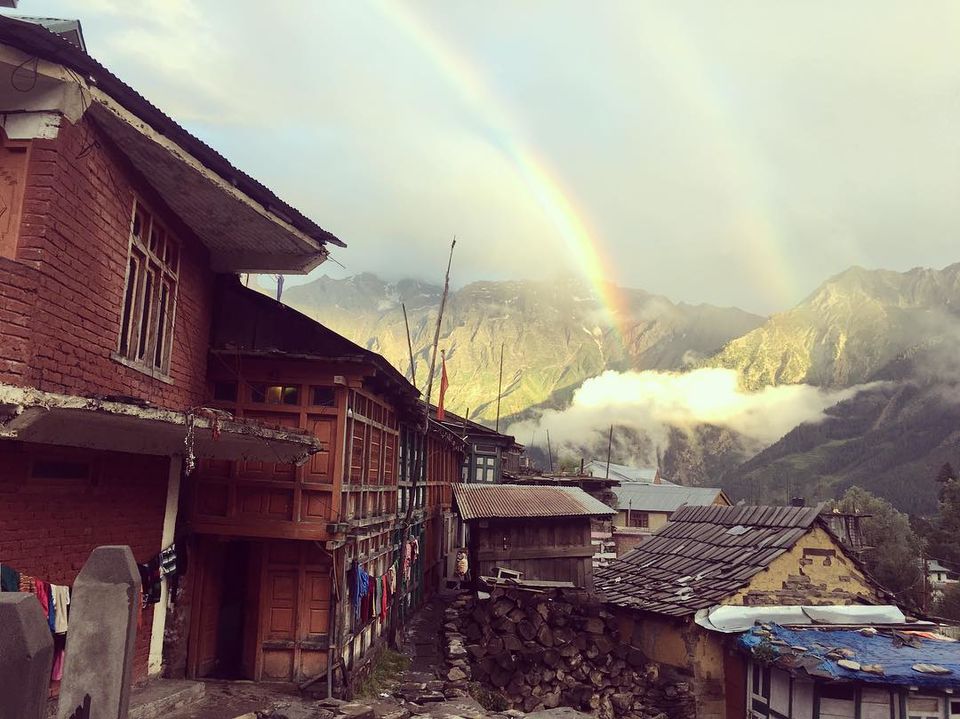 A nice walk to the old monastery which is in the midst of the Kalpa village, talking to locals about the lifestyle and Kinnauri culture with hot chai and momos and with light drizzle which dropped the temperature to 5 degrees, we wrapped up the day.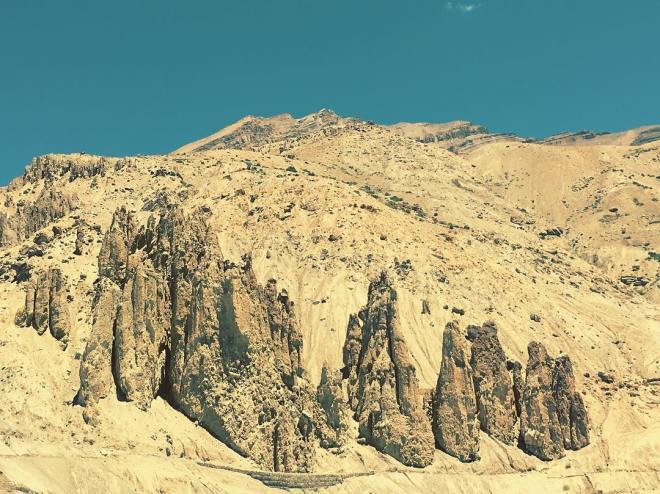 Day 3 - Time to see one of the old monasteries of the world - Tabo, Spiti valley. As we entered Spiti from Kinnaur, the terrain started to change. You feel like a part of a different planet altogether.
On the way to Tabo, we had a stop-over at Nako - a small town with a famous Nako lake and a monastery. After spending some time near the Nako lake, we headed for Tabo. With the wind becoming more chillier, we started exploring this famous and ancient monastery which is maintained by the Archeological survey of India. Calm, peaceful and enigmatic. One can sit in this monastery for days and months without uttering a single word. After having a simple dinner of Thukpa and bread, it was time to call it a day.
Day 4 - The day started with some shopping; brass cowbells, singing bowls, hanging charms. Though they were a bit expensive, but then who complains when you are at such a divine place.
The plan for day 4 was to head towards Komic, the highest inhabited village in Asia via Kaza and short trip to the Dhankar monastery.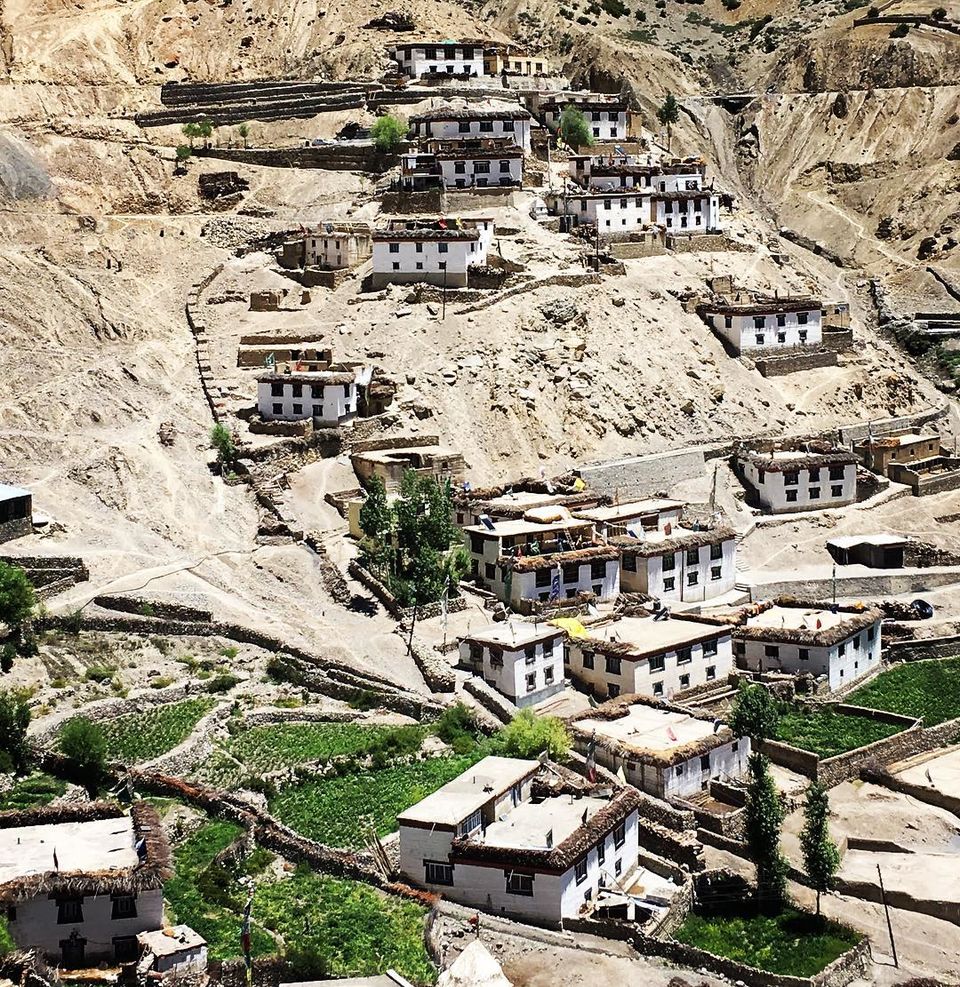 After we finished exploring the Dhankar Monastery, we moved to the Komic village which was at 5150 meters with only 12 houses. Once you reach there, you realise how difficult life can be in these parts of the country. With almost no water, less oxygen, very limited supplies, people here were still surviving.
It was a very difficult place, at least for us. Some of us could not breathe properly, some had headaches and some started feeling feverish. That day, we could not do much as everyone's condition was poor. So we had an early dinner and went off to sleep.
Day 5 - After we woke up the next day, we realised how our bodies have started to adapt itself to the surroundings. The day started with a Spitian breakfast at a nice homestay where the family made sure that we had a comfortable stay. We went further up to see the highest post office of the world.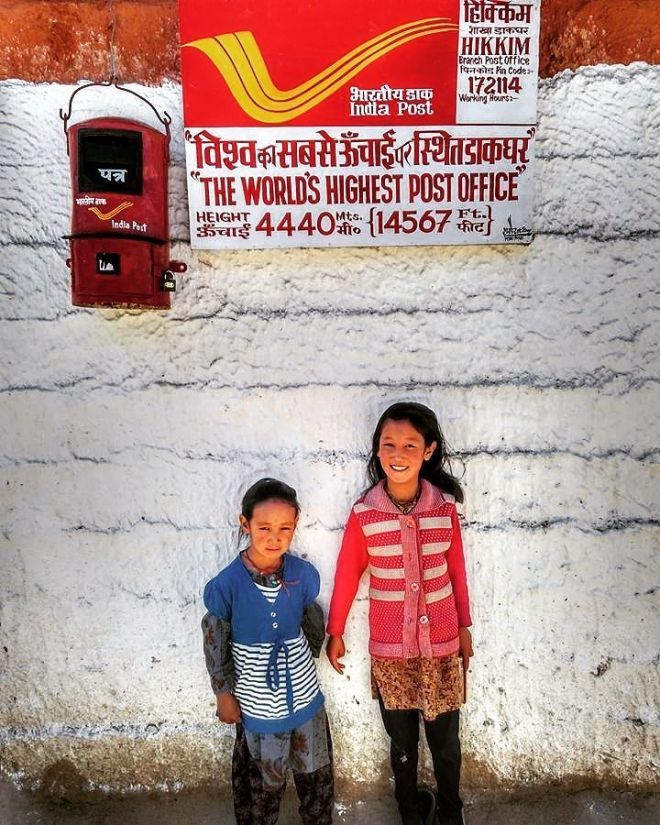 Please note, we still don't have network and I didn't even miss it once. Strange, but true!
Finally the time came to visit the most talked about monastery, the Key Gompa. Close to the Spiti river, its located at 14,000 ft above sea level.
They say, silence has a sound and you can hear that right at this Gompa. Isolated and far away from the human civilisation, this place gives you the kind of peace which can only be felt. The best part, this Gompa has dorms where you can spend a night or two at a lowest cost possible which also includes 3 meals of the day.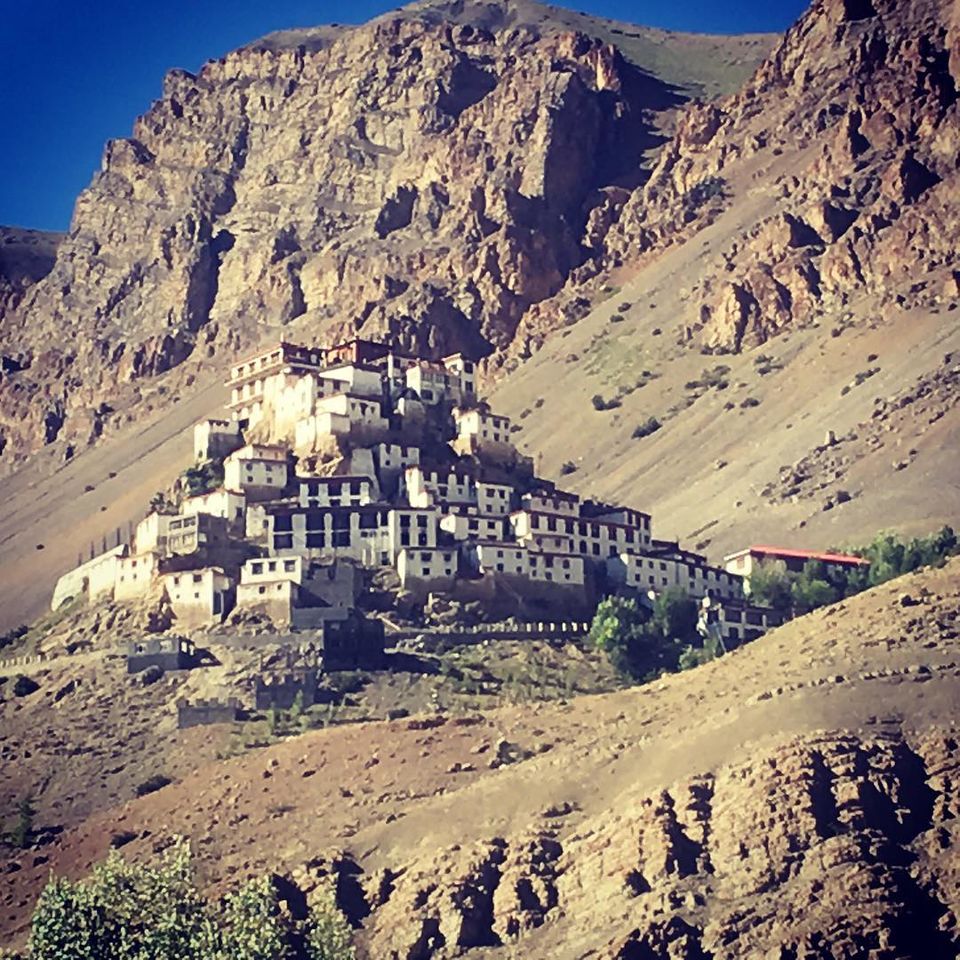 If I could, I would have never left this place. That day, I made myself a promise that I am going to visit Key again.
Everyday, was a surprise. I was discovering something new, something more beautiful, more exotic. I was unaware that the very same day, I will be going to this place which is no less than the heaven itself.
After crossing the enigmatic Kunzum pass which is at 15,000 ft, we headed for the Chandratal lake. A camper's and trekker's paradise, the 'lake of the Moon' is one of the most beautiful lakes of the Himalayas. Though my body gave up, but nothing could stop me from doing a 2 hours trek to the lake. Trust me when I say, that I have never seen something as beautiful as this.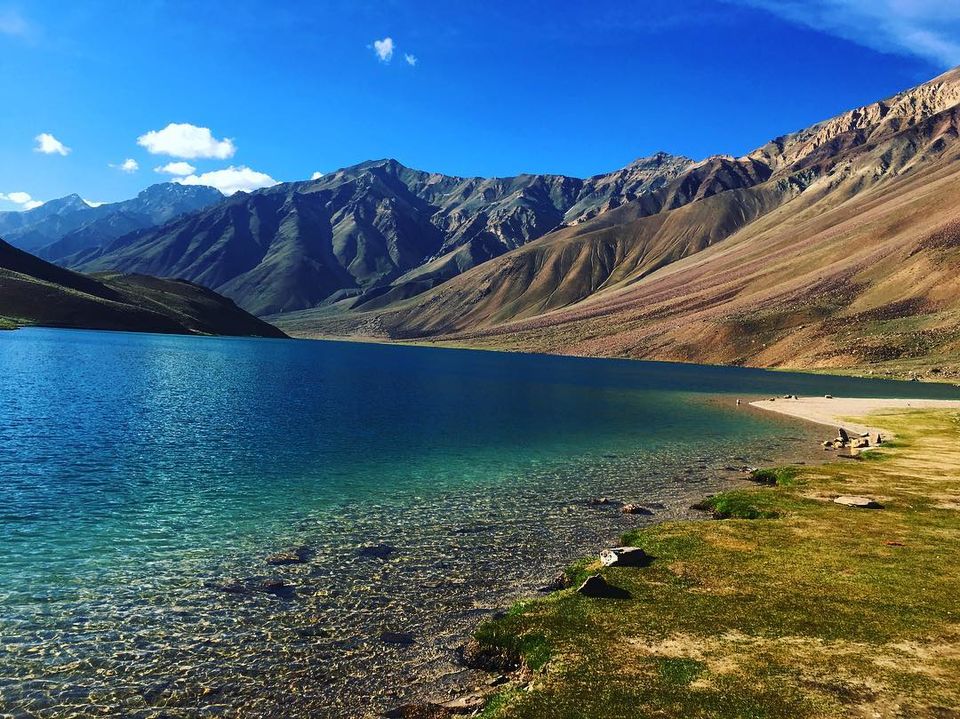 We stayed there for I don't know how many hours. Slowly, the temperature started dropping further which was beyond the human capacity. It was growing darker. We had no choice but to go back to our camping sight with a heavy heart. After a nice bon-fire and a simple meal, we all went to our tents and the day 5 ended.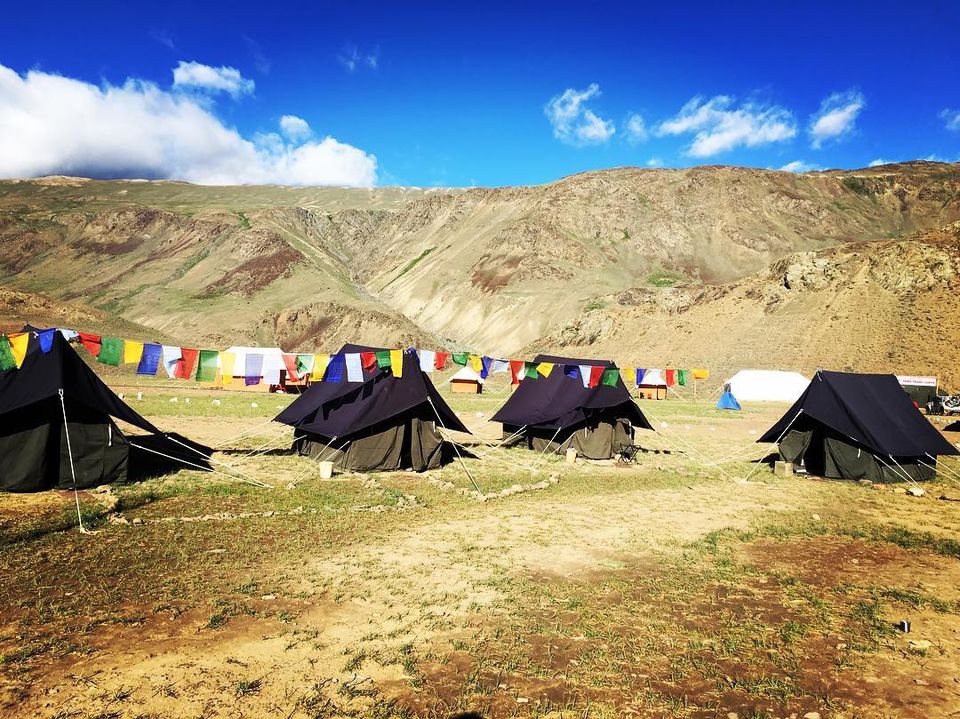 That was Spiti. Words aren't enough to explain this hypnotic place which will definitely touch you deep inside and will make you question yourself. A place with simple life, humble people and magical air.
Day 7 - The trip has finally came to an end. We left for Manali, stayed there overnight. And yes, I felt as if I am back to the civilisation. I got my phone network back.
Day 8 - After some shopping and a proper meal (which I haven't had for days), we left for Delhi.
This trip will always be close to my heart. Yes, its different and you have to go there with an open mind. You will either love it or hate it. There is no in between. But one thing is for sure, you will surely come back blessed.
To see more of my travel stories, Click here!
Published by