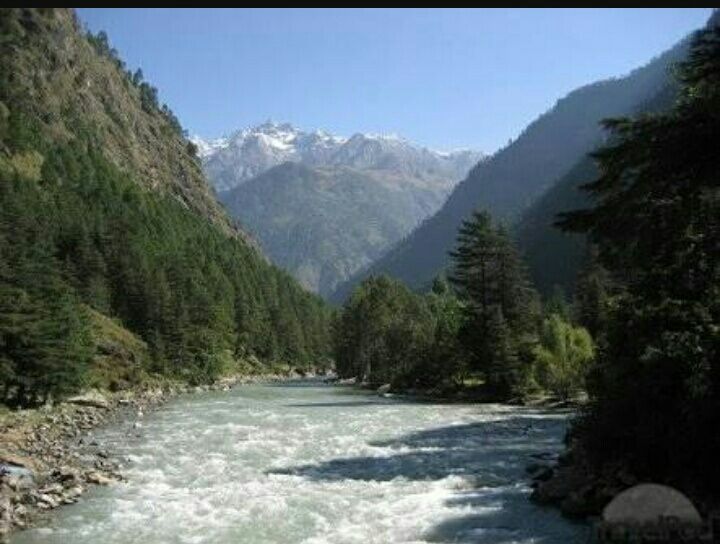 Engineers often need to get freshened up after each semester, courtesy of all the lengthy assignments,boring lectures & many more of such agonies.Hence,we, a group of four such frustrated engineers decided to set off for kasol.For that, we took a train to Delhi from Ahemdabad(Ashram Express). And we were off.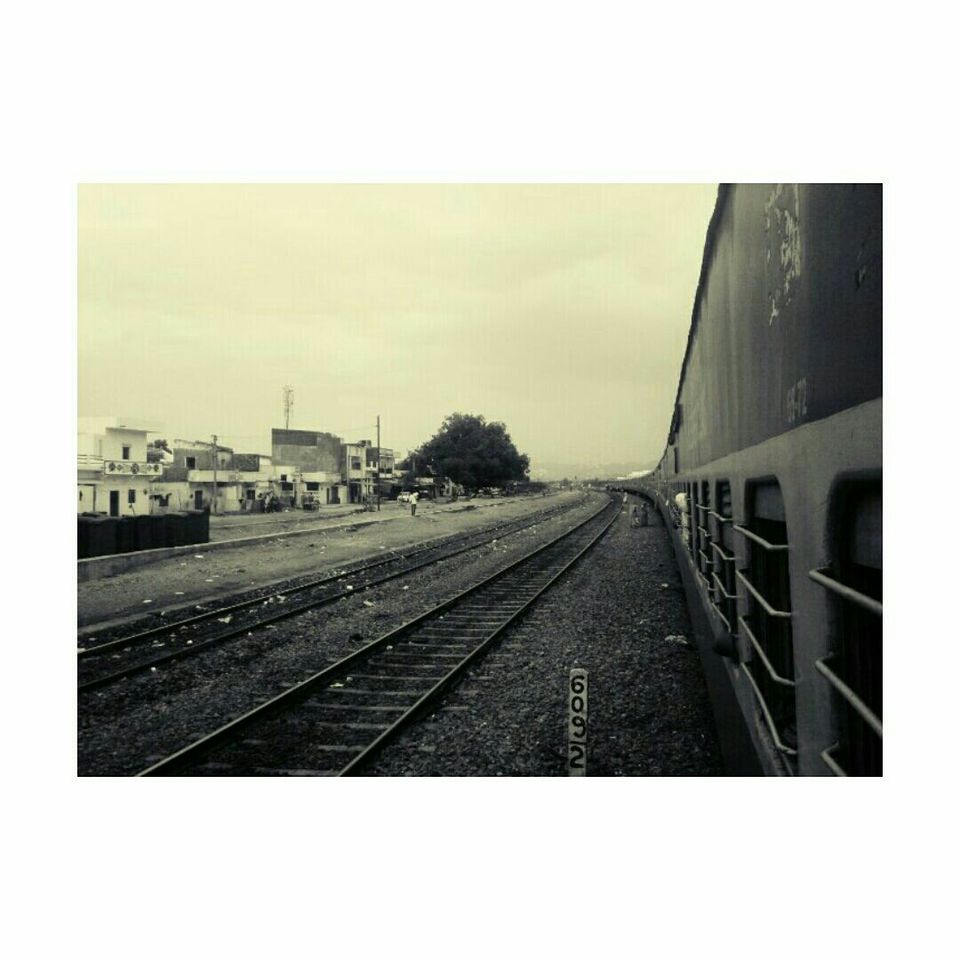 We reached Delhi at 10 am &  Straight away headed to McDonald's for breakfast. Around 11. 40am we decided to goto Sarojini Nagar Market(around 12km,25 mins & rs 180 by auto).I having stayed in Delhi for 5 years knew the routes & things to do.Hence,I served as a local guide for the other three i.e. Shikhar(computer), Malav(Mechanical) & Sarthak(Civil). After a bit of shopping & lunch, at 4pm we took off for ISBT Kashmiri gate, from where we had to board the bus for Bhuntar(sarojinj nagar to isbt-14kms,20 mins & rs 150).At 6.30pm we were off for Bhuntar(Bhuntar is around 55 km from kasol &  no direct buses are available from delhi to kasol.
Delhi to Bhuntar-HPTC buses cost rs 600-650 &  time 12-13 hrs.)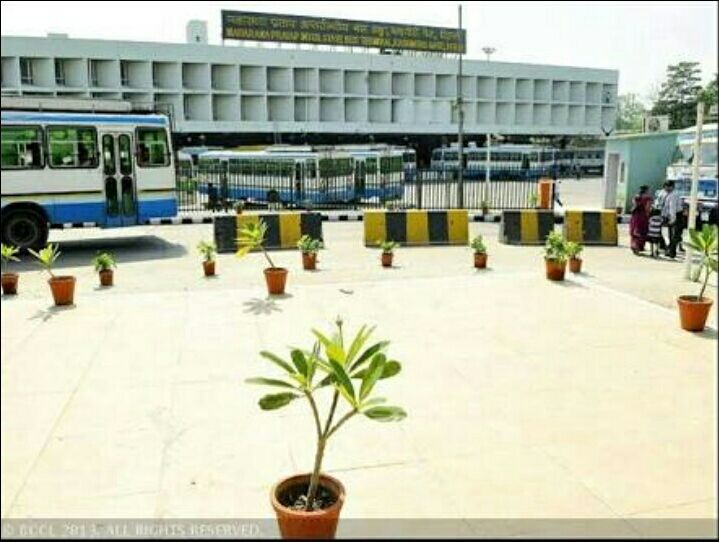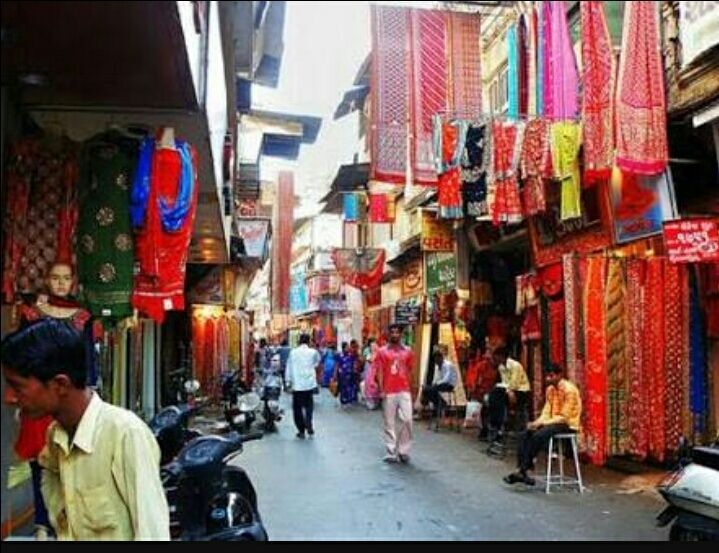 It was a great decision by us not opting for a volvo bus or else we would have missed the experience of fresh chilling winds & gorgeous  valleys and mountains on our way. So all drained out, we reached Bhuntar at 7 am. More than 48 hours of travelling from Ahemdabad  to Bhuntar it had been and thus we were bound to get exhausted.Luckily we met 2 girls from Chandigarh & 3 Delhi boys who were also looking for a vehicle to kasol. So after a quick chat with them, we took a cab on sharing basis to Kasol.The scenes of snow clad mountains & the Parvati river flowing along were heavenly but the same could not be said about the roads.Finally,  at 8.30 am we reached our ultimate destination,  that was Kasol(Bhuntar to Kasol :rs100-150 on sharing basis and 50-55kms). We then checked-in to our hotel "Sun & Wind". I would request you all to remember the name of this hotel. Why? You'll come to know about this on day 5.Anyway, too tired of the journey, we decided to freshen up & have our breakfast. After this we all had a quick nap, so that we could get all geared up for exploring this wonderful but quirky town.At 1pm we went for lunch to the moon dance cafe.It was a cool hippy kind of themed cafe, something you would not come across living in Ahmedabad.We then ordered our meal with bottles of beer, which summed up to be a perfect lunch. Food was delicious, infact that would be an understatement.For the sweet dish, just outside the cafe there was a German Bakery. Do I need to say more?(average meal cost-rs 400-450)Now, going to Kasol and not talking about  the "Stuff"?It just can't happen. To our surprise, the stuff was being sold at almost all cafes(rs1300-1500 per 10 gram).You Just need to goto any cafe and ask "Bhaiya maal milega?" and you would be obliged.We then returned back to the hotel & rested for an hour.Having rested, at 4 pm, we were off to discover what Kasol had in store for us.First we went to the Parvati river bank.Strong flow,crystal white water & the sound of the water striking the large boulders, we were in awe of the site.After chilling there for an hour and a half we decided to explore the Kasol city market.Kasol is a small town spanning to 2-3 kms, with Parvati river flowing along , lots of cafe, lots of Israeli people too , hippies and cannabis growing almost  everywhere and anywhere. One thing we observed was that it had a high dominance of the Israeli people.You could feel they had everything under their control, from police to cafes, everything.A tip that I would like to give you all is that do not depend on the ATM for cash withdrawl. Entire town has only one ATM which is in the market area & due to excessive tourism it is generally out of cash, most of the time.The other nearest ATM is 5km away in Manikaran. Now, the sun had set &  the temperatures  had started to drop and to our rescue, Malav spotted the alcohol shop and Shikhar opened the cigarette box.It was a government alcohol shop, offering booze  at reasonable rates. After this, Shikhar and Sarthak returned to the hotel, whereas Malav and I stayed in the market for packing the dinner.We then packed some delicious chicken &  other stuff and returned back to the hotel.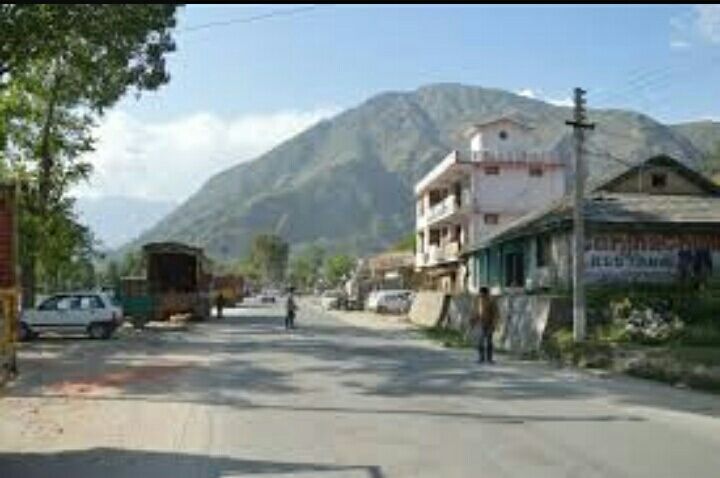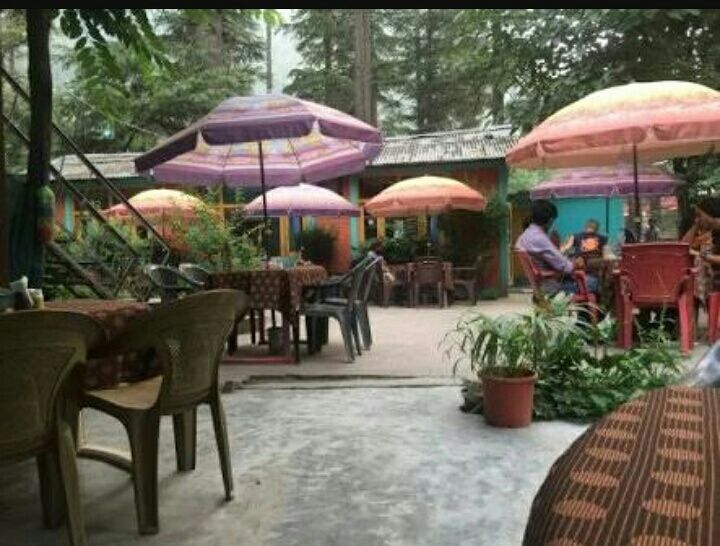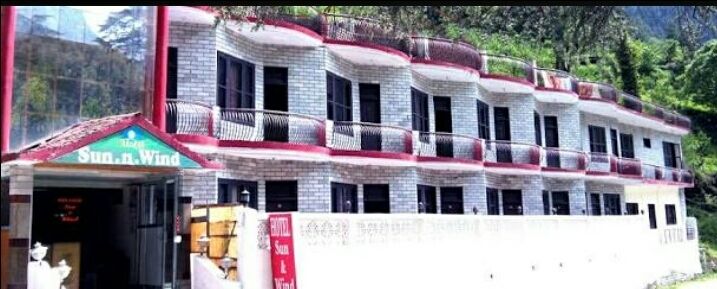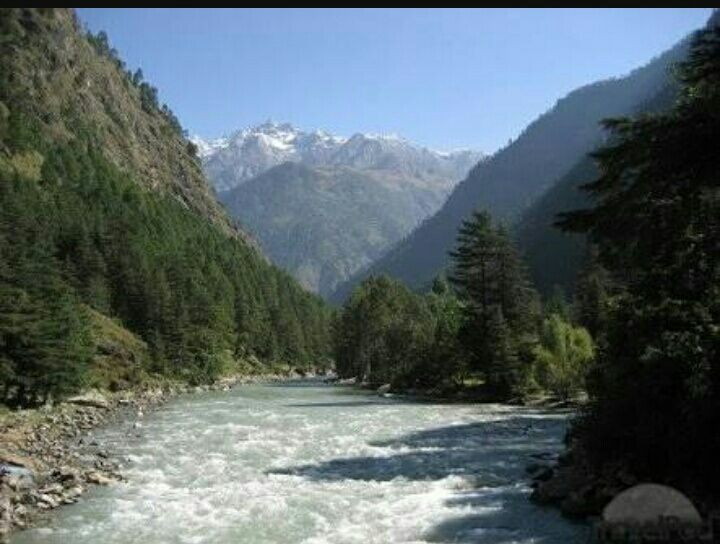 We had planned to get ready & move to Manikaran(5kms from Kasol) by 9.30 am, but the first one to wake up was Shikhar at 9.50 am. So, 90 mins behind schedule, we set off for Manikaran at 11am.Clicking photos, singing songs and humiliating Malav for different  reasons, we reached  Manikaran at 12pm.Manikaran has a large magnificent  gurudwara and also the hot water spring facility. After visiting the gurudwara, Shikhar and Sarthak went to the Manikaran market, while Malav and I preferred staying there and have a cup of Chai and maggi.Then,Shikhar ke andar ka Punjabi jaag gaya and while returning from the market, he bought beer bottles and chicken pakodas for us.Having explored this beautiful town, we were now heading back to our hotel. Midway, we found a nice, isolated place at the river bank and there we decided to have our beer n chicken pakodas.I can without any hesitation claim that, that was the best lunch I had ever had, considering the aesthetics and the company, ofcourse.After having a great time we finally returned back to our hotel at 4.30pm.Rested for an hour and at 5.30 pm we decided to explore the northern area of the town.After climbing a small but steep hill, we saw a shady cafe, painted in red and black quirky design.Hesitant initially, we went there, and ordered some food. It all turned out to be fine.We then returned back to the hotel and relaxed for an hour. At 9pm we went for dinner at the Silent Cafe. Imagine sitting at a serene, open cafe with a candle lighted in the middle of the table and the river flowing just besides,about half a meter away from you. Such were the unparalleled scenes there. Undisputedly the best place I have dined at.After the most amazing day, we headed back to our hotel, all excited to goto Malana the next day.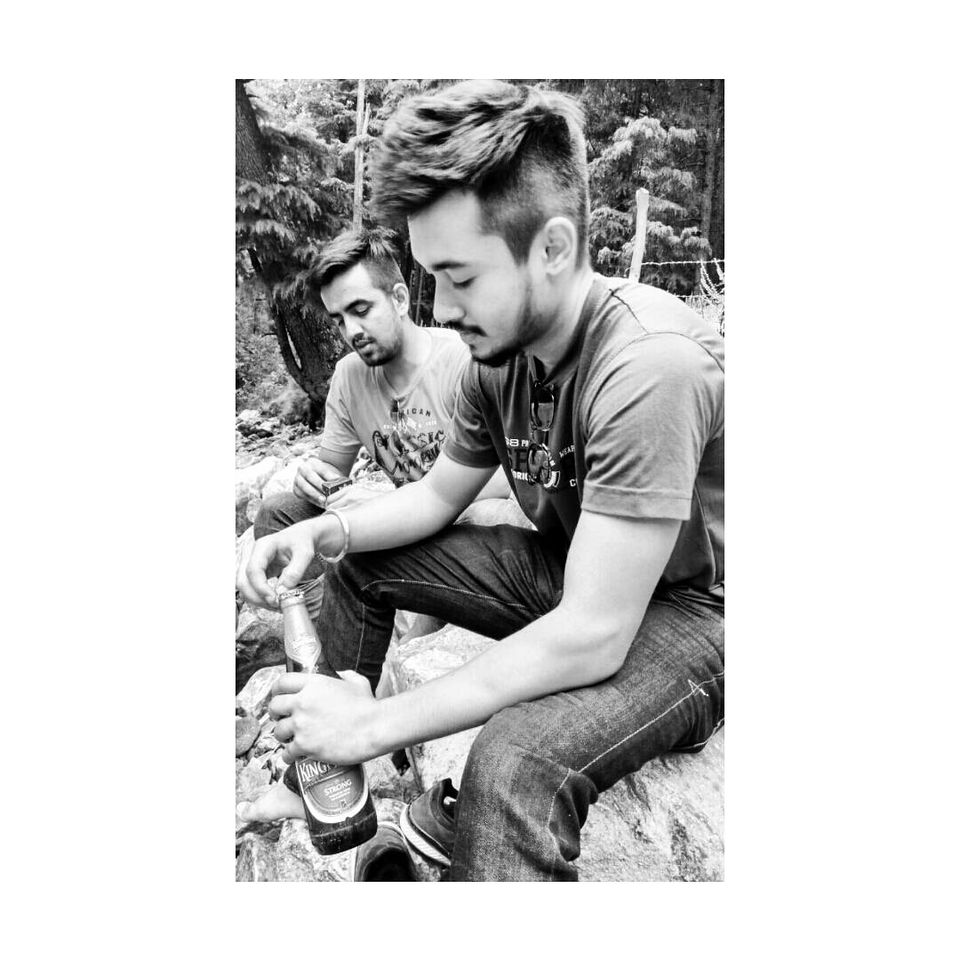 After a wonderful day 4,we slept at 2am, all high. Suddenly, at 4am Sarthak woke up and started waking up as well saying, "Guys mera phone nai mil raha". I was the first one to wake up.I was so tired that my eyes could barely open, but when they did, I got the biggest shock of my life. While Sarthak was just worried about his phone, I noticed that we had been robbed completely.Yes,from our luggage to wallets to mobiles phones, everything.I then woke up the other two, to our misery.I then immediately called the police station(nearest-manikaran), malav stayed in the room, shikhar went raging to the hotel owner and sarthak started to fetch our belongings in the hotel(Sun &  Wind, never book this one) premises and nearby areas.Now you remember why did I ask you to remember  the hotel name?When we asked for the CCTV footage, it was astonishing for us to know that there was only one camera in the entire hotel, that too at the entrance and nowhere else. And guess what? That camera wasn't working.Now,we went to the hotel owner Mr. INDERJEET KEHL,a total jerk, and yelled at him. He then started making up lame stories like it is not possible,no one had ever dared to enter the hotel premises without my permission, even the police doesn't  step in etc. etc.Leave this aside, having called the police at 4.15 am, they turned up at 6.30am.Wow, 2 hours  for police to cover a distance of 5 kms, crime rate in Kasol would definitely  be low(sarcasm).Police finally came and asked us about the situation. We told them everything. They then investigated other hotel rooms, but we found no luck.After investigating for about an hour, the officers and the hotel owner, INDERJEET KEHL, had a good time at breakfast.Both the parties Laughing and chit chatting. This irritated me and I, in a stern voice asked the officers to go and investigate outside the hotel  as well. He surely didn't  like the way i said it.Then the police investigated in the town and found nothing. Then, They came to us and asked us to file a missing complaint or an F. I. R. We did that and they were off. It was 11am.We then cancelled our plan for malana and kept sitting in the room hoping that the police would find our luggage.Then, Shikhar went in the balcony, to inform about  our misery to his dad.Then, While he was on the phone, he saw his wallet in the adjacent room's balcony.Now,when we had investigated in the morning, we had searched each and every  place in the hotel including all the balconies.Where did the wallet come from, suddenly? It was clearly an evil stunt by the Hotel  staff with full backing of the police. But we had no proof against them and thus we were helpless.We warned the hotel owner that we won't  vacant the hotel untill we found our luggage.He didn't like what we said, but he couldn't  do anything.Then,at 12.30pm we got a call on Malav's phone. Malav's  phone was the only thing that wasn't  robbed.Some tourists had found our luggage thrown near the river bank, 3kms from our hotel. We quickly rushed to the location and saw our bags, all dirty and wet.But still all the valuable stuff like money, phones,headphones, stuff that we had shopped were all gone.Just a few pair of clothes,our ID cards and our return ticket was what we got back.Depressed and mentally drained out, we got money transferred to Shikhar's bank account from our home.Then we Went out to a cafe in the evening where we were to decide,whether we wanted to continue our trip or head back home. Malav and Sarthak were of the opinion of returning back. But finally we decided to forget this day and carry on with our trip.We then went to manali for two days and then finally returned back to Ahmedabad.A tip that i would like to give you all is that whenever you goto such places and interact with anyone, be confident and a bit arrogant, like you know it all. If you're too polite like we were, u might end up being the target😂.Having said that, this is the reason why we must explore and travel new places.You learn new culture, meet new people,new food and come across some pleasant as well as unpleasant surprises that can only help you grow as a person.Cheers 👍