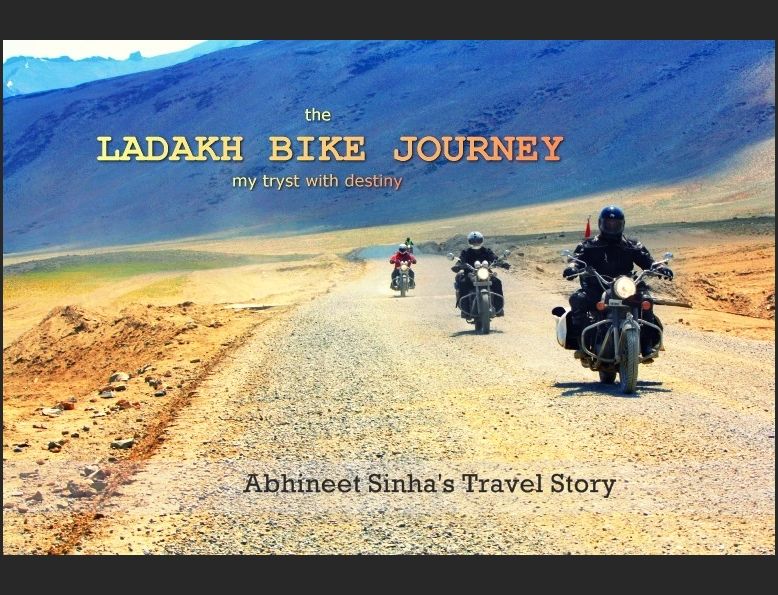 Hey friends
Most of my writeups have been around health and fitness . I thought of bringing in some variety,so this time I have chosen to write an adventure story inspired by our road trip to Ladakh.
(Although it will be tough to believe at times.. But trust me most of it actually happened ;-) )
Before I start the narration let me give you some context.
We five friends(Roshan,Indus,Rupak,Rajiv and me(Abhineet))  decided to go for a biking trip to Ladakh. We all had never been to Leh-Ladakh before.
Roshan Singh A.K.A   Akela ( because he had an email akela dot something ) :-D,
I start with Akela ji because he was the starter of this initiative and most of other things in general. He starts stuff and we all jump in later. Apparently he is starting a firm too but rest of us have no plans to jump in that whatsoever :-D
Roshan is a tall guy(6'1). He used to be lean during our college days but now with every passing day he is adding pounds to his burly structure.  He has become an enthusiastic biker lately who functions on instincts and takes the most risky alternative out of all available ones :-D . He has been to many road trips before but is a first timer to high altitudes.
Indus Nawani A.K.A Wolverine(he got this name during the trip due to his Machismo 500 and leather jacket)
Indus is a strongly built chap from Uttarakhand. He was one of the best pace bowler in our college and has got a fetish for various sports like Cricket and Tennis. I have been suggesting him to concentrate on playing sports as a professional but somehow he is tied up between work and play, lets see what he ends up with. He has been to higher altitudes before.
Rupak Jana A.K.A Hawk-eye (named due to his poor vision, apparently he cant see more than 5 meters at night)
Rupak  is  a lean guy from Bengal, I guess I am still to meet a person who is leaner. Well he is ever ready for any challenge , you wake him up in the middle of night and ask him if he is ready to jump of a cliff he will be like  "LETS GO FOR IT". He also had never been to higher altitudes.
Rajiv Gupta A.K.A tabu ( long story may be I need to write a separate blog for that :-D )
Rajiv is a small marwari boy, he is the biggest miser whom I have ever come across. We believe stories of his miserly achievements will be told by people long after he is no more :-D. His only goal/passion/hobby or whatever you want to call it in life is to save money.
He brought the much needed comic element in our group. He had never been to higher altitudes before, apparently we made him sign a letter that he is doing this on his own will and will be solely responsible for the consequences. :-D
Me (Abhineet A.K.A paaji(still trying to figure out why people call me by this name)).
I guess you people dont want to see a pic of mine or do you?
I am sure my friends are going to kill me for putting their funny pics and a good pic of myself but this is my story, I should atleast get some perks out of it right.. :-D
P.S – I also have never been to high altitudes.
So lets begin ::
DAY 1 :: 2nd September(Tuesday) , 2014
Our plan was to start on 6th and return on 20th September, 2014 that meant I needed atleast two weeks vacation(I say atleast because we work on Saturdays as well so 6th sep **Saturday** was working and OFFICIALLY  I was aspiring for a two weeks plus one day leave). Also this was the third month of my first job after MBA ;-)  No one was ready to grant me such a long leave out of options, finally I landed in my MD's cabin.
MD : Where are you going?
Me : Ladakh , I will make sure that nothing stops because of my unavailability. I will stay in contact with my team over phone (I was sure I wont get any signal during most part of two weeks). I will be taking Loss Of Pay for those days.
MD : Great sounds good (sarcastically) I have a better idea, what if I ask you to stay here and stay in contact with your friends who are going there over phone ? you might also get paid (sarcastic smile)
Me(Confused not sure what to say ) :  Actually it is easier to work remotely but enjoying remotely might be difficult. ( I realized I had given the worst explanation possible)
MD : Go if you want to but when you return you might or might not have your job
(pause, may be he expected me to speak something)
Me : (I made sure I dint utter a word, anything and everything said now would have gone against me) …… Ok …… (Finally I said that although I still dont believe I did, may be some enemy of mine at office played my recorded voice saying OK in background… Damn I had agreed to risk my job for this trip)
MD : You do what is best for you I will do what is best for the company
Me : Thank you sir…
I am still thinking why did I say thanks?  Was it for granting me LOP or was it for making a mockery of my aspirations may be it was for finally leaving me to choose.  Because irrespective of anything and everything I was going for this trip.
DAY 2 :: 4th September(Thursday) , 2014
We had our flight  from Bangalore to Chandigarh on 6th September(Saturday) Morning. We got a reality check of the flood situation in Kashmir just two days before that. This conversation is happening over a Watsapp group.
Rupak – ** 11 dead as flood and landslide created havoc in J&K. – People pack your swim suits as well :-D
Me – Oh shit .. people dig in details see whether we can proceed with the trip or not
Rajiv – In TV news they are showing that all roads from Manali are closed. My brother from Chandigarh had called and has told me to cancel the trip. Apparently one bridge has broken in between Rohtang and Shimla. We might get stuck at Manali.
Roshan – Damn it… No way we are canceling this. Tabu dont spread rumors there is a problem in Rajouri which is not in our route. We will wait for 1-2 days in Manali if need be.
Indus – Rajouri is in west Jammu nothing to do with our biking route. There is no rain in Chandigarh whatsoever. Tabu where did you see the news ? As per the government monsoon website data the rainfall happened is 2-4 mm which is not much.
Rajiv – I dint hear any news , heard it over the call from my brother in Chandigarh
Me – Damn it, dont spread false news, I just called the bike rentals in Manali the guy told me it is raining heavily but roads are open.
Rupak – I guess its late to cancel we should go ahead with the plan.
Roshan – As per  weather forecast, we may have rain till Sunday we can wait for a day or two if needed
Me – Ok one thing is clear… we will not be going to Golden temple or any other random idiotic place, I am putting a lot on line(read my job) for this trip , if we are going ahead with the plan it has to be for Ladakh.
Indus – BTW Rishikesh,Haridwar and Chandigarh also have places to visit (pun intended)
Me – (Angry Smiley) Ya ya may be once my company kicks me out of the job we can go there. One more thing we wont delay our plan due to rain or any other thing. Pack your raincoats and get ready for some mud biking (Evil laugh)
Rajiv – Okay Vaishno Devi, Katra and road which connects Kargil to Srinagar has been closed. We have to alter our plan if we decide to go with the plan
Our initial plan was to start from Manali go to Leh via Keylong/Sarchu/Pang and from Leh go to Kargil/Srinagar and from Srinagar return to Manali.
Indus – Okay as far as I see it the Manali to Leh route is clear but we might have to go come back the same way as the Leh-Srinagar highway has been washed out by floods.
Me – For now we will go ahead with the plan after reaching Leh we will take a call whether to come back from Srinagar or the same route.
Indus – (Thumbs Up)
Roshan – (Thumbs Up)
Rupak – (Thumbs Up)
Rajiv – Confused … Mmmm Ok (Thumbs Up)
So finally keeping my job on line and mine as well as four others life on line we decided to go ahead with this trip. Taking a deep sigh I thought this is going to be some adventure.
DAY 2 :: 5th September(Friday) , 2014
We had our flight  from Bangalore to Chandigarh on 6th September(Saturday) morning 8:30 A.M and the day before we decided to go ahead with the plan. So by now you might have got an idea on how organized and planned our trip was  ;-)
This conversation happens on watsapp just a day before the flight(Morning 10).
Indus : How are we going to Airport?
Roshan : Rupak will land from Kolkata tonight, Abhineet will be coming to the airport directly in morning from Chennai.
Indus : Lets book a cab, we will have fun
Rajiv : Nope I will come by bus. Domlur is on the other end( AND the misery continues ;-) )
Me : Ok lets book a cab. Please book a big one, considering that I have a big bag around 5 feet in length
Roshan : Holy Cow 5 feet!!!  What the hell are you bringing? Please dont carry your protein powder.
Indus : 5 feet LOL I guess we need to book a bus :-P
Me : We will manage in sedan book a sedan.
Roshan : I have some money in my OLA wallet, let me book a cab.
Roshan books a sedan from OLA using his mobile app.The same thread continues(night 9)
Roshan : Rupak has landed. Rupak and I combined have five luggages, what about others?
Indus : I have two one small back bag and one bigger hand bag
Me : I have three One big bag and two small ones, I have started from Chennai will reach Bangalore at around 5 in morning.
Rupak : Dam we have 10 luggages and four people no way we can fit in a sedan idiots.
Indus : Its better to cancel the sedan and book an Innova/SUV
Roshan : No chance I already checked that, No SUV available for tomorrow morning.. :-( Let me book a private cab I had a number.
After some anxious moments.
Roshan : I have booked an Innova at 5:30 make sure everyone gets up early and are ready.
All : Aye Aye Captain
DAY 3 :: 6th September(Saturday) , 2014
So the plan was that I will get down from bus at Electronic city and pick the Innova along with Indus at 5:30 A.M. After that we will go to pick Roshan and Rupak before starting for airport. As usual my bus got late and the entire plan went for a toss. I was no where near Bangalore when I got a call from Roshan.
Roshan: Where the hell are you its already 5:30 ?
Me: The bus got late I should reach in half an hour ( I was almost sure that even Micheal Schumacher would have failed in the task of taking me to Electronic city in 30 mins from there, the bus driver was in no hurry whatsoever)
Roshan: I am sure you are going to take more than that, I have told the driver to wait till 6.
Me: Done. I will coordinate with the driver and Indus
Finally I reached Electronic city at 6:20, I dont how that happened may be less traffic on a Saturday morning and some superb driving by our driver made us reach the airport at 7:40.  Thankfully we had Indigo flight and Rajiv who was supposed come by Bus had already checked in, we were allowed to checkin…. Relief( I think this was the only time in where miserly behavior from Rajiv had benefited us.)
(This conversation happens inside the plane)
Me: Indus did you see any hot air hostess?
Indus: Ya the one coming with me in the bus looked superb.
Our flight was scheduled to go to Delhi have a 2 hours halt there before starting for Chandigarh. On a whole we were supposed to reach Chandigarh by 2 :30 in afternoon. There was an air hostess named Diya. She came to our seat and asked us if we want to buy anything

Diya : Will you like to have something sir?
Me : (Out of words, I was looking at her like a small kid who saw the most beautiful thing. She was tall (around 5'8), her eyes were so big that I was literally able to see my face in them. She had a perfect hourglass figure. She was wearing a neat blue colored costume which fitted her perfectly from head to toe. I was wondering whether this was a dream?)
Indus : Ahem ahem (coughs), I will take water.
Me : (came out of dreams) Aaa.. What you have?
Diya : Please look at the menu/list that is placed in front of your seat sir.
She thought I will require some time so she went ahead to other passengers. I took a sneakers from her when she returned to our place, giving 100 bucks for that sneaker was the stupidest thing I did. But seeing her happy I even considered buying more of those.
Indus: I bet a 1000 bucks you cant get her mobile number
Me: Watch what you bet buddy, there is no girl in this world who wont give me her number.
I took a tissue paper and wrote my number on that and proceeded towards the toilet, apparently that is the place where the plane crew were sitting. I spotted her she was eating some food.

Me : Hi…  don't you find it uncomfortable eating this way (pointing to the awkward way in which she was sitting)
Diya : No, we h
We had our flight from Bangalore to Chandigarh on 6th September(Saturday) Morning. We got a reality check of the flood situation in Kashmir just two days before that. This conversation is happening over a Watsapp group.
I got up in morning and thanked god for keeping me alive. We reached Manali by 7. We reached hotel got ready and left to BRM(Bike Rentals Manali) for taking our bikes. Thanks to Abhinav and Anurag for giving us test drives and tips on how to overcome AMS. Here is the facebook page of BRM(http://goo.gl/B9j53y) , do contact them in case you are planning a biking trip from Manali to Leh.