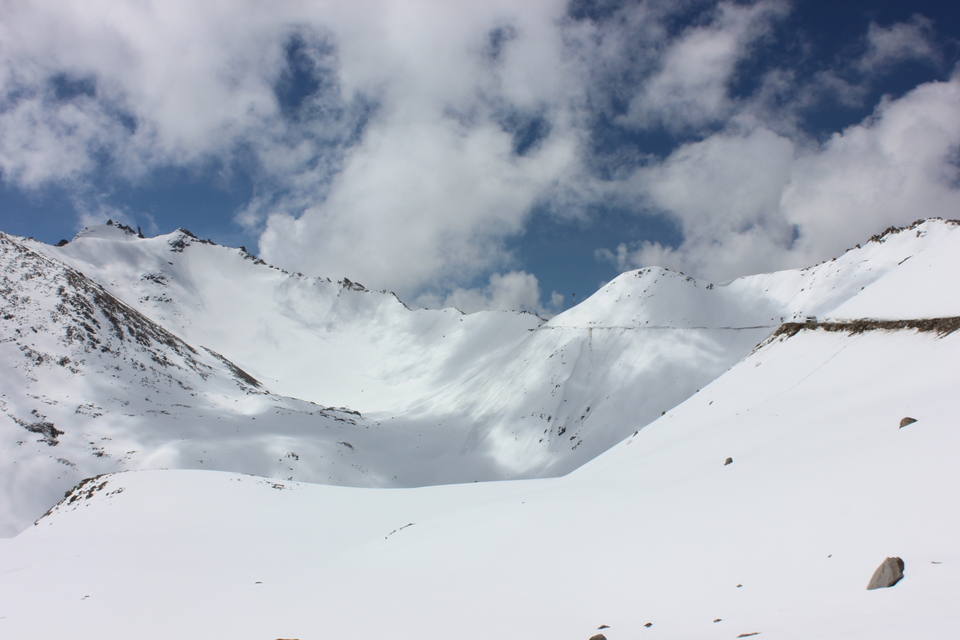 I woke up with a start. It was already bright outside. I peered through my half closed eyes at my no-longer-fully-functioning 'smart phone' to check the time. It was fifteen past 6 AM. That was all the phones did in Leh - tell the time. There were no Internet services, and that rendered the 'smart' component of the phone outright redundant. I was relieved to have not overslept. I had to catch a shared jeep to go to Diskit, and then on to explore the Nubra Valley. I was excited to begin the solo leg of my trip. I remember telling myself as I struggled to fall asleep the previous night, "If I sleep now it will be morning before I even know it". It works every time.
Packing the bare necessities for two days in my black leather backpack that has now become a permanent fixture to my travel gear, my host and I headed off to the Polo ground, which doubled as the hub for local transportation. I opted to travel local - it was obviously more reasonable and, I wanted to have the local experience as much as I could. Yeah, #travelernottourist!"
The plan for this sector of the trip was to visit Hundor for the sand dunes, then head to Panamik to enjoy the hot springs. I was then to return to Leh where I would join my friend and others to visit Pangong Tso, etc. It is incredible how plans take very different turns especially when one relies solely on public transport.
We found me a seat in a modest Toyota Qualis. I grabbed a window seat for one apparent reason - photography. As I settled in, I noticed that the other passengers were either locals or migrant workers except for this one gentleman. I soon found out that he was from Japan and had been traveling through India for the past three months. We became friends just as easily as we started sharing our stories. Traveling as we were to the same destination, it was obvious that we were going to stick together without even having to actually pronounce an agreement.
The driver of the cab had a rather melancholic local music on. It reminded me of Manipuri songs from the few I have heard in the past. Perhaps, it was the lilting sound of the flute. He was holding a very serious conversation with the passengers in the front. Somehow this conversation that soon turned into more of a monologue continued till we reached our destination four hours later. I then realised why the driver had such a hoarse voice.
Driving up towards the Khardung La, the views began to change from the chaotic dusty market scenes to impressive winding roads on snow-patched hills, and the lush green valley below. We had to make a quick stop at the police checkpoint where tourists - foreigners and Indians alike, had to produce a permit to travel to interior regions of Ladakh. It was called Environmental Protection Fee and I was happy to shell out the five hundred and some rupees for the same. As we ascended with every hair-pin turn, the air got thinner. While I could somehow sense the decreasing levels of oxygen, it was more palpable to my Japanese friend sitting next to me. He told me he was having breathing problems and that he was taking deep breaths. I didn't know what would help. Our co-passenger who obviously had done the journey many times kept telling him to drink water. The enthusiastic photographer that he was, he would quickly exhaust the precious little oxygen he would manage to catch in straining to capture the undeniably incredible scenes we were passing through.
I asked the driver to stop for a while once we reached the Khardung La top. It was one of the most important places to see, and also have a picture of oneself taken at on a visit to Ladakh. There were signs that read "Khardung La - the highest motorable road on earth", a questionable claim now thanks to the Chinese ingenuity in Tibet. It is nonetheless an important spot to stop at. I hopped off the cab with my camera. This was the first mountain pass I had ever been to. The milling tourists and vehicles notwithstanding, the views from this point were breathtaking indeed (no puns). It certainly does feel very high when you stand somewhere having to glance down at everything else. I went over to one of the milestones to have the mandatory Khardung La picture taken. There were several tourists taking turns, posing. I had to wait. I looked back at the cab and saw that my friend had gotten down, too, and was having a look around, taking pictures despite being severely short of breath. I managed to find vacancy at the coveted spot for a few seconds and quickly asked a stranger to kindly click a picture or two of mine. He took three. I knew they were not going to be the best. I sported a constipated smile in all of them... but I was grateful and thrilled just the same. I wanted to see more of the place, but also knew that we could not halt there for long for our friend's sake. I glanced back at the vehicle just in time to see the driver frantically waving at me. It was time to go.
The drive down was just as scenic and spellbinding. I had never seen so much snow. The roads were paved with snow barricades. The mountains, the gorges, the rocks - everything was covered in pristine whiteness so bright my poor reflectors could hardly contain. The biting cold wind gushing by forced me to roll up the window. It made better sense to sit back and take it all in from within the warm confines of the car than catch a cold.
After a couple of hours of winding downhill drive and a quick stop for tea and snacks, we arrived at Diskit, a sub-division town from where we were to find our way to Hunder and beyond. The sleepy little settlement had nothing much to offer save for a larger than life statue of Lord Buddha at the hillside monastery. The town itself was quite scenic, though, flanked as it was by the river on one side and steep, snow-covered mountains on the other.
My Japanese friend and I walked about the town looking for food, tea, wash-rooms, etc. We found all of the above quite easily, but one - a wash-room. Despite being assured of frequent local vehicles to get to Hundor, which was seven kilometres away, we had to wait for almost two hours in the balcony of the only shopping complex in town. We found a ride with a local gentleman in his pick-up truck. A few minutes of beautiful valley scenes, cold wind and speed driving later, we reached Hundor. The village was nestled by the famous Nubra Valley sand dunes. Quaint, clean, and serene, the village roads were lined with tall poplar trees and crystal clear streams. We had to do a bit of walking around to find a guesthouse that suited both our pockets and taste.
Later that evening after having what felt like the best hot shower of my life, it was time to kick back and reflect on the day that was. It had been a lovely day of many firsts, we both agreed. My friend admitted to feeling for the first time, with total conviction, that he was going to die at the mountaintop. Comparing to his first, I decided mine was too lame and chose instead focus on the very well deserved and very chilled beer in hand. "Cheers to life, brother", I said raising my glass. "Yes, to life!"