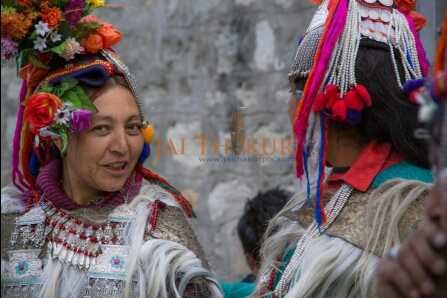 "Welcome aboard to the land of Red Aryans" this is what you will see at the entry gate of the village. This story is about the lost Master Race of the great Alexander or the Red Aryans. I visited this place in the month of September (very important to decide your month of visit to this part of J&K), prior research is recommended. Since, I had only few hours in my hand so did not get time to interact with many people out there. Hence, I am taking references to complete my story.
In the North-East of Kargil, there are four main villages where Red Aryans live – Dah, Hanu, Darchik and Garkon. I took Kargil-Batalik-Leh road to reach there. All these four villages are situated at the bank of Indus (Sindhu) River. While Dah and Hanu villages fall under the jurisdiction of Leh district, Darchik and Garkon villages are in Kargil district. The inhabitants of these villages are known as 'Dards'. Locals also call them 'Brokpas' which in Tibetan language means the highlanders. These are also known as Red Aryans.
According to the census of 2001, these inhabitants were around 2000 in numbers. Because of the Aryan ancestry and the unique culture, Dards of these Aryan villages have been subject matter of anthropological research especially from European countries.
Their striking features include blue eyes, aristocratic noses, fair complexion and flawless skin. They appear ethnically distinct from Ladakhis or Kashmiri. Being nature worshippers, celebrate the Bononah (nature) festival and are strict vegans, which means they are not only strictly vegetarian but also don't consume milk or milk products. This minuscule community bars both men and women from marrying non-Aryans.
Music and dance are a way of life for them. Both men and women wear colorful costume, decorating their hair with flowers, and are full of joy. They live in harmony with nature, and are cheerful and stress-free despite living in small rock shelters. They trek long distances.
Almond, apricot and walnut form part of the diet along with endless cups of butter tea. Nobody knows of their real origin or if they are indeed the real Aryans. But, regarded as long-lost members of a purebred 'Master Race' settled in the Himalayas.
How to reach: Delhi to Leh flight, Cab from Leh to Battalik and then to Darchik (Take permissions too)
Where to stay: No hotels here. You got to be lucky enough to get yourselves home-stay here. Kargil and Leh are the nearest options
What to eat: Other then local food you will have ample amount of Almond, apricot and walnut to get your tummy full
What to see: Other then natural beauty of the place. The features of inhabitants, their culture, house, folk dance and of-course their way of living can be noted down