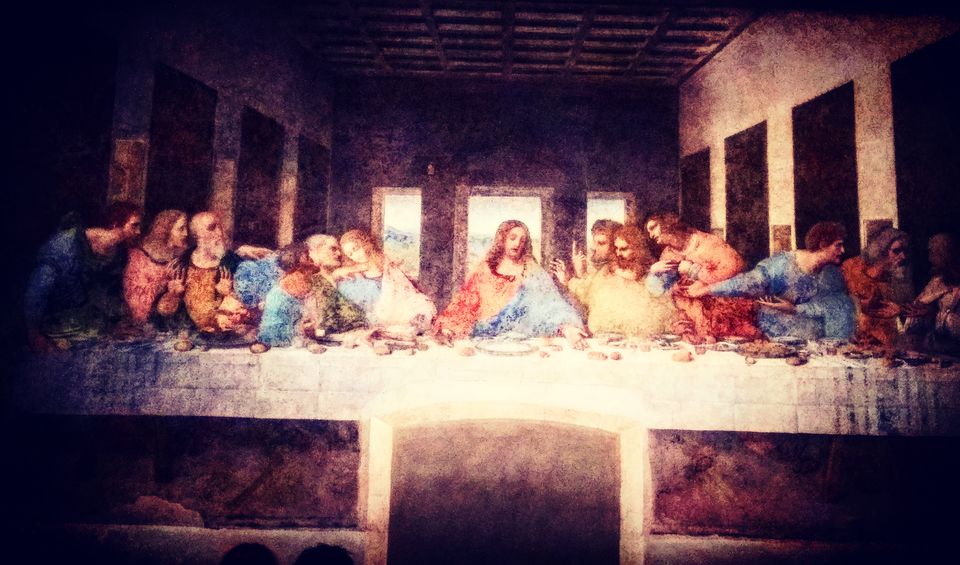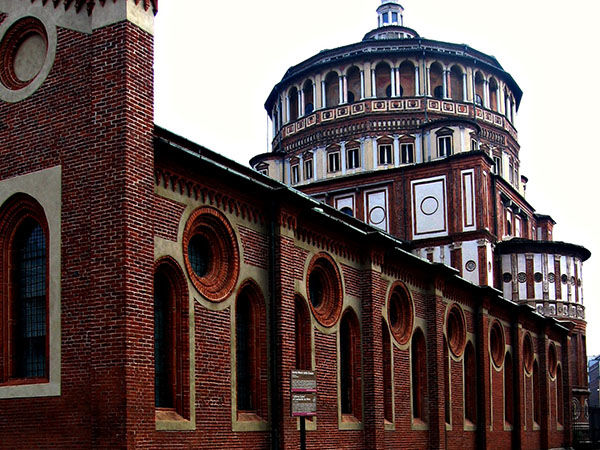 While walking on the streets of Milan my artistic mind continued the alarm of exploring history about this great city of Italy. Milan no doubt has a charm about attracting people towards it own substance. That substance is closely associated with its hidden history and transformation happened during the renaissance era. This is the time when a there was a great social and cultural change in Europe was taking place and as a result overall development along with the encouragement to art socioeconomic atmosphere and cultural collaborations were evolved.
While Exploring Milan's most significant historical landmarks I followed the map i took from Milano Central and reached Santa Maria delle Grazie (Milan). The place where "The Last Supper" was painted , a UNSECO World heritage site .This place is Church and Dominican Convent of Santa Maria delle Grazie with "The Last Supper" by Leonardo da Vinci. One of the world's most iconic images will always attracts you to know how it taken its existence and what was so great motivational fuel for Leonardo the Vinci to paint "The Last Supper" measures 460 cm × 880 cm" at an end wall of the dining hall at the monastery of Santa Maria delle Grazie in Milan, Italy.
It is one of the most famous mural made by Leonardo da Vinci in the late 15th-century. Mural is any piece of artwork painted or applied directly on a surface. A distinguishing feature of a mural is that the structural content of the given space are harmoniously placed into the one piece of art. The medium of this art work is Fresco-secco . It is a technique where pigments mixed with either an organic reagent or with lime water to a dry plaster.
What was the last Supper: The Last Supper is considered to be the last meal Jesus ate with His disciples before His betrayal and arrest.The Last Supper is recorded in the Synoptic Gospels. People also define it as the final meal that, in the Gospel accounts, Jesus shared with his Apostles in Jerusalem before his crucifixion.The Last Supper brought the Old Testament observance of the Passover feast to its fulfillment.During the Last Supper with His apostles, Jesus took two symbols associated with Passover and imbued them with fresh meaning as a way to remember His sacrifice, which saves us from spiritual death and delivers us from spiritual bondage.
Art Recreation/ Restoration/Renovation: This creative art works is presumed to have been commissioned by Ludovico Sforza, Duke of Milan around 1495 as a part of renovation of Santa Maria delle Grazie (Milan). Because of this being a Fresco-secco painting it started deteriorating with the effects of humidity in 1498 and it further failed to properly adhere to the wall and later became uninteresting and decolourised. Painting further have been renovated and restored on various duration year after another. In 1768, a curtain was hung over the painting for the purpose of protection .Its appearance by the late 1970s had become badly deteriorated. In the year 1901 to 1908, Luigi Cavenaghi first carried out the technical study of the appearance of The Last Supper then began restoring it all over again.During the world war II this pace got stuck by Allied bombing and it is presumed that damage caused by the vibrations of the bombarding was way ahead and had come out to be a disaster for this piece of art. Mauro Pelliccioli again took a restoration drive in the year 1951.In the 18th- and 19th-century major restoration attempts were made and it was found that it was getting difficult day by day to move the painting from one place to another. Keeping this thing in mind detailed study was undertaken to determine the last supper's design thought and origin. Various technicality and creativeness for this art work was carried out with a group of people and this restoration took 21 years and, on 28 May 1999, the painting was returned to display and allowed all the visitors from all over the world to come and admire this painting for 15 Mins.
About Santa Maria delle Grazie (Milan): Its a UNESCO World heritage site recognized world wide as a roman catholic church. This chapel is dedicated to Marian devotion of St Mary surrounded by various frescoes and the most famous " The last Supper" at one end.
How to reach Santa Maria delle Grazie (Milan) from Milano Central: From Milano Centrale to the church and museum , the closest station is the Cardona Station and then further its another 15-minute walk. Trams are also operating for Santa Maria delle Grazie. So visitors may chose the option they want either by walking or Tram.
Essentials for visiting: Book your tickets atleast one hour in advance as there are days when there is a very limited slot available for the visitors. Its a very short 15 Mins guided/Unguided/Audio Guide tour.
Take away from The Last Supper: Its a classic piece that gives everyone an insight to understand the expression and thought process going on in each character while having the last meal with Jesus. The experience to visualize an art work like this is itself a memory of your life time.