Wedding, birthday parties and even corporate events need the services of a catering business. A caterer takes care of the food and the setting of the event. Their aim is to guarantee the success of an event. For this reason, catering business is one of the most attractive entrepreneurial ventures especially in the city where celebrations and events are happening everywhere. A catering business is a rewarding work. Aside from earning a good amount of money, hearing your customer's compliment on your services and watching the awestruck faces of the people you serve due to your creative transformation of the occasion's venue is enough to relieve your exhaustion and the effort you place to your work. So, if you are interested in facing challenging situations and providing services to people utilizing your skills and creativity, establishing a catering business is the perfect job for you. Building a catering business is not as easy as opening up a store.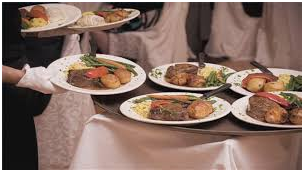 You will need quality facilities, highly-skilled employees and financial resources to keep your business running. Albeit you may have assets to begin your business, the parameters of this business might test the stability and strength of your catering management. The leading constraints that can hinder your success in this endeavor include the following:
1. Unexpected Emergency Situations
In a catering business, anything can happen. For example, the chef you expected to cook the event's menu fails to do his job because of sickness or the band you asked to entertain the guest could not show up due to unexpected circumstances. You must expect these problems to occur in your business. Thus, you have to be prepared for this kind of situations. What you can do is confirm everything before the event and always arrange a plan B for every situation.
2. Lack of Employees
This type of business requires human resources. Your employees will help you to serve the food and run the event smoothly. Hence, if you lack in staff do an immediate action to solve this problem. For small businesses that have a minimal workforce, you can negotiate with smaller events which your resources can accommodate.
3. Poor Business Management
As the owner and head of your business, it is a primary condition to know how you can manage your business effectively. Poor skills in administering your business can ruin the quality of your work. You can solve this problem by utilizing a catering software can help to alleviate your problems in managing your operation. Most beginners and some who have been dealing in this business for a lot longer could not avoid these parameters. Then, how can you circumvent and solve these issues to avoid the failure of your catering business? Ask Better Cater for the leading catering software solution in managing your business. Many caterers proved the efficiency of this product in helping to operate and distribute catering services. You can control your business and monitor your clients through the features of this software. Read the catering software reviews to guide you regarding this catering management tool.