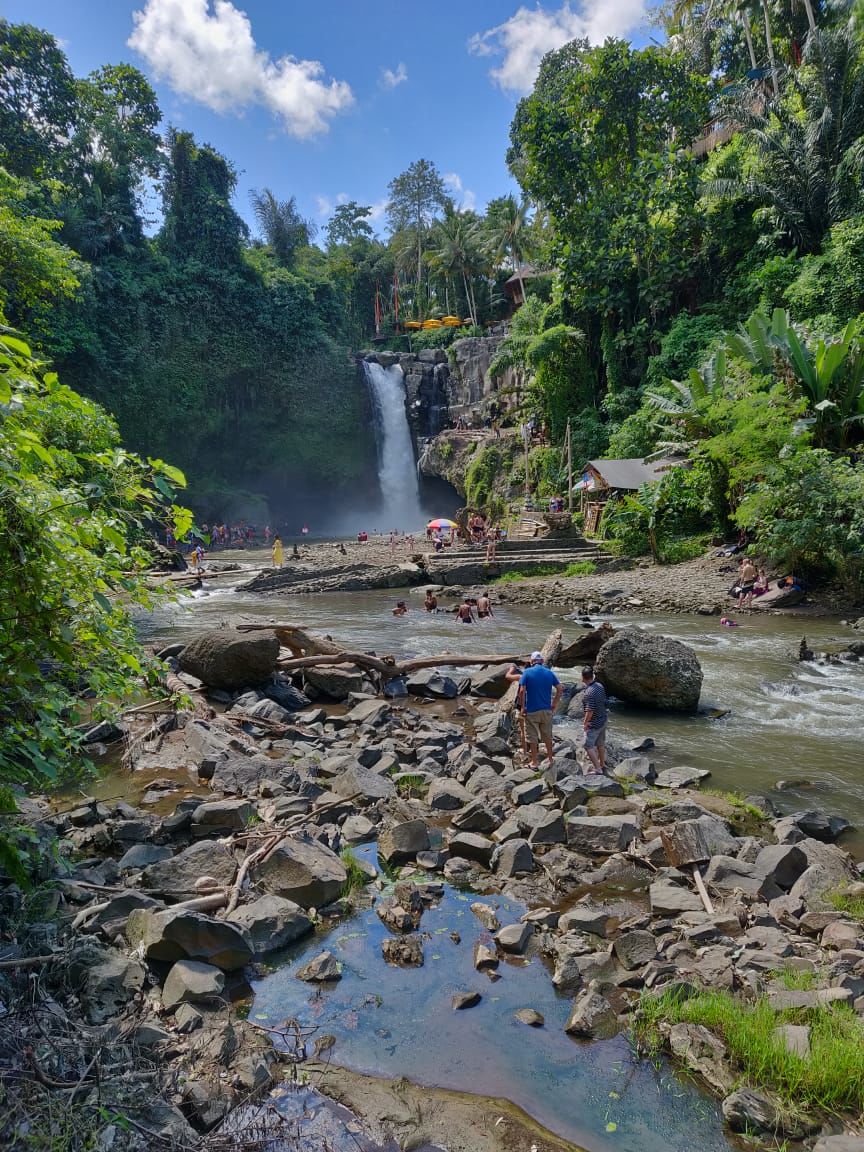 It was after a very long time that I had taken a sojourn out of the country. It was a much needed break from the hustle bustle of the metropolis that I live in. Bali was the destination. An island city in Indonesia. It took about 5 hours to reach Bali from Delhi, with a stopover in Kuala Lumpur (we don't have direct flights from Delhi). Denpasar Airport in Bali is right next to the sea and the landing will really get your adrenaline going.
Our hotel was in Kuta, which is at the center of the city. Bali has umpteen number of hotels for every kind of traveler or budget. Every known brand is present in the city. Once we reached our hotel, it was time to unleash the energies conserved for some fun-filled adventure since very long. We had a cab with a driver for the entire tour. Our driver was well versed in English, so no issues with communication.
The first day was for water sports. Bali has a number of pristine beaches. All kinds of sports like Jet Ski, Parasailing, Banana Boat, Snorkeling, Scuba Diving etc are available at multiple locations like Nusa Dua, Padang Bai and Tanjung Benoa. Prices for these activities are at par with most of the beach destinations that I had traveled to.
Next day was for Kintamani, Tegenungan Waterfall and Ubud. Kintamani is home to one of the very few active volcanoes in the world. We saw the volcano and the lake beneath from the highlands surrounding them. Tegenungan Waterfall was very crowded. We had to take stairs and climb down to the foot of the waterfall from the main entrance. The place was beautiful though. It had a lot of spots to take selfies from. The walk back up to exit the place can be exhausting, especially in summers. Next we explored dining spaces and markets at Ubud. It's a pretty lively place.
Bali has lots of Indian restaurants, hence for people not very experimental with food, you will not have a tough time exploring the city for good Indian food. Royal Kitchen, Queens of India, Spice Mantra are just few of the names.
Next few days were for Water Parks, Spas and Shopping Centers. Waterbom is a must visit. It has the longest water slide in Asia. It has been ranked as one of the world's best water park by Tripadvisor. Beachwalk is a great place to shop. It is a sea-facing beauty. It has a lot of international brands and many good places to drink and dine. Look for and feed colorful fishes in the artificial stream running through the atrium. Go to the terrace and enjoy breathtaking views of the sea. It has a multiplex as well. We had a great time there. Spas are a plenty in Bali at very reasonable prices and offer a variety of therapies.
The last day was for hopping the street markets of Bali. People need to bargain hard for anything they want to buy from the street markets (no problem for an Indian though). Clothes, shoes, jewelry, handicrafts, handbags, showpieces, chocolates or any damn thing is very expensive as compared to prices in our part of the country. We still managed to get some good deals and packed some stuff for our friends back home.
Finally, when we were about to leave, I tired to figure out the best thing that happened to us in the journey. The answer was meeting the rustic, sober and innocent Balinese people along the journey. I still remember their smiling faces and imagine that I can someday meet them again.
Happy Travelling !!