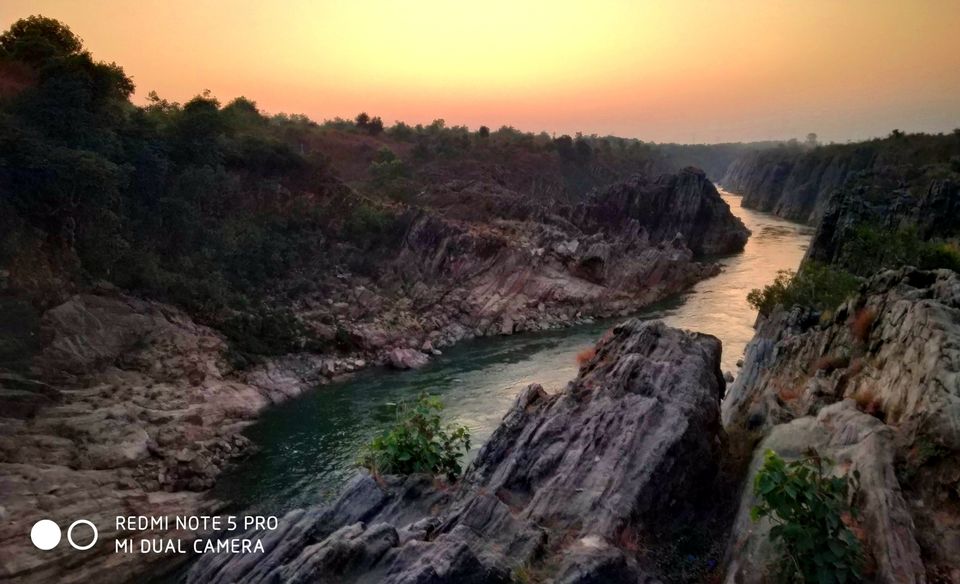 And here I am ! Elaborating about the most beautiful scenery from a small city called ' Jabalpur ' in Madhya Pradesh , India - " Bhedaghat " .
For us ( Jabalpurians ) , it is a way to refresh ourselves whenever we get a chance from this hectic and busy life .
Every now and then Students , Employees , Couples , Bachelors , Oldies , visit this mesmerizing location . Everyone feels the same when they visit here -- Peaceful And Calm !
Just like that , this Heaven is 25 Kms from my Home and I do visit there very frequently because whenever I go there , I feel like that I am living in another world as it takes us that close to Nature , may be because it is completely sculptured with Natural Marble as The Holy River - ' Narmada ' goes through it .
There are markets and many small shops for Jewelry made of Marble Rock and several beautiful ornaments and items made by the countysiders .
So these freezed sceneries are from a beautiful day when I visited our Little Heaven on an overcast morning of winters , back in 2018 !
I was teaching my little brother , how to drive a car and we were not aware , where that little session of driving class would lead us to , and Bang ! Bang !
We enrouted there !
Even though since I was a child , I knew that this place is something else , something beyond our imaginations .
But that particular morning full of winter bliss , I realised that Ohh Holy Lord ! I can imagine that you might be living on any place similar to this .
For my bad , we had to hurry back to our home as we were out for more than 4 hours now . But I came back again in the evening and captured some breathtaking shots and stored them in my memories for ever !
The Gem Attraction of the point is " The Milky Waterfall " -- Dhuandhar .
Well I don't have any words to describe it .
So better you feel it through the images .