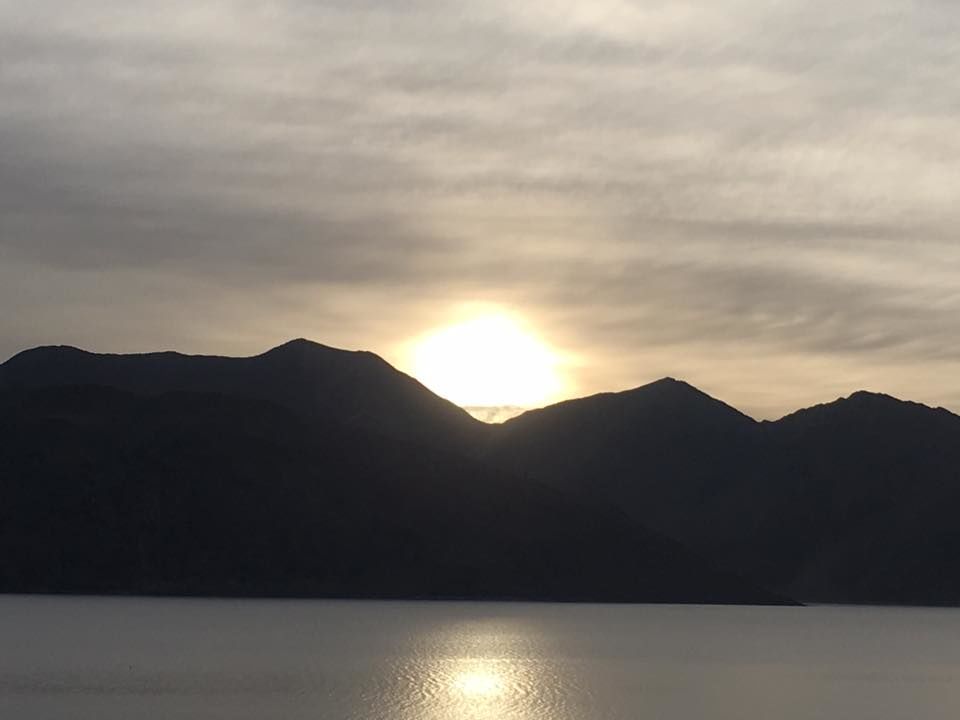 This was, without a doubt, the high point of my Leh and Ladakh visit. We drove six hours through a rough mountain terrain to reach this vantage point. In the middle of the journey, I saw wild mountain goats whose fur was of the same colour as the mountain rocks. They kind of camouflage themselves in the background so that they can hide from their prey. The journey was rocky and we passed a few villages in between and stopped over for tea and Maggi. That's all one gets in this region apart from mom's home food and vegetable fried rice. Anyway, I was not complaining as the vistas were unreal!
From a distance, I just saw blue colour and it's as if the blue land had merged with the sky which was my first view of the great Pangong Lake. Pangong means high grassland lake. The locals see this as a holy lake which was sent down from the heavens by the Gods. That's it, my first view of its breath-taking beauty and I was hooked. I took out my power lens and started clicking through my Canon camera. One shot after the other, I could not keep the camera down, I was that hooked.
I must have taken over a hundred shots of the lake from every conceivable angle. The blue sky, brown dusty mountains and the lake with hues of blue all merging and emerging together. It was a dance of light and colour that I had never experienced before. Then I caught a glimpse of a white dove which flew over me. Instantly, I started taking pictures. It was amazing as the dove is also the symbol of my travelthon. A symbol of freedom, peace and the will to reach great heights. It was as if the Gods were cheering me on. It was a heaven-sent omen to tell me that I was on the right track.
As I was busy with my camera, I was approached by an army man in uniform. This is, after all, the front I realised of a battle and the man said to me rather sternly but friendly "Hi, I am Captain Sandeep Singh of the Indian Army and you are not allowed to take photographs of the helipad and army camps. Can I see your camera? We will have to remove some of your pictures."
I looked at him and shook his hand "I am Anuj Tikku and I am a Bollywood actor from Bombay." Immediately the captain's suspicion turned into a deep set grin. "Yes, yes, I thought I had seen you somewhere "tum waha hotey to gaand phat ke haath mein aah jaati". You were the guy in the plane with Rani Mukherjee." I smiled and said yup, that was I.
That's it and he took me under his wings and guided me for a tour around the lake. I told him that I have come here for a location shoot and wanted to see all the beautiful sights around the lake which was not strictly true but well. "Yes, yes indeed, I will take you around, it will be my honour, why don't you join us for breakfast tomorrow." The deal was done and I had an officer from the Indian Army on my side now and exploring this heavenly place will now be even easier.
I reached the blue water camp by late afternoon. The camp is a bunch of tents facing the lake and I will be spending two nights here. Till then chalo and, by the way, it's my Birthday today and I got the perfect birthday gift.
Originally posted on TikkusTravelthon.in