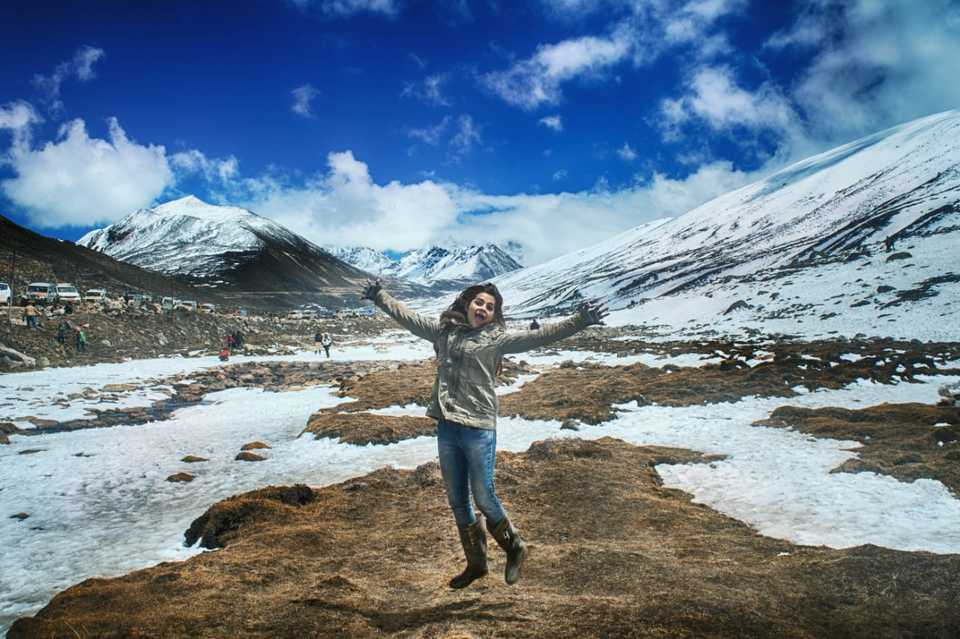 Oh Mountain ! The more I SEE the more I fall in LOVE
Visiting once will never be enough.Hence this is my 2nd time in Sikkim.This time in North,beyond the wall,wall of mountains.It is One of the most uninhabited areas of the country, yet extremely beautiful and charming,
Out of the four district of Sikkim it is the largest and least populated area,full of majestic mountains (the peaks of the Himalaya can be seen from here),dense forest,several waterfalls,scenic beauty and much more.
North Sikkim is an experience that you are bound to remember for the rest of your life.
We were there on May 2018 for 5N/6D days in which 2N/3D was for North Sikkim.
The North Sikkim tour comes in various forms, such as
2D/1N – Lachung with Yumthang Valley
2D/1N – Lachen with Gurudongmar Lake
3D/2N – Lachen – Gurudongmar Lake & Lachung – Yumthang Valley
These packages come with accomodation and meal plan such as lunch,dinner & breakfast.
Best time to visit:
If you love snow then the best time to visit from December till March for heavy snow.April - May is what I will suggest (moderate cold) from June to September is monsoon, you might face heavy rainfall in July ,again October - November is Autumn in Sikkim,mild and pleasing weather with temperatures 15 to 20 degrees .
How to reach:
Drive to Gangtok from NJP railway station or Bagdogra Airport. Approx 4 to 5 hours journey.
Drive to Lachung from Gangtok via Mangan,Chungthang. For yumthang valley ,katao and zero point
Drive to Lachen again via Chungthang.for Chopta valley,Gurudongmar lake
Gangtok
We reached NJP station from there we hired innova as we were 5 people travelling.it took rs 3500 for 5 people and took 5 hours to reach Gangtok on that day.
We stayed at a hotel name Flora fountain on development area,10mins walking distance from M.G.Marg as we want a quiet place at an affordable price.
That evening we spend at M.G.Marg roaming and exploring good food.Also we hired a sumo for next day and done with submitting ID proof and photographs for permits.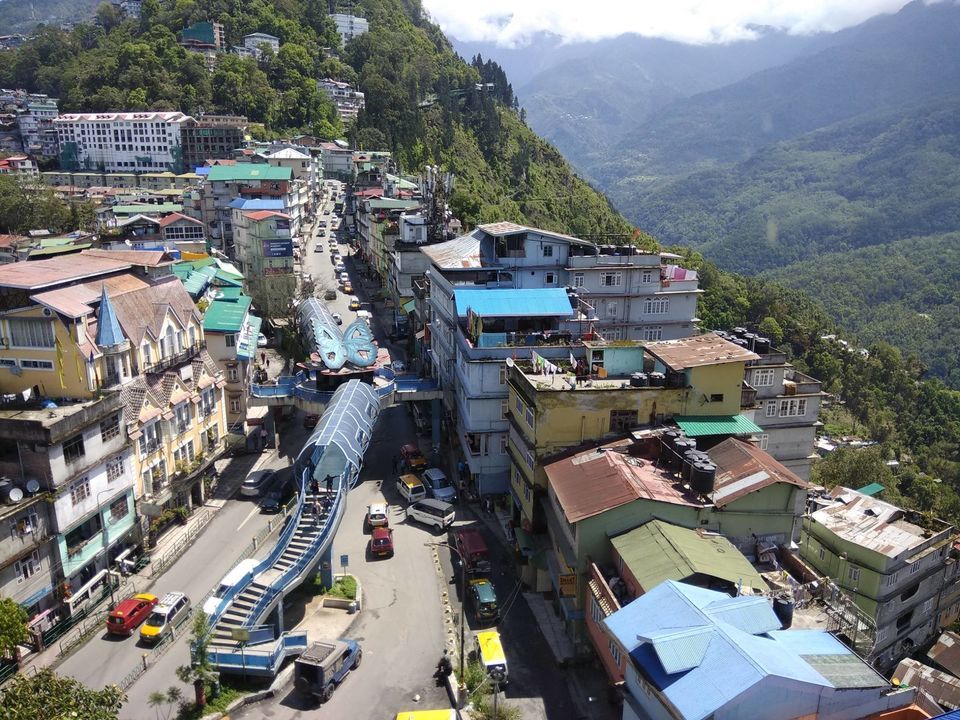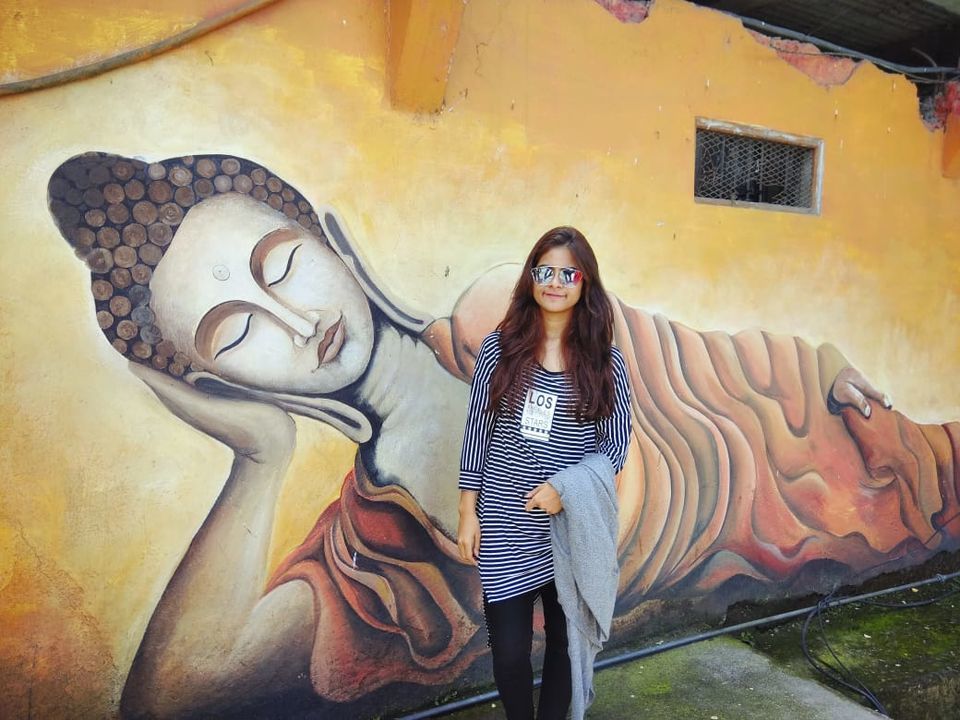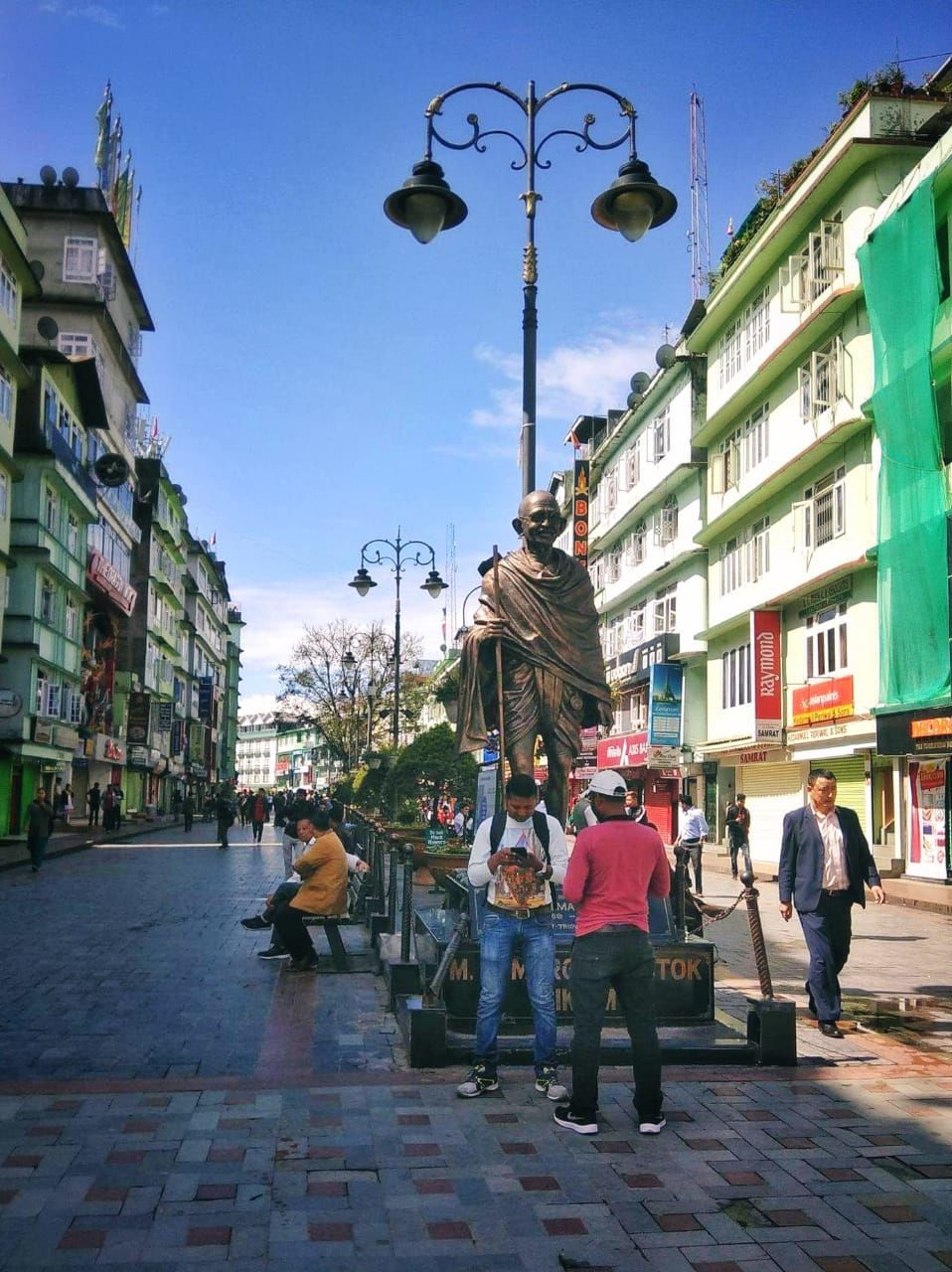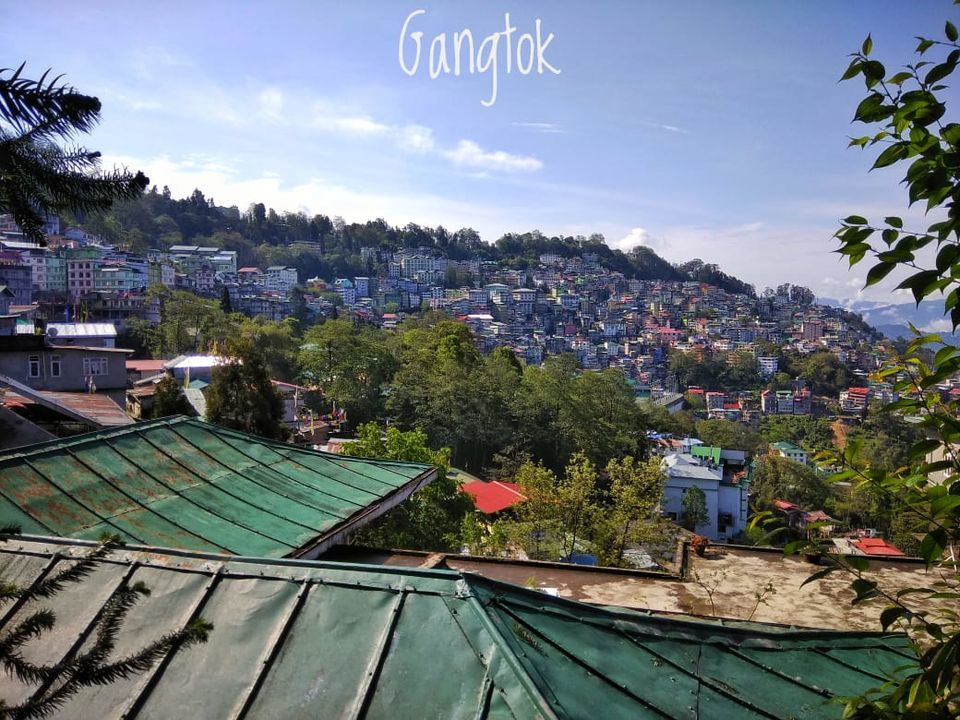 North Sikkim
After breakfast we took a cab for Vajra taxi stand where our sumo was waiting for us.Within 11 AM we started our journey towards Lachung.on the way to Lachung we halted at some of the beautiful picturesque places such as Seven sister falls,naga falls,Chungthang,Bhimnala waterfalls also known as Amitabh bachan falls,We had delicious momos,pakoras,tea on these places.Had lunch at a place after Mangan.
Mangan
The entry point to Lachung Lachen, 4000 ft above sea level it is a base town,capital of North sikkim.The town is also reckoned to be the market centre for northern Sikkim.looks quite similar to Gangtok.except it has in its store, something for spirituality seekers; the little town houses one of Sikkim's six of the oldest and most revered monasteries, the 'Labrang Gompa'.famed for its mix of Tibetan & Indian Vihara architectural style, this monastery is sure to take every visitor in complete awe of a spiritual splendour in just no time. This place is famous for trekking also.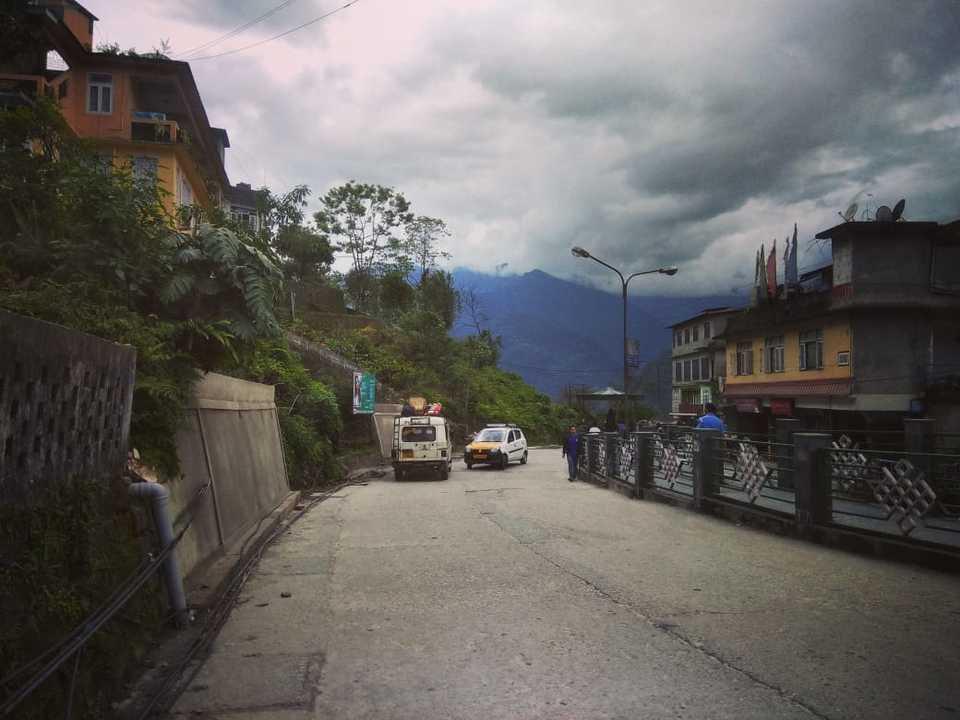 Kabi
The historical site is located in a dense forest area on the North Sikkim Highway near Phodong.This is where the "blood brotherhood treaty" was signed between the Lepcha Chief and Bhutia King in the 13th Century and the first steps towards forming the state of Sikkim was initiated. The Sacred Grove where the treaty was signed stretches roughly over 3 km from the highway towards Mangan to the River Bakcha.
there are Phodong monastery, Seven Sisters Waterfalls and the sacred Tingchim Lake to visit if you have a day time.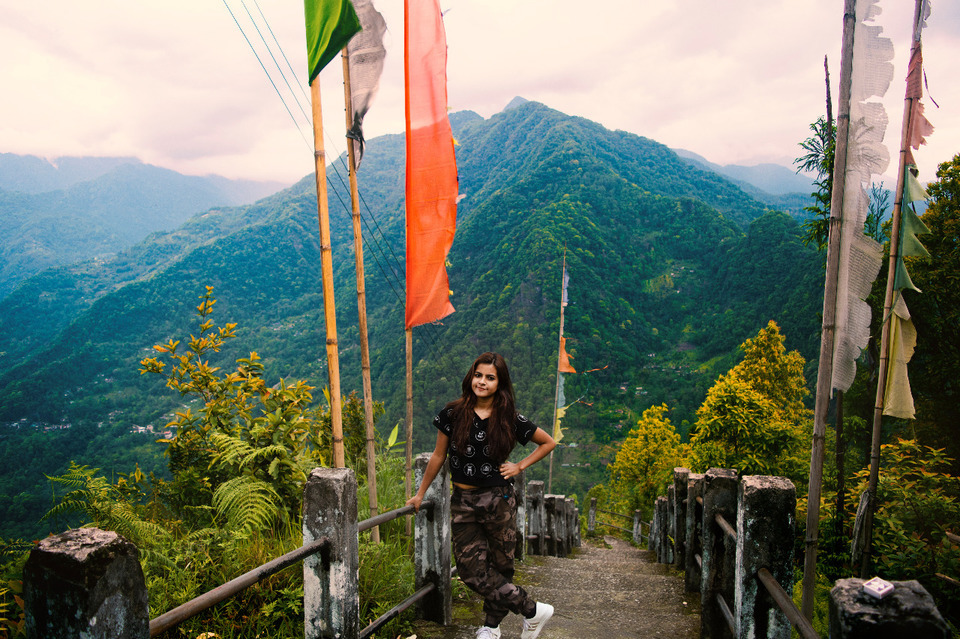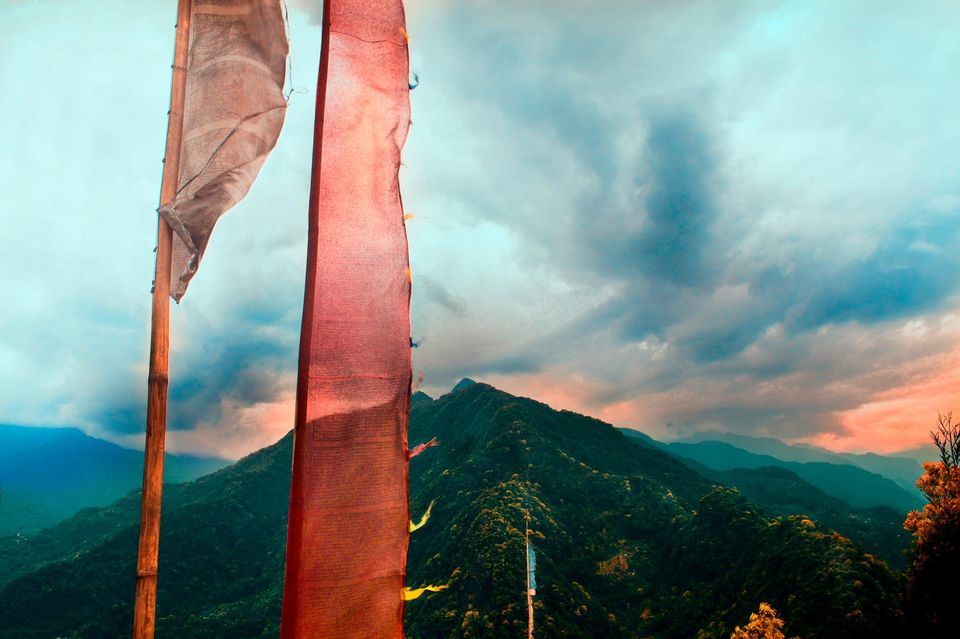 Chungthang
we reached Chungthang around 5:30 pm.Chungthan itself is a beautiful place Situated on the confluence of Lachen and Lachung rivers,which combine to form the Teesta River.it is believed that Guru Padmasambhaba and Guru Nanak have also visited this place.the entire Sikkim is very clean place to preserve environment they have certain restrictions for using plastics but from here we need to littered plastics even bottles.As here people preserve nature and maintain cleanliness such that there are high fines if you litter anywhere.From here the road gets divided to Lachung and Lachen
Lachung
Around 6:30 we have reached our homestay where we got fresh and had dinner with rice, lentils ,sabji which was a treat after a 6 hours zigzag bumpy rides.A pretty village, situated on both banks of the Lachung River,Lachung literally means 'Small Pass', which it indeed is as it is situated in the close proximity to Tibet border. The Lachung Gompa is the major attraction of the town. The village retains its culture and handicraft is something that you need to pay attention to.
Yumthang valley
Journey starts after an overnight stay at Lachung. Bed of Rhododendron flowers Yumthang valley 1.5 hours journey from Lachung village,roads with running waterfalls Shingba Rhododendron Sanctuary is having 34 sq km area has 40 species of Rhododendron trees which blooms in April to May every year are lining our way to the valley.Before entering the valley there is pathway leading to yumthang hot spring which water is rich in sulphur.the valley was filled with flowers thus it rightly earns its name as 'Valley of Flowers'. The vasts meadows and the passing of River Teesta through it,roaming yaks,gigantic snow covered mountain peaks makes it nature lovers' paradise.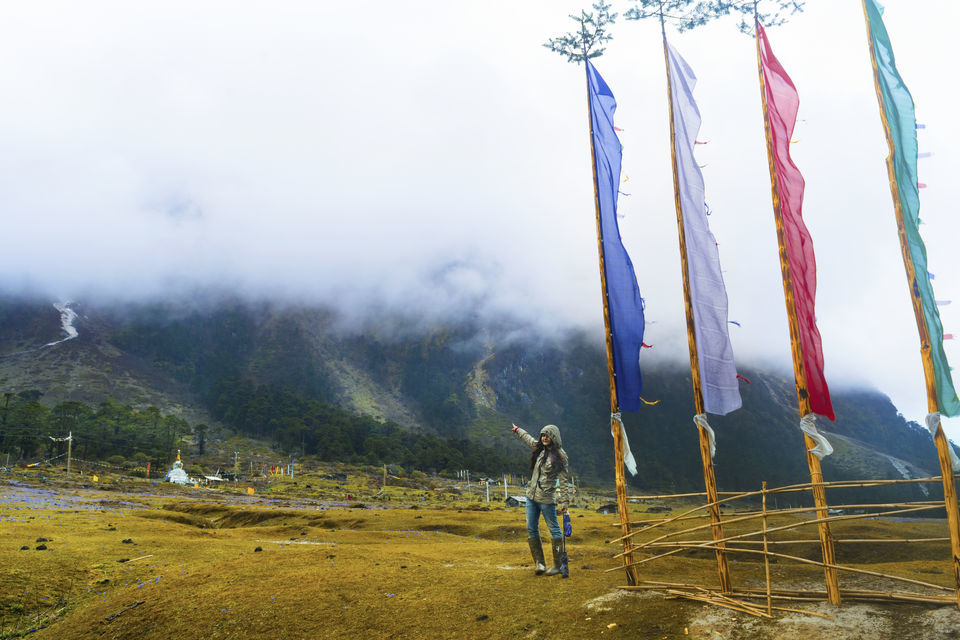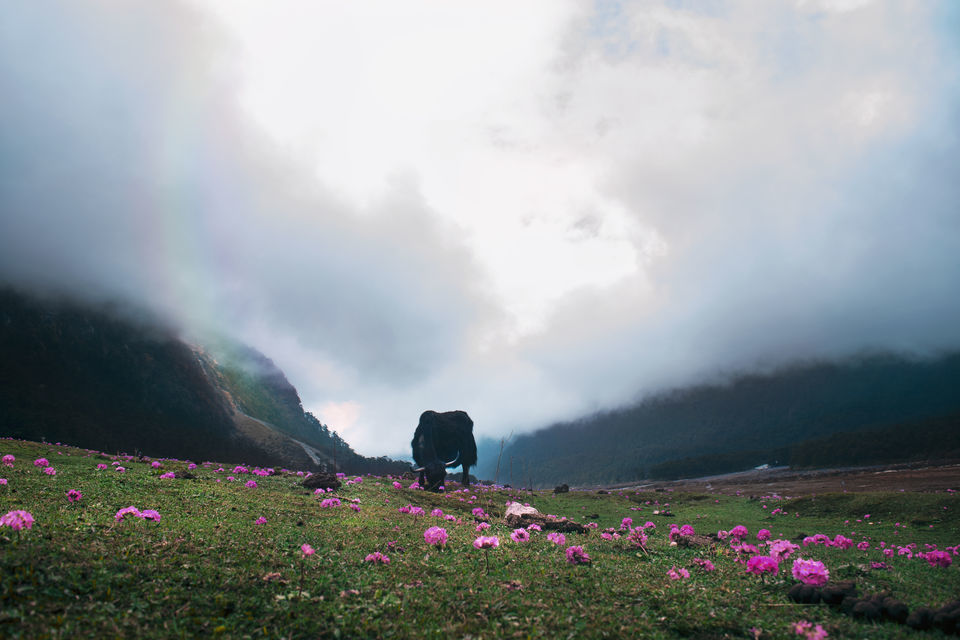 Yumesamdong
Generally Zero Point also known as Yumesamdong is not covered in the tour, it took rs 500/person but worth visiting as this place is heaven on earth,15000ft sea level zero point was covered with snow and snow clad mountains and it was my dream come true part, with playing with snow for the first time.this place called zero as civilian roads ends here it is very close to China border thus it requires special permits to reach.we stayed there near about an hour and headed back to lachung.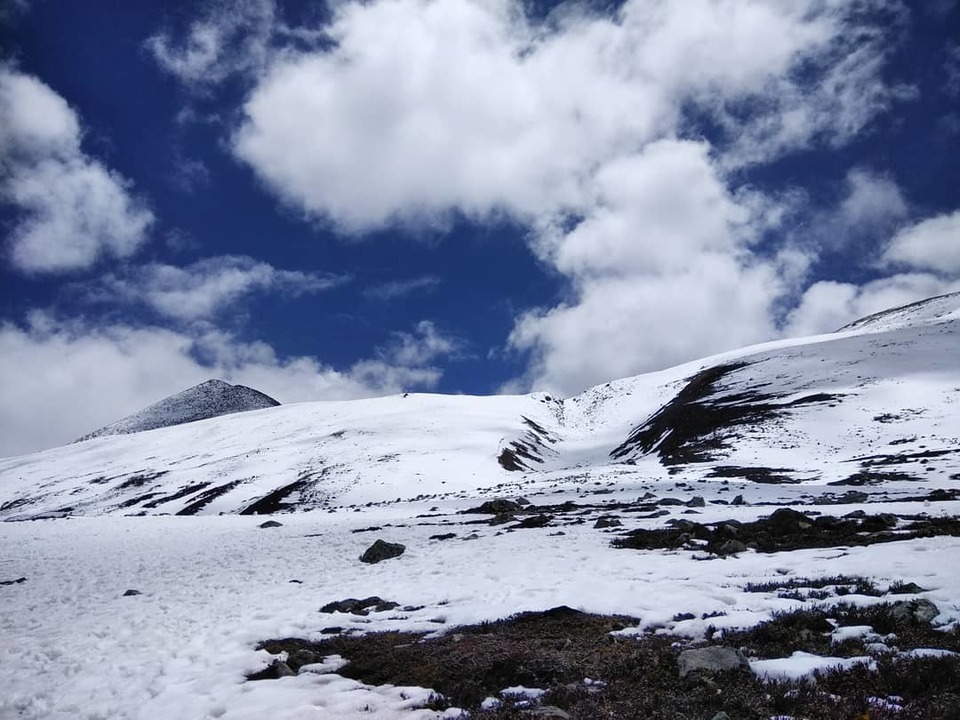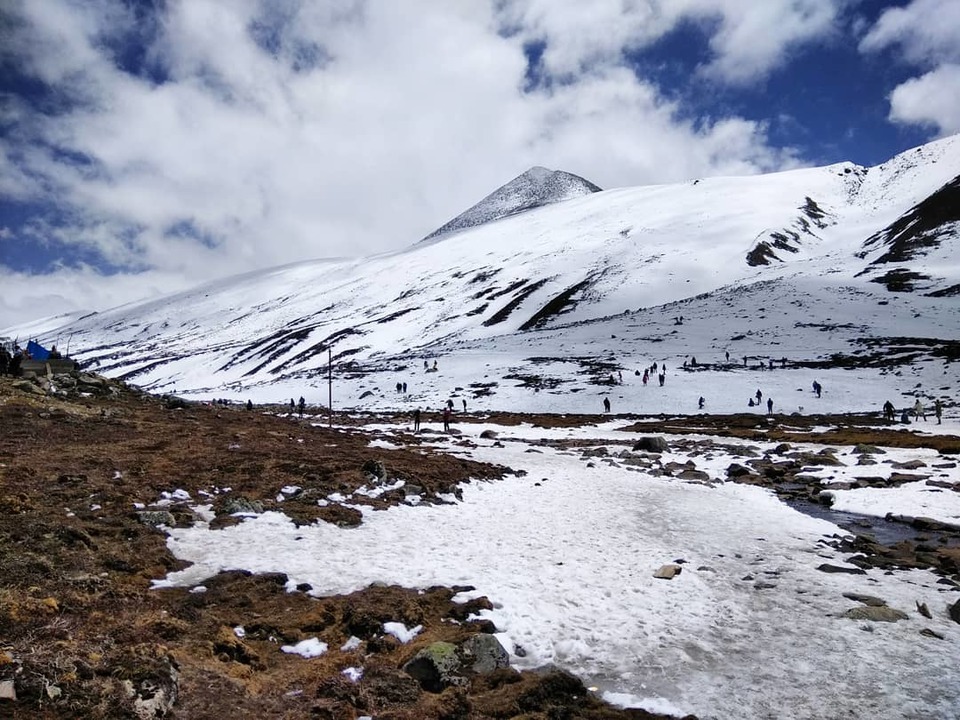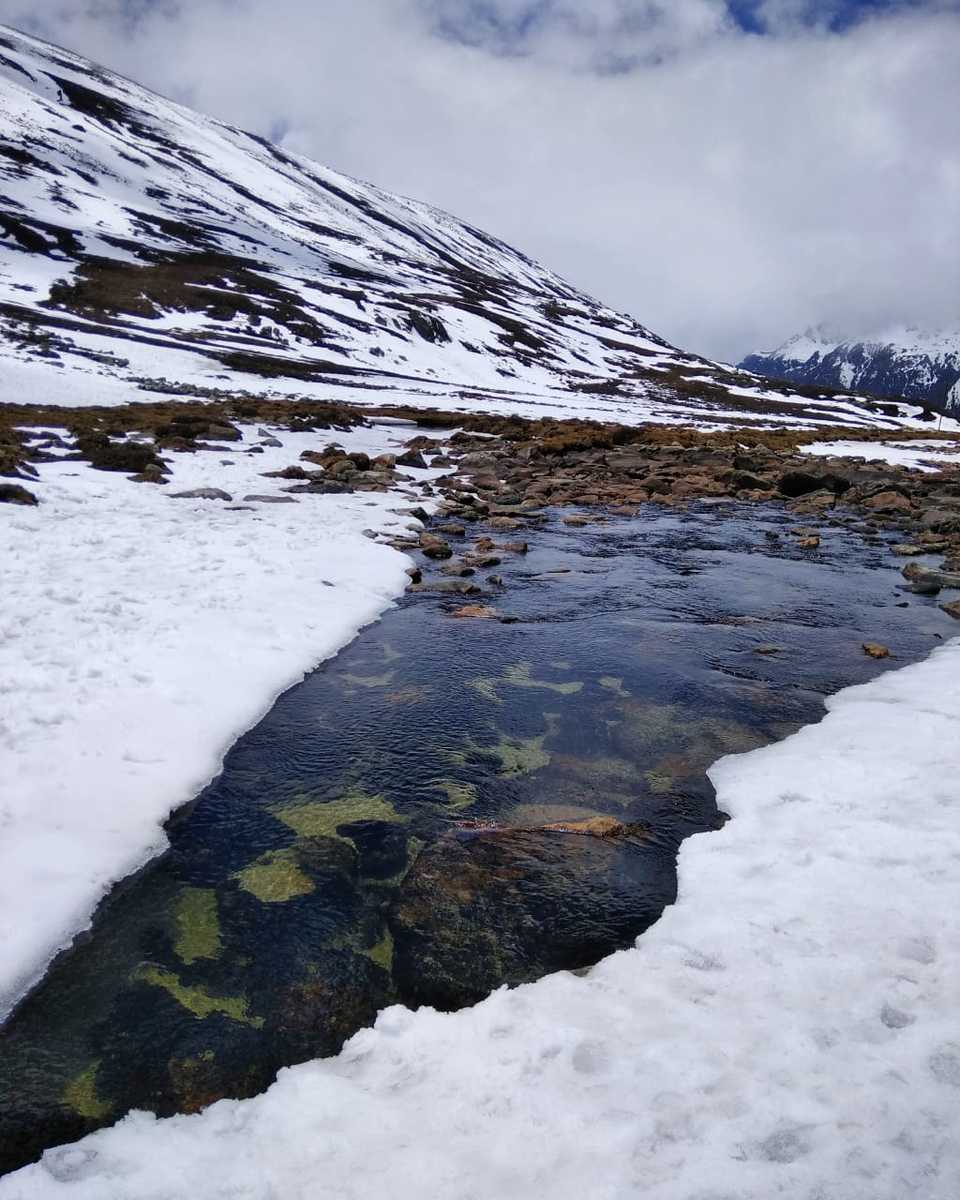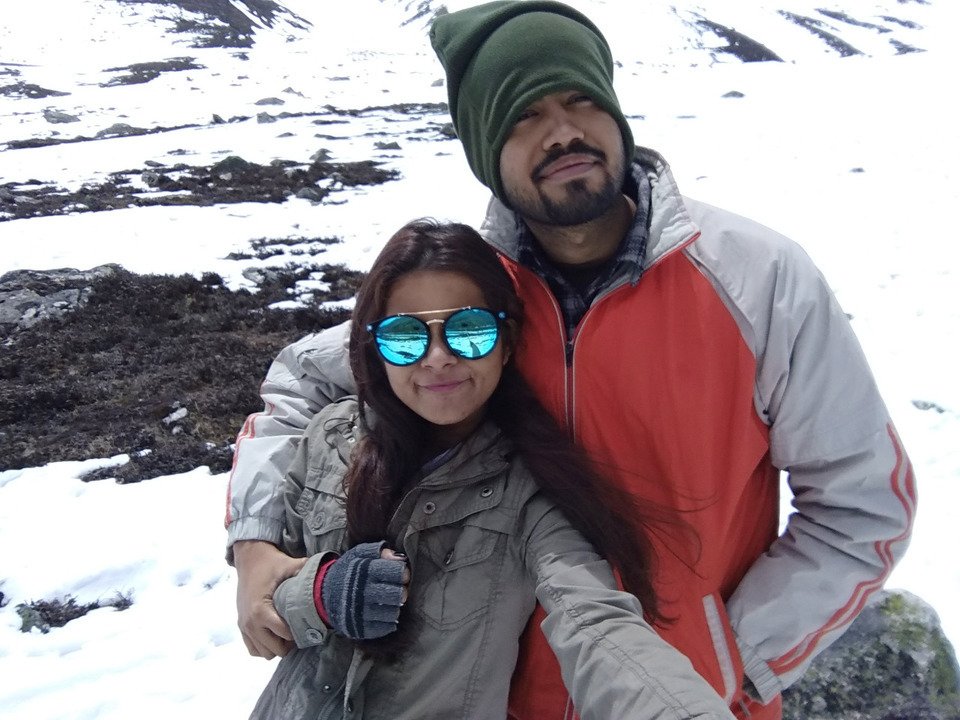 After reaching our homestay we had a delicious lunch and started our journey towards Lachen.
Lachen
https://www.instagram.com/p/BxBmdD7lzCC/
From chungthang to Lachen it takes 2 hours maximum and this time roads are more dangerous,bumpy than Lachung. Lachen means 'Big Pass'.We admire the breathtaking beauty of Lachen which is drenched in every-bit of beauty.The town is the base for Chopta Valley and the famed Gurudongmar Lake and Lhamu lakes. The Lachen Gompa is the prime attraction here apart from nature's beauty.In summers an annual yak race takes place every year in Thangu.apart from Lachen monastery and Thangu must visit places in Lachen are Chopta Valley, which is a shutterbugs paradise, and the Gurudongmar Lake which is open only to Hindus and Buddhists. Located at an altitude of approximately 8838 feet.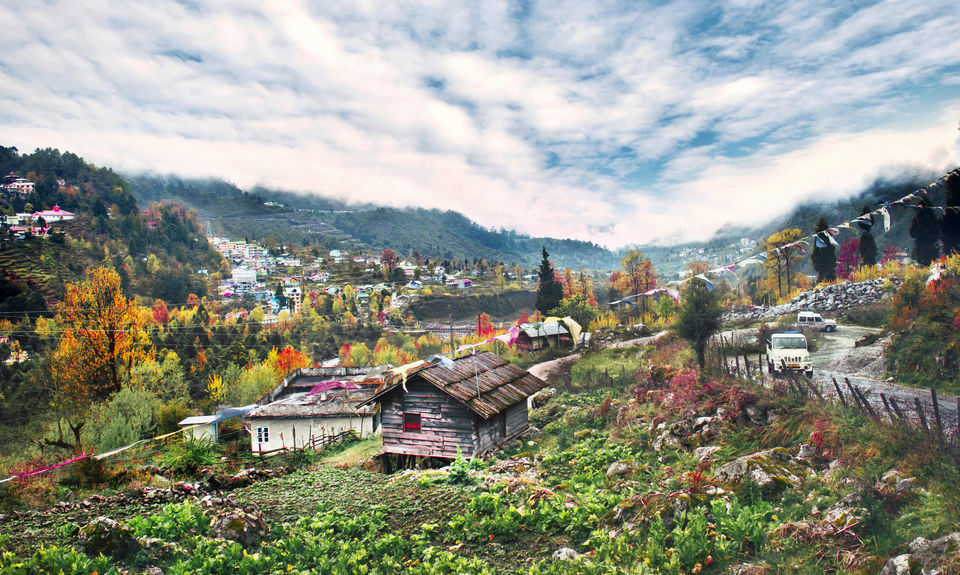 On the next day at Lachen we got ready for the Gurudongmar Lake around 4am,but it was raining heavily from last night such that the temperature went 2-3 degree c.We were waiting for the rain to stop to a certain extent so that we can start our journey as we heard about the road is dangerous and not for the faint hearted people.and there are high chances of landslides during rain.
We waited for 6am but it did not stop,as we had aged person with us we could not take risk also it was late leaving for the so suggested to not to visit gurudongmar in this situation.
So with a heavy heart we explored the lachen village interact with local villagers and their cultures.It was different experience to communicate with people having honesty, who live a simple and happy life even in that height and difficult climates makes us inspire in every inch.
That day after having lunch we left for Gangtok with a heavy heart for not being able to see the holy lake but in a positive way leave the chance to visit the place again.
Tips:
North Sikkim tour is really hectic and tiresome. Due to very high altitude (17,100 ft above sea level), so be prepared and plan accordingly especially if you have aged person with you and someone who is having breathing problem.
Frequent searches leading to this page:-
honeymoon package for sikkim gangtok, gangtok lachen lachung 5 day itinerary, make my trip darjeeling gangtok package, kalimpong gangtok, gangtok tour package cost, 2 night 3 days gangtok itinerary, delhi to gangtok trip, tour of gangtok, gangtok couple package, gangtok 10 point tour, gangtok darjeeling 6 day itinerary, gangtok itinerary for 6 days, gangtok pelling tour packages