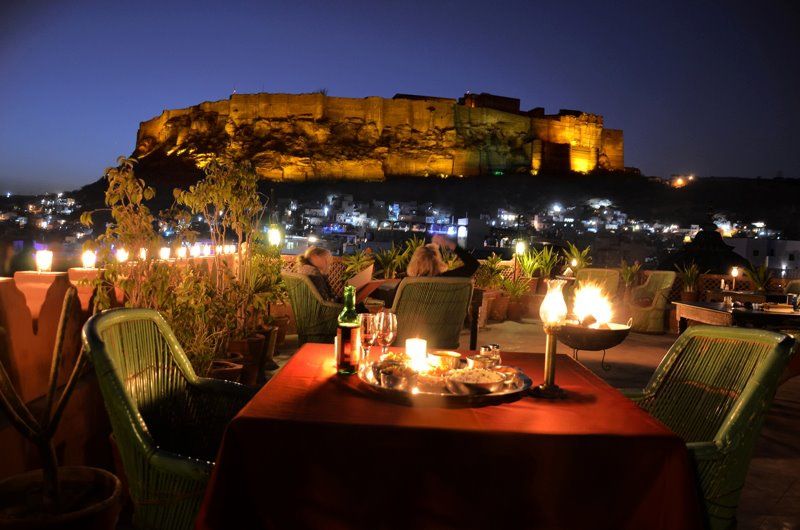 Jodhpur is one of the best places to visit in Rajasthan. With a plethora of options available: visiting deserts, exploring the lakes or enjoying the greenery of the city, Jodhpur makes for the perfect vacation destination. It also has some of the best Rajasthani food that you will ever taste, right from the famous kachoris to the daal baatis; Jodhpur is a haven for foodies! This blue city, is definitely the most Instagrammable, whether it is the quaint city or the yum food! Here are the most Instagrammable restaurants and cafes in Jodhpur.
1) Café Royale at Clock Tower
Easily one of the best budget cafes in Jodhpur, Cafe Royale is one of the most pretty looking cafes in the city! This café is situated near the amazing Clock Tower and serves the best cold coffee in the area! The open seating allows for some great people-watching and, if bored, have a chat with the friendly owner who will tell you a lot about Jodhpur!

Must-Try
Jeera cooler, cold coffee, banana and honey waffles

Location
Ghanta Ghar, Sardar Market | Clock Tower, Jodhpur 342001, India
Timings
9 AM to 10 PM
Contact Number
082093 49554
2) Café Frespresso Coffee and Food
If you want to relax for a while after roaming around in the city and have a nice Cup of Joe, this is the place to be! Decorated in modern as well as Rajasthani style, this café is totally Instagrammable. Open seating and lots of natural light, what more do you need for those food pictures? The staff here is pleasant and friendly as well.
Must-try
Chocolate milkshake, coffee, pancakes and chai!
Location
1st floor, outside Pal Haveli, opp. Omelette Shop, Gulab Sagar road, Clock Tower, Jodhpur 342001, India
Timings
10:30 AM to 10:30 PM
Contact Number
097823 66025
3) Om café and restaurant
A popular café with foreigners, Om café surely oozes the hippy vibe. A typical rooftop café, this place has an amazing view of the city. If you want to have a cold glass of beer to finish the day, Om café is perfect! Also, the best part is that it's not that heavy on the pocket. They serve both veg and non-veg food. Though the seating and the ambience is simple and humble, the view from here more than makes up for it!
Must-Try
Veg or Non-veg thali, chai, traditional Rajasthani chicken dishes

Location
Way to fort, Makrana Mohalla, backside Clock Tower, Gulab Sagar, Jodhpur 342001
Timings
7 AM to 11 PM
Contact Number
0291 264 2062
4) The Step Well House café
Definitely the most Instagrammable place in the city, this café oozes a that luxurious vibe. This is for those who are tired of the small places in the city and just want to unwind in a spotlessly clean café. The all-white interiors make for the perfect pictures here! The café is also very chic and modern and they have great views of the stepwell.
Must- Try
Tea, they serve alcohol as well, pasta, cheese corn balls

Location
Tunwarji Ka Jhalra Makrana Mohalla, Jodhpur, Rajasthan 342001
Timings
11 AM to 10:30 PM
Contact Number
0291 263 6455
5) Namaste café
Situated near the Clock Tower, this café offers an amazing view from the city! Even though the building is a little old, it's a total value for money. This is the perfect place to have breakfast, complete with a stunning view and a nice breakfast menu. It's a perfect way to start the morning with the great fort view. If you want some moments of peace along with some soul food, this is the place to be.
Must-Try
Breakfast menu, pancakes, salads
Location
Jasoda Kunj, Makarana Mohalla, near Clock Tower, Jodhpur city, Jodhpur 342001
Timings
9:30 AM to 9 PM
Contact Number
085599 03338
6) Café Sheesh Mahal
As the name suggests, the café is built in the style of a sheesh Mahal. They serve maybe the best coffee in the city as well! The stained windows here make for the perfect Instagram photos! Escape the chaos and sink into comfort in this beautiful café, and just relax with a cup of coffee! All you would want after a hectic day.
Must- Try
Coffee, banana pancakes, kesar lassi, fresh brownies

Location
Near Clock Tower, Jodhpur
Timings
10 AM to 9:30 PM
Contact Number
0291 261 2519
7) The Nerdy Beans
Want to have dinner at some fancy place? This is the perfect place to be. The café has a nice contemporary feel to it. They have late night hookah parties and this is the place to unwind over drinks with your friends after a long day.
Must- Try
Mixed sauce pasta, oreo shake, chilli garlic noodles
Location
373, 1st floor, above Wills Lifestyle, opp. police station, 4th C road, Sardarpu, Jodhpur
Timings
10 AM to 10:30 PM
Contact Number
096802 73787
Want to help fellow travellers as well? Contribute and write on Tripoto and help fellow travellers!