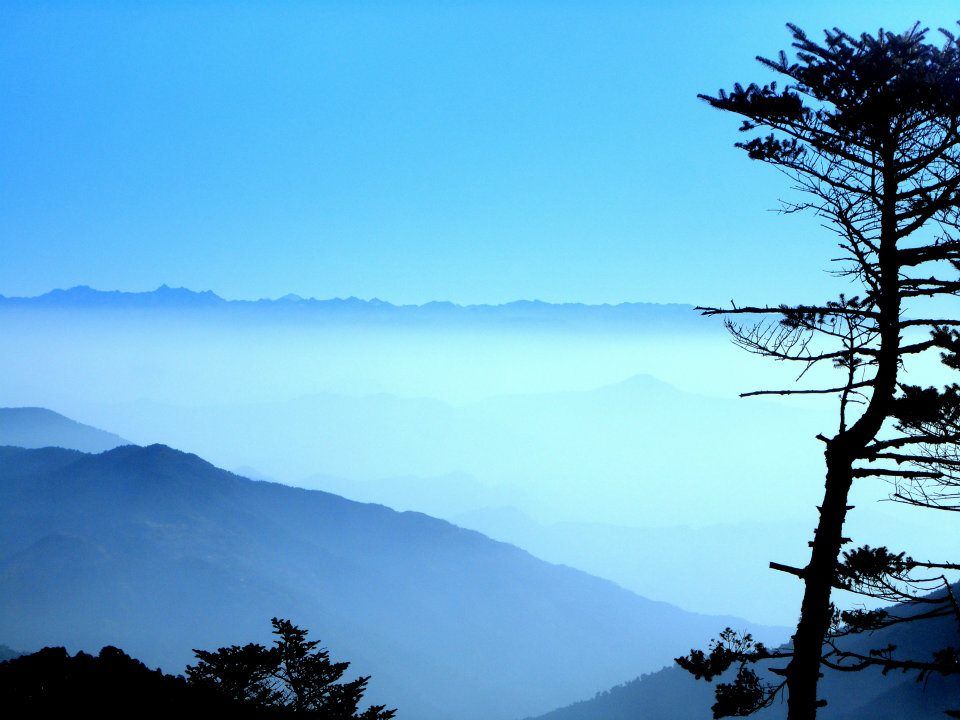 My limbs could take it no more. Because I could not stay out in some God forsaken road the whole night without food, I knew I had to walk to the lodge come what may! I asked both Dipanjali & Amar not to speak!
Once left once right we kept moving and then finally we reached what looked like a town. There were shops, there was a bakery too and then Amar asked me to take a right turn and as I did, we were in the lodge! Pheew! That was long indeed. We were introduced to the owner of the lodge. She greeted us flashing a big smile and asked us to "bathe" as fast as we could as steaming hot momos was ready for us.
The lodge was a beautiful one. Rooms were wooden and polished, neat and clean. For the first time in four days we did not have to worry about generators being shut down, we could charge cells without paying and we could bathe too! Now that's a prize right!
As we walked towards the room, there were steps again and I vehemently said I would not walk a step more! Amar said, these were the last ones! As I walked down I saw an SUV parked and asked Amar, "Tell me, tomorrow morning do we have to walk up to the main road again or will our car come here like this one?" pointing to the car parked.
Amar smiled and said, "This is our car girl. The front seat belongs to you."
I was not a mood to buy such boosters. Because a booster earlier about the Switzerland view made us reach our summit and there was no view as such! Even while walking down the whole day Amar & Tshering said in Rimbik there was a small movie hall and they were planning to reserve the whole theatre for us. All they asked us was to give names of the movies we wanted to watch!
But Amar was right this time. As I walked down the steps, and reached our room, in the lawn I saw Shyam! I forgot that Shyam had promised us he'd reach Rimbik the day we'd reach and party with us!
Five girls complementing how good a driver he was and playing such good music all the way from NJP to Maneybhanjan, he could not miss a chance to party one night with us!
Bathing and wearing a set of fresh clothes we were all in a party mode. We gobbled up all the momos and wasted no time to bring in the Old Monk!
We all sat in a group, talking and sharing our experiences and we were all elated.
Hard work surely pays without a doubt.
Dinner was lavish but I stuck to chicken curry and rice, which was the tastiest I had in the recent times.
As we lay on our beds, it was first time in four days we slept like logs.
We woke up early again. We did not have to walk today; we'd be travellling in a car. Nevertheless I took my cam and walked around the area and took some pictures.
One by one everyone got ready and it was time to bid adieu to Rimbick.
Our breakfast stopover was in a place called Dhotre. We again had momos and Tshering told me, "Ma'am there is coffee here. I will ensure the coffee is made the way you like it."
I gave him an "okay" nod and he happily went inside the kitchen and asked the boy to prepare it, supervising it thoroughly!
From there we drove to Darjeeling. I don't know why we had to stop there. The place is over crowded, time for shopping was less and well it was not what I was looking for.
From Darj we proceeded to NJP again, via Kurseong. The ride was good. Shyam again played some good music and by five we were in the NJP station.
Just on the outer peripheries of NJP, Shaym stopped the car, removed the music system and hid it. As a rule on hilly terrains one is not supposed to play music lest that break your concentration from driving. Now I understood why I did not see the music system when I hopped in the car. Shyam had attached it when we stopped for breakfast in Dudhia. I got my answers!
The bags were being unloaded for the final time; Amar was settling the payments whereas Tarun and the three girls rushed to the nearest restaurant they saw. They were famished. Dipanjali was talking on the phone, while I took out the packet of fags. I took out two (one each for Amar and me, we desperately needed one with a cuppa tea) and put it in one of my pockets and five remained.
When the settlement was over, I went to Shyam and patted him lightly on his right arm and said, "Thank you Shyam, you're such a good driver. I usually do not doze off on hilly terrains. But you managed that too!" I took out the packet of fags and handed it to him.
"This is for you", I said. "I won't require it once I am inside the station".
He gave me his best smile and said, "Thank you Ma'am!"
I looked at Tshering. He was inside the car checking if we had left anything. I waited for him to finish his work. As he came out, I called out to him, "Tshering"
"Yes, Ma'am", he said and came to me.
And we shook hands and smiled. I thanked him. He had taken good care of me, pampered me the most and treated me like a princess.
I took out my eye-pad and gave it to him.
"It's a small parting gift from me", I told him.
"No, no Ma'am I cannot take it. Already you have given me the altimeter. How can I take it? I have seen you using this eye pad and I know this is important to you."
"Take it", I insisted. I further told him, "I have another one at home".
We shook hands for one more time and he said, "Ma'am our next trip will be from where the Ganges emerges – Gangotri".
"Done", I said, as I walked to the restaurant where my other team members were and they drove away…