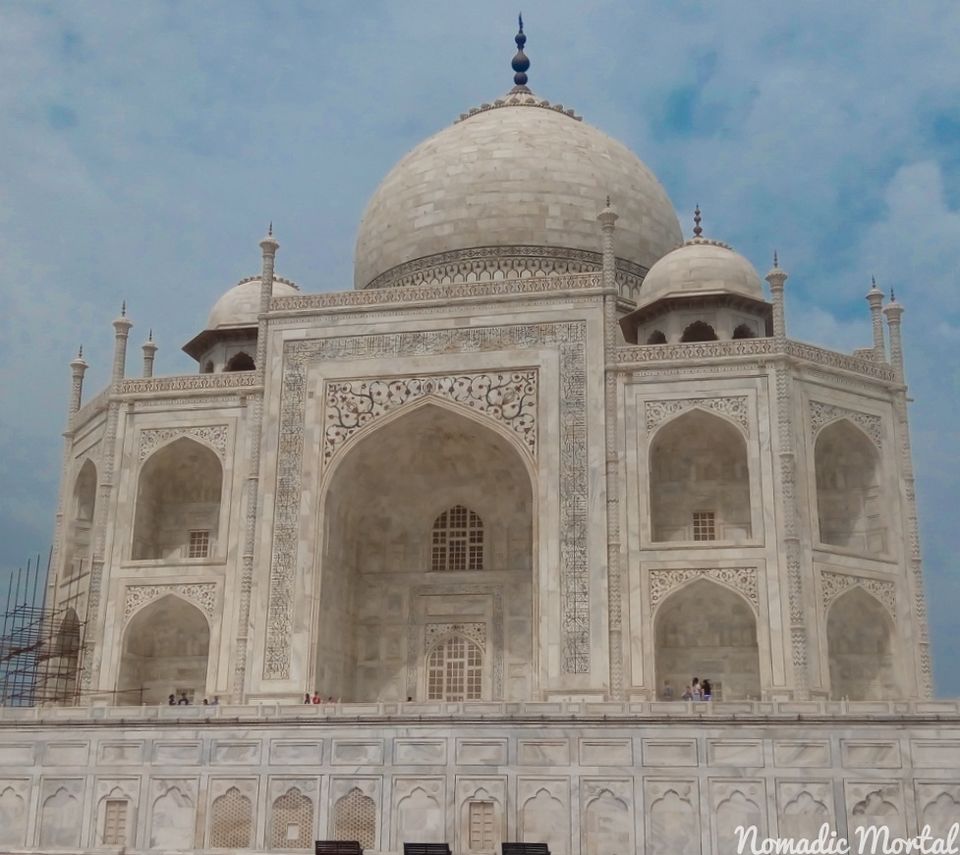 Continuing my series on the Epic 10 State Trip..
If you haven't already read Part 1 – The Mountains are Calling - Part 1

This trip was not about covering as many places as we could, but it was about going to places each one of us had wish listed since ever. All of us had one final destination, but the path to this final destination was different for each one of us. So we decided to do it all! Yup! :D
DAY 5:
Udaipur – Agra (630 kms):
Udaipur is a totally different city early in the morning. The serenity of Lake Pichola blankets the entire city into an eerie calm. Oh how peaceful would it be to sit by the ghats and watch the sunrise. Unfortunately, I was dragged away from Udaipur before I could do this. :(
We left Udaipur by 5:30AM and started towards Jaipur, The Pink City! The plan was to take the road towards Chittorgarh and then Ajmer, but some locals directed us towards Nathdwara Tunnel stating this road is newly laid and should make for a better ride. The road is a brilliant 4 lane for quite some time. But it slowly starts to deteriorate until it becomes so bad that you start regretting taking this road. Finally we crossed Beawar after which the roads were as smooth as butter.
We had never expected the weather in Rajasthan to be so pleasant, there was greenery everywhere and the presence of Aravalli Hills was strongly felt until now. Once we crossed Ajmer, the heat started setting in. We could feel the stark difference in landscape from the vivacious green behind us to the barren lands ahead of us. There would be sudden gushes of air, depositing sand in our eyes and mouths. :| It was a tasking ride to say the least. Imagine wearing a ton of protective gear when the temperature is soaring above 35°C – Yes, exactly!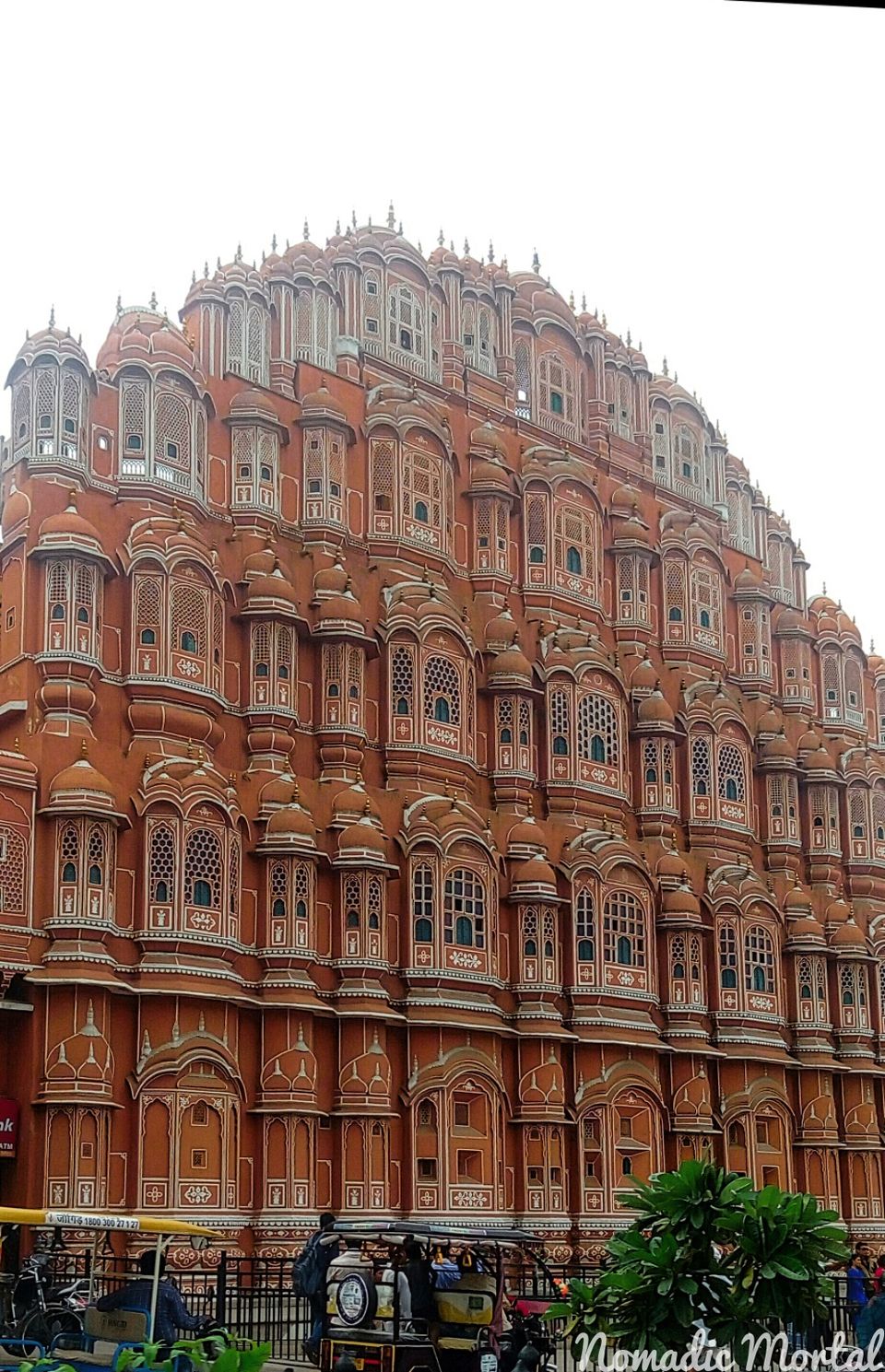 We reached Jaipur around 1PM and headed straight to the historic Hawa Mahal. This splendid monument has been the face of Jaipur, even the face of India to so many. While I wanted to go inside and explore all the Jharokhas to see what it was like to be a princess, it was not a practical option for us since our destination for the day was still 240 kms away and we had our entire luggage strapped to the bikes. So we decided to marvel at this beauty from the outside. Amidst the hustle bustle of a busy Jaipur market stands this timeless piece speaking volumes of the history that it has witnessed and become a part of. For a moment, you feel like you're a part of this intriguing history too. That is the power of architecture, of monuments, of timeless classics, the power to transport you back in time.
We had a scrumptious Rajasthani Thali for lunch and we started towards Agra, the City of Love. To be honest I was glad to get some fresh air on the road. The unbearable heat had taken a toll on all of us. The road from here on was brilliant with not much traffic. Our morals were up and flying again. I couldn't wait to see The Taj! As it became dark, it became harder to ride since the highway passes through a couple of villages and we would often come across cattle, dogs and even people strolling on the highway. It was extremely dangerous and we had to get all the more cautious. The last 30 kms stretch to Agra City was one of the worst roads we have seen till date. It is an abomination of a road and to call it a National Highway connecting the famous Golden Triangle – JOKE! We took the same amount of time to cover this last stretch as we had taken for the past 70 kms.
Exhausted, dirty and hungry we made our way to the hotel. All my plans of seeing Taj Mahal under the moonlight were ruined. Yes, it was a full moon night. :( Ah well, we had to leave something for next time.
Day 5 Stay: Hotel Luv Kush, Agra
Pros: Spacious Rooms. Great Staff. Decent Food.
Cons: Looks dingy from the outside.
Few Pointers: Take the Udaipur – Bhilwara – Ajmer route towards Jaipur. Of course, I don't have to tell you to spend more time in Jaipur and explore the plethora of monuments.
There are special entry passes for viewing the Taj Mahal on a full moon night (5 nights every month). The tickets are 500 for Indians and 750 for foreign nationals and can only be purchased a day before the visit.
DAY 6:
Agra – Delhi (200 kms):
I woke up all excited because I couldn't wait anymore to see my first wonder of the world. Squealing, I made my way through the numerous 'Gallis' of Agra in a cute TukTuk. I had imagined that Taj Mahal would be visible from a mile away, but it was so hidden that I couldn't quiet see it until I made my way through the beautiful Entrance Gate. This gate in itself was enough to marvel over and as we made our way inside, my mind was blown. This monument is one of those few places which live up to the hype. It really is that beautiful! The Taj Mahal commands a sense of awe; it commands you to appreciate it! It perplexes you and makes you wonder just how powerful love can be. The ivory white marble and the intricately carved flowers make it a class apart. Note: Each of these precious stone flowers was individually made and then installed in its place by the numerous artistes. Everything about this monument is so aesthetically pleasing! You can see the swift flowing Yamuna River by the side and the Agra Fort in the far off distance as well.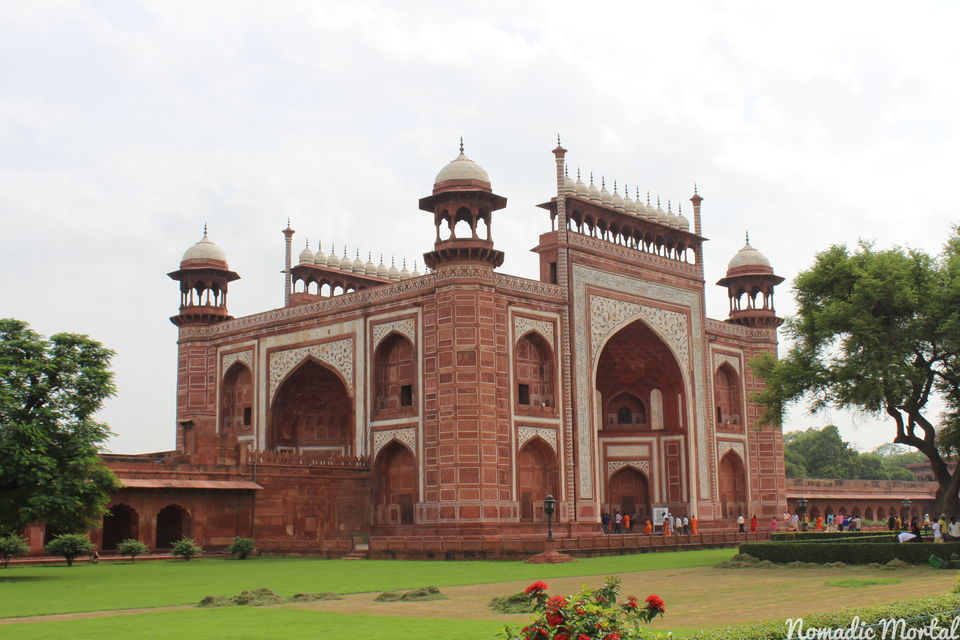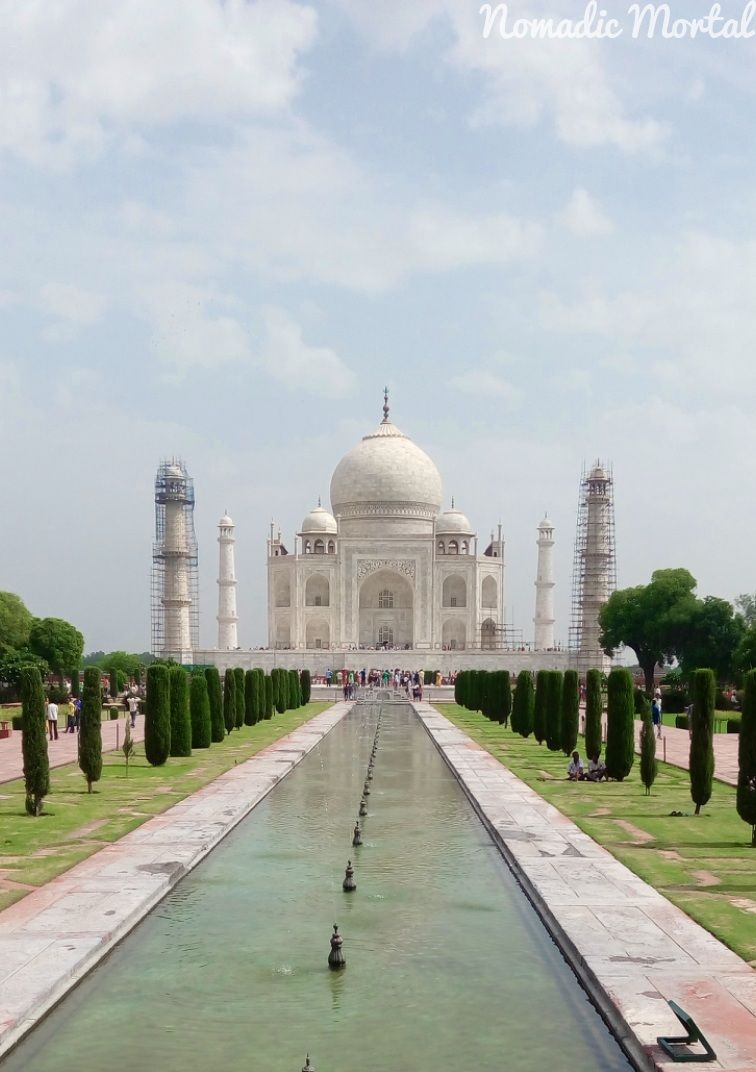 FEW POINTERS: A nominal fee is charged at the entrance for Indians and 750/1000 for Foreigners. You are not allowed to carry any bag inside unless it is a camera bag. You need to buy coveralls for your shoes so that you can wear them inside the main mausoleum. Please note Taj is closed on Fridays to public. Hiring a guide would be good idea to understand the history behind this magnificent structure. It can get very hot and humid during the day, so dress accordingly and carry water. Do visit the Mehtab Bagh for a view of Taj from across Yamuna.
We then grabbed a quick bite and of course, ate the ever famous Agra Peetha. Well some like it and I personally didn't. :| We checked out of our hotel and were soon on our way to New Delhi!❤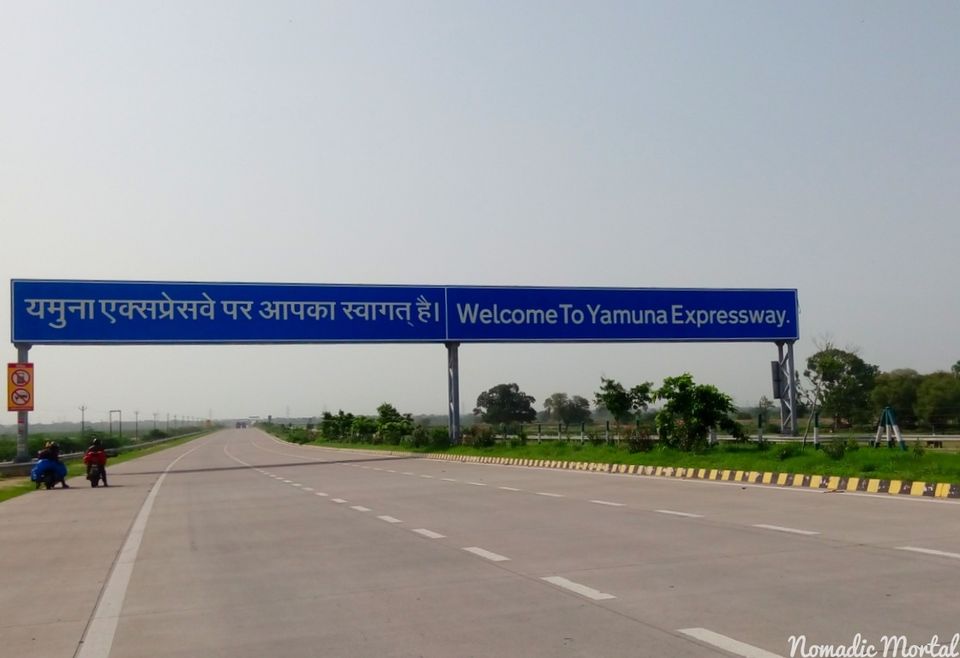 We, for obvious reasons, decided to take the Yamuna Expressway. A lot had been said and heard about this expressway. Unlike the Mumbai –Pune Expressway, two wheelers are allowed here but with a toll fee of Rs.200. This road is a beautiful 6 lane drive with absolutely no one around. There are occasional bumps on the road but rest assured you can definitely put your bike on cruise control here. There are cameras everywhere to keep your speed in check though.
After a beautiful ride and enjoying a wonderful sunset along the way, we reached Delhi. Hello Traffic! For someone who has been away from traffic for a while, this can be really annoying. And of course Delhi was really humid as well. :| The only thing that helped cheer me up were random strangers who would look at our fully geared up bikes and wish us luck. People were congratulating us for taking up an epic journey amidst slow moving traffic from adjacent cars. It makes you feel special.❤
On our way to the hotel, we passed by India Gate, all lit up with the largest Indian Flag fluttering in the background. It honestly gave me goosebumps.
Day 6 Stay: Hotel Delhi City Centre, New Delhi
Pros: Decent Rooms. Great Staff. Close to public transport.
Cons: Located in a shady area.
FEW POINTERS: Stay in Paharganj/Karol Bagh – Shady looking places but great hotels at reasonable prices. Also you get the real Dilli Feel! Eat local – We drank Badam-Malai Milk from this street side vendor and it was the most satisfying drink ever. The by lanes of Karol Bagh and Paharganj have some wonderful trinket shops. There is loads to shop everywhere, so go mad!
DAY 7:
Rest Day, today! We had been riding for far too long and all of us needed a break to relax. Also the bikes had covered over 2600 kms and it was time to get them serviced. Also, one of my friends rented a bike in Delhi. So now, we were 5 of us on 4 bikes.
Well obviously, the plan for today was to see Delhi but what I did instead was sleep, sleep, sleep! Touring on a bike, of course has its pros and cons.
DAY 8:
Delhi – Amritsar (470 kms):
We started really early since we wanted to avoid traffic at all costs. Just as we crossed city limits, it began to pour. Like really heavily. But none of us wanted to miss the Beating Retreat ceremony and hence kept riding. It was hard with visors fogging up and shoes dripping wet. Nothing a hot cuppa chai can't fix. :P The skies eventually cleared up and we stopped for breakfast near Ludhiana. We ate the most exquisite paranthas I have ever tasted with a huge glass of Lassi! ❤ The owner of this small restaurant was an old sweet lady who offered to help us in any way possible. She settled for blessing us unconditionally and wished us luck for the rest of the journey. The people here are such sweethearts.❤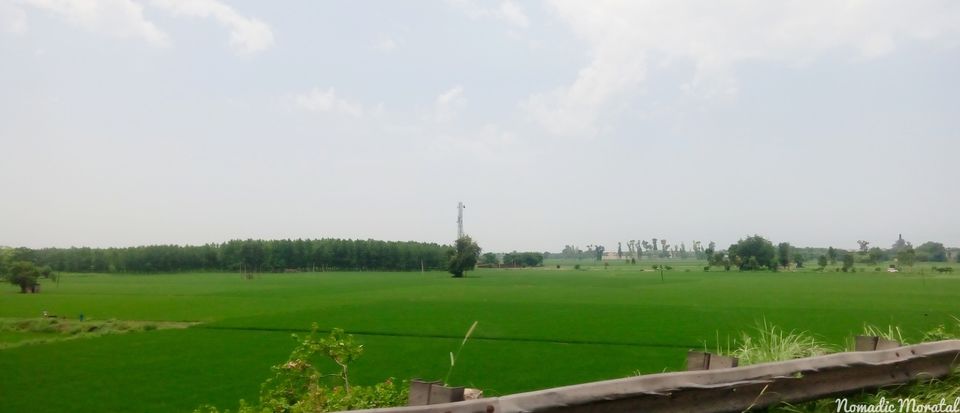 The vast countryside of Punjab will mesmerize you. Fields of sugarcane, of wheat, of mustard stretch as far as you can see. Heartwarming smiles and panoramic vistas welcomed us to the Land of Five Rivers. I was more than excited because I wanted to run across a mustard field wearing a long flowy dress like in DDLJ. Lol, obviously that didn't happen. :|
Somewhere near Jalandhar, there was a huge jam due to water logging because of the incessant rains. After what seemed like ever, we managed to cross Jalandhar wadding our way through ankle deep drainage water.:/ A considerable stretch of road after this is under construction and hence would often lead to slow moving traffic. We finally managed to reach Amritsar by 2PM.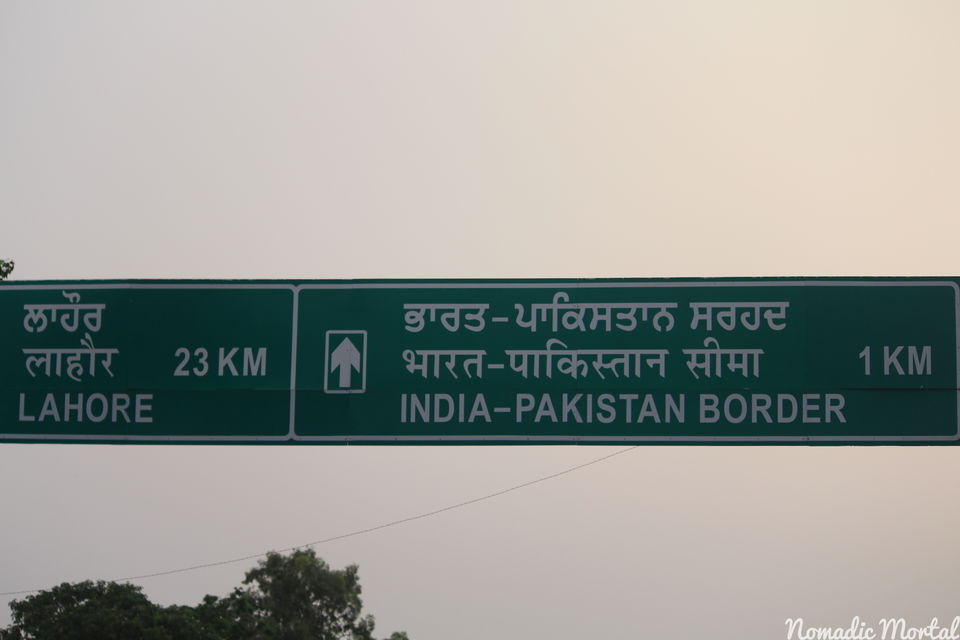 We quickly unpacked and freshened up since we had to leave for Wagah Border. The hotel had arranged a TukTuk for us and it took about an hour to reach this place. We need to walk 1 km from the parking area to reach the stands. When we got there, it was utter chaos. There were more than a 1000 people there. And these were people who didn't get a seat inside because the stands were full. We weren't aware of any VIP passes being issued but apparently they do exist. These pass holders weren't allowed inside either since there was absolutely no place inside. People going mad, pushing and shouting, trying desperately to get inside and witness this lifetime experience. Inspite of having requested the many officers present there, there was nothing we could do to get a seat inside. Disappointed, we settled for watching it on the big screen TV right outside. The spectacle began with loud music and audience dancing, an MC entertaining the crowd, cheers of Bharat Mata ki Jai and Vande Mataram! The gates between the two countries were then opened and everybody fell silent. The Border Security Force (BSF) and the Pakistan Rangers engage in an elaborate attempt to intimidate each other. These soldiers with their fierce expressions, distinctive headdress, and their high kick march will definitely give you goosebumps. The flags of both the countries are lowered simultaneously. It's strange how two countries known to be enemies can work in such synchronization. A quick handshake later, the gates are closed again marking the end of the ceremony. As we walked back to the parking area with a sense of pride, I was hit with a sudden wave of nostalgia upon seeing CDs of the Bollywood movie Border still being sold here.❤
We made it back to the hotel and were now joined by another friend of ours who would ride with us from here on. So now, we were 6 of us on 5 bikes. We all had a hot shower and got ready to visit the Golden Temple.
The Harmandir Sahib is not only a place of pilgrimage but an epitome of love and equality. It happens to be the largest Soup Kitchen in the world. People from all walks of life volunteer here and serve food to every visitor irrespective of their race, religion, caste or status. The food is available 24 hours a day, every single day of the year. This spectacular temple is nothing like anything I've seen before. Glowing in the dark, shimmering in the Holy water surrounding it, with the prettiest moon to add to the beauty, we were all spellbound. For the first time in the trip, no one was talking. We all just sat there by the pond admiring this beauty, feeling blessed to be there together. It was an experience I will never forget.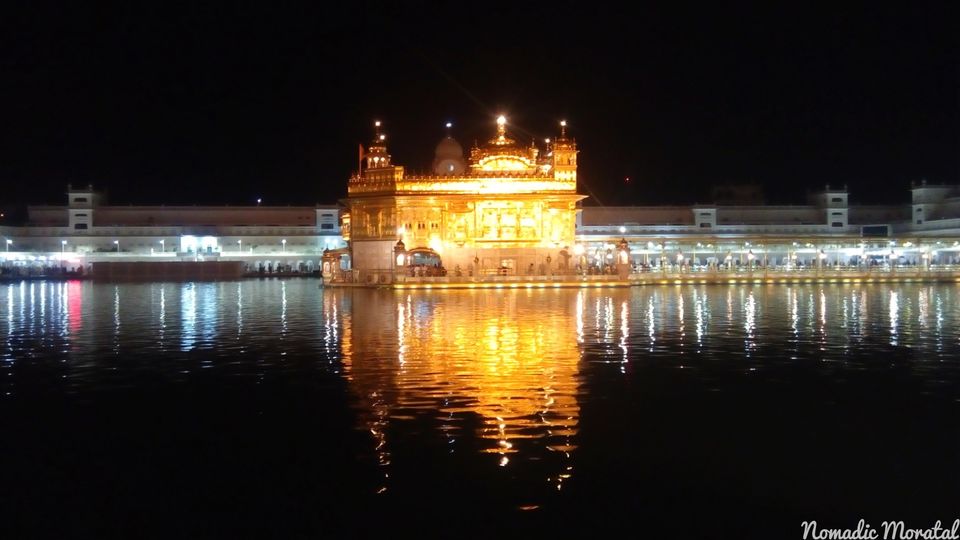 We then went on to have dinner (Langar), it was around 12:30 AM and the temple, dining hall and kitchen were all hustling and bustling with thousands of people. The food tasted exemplary and I couldn't help but ask for seconds. :P
Everything here runs so smoothly, there are volunteers assigned to do different tasks and they work tirelessly, resulting in a well oiled machine like system. We spent quiet some time admiring how the volunteers cooked, washed utensils, washed carpets, and so much more. We left with a big smile on our face and loads of gratitude in our hearts.❤
Day 8 Stay: Hotel Revoli, Amritsar
Pros: Great Staff.
Cons: Very old property. Sad state of rooms. No parking place. Not close to the temple.
FEW POINTERS: If you want to watch the beating retreat, reach Wagah by 3:30 PM. It takes a good hour to reach Wagah from the city centre. Be prepared for a lot of crowd. The Auto/Cab will wait for you at the parking and drop you back at the hotel. The Golden temple deserves to be admired at night. Do not miss out on the Langar.
DAY 9:
Amritsar – Mandi (300 kms):
Ok, so the initial plan was to head to Jammu today. We were all indeed very excited about this part obviously because we had heard too many things about how beautiful Jammu & Kashmir is. But seldom do plans work out, right? We were warned time and again not to take this route due to the recent unrest in Srinagar. The day before it did seem like things were getting back to normal in J&K and we were all set to risk it. But curfew was set again and this time indefinitely. So we had to take the hard decision of re routing towards Himachal Pradesh. :(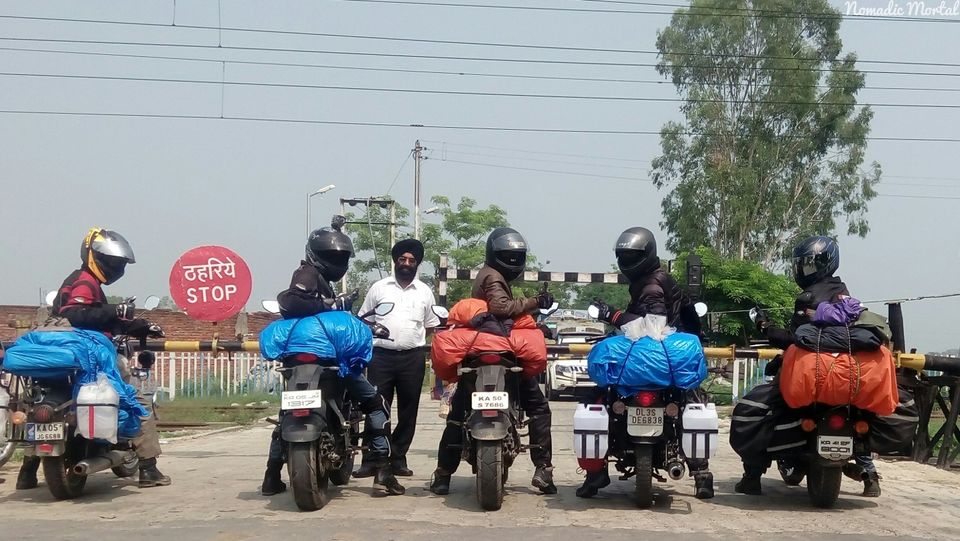 We were all extremely tired after the shenanigans of the previous night and so we slept in, had a hearty butter and ghee filled breakfast and started our journey pretty late. The route we took was Amritsar – Hoshiarpur – Una – Jahu – Mandi. We expected the roads to be bad for some odd reason. We were pleasantly surprised to find out that we couldn't have been more wrong. We rode through the finest country side of Punjab with tall trees paving the way and sugarcane fields every which way. The people here again were so considerate and helpful. You can't help but smile. :)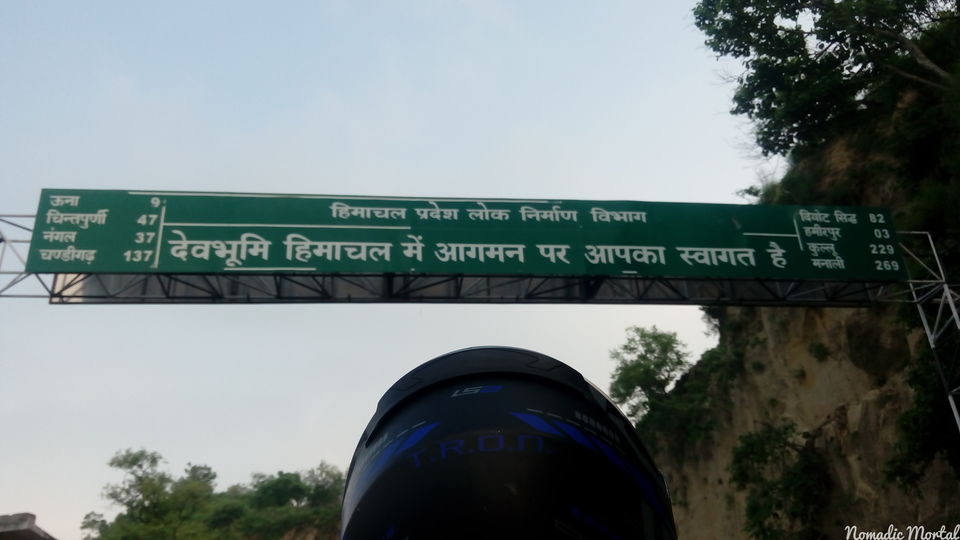 Entering Himachal through some crazy winding roads and a beautiful sun setting gradually in the backdrop was epic. It was much more than what I could have asked for. We wanted to reach Mandi as soon as possible since we did not want to risk riding in the dark through ghat roads. But as luck would have it, we were still near Jahu when the sun bid adieu. Our destination was another 50 kms away. To add to our dismay, the chai vendor told us that the roads aren't so great from here on. :|
We started the last stretch, one bike tailing the other. We continued on without breaking this formation. The roads started to deteriorate but it was still manageable. It was as dark as it could get. One wrong move and we could easily end up plummeting to death. We didn't know the route either and were completely dependent on Google Maps. There was not much civilization to rely on to ask for directions either. And of course, we did take a wrong turn. But soon enough we realized our mistake, thanks to a lone chai vendor who kept shouting and tell us to go the other way. We thanked him and then started on the right path. Slowly, signs of civilization were seen and then came street lights and I couldn't be happier. :) We crashed at the first hotel we could find and slept like babies.
Day 9 Stay: Hotel By the Way, Mandi
Pros: Good Staff. On the highway.
Cons: Small rooms.
FEW POINTERS: Start early and reach early – The only rule you need to remember. About 10-15 kms of road after Jahu is in bad shape, but the rest is great.
I slept that night well aware that one of my most awaited dreams is about to come true. And I couldn't wait for it. The final destination was so close that I could almost taste it from here.
If you travel far enough, you meet yourself.
– David Mitchell
This trip was first published on Nomadic Mortal.